By: Chris Lomon for Woodbine.com
TORONTO, July 28, 2021 – The LongRun Graduate Virtual Race to the Plate is going to great lengths to make a difference for nearly 40 Thoroughbreds.
As Vicki Pappas sees it, the fundraising event is a win-win for everyone, horse and human.
A total of 39 graduates of LongRun, one of the first adoption and placement programs for Thoroughbred racehorses in Ontario, are part of Race to the Plate, an initiative that invites people to sponsor a horse to a maximum of $25 per person, with each $5 donation providing one length for the horse as part of a contest that culminates with a winner being announced on August 22, Queen's Plate day at Woodbine Racetrack.
"One of our TAA [Thoroughbred Aftercare Alliance] partners, Maryland Horse Rescue, they did an event like this around the Preakness," said Pappas, LongRun's Chair and one of its founding members. "We thought it was a great idea. We're not able to have a big gala like we usually do to fundraise, so this was this alternative. And it seems to be working out extremely well."
Photos and short bios of the horses are featured on the LongRun website at longrunretirement.com/race-2021.
There are several familiar faces, including 2010 Queen's Plate champ Big Red Mike, now thriving as a dressage competitor, multiple stakes winners Melmich and Pumpkin Rumble, and 13-time winner Tom Joy, who works as a therapy horse.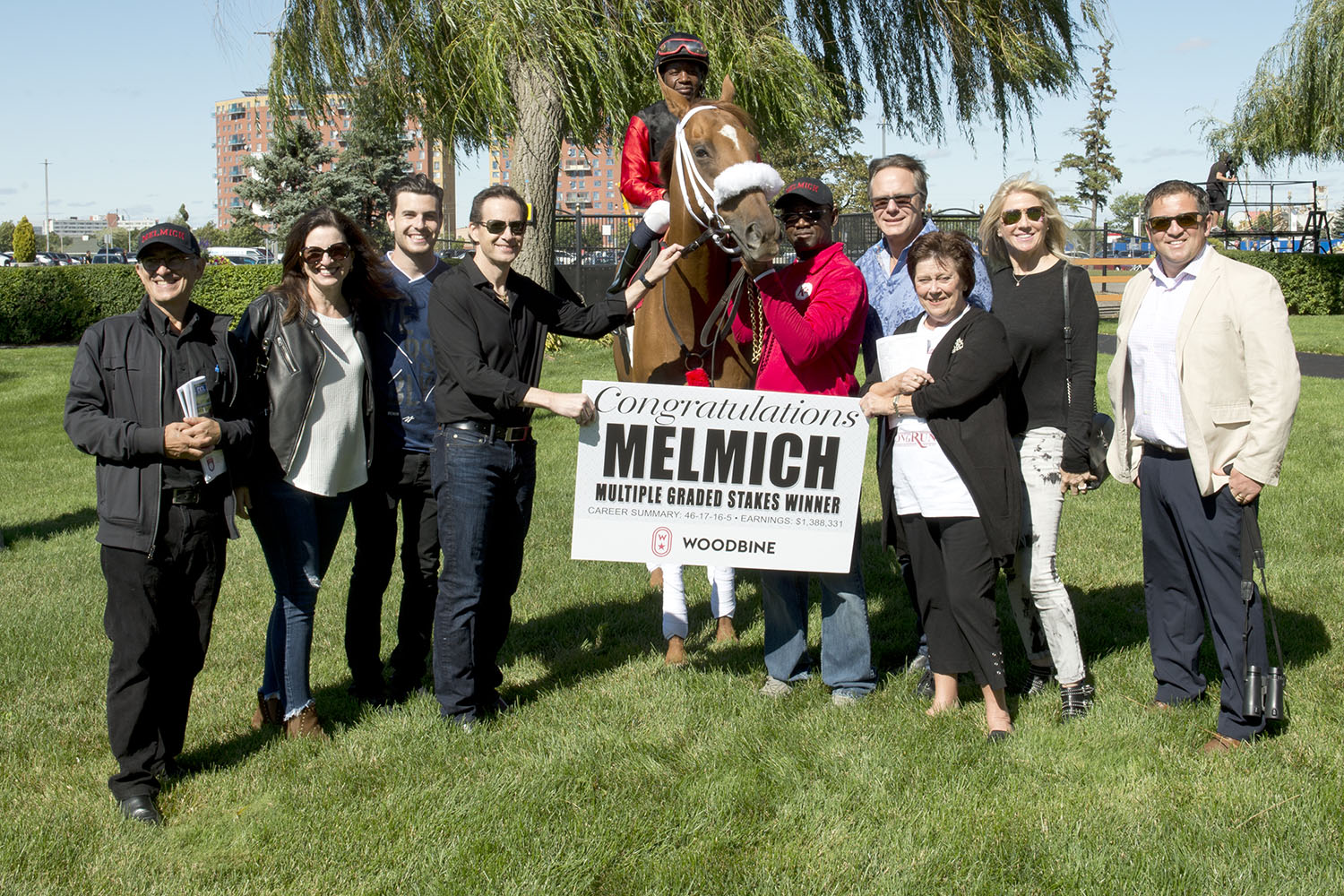 The appropriately named Lead by Example is now under the care of multiple stakes winning jockey Melanie Pinto.
Closing in on 500 career wins, Pinto bonded with the dark bay son of Midnight Lute the moment they first worked together. When the New York-bred was retired, she quickly adopted him.
"I was galloping him for [Hall of fame trainer] Josie Carroll at Palm Meadows in Florida," started Pinto. "He was such a character, always so happy and proud of himself. He would squeal and stick out his tongue when he was in his stall and he was always squealing and prancing on his way back from the track like he had just done something special."
When his racing career came to a close, other doors opened for Lead by Example, who now works as a calming companion to other Thoroughbreds as they make their way to the racetrack at Fort Erie.
It's not his only post-racing calling.
"He's just been such a versatile horse," said Pinto. "He'll wear English tack and go over jumps, he'll wear Western tack and trail ride, go Team Sorting and he takes care of me on the racetrack when I'm on a rambunctious racehorse. He's always very focused when he's doing a job, but still to this day, when he knows his job is over and he's done well, he prances, squeals and is very proud of himself."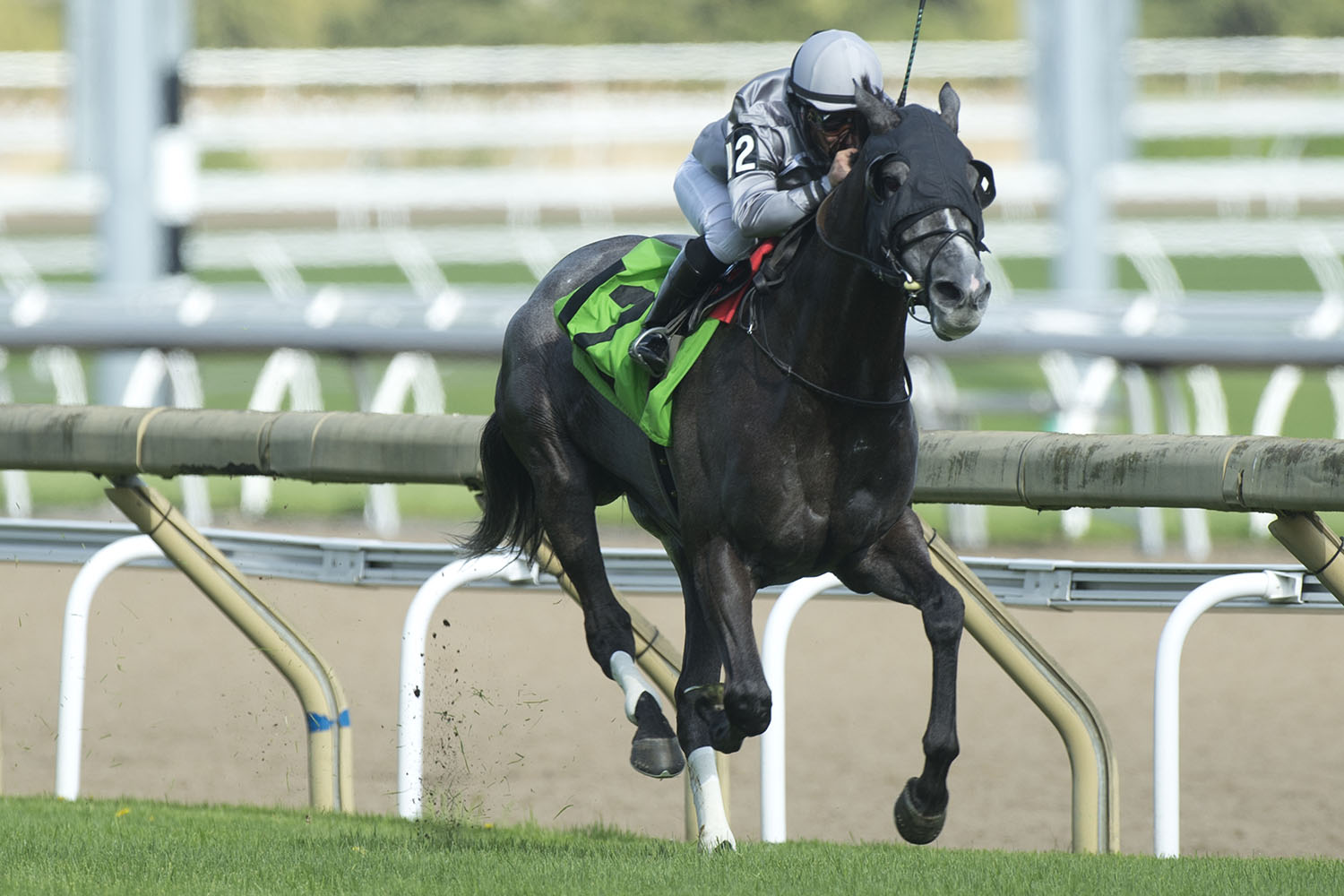 Each of the featured horses in Race to the Plate has a unique tale to be told, but all 39 are bound by one common thread, offered Pappas, a recent inductee into the Canadian Horse Racing Hall of Fame.
"They all have their own story. And even though the bios are abbreviated, it gives people some insight into their life on the racetrack and afterwards. I think each story shows how important it is to take care of these beautiful animals and to show people how they've gone on to touch so many other people's lives."
Support for the initiative has come from far and wide, literally.
Former connections – grooms, jockey, trainers, owners and breeders – have sponsored horses and also helped spread the word about event through their social media pages.
The race finishes at noon (ET) on Thursday, August 19, the day that entries are drawn for this year's running of the Queen's Plate. The Race to the Plate equine winner (to be announced on either August 20 or 21), who will be featured on the cover of LongRun's Graduate calendar, also receives a custom cooler and LongRun swag. Prizes will be awarded to the top five finishers.
There are also random draws for both sponsors and entrants. Prizes for entrants include a jar of the supplement TriActa (donated by Integricare Canada), a set of four polo bandages, and matching halter "fuzzies," with another draw offering a VIP table for six on October 2 at Caledon, donated by Angelstone.
Sponsor-themed draws include a "trifecta" of ice wine, and another draw for two tickets to the 2022 running of the Queen's Plate.
With less than a month before the 162nd running of the Queen's Plate, Pappas is looking forward to seeing how the stretch drive of Race to the Plate plays out.
"It's something we'd definitely want to do in the future," said Pappas, who is working on securing special prizes for the overall winner and top five finishers. "It's wonderful to see how the horses are doing and the new connections they've created. It's really nice to see the enthusiasm and support from the people that knew the horses from the racetrack and the people who have given them a new life after racing."