TORONTO, November 7, 2019 – Champion jockey and fan favourite Emma-Jayne Wilson, out of action since a spill on September 8, makes her return to racing action with five mounts on Friday, and a stakes engagement on Saturday, at Woodbine.
Sidelined two months ago after suffering a broken left clavicle and fractures to her right hand when she was dismounted, Wilson, who has more than 1,500 career wins, including a Queen's Plate score in 2007 with Mike Fox, saddles up with a handful of rides on November 8.
She'll make her first appearance on Friday in the first race (post time 3:40 p.m.). She'll partner Piccadilly Beau, a three-year-old Kentucky-bred chestnut trained and owned by James Smith. The son of English Channel is listed at 9-2 in the morning line.
Wilson, who won back-to-back (2005 and 2006) Sovereign Awards as Canada's top apprentice, has been counting down the days ahead of her return.
"I'm really excited," said the rider who has 49 wins on the campaign, placing her sixth in the standings. "There's no other way to put it. It's been odd. The injury (a fracture of the proximal humerus) last year at the beginning of the season was much more consuming, and there was a lot more rehabilitation to get back into action. It was also the first major injury that put me out, where I had to manage a physical ailment. I was out for three months when I had a liver laceration, but once I was cleared to go back, it wasn't like I had to get the muscles working again and be strong. It was just making sure that organ was safe.
"This injury, with the experience of the previous one, it's been much easier to manage, and the severity of it wasn't nearly as bad. I've been able to talk to my surgeons in regards to my expectations to get back, and it's been very straightforward. The last week, I've been pretty excited, getting on horses, and doing my rehab appointments. I don't get excited that much, but I'm pretty excited right now."
Wilson's also appreciative of the outpouring of support she's received during her time away from Woodbine.
"Social media has been a platform for fans to have direct contact with me. When you watch racing or any sport, you feel as though you can connect with those athletes. I've really enjoyed that because it's given people a direct line to send me those well wishes or encouraging words. I read them all. I either make comments or 'like' them because I want people to know I hear you, and it means a lot. It's really inspiring. The horsepeople have been just as fantastic."
The same can also be said of Wilson's wife, Laura Trotter, and the couple's twin daughters, Avery and Grace.
"They've been fantastic. I'm really grateful for what my wife and daughters have done for me throughout this. My daughter Grace – as I'm getting better, I've gone from a cast and a sling to no sling, to a brace, to no brace, we've still had to be gentle – when I had gotten clearance to start getting horses, she said to me when we were in the car, 'Mommy, you don't have a boo-boo anymore.' I said, 'No I don't.' She looked at me and said, 'So that means we can wrestle?' That's something the girls and I do. We get down on the floor and wrestle. As simple and as fun as it was, I wasn't able to do that. They're smart and they get it. They knew I had an injury and I couldn't do certain things.
"They like to put their little PAW Patrol band-aids on my cast and brace. They want to help mama's injury get better. To hear the enthusiasm in their voices that we can wrestle… it's fantastic. And we've wrestled every night since, for the record."
One day after her return, Wilson will look to add to her six stakes scores on the season and 103 added-money victories overall when she rides Agnelli (20-1) in the $100,000 Frost King Stakes, a seven-furlong main track event for Ontario-sired two-year-olds.
"Big races and good horses are something you always look forward to. I'm really happy with the season in terms of the stakes. We were on a really big roll, a couple of stakes the week before I got injured. I'm looking to get right back into that groove, right back into that rhythm. It would mean a lot to kick off with a stakes win. Honestly, I'm just happy to be back in the saddle."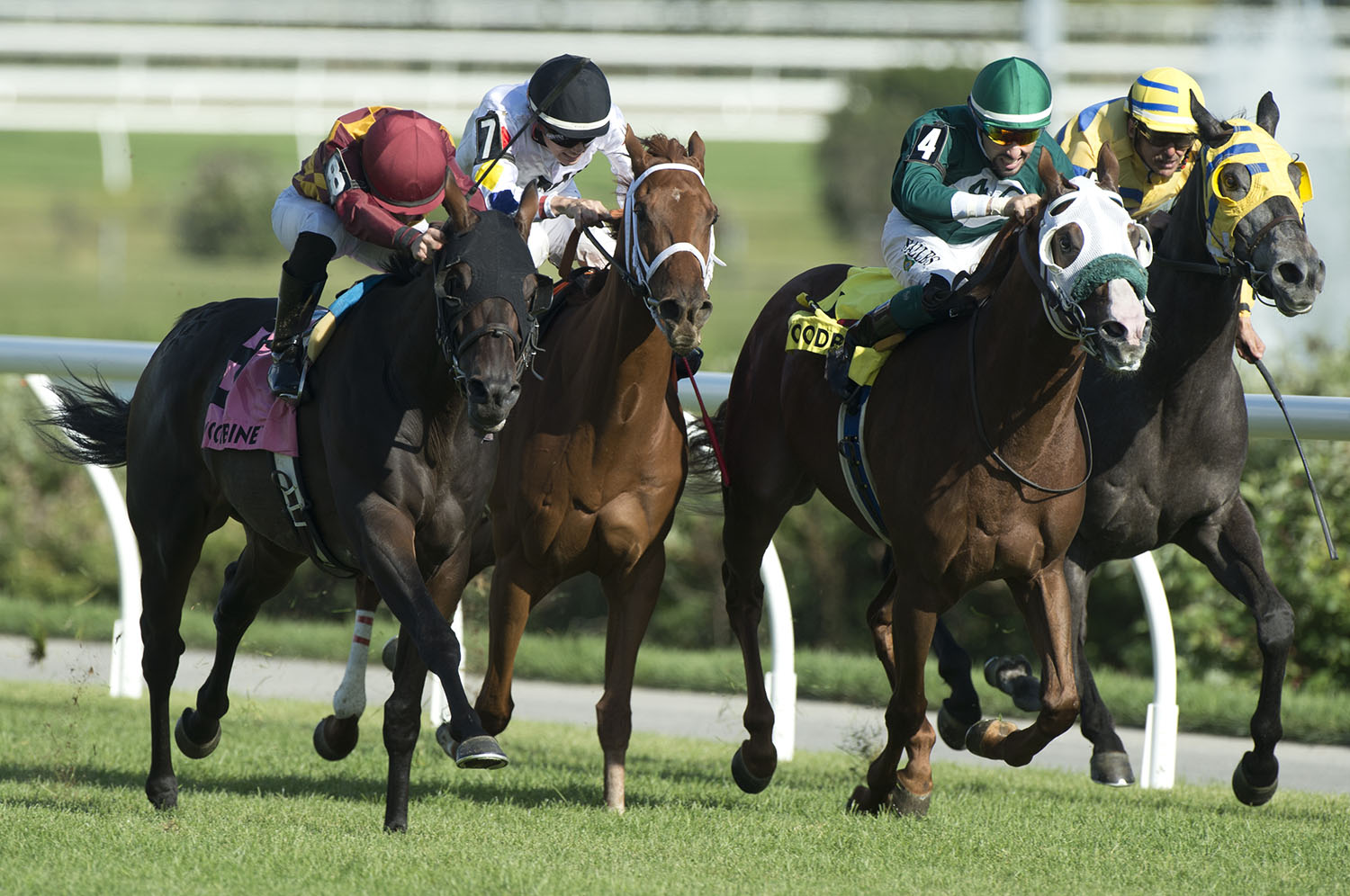 Is there a particular moment she's most looking forward to on Friday?
"Just the whole thing. It's hard to explain. I've been getting on horses in the morning and it's like practice. I'm just looking forward to the day… it's racing. Going out there, putting your colours on – there's a fanfare to it. I'm really looking forward to slotting right back in to where I left off. The groove we had, the way it was going, we were hitting on all cylinders. I don't feel I've been gone that long, so I don't think it's going to be that unreasonable to just fall right back into the swing of things."
Wilson launched her career in 2004, winning three races and posting 10 top-three finishes from 30 starts. In 2005, she won 175 races, en route to both Sovereign and Eclipse Award honours as champion apprentice.
The multiple graded stakes winning jockey became the first North American female rider to be granted a license to ride in Hong Kong in 2008 and she also captained the Girls Team to an historic victory in the Shergar Cup at Ascot Racecourse in 2015. Wilson was selected as the Avelino Gomez Memorial Award recipient in 2018, which honours significant contributions to the sport of horse racing by a jockey.
As of November 7, Wilson has 1,533 career victories.
***
Dotted Line… signs up for Frost King assignment
TORONTO, November 7, 2019 – Dotted Line looks to make it two straight scores when he takes on nine rivals in Saturday's $100,000 Frost King Stakes, at Woodbine.
The Norseman Racing Stable homebred comes into the seven-furlong main track feature for Ontario-sired two-year-olds on a winning note, a maiden-breaking effort on October 13 at Woodbine.
Sent off at 5-2 in the 1 1/16-mile main track race, Dotted Line got away fourth but soon took command, going on to claim a 3 ½-length win in a time of 1:45.39.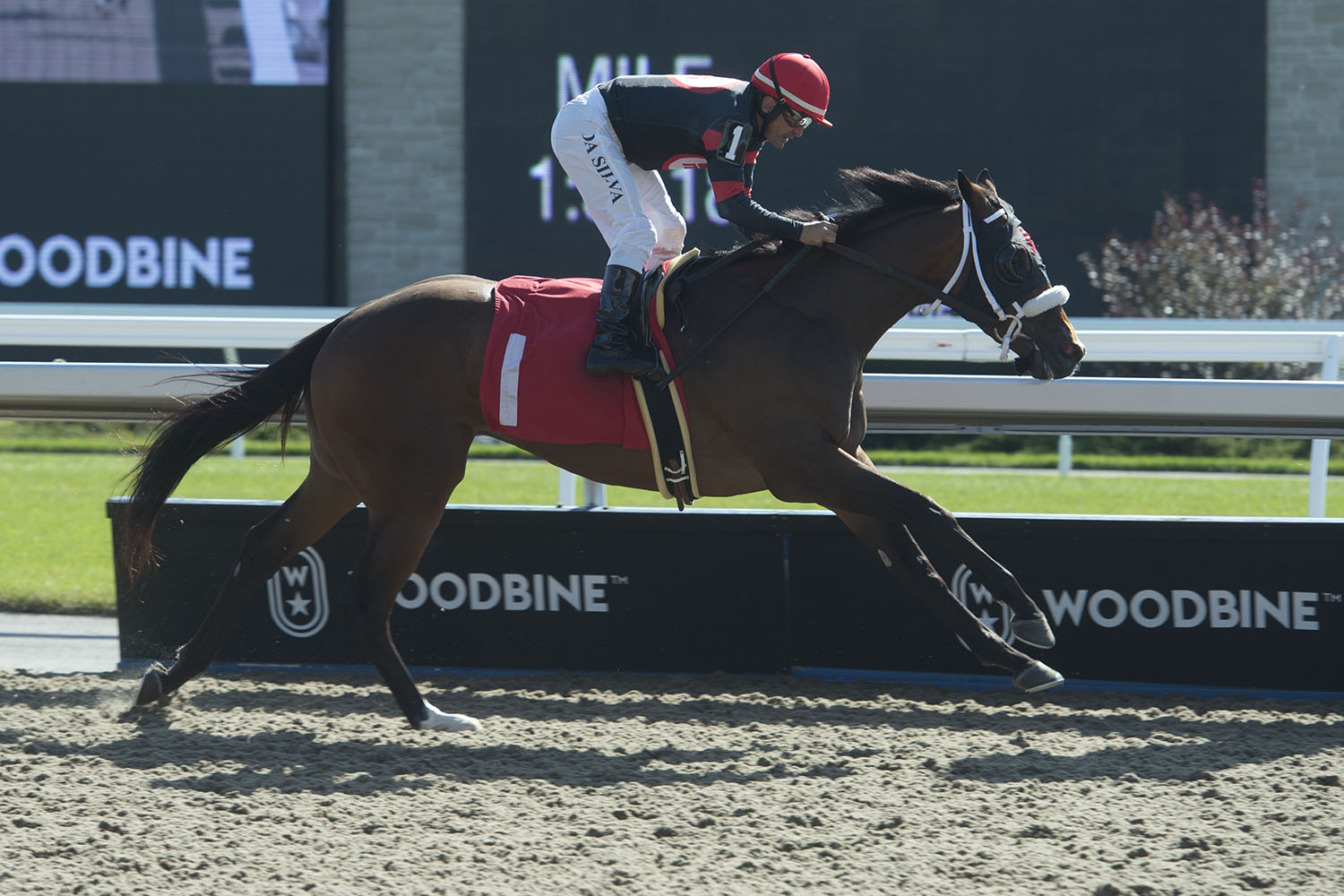 The gelding finished fifth at five panels over the Toronto oval Tapeta in his debut on September 14, 5 ¼-lengths back of winner Agnelli, a dark bay son of Frac Daddy who'll also contest the Frost King.
In Dotted Line's second start, a 6 1/2-furlong race over the Woodbine main on September 29, the bay rallied from seventh to finish fourth, 2 ½ lengths behind Torpedo Max, a chestnut son of Silver Max who will also line up in the starting gate for Saturday's stake.
Hall of Fame trainer Sid Attard is happy with the progression his young charge has shown after each race.
"I thought his last race was very good," he said. "Every race, he's learning more and that's what you want to see. After the last one, we figured he deserves a chance in this race. He's doing very well coming into it."
Attard, a lifetime winner of 2,056 races, is hoping Dotted Line will step it up once again on Saturday.
"That's what we would like to see. He's coming along nicely and he's improving. Hopefully, he can come up with another strong effort this weekend."
Attard campaigned Dotted Line's sire, Signature Red, a multiple graded stakes winning bay son of Bernstein. Also owned by Norseman Stable, Signature Red posted a record of 6-6-7 in 27 starts.
"He was a very, very nice horse," praised Attard of the Kentucky-bred who won back-to-back (2010 and 2011) editions of the Grade 2 Highlander Stakes. "He always tried hard every race."
Wesley Ward trainee Owlette, undefeated in her three Woodbine starts, will go after her third stakes triumph after victories in the Shady Well and Victorian Queen. Ward will also send out Artie's Princess, a bay daughter of We Miss Artie who will test the stakes ranks after winning her first two starts.
Last year, My Silencer won the Frost King in a time of 1:23.89 for trainer William Tharrenos, who will send out Crafty Conquest in Saturday's running.
Trainer Ralph Biamonte has won three editions: in 2010 with Citius, in 2011 with Jenna's Wabbit, and in 2013 with Flashy Margaritta.
The Frost King is slated as race eight on Saturday's 11-race card. This weekend's racing at Woodbine also includes the running of the La Prevoyante Stakes for Ontario-sired three-year-old fillies competing over 1-1/16 miles. The $100,000 feature goes as race three on Sunday's 10-race card. First post is 1:05 p.m. both days. Fans can also watch and wager on all the action via HPIbet.com.
$100,000 FROST KING STAKES
Post – Horse – Jockey – Trainer
1 – Crafty Conquest – Kazushi Kimura – William Tharrenos
2 – Dotted Line – Justin Stein – Sid Attard
3 – Forester's Turn – Eurico Rosa da Silva – Robert Tiller
4 – Rockcrest – Sahin Civaci – Nigel Burke
5 – Agnelli – Emma-Jayne Wilson – Renee Kierans
6 – Artie's Princess – Nik Juarez – Wesley Ward
7 – Priceless Will – Rafael Hernandez – Mark Casse
8 – Torpedo Max – Ismael Mosqueira – Nick Gonzalez
9 – Owlette – Albin Jimenez – Wesley Ward
10 – Cryptic Grip – Jerome Lermyte – Michael Mattine
$100,000 LA PREVOYANTE STAKES
Post – Horse – Jockey – Trainer
1 – Londonderry – Christopher Husbands – Steven Owens
2 – Miss Ariel – Kazushi Kimura – Tony Gattellaro
3 – Golden Vision – Eurico Rosa Da Silva – Kevin Attard
4 – Ciuri – Patrick Husbands – Robert Tiller
5 – Royal Wedding – Rafael Hernandez – Laurie Silvera
6 – Sav – Justin Stein – Ricky Griffith