Story by: Chris Lomon for Woodbine.com
TORONTO, June 30, 2021 – Gerry Olguin racked up 42 stakes scores during his days in the saddle. Now, he's hoping his most memorable win comes from the Woodbine owner's box.
It's been four-and-a-half years since the highly respected jockey rode in his final race, a memorable triumph for a multitude of reasons.
Not only did it signal the end of 29 years in the irons, but the victory aboard Dumont in the final race of the card at Golden Gate on January 15, 2017, was the 2,000th of his career, with his father Roger and mom Norma proudly cheering him on.
"It's something I'll never forget," said Olguin, who was born in California and raised in Tijuana, Mexico. "I was very fortunate to ride a lot of very nice horses over my career."
All told, Olguin rode in more than 16,000 races dating back to his first win aboard Light The Tote in 1988 at Aqua Caliente in Tijuana when he was only 15. He won the Hastings Park rider championship in 1997 and 1998 before heading to Woodbine in 1999.
Over the years, he partnered several standouts, including Stunning Stag, Paladin Bay and Ablo, the latter to a 19-1 win in the 2004 Coronation Futurity, and an 8-1 victory at Fort Erie in the 2005 Prince of Wales Stakes, second race in the Canadian Triple Crown series.
And then there is Lorena.
A dark bay daughter of Souper Speedy, Lorena is co-owned by Olguin, Brent and Russell McLellan, and trainer Stuart Simon.
Olguin, who gallops for Simon, became a partner in the filly after a trip to the 2019 CTHS Canadian-bred Yearling Sale.
While the ex-rider is an admitted neophyte when it comes to picking out horses, his trust in Simon and desire to join the ownership ranks was more than enough motivation to get involved.
"After I retired from riding, I wasn't sure what I wanted to do, so I started galloping. When I started doing that, I wanted to own a horse. I figured I'd try it. Stuart picked her out. We looked at so many yearlings on that day and I wasn't sure which one stood out. It was only the second sale I had been to, and we saw so many. I knew Stuart would have great insight and know what to do."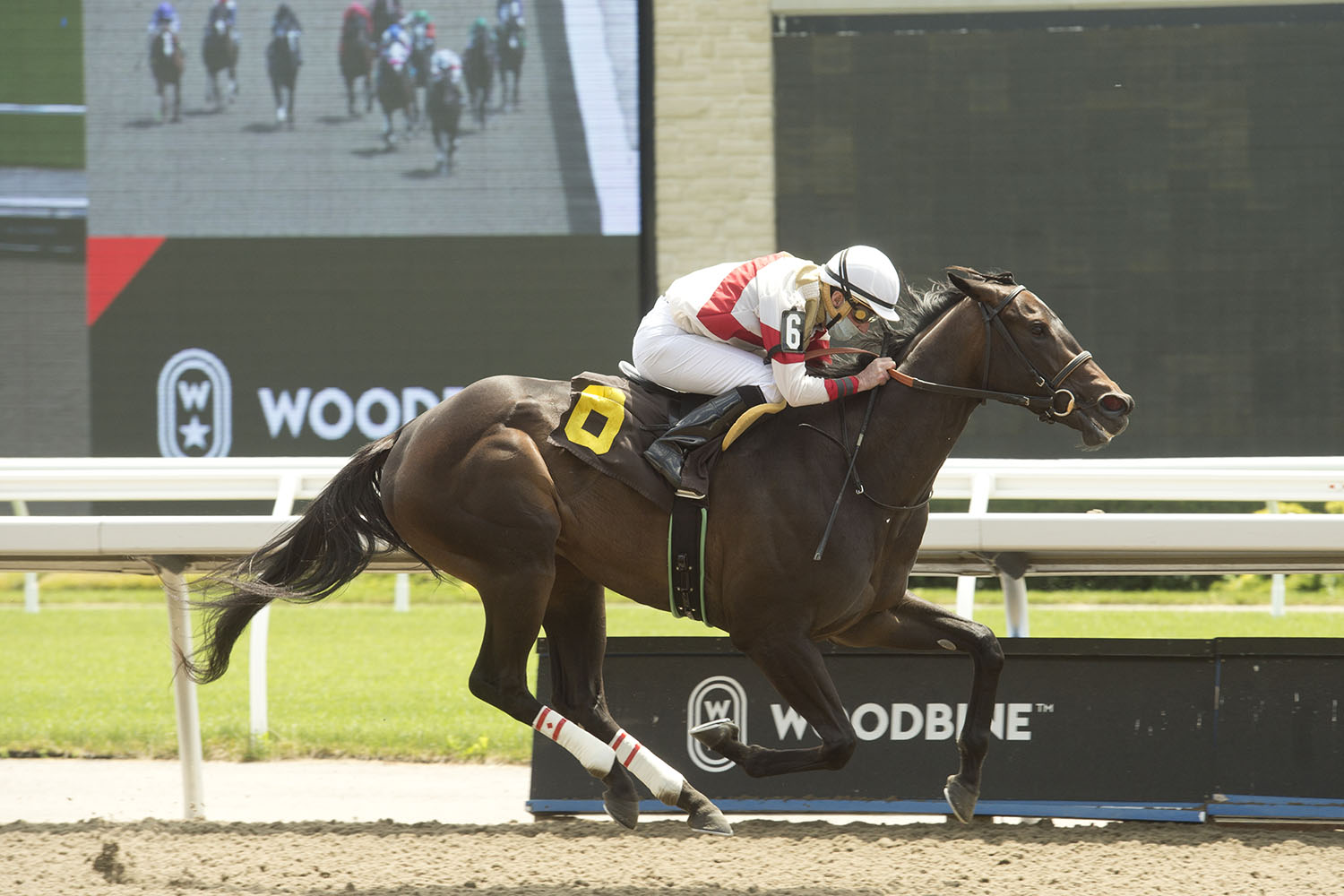 Bred by Dr. Liam Gannon, Lorena debuted last November at Woodbine in a 5 ½-furlong main track event.
Sent postward as the 5-1 second choice in the field of 12, Lorena, under Rafael Hernandez, was 3 ½-lengths in front at the stretch call, going on to an easy 7 ½-length romp in 1:04.26.
"Before that race, she indicated she could be good first-time out," recalled Olguin. "You had the sense from the mornings works. She was always very calm and when she ran that first race, she ran very impressively."
Simon was understandably thrilled with the head-turning debut.
Just prior to the start of the 2021 Woodbine Thoroughbred campaign, he spoke glowingly, yet cautiously, about Lorena's future.
"She's Ontario-sired and Ontario-bred, so she's Canadian-bred eligible for everything, and I think she has a lot of upside if she takes those steps forward," offered Simon.
On June 19 in a 6 ½-furlong trek over the Toronto oval Tapeta, Lorena did just that.
This time, as the 2-1 choice, she converted a head advantage at the stretch call into a sharp three-length score in a time of 1:15-flat.
Olguin believes the best is yet to come for the filly whose dance card could include the $500,000 Woodbine Oaks presented by Budweiser on August 1, and perhaps a spot in the $1 million Queen's Plate starting gate on August 22.
There are still question marks – she's yet to test two turns – ahead of those high-profile engagements, which has prompted Olguin to take a measured approach when speaking of Lorena's future.
"I try not to think about those races, to be honest. She's nominated to the Fury [July 10, at Woodbine, a seven-furlong main track test on the road to the Oaks] and if everything goes well, she'll go in there. After that, we'll just have to see. I just want to take one race at a time. My goal is to take her to work every day and come home safe with her. That's always my goal with any horse."
All of that said, he likes what he sees.
And Olguin's viewpoint is well informed, considering he has an inside track in the mornings.
"When I gallop her, I like her stride and I like that she's calm. Nothing much upsets her and she has a very good mindset. She's nice to gallop. She's what you want in a horse. If you upset her, she can be feisty, but once I gallop her, she's all business. She goes out and does her thing."
Should Lorena contest the Oaks and possibly, the Plate, Olguin will look the part.
He'll let those in silks chase glory while he fashions a suit and silk tie from the owner's box.
It's a decidedly different view from the one he had for a big part of his life, a perspective that can brings its share of new challenges.
"The other day when she ran, my hands were so sweaty that I couldn't even open my phone. I was so nervous and I didn't know why. I never got like that when I was riding. I had butterflies in my stomach sometimes – that happened lots of times – but never anything like her first race this year."
Olguin wouldn't mind experiencing that reaction again, perhaps when she contests one or two of the biggest races on the Woodbine stakes calendar.
"If she moves forward from her first two races, she's going to be okay. I'm really enjoying being an owner. It's still a big rush when you see your horse cross the wire first."