TORONTO, March 7, 2021 – Janeen Lalsingh's smile grew ever wider as each horse was walked off the trailer in front of Barn 12 on the Woodbine backstretch in early March.
One by one they stepped down the ramp, unraced rookies, veteran campaigners and all those in between, every one of them carefully led to their home for the 2021 Woodbine Thoroughbred season.
It was a moment that had once seemed so far away for Lalsingh, the day when the longtime groom would be part of the group to welcome the horses to trainer Dan Vella's barn at the Toronto oval.
And now that the day had finally arrived, she was even more elated than she had expected to be.
"When the truck came in, the horses, they don't forget you. They look at you as if to say, 'Hello, do you have my mints? I can see the container right there.' It's a wonderful sight."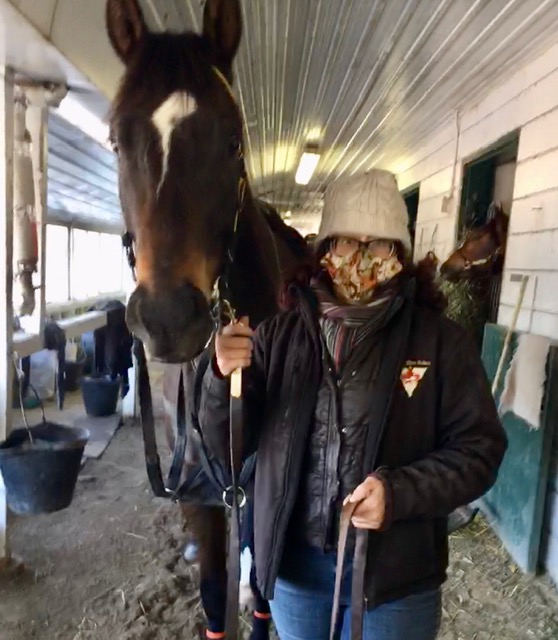 As for who is happier to see the other, Lalsingh, in her first full year working for Vella, a two-time Queen's Plate winner, doesn't have to wait for the question to finish being asked.
"Definitely me. In the wintertime, normally I'm off, but I do go to the farm to visit the horses. But with COVID and the lockdown, you want to make sure you are doing the right thing and staying home, as tough as that is. So, I was that much happier to be back at Woodbine and to see their beautiful faces."
Born in Valsayn, Trinidad and Tobago, Lalsingh, who has been around horses almost her entire life, has worked as a groom at the Toronto oval since 2002.
Early hours – like her contemporaries, her day is already in full swing by 4:30 a.m. – and long days, rain, snow or shine, come with the territory.
None of it dampens Lalsingh's enthusiasm for her life in racing, a role that requires a meticulous eye, a patient hand, and an equal measure of love and respect for the animal.
"I'm normally at the barn at four in the morning. When I first get here, I'll go into the stalls and if they have bandages, I'll take them off. You take temperatures, to make sure they are healthy. You takeout their water and feed tubs and get organized for the rest of the day. The first set of horses normally goes out [for training] about half past five. You get your horses ready – I have five horses to get out – so that means five sets. You get them brushed off, tacked, and ready to go.
"When they come back in after training, depending on what time of year it is, you get them cleaned up, give them a bath or sponge them off. They cool out for 25 minutes to half an hour depending on what they did that morning. Some horses may go out and graze for 20 minutes to half an hour. They go back in their stall where they have lunch. Then, it's brushing and putting new bandages on for those who have them and then they relax for most of the afternoon."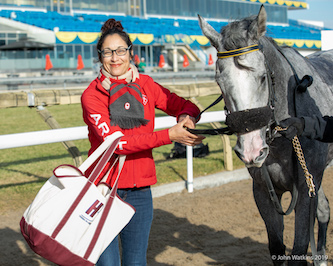 Each new day is typically unlike the previous one for Lalsingh, who will have five horses to take care of this year, three of them two-year-olds.
"I don't do the afternoon feed every day, but when I do, I have a couple of hours of downtime before I start back at 3 p.m. Then I go back down the line again. You put the halters on, pick stalls, refill and change water buckets, and supper tubs go in at 4 o'clock. When it comes to horses cooling out, I use two races to gauge the time they need for it. Some do it faster than others, but it might be a good hour, plus grazing time, after a race. So, some days I'm here until four, other days it could be around noon, and other times it isn't until much later – the hours can vary depending on how long morning training was. With this job, it can be an eight-hour day or a 16-hour day, depending on the circumstances."
Caring for equine athletes brings her a joy unlike no other.
"They put a smile on my face every morning. Each one is unique in their personality and each one is amazing in their own right. After they train, that's my time to bond with them. I brush them and give them some treats. I think I talk to them more than I talk to people on some days. I feel very lucky to have them in my life."
*
Some 1,600 kilometres east of Woodbine, in Nova Scotia, Siobhan Brown, groom of 2020 Queen's Plate and Prince of Wales champ Mighty Heart, is preparing to head back to Ontario, more specifically, to hall of fame trainer Josie Carroll's Barn 39 operation.
The native of Cape Breton, NS, who'll start her fourth year working for Carroll, is keeping her mind occupied with a daily dose of Netflix offerings.
Thinking about the five horses she'll have under her care, including one-eyed wonder Mighty Heart, takes up even more of her time.
"I'm going crazy," said Brown. "I'm counting down the days. I just can't wait to get back. I think about Mighty Heart daily, but I also think about my other horses. It's just so exciting. You wonder what the year is going to bring. Twirling Faith, one of the horses I take care of, she won at Gulfstream on Valentine's Day. I watched the race on TV and I was screaming every step of the way, trying to tell her what to do. That's the way I am with all my horses… I really can't wait to see what the year brings."
Brown is scheduled to arrive in Toronto around the middle of March, and in accordance with the strict safety protocols put in place by Woodbine, will quarantine for 10 days before getting to work on the backstretch.
When she does return, she'll have some special gifts in tow, including a nearly six-foot plush inchworm.
Yes, you read that correctly.
The recipient of the stuffed toy is the mare Grey Seal, aka, "Gracie," a strong-willed 6-year-old daughter of Mizzen Mast.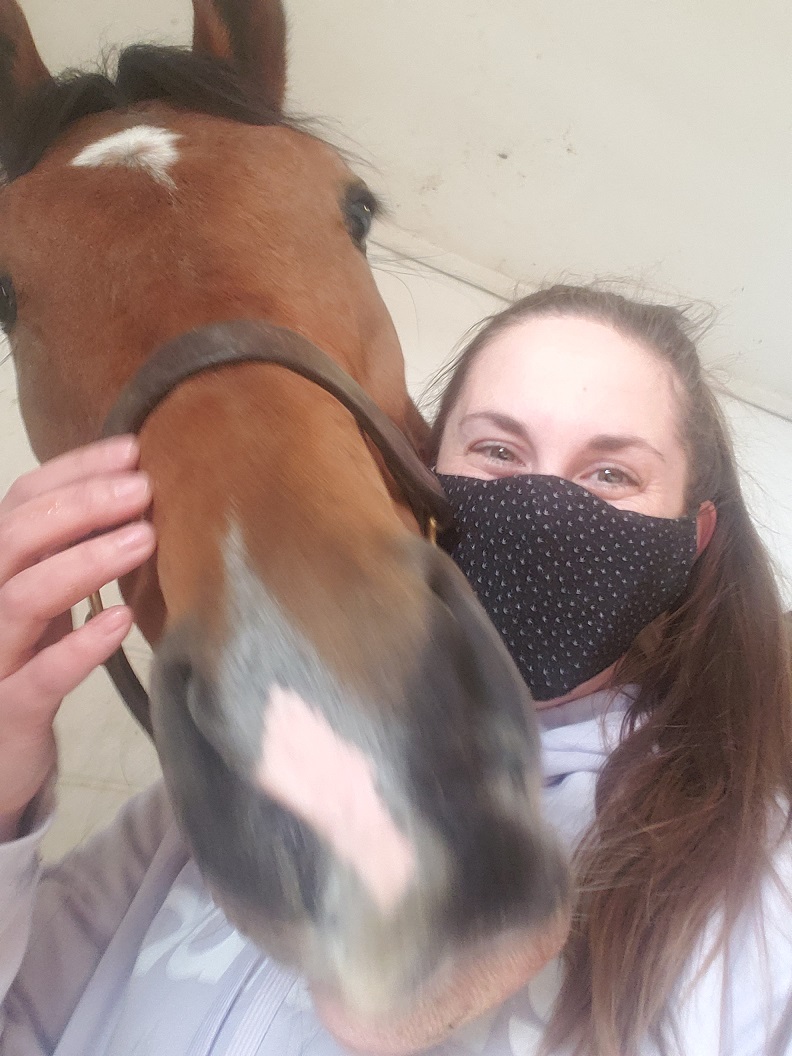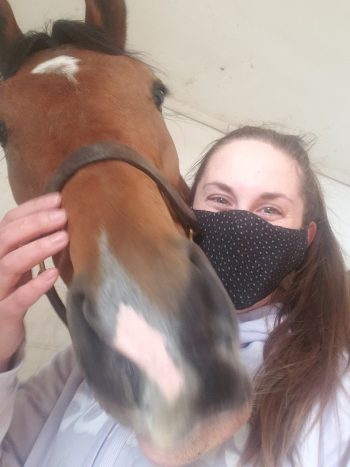 "Grey Seal, she needs to have a stuffed toy. She likes to have one with her at all times. But I love all of my horses. Every one one of them has their own unique personality. My goal each year is always to have each horse win a race. I want them to have that moment because when a horse wins, it's though they know they've done well. They are just so proud of themselves. It's nice when they that moment because they deserve that. More importantly, I just want them to know I'm there to take care of them and to make sure they are loved."
Brown, who received widespread media attention after Mighty Heart's high-profile victories, is looking forward to reestablishing the bond she had with the horses under her care in 2020.
She counts those relationships as amongst the most important ones in her life.
"I've always told people that it's not a career… I just love it. Ironically, I'm not a morning person, but when I pull up to the barn and it's the warmer weather and the car windows are all down, my horses know my car and they come to the gate. You hear that nickering in the morning before it's even light out. It's a beautiful sound. It's so rewarding. Through my own sports, I've experienced the satisfaction of being successful, but it's something so different and so special with horses. Even just watching them breeze or train, it's amazing to see it all unfold and know that you've played a role in it."
With the scheduled start of the Woodbine Thoroughbred season just under six weeks away, both Lalsingh and Brown – one of them already in their happy place, the other soon to follow – will appreciate every moment they have to be with their horses over the 133-day meet.
"The horses, they are part of you," offered Lalsingh. "I wake up with a smile every day knowing that I get to be around them."
It's no different for Brown.
"Even when I'm not with them, I think of them throughout the day. And whenever I do, it puts the biggest smile on my face."