By: Eric Wing for Woodbine.com
TORONTO, July 27, 2018 – Nick Noce has always been fond of Woodbine, especially after winning a 2012 tournament here that netted him his first and only berth in the National Horseplayers Championship (NHC). That devotion to Woodbine racing likely deepened quite a bit on July 21 when the former Western Regional OTB Chief Financial Officer from Rochester, New York finished first of 106 entries in Woodbine's Mid-Summer Horseplayers Tournament. The triumph meant $2,115 in prize money for Noce, 61, along with his final bankroll amount of $1,659—plus a return trip to the NHC next February.
"I just love Woodbine. I don't usually miss one of their tournaments," said Noce, who first began playing contests at Penn National in the 1990s. When Penn National discontinued those events, Noce took a contest "hiatus." But he rediscovered tournament play in 2010 at Woodbine, which is only a three-hour drive from Rochester.
Always liking to increase his chances for success provided that the entry fee is reasonable, Noce purchased three entries (the maximum permitted) for the Mid-Summer Tournament at $250 each, and two of those went bust in relatively short order. With his other entry, Noce made the bold decision to bet his entire $100 starting live bankroll on No Dozing, a 6-1 shot in the 3rd race at Saratoga. When No Dozing won and paid $15.40 to win, Noce found himself in the lead with $770.
He was soon passed, though, by Toronto contest stalwart Allan Schaffer, who risked $60 to win in Woodbine's 4th race on Carmenootz, who won and paid a whopping $52.90, giving Schaffer $1,567—more than twice what Noce had.
After Noce suffered $110 in losses, it was time for another bold move. He bet his entire remaining bankroll of $660 to win on the Steve Asmussen-trained Nitrous, who won the 6th race at Saratoga and paid $3.70.
With five races left at the two contest tracks (Woodbine and Saratoga), Noce found himself in third-place with $1,146, and there were pursuers behind him nipping closely at his heels.
A self-professed "weekend warrior" who doesn't typically bet big money, Noce swallowed hard and told himself, "When you get this close, you have to go for it." He decided that if he was going to reach his goal of a return trip to the NHC, it was time for one more all-in plunge—this time on the Chad Brown-trained Sistercharlie in the 10th race at Saratoga, the Diana Stakes.
Two NHC seats were on offer at Woodbine, and Noce was only $180 out of second-place. So he decided to add an element of safety to his play. He put his $1,146 on Sistercharlie to place, rather than to win. Capitalizing on his accounting background, Noce had calculated that Sistercharlie would pay about $2.50 to place and that would be good enough to move him up into that coveted second-place position.
Sistercharlie wound up winning by a nose, but Noce wasn't disappointed that he bet to place and not to win. "It saved me from having a heart attack in the stretch," he laughed.
There was more good news, however: Finishing second to Sistercharlie was the longest shot in the field. That meant a place payoff of $2.90 rather than the $2.50 that Noce had forecast. He was now all the way up in first-place with $1,659.
Perhaps having had his fill of boldness for one day, Noce decided to sit on his lead and make someone catch him. No one could. Allan Schaffer finished second and grabbed the other available NHC seat. Laurance Salvati finished third.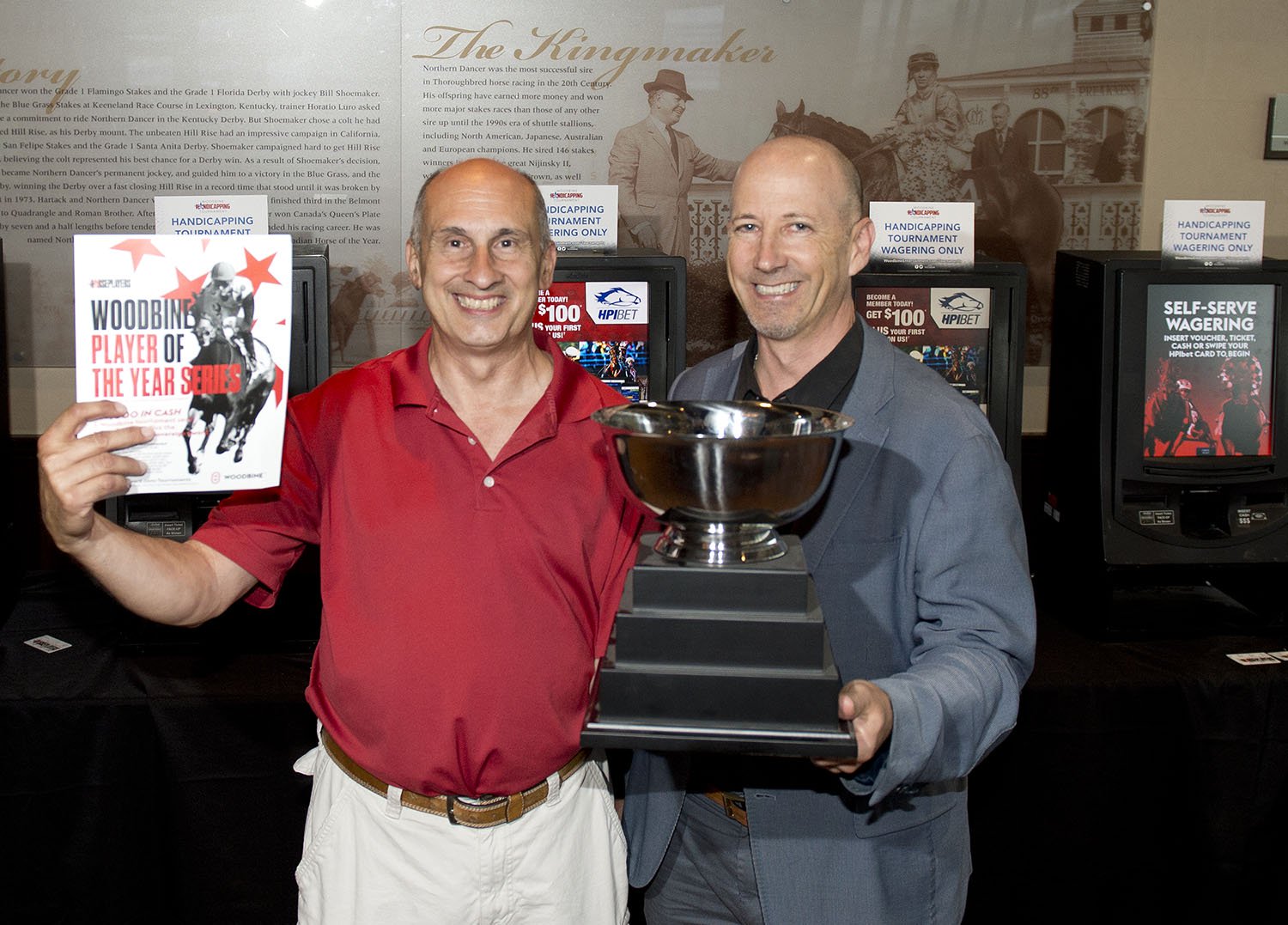 "What a fun day it was," Noce said. "I go by myself to these tournaments. People don't know who I am. But if there were 30 people left in the room at the end of the day, at least 15 came up and congratulated me. The camaraderie at Woodbine is just terrific. I can't begin to explain what that means."
Nick Noce has always been a racing fan, but the Rochester, New York resident also had, for 25 years, the pleasure of working in the racing industry. He started out at Western Regional Off-Track Betting selling parimutuel tickets to Western New York State horseplayers, and he eventually worked his way up to branch manager and, later, Chief Financial Officer.
For the last 13 years, Noce has worked at the Monroe County (N.Y.) Water Authority, where he now serves as the organization's Executive Director. Despite his heavy workload, or perhaps because of it, Noce still looks for any opportunity to spend a day playing the races.
Typically that means heading to his local Western OTB branch where he cheerfully pays the five per cent surcharge on winnings that so many of his New York horseplaying brethren bemoan.
"I was there for so long, and now my son T.J. works for Western OTB as a staff accountant…so I look at the surcharge as 'paying it forward,'" Noce laughed.
While Noce doesn't mind taking a five per cent haircut at Western OTB, at the track, he's all about value. "You wouldn't know it from how I played last Saturday at Woodbine, but I very rarely bet chalk," he said. "I don't like to bet horses under 5-1. To find those horses, I try not to look just at the top line [of the past performances]. I like to go back three or four lines and see if the horse did something good that others might overlook.
His advice to new contest players is a bit less analytical.
"Go and have fun," he said. "Don't expect to win. There's nothing better than a day at the racetrack. Go to a tournament with the expectation of having fun and of having an escape. If things start going well, then you'll become a regular. It's a great experience. It shouldn't be a job."
Another great experience Noce is looking forward to is representing Woodbine at next February's NHC.
"Driving home to Rochester from Woodbine, I started thinking of [2017 NHC Champ] Ray Arsenault, [2018 NHC winner] Chris Littlemore, [2018 Horseplayer World Series victor] Bob Montgomery, and all the success that they've had," he said. "I'm hoping I can continue their tradition. I'm not Canadian, but who knows? Maybe the racing gods will see that I qualified at Woodbine and send some good karma my way in Las Vegas."
TOURNAMENT NEWS—With his victory in the Mid-Summer Horseplayers Tournament, Nick Noce joins Spring Meet Horseplayers Tournament victor Russell Wilkes at the top of the standings for the 2018 Woodbine Player of the Year Award. Players receive points for top finishes in Woodbine's four major horseplayer tournaments. Those who play in at least three of the four events automatically become eligible for end-of-season bonuses, including $6,500 and a Sovereign Award to the overall top finisher.
The series continues with the two-day Woodbine Weekend Horseplayers Tournament on August 25-26. Four NHC seats and one Breeders' Cup Betting Challenge entry will be at stake in Woodbine's lone multi-day competition. The Woodbine Weekend Horseplayers Tournament also has a reduced entry fee for 2018 of $350.
The four-event series concludes with the September 15 Woodbine Mile Horseplayers Tournament, which—in addition to crowning the Woodbine Player of the Year—offers two BCBC entries, four NHC seats and rich cash bonuses. The buy-in for the Woodbine Mile Day event is $3,500.
***
Eric Wing is the Communications Director at HorseTourneys and the longtime emcee at the National Handicapping Championship. Prior to joining HorseTourneys, Wing headed up Communications at the National Thoroughbred Racing Association and The New York Racing Association. Wing's Player Profile will be published monthly on the last Friday of each month on Woodbine.com.