By: Beverley Smith for Woodbine.com
TORONTO, May 27, 2019 – Frank Barroby is a lifer at the horse racing game. Countless honours as both a jockey and trainer have rolled his way. And now he's been chosen as the 2019 recipient of the Avelino Gomez Memorial Award for his contributions to Canadian jockeydom and the sport.
The 75-year-old Saskatchewan native (his hometown of Ravenscrag is now a ghost town) is thrilled to bits, particularly because he actually rode against Gomez in the two seasons he worked as a jockey at Woodbine. And he loved the guy.
"I thought a lot of Avelino," Barroby said. "He was kind of a showy guy and just as good a rider as I've ever seen.  When he was on a horse, and he wanted them to pick it up, you could see them extend themselves."
Gomez wasn't the most talkative guy, said Barroby, who is a quiet sort himself. "We were good in the [jock's] room. I liked him. I really did. Robin Platts told me he was a showboat. But dammit, he was good and he had every right to be.
"I remember him walking on the outside rail [after being defeated on a favourite] and that there was this one lady who always gave him a hard time and he'd give her a hard time. It was wonderful to watch."
Irwin Driedger, executive director of the Jockeys' Benefit Association of Canada, describes Barroby as "a class act" who is very highly regarded in British Columbia. "He's on a bit of a pedestal there," he said.
Barroby grew up in Saskatchewan, one of 12 siblings, quite close to where jockey Dick Armstrong, the squire of Assiniboia Downs in Winnipeg, was born. Barroby followed Armstrong to the track, snaring his first win at Assiniboia Downs in 1961 with a difficult grey mare that had no tail and a habit of drifting.
Whatever Barroby had was magical. Even when he lost his bug, he didn't miss a step, winning 78 races in 42 days at Assinboia. In 1965, he rode 182 winners, short of winning the national title by five wins to Hugo Dittfach. He hadn't realized he was so close and at year's end, had taken time off to go hunting. He tries not to think about it.
He rode the prairie circuit – Calgary, Edmonton, Lethbridge, Saskatoon and Regina – and won riding titles in four provinces, Manitoba, Saskatchewan, Alberta and British Columbia. When he rode at Woodbine for two years in the mid-1960s, he was nicknamed "King of the Bullrings." Barroby also rode against Johnny Longden. In 1968, he moved back to Vancouver to ride for top owner Peter Redekop.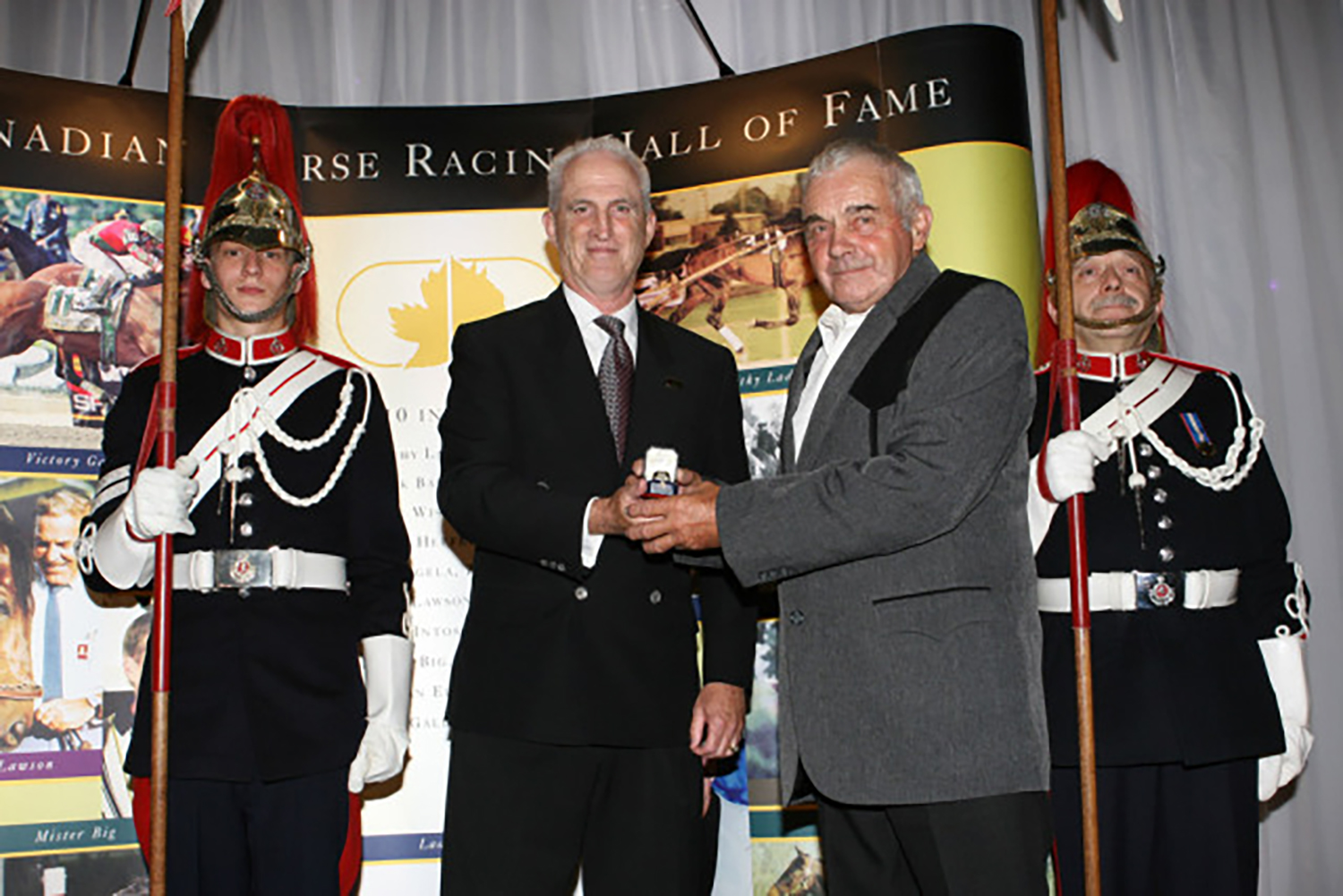 Barroby was leading rider in his first year at Hastings Park in Vancouver with 91 wins in 1968. For eight years, he led or sat near the top of the standings before retiring as a rider in 1976 when weight became an issue. He became a top trainer, too, leading the way in 1986, 1990 and 1993. Now with 976 wins under his belt, he currently trains a stable of 13.
In 2010, Barroby was the first B.C.-based trainer to be inducted into the Canadian Horse Racing Hall of Fame.
The Avelino Gomez award is presented every year at Woodbine on Woodbine Oaks day (June 8 this year).  A life-sized statue of Gomez overlooks the walking ring at Woodbine. Barroby will get to take home a replica.
Barroby will join an august group of jockeys who have also won the award: Ron Turcotte, Johnny Longden, Sandy Hawley, Don MacBeth, Chris Rogers, Jeff Fell, Lloyd Duffy, Hugo Dittfach, Robin Platts, Larry Attard, Don Seymour, David Gall, Richard Grubb, Irwin Driedger, David Clark, Jim McKnight, Chris Loseth, Richard Dos Ramos, Robert Landry, Francine Villeneuve, Sam Krasner, John LeBlanc Sr., George HoSang, Jack Lauzon, Robert King Jr., Stewart Elliott, Emile Ramsammy, Steve Bahen, Mickey Walls, Patrick Husbands, Quincy Welch, Gary Stahlbaum, Gary Boulanger and Emma-Jayne Wilson.