TORONTO, August 5, 2022 – A pair of $100,000 stakes, the Georgian Bay and Lake Huron, mark the start of this year's Ontario Sire Heritage Series, Sunday at Woodbine.
Established in 2021, the Ontario Sire Heritage Series is comprised of three opening legs and a $100,000 final for two divisions: 3-year-old colts/geldings, and 3-year-old fillies. The opening legs saw a purse increase from $80,000 last year to $100,000 in 2022.
All three legs and the final are contested over different distances and surfaces: the Woodbine Inner Turf Course, the Woodbine E.P. Taylor Turf Course, the Woodbine Tapeta, and Fort Erie Dirt Track.
In addition to the $400,000 in purses for each division, there is $70,000 in bonus money that is allocated to the top-three finishers in each division at the end of the series. Last season, Lorena, a daughter of Souper Speedy-Negotiable, led all participants with $108,000 in purse earnings, and $20,000 in bonus money by winning the Thunder Bay Stakes, and the Ashbridges Bay Stakes.
The Georgian Bay, a 5-furlong test for three-year-old fillies over the Inner Turf, has attracted 10 sophomores, including Breathing Fire.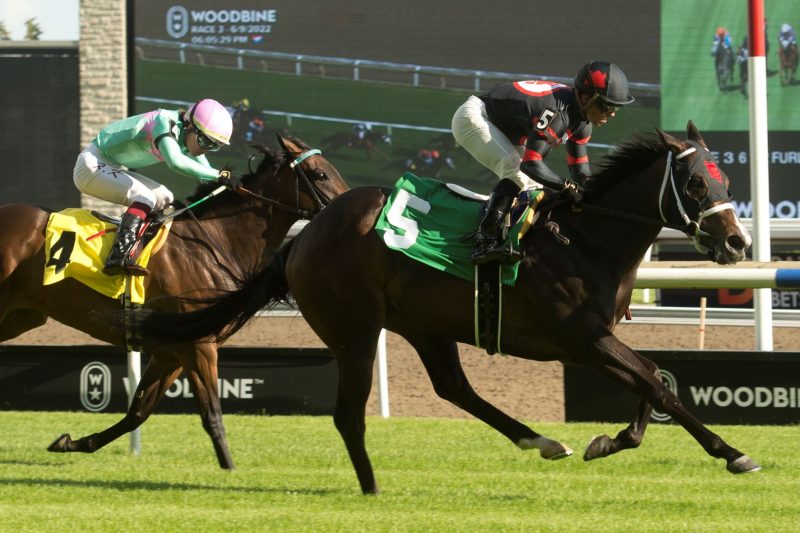 A homebred for Howard Walton's Norseman Racing Stable, the daughter of Signature Red-Poke the Dragon brings a record of 3-0-2 from seven starts into the Georgian Bay.
In her most recent effort, Breathing Fire finished third in the 6 ½-furlong turf Alywow Stakes on July 9, rallying between rivals to net the show award at odds of 64-1.
One race earlier, the dark bay notched a one-length win, also at 6 ½ panels over the E.P. Taylor Turf Course, drawing away late to secure the third win of her career.
"She's a really nice filly," said Canadian Horse Racing Hall of Fame conditioner Sid Attard. "I was very, very happy with her last race. She was closing very well, and she just missed second. She really likes the turf and she's had two very nice races on it. This is a filly that always shows up and always tries."
Contesting her third straight race on the grass, Breathing Fire will now tackle the Inner Turf, a course Attard believes his filly can adjust to.
"She's been training well and even though it might be a little short, we know that she will go out there and try," said Attard, who campaigned Breathing Fire's multiple graded stakes winning sire, Signature Red. "Hopefully, she can be just as good as those last two races. I like having her in our barn too. She's very quiet and very nice to be around."
Six 3-year-olds, including Silent Runner, Bossy Holiday and Uncle Joe will wade into the Lake Huron, also at 5 furlongs on the Inner Turf.
The Georgian Bay is scheduled as the seventh race on Sunday's 11-race card. The Lake Huron is race three. First post is 1:00 p.m. Fans can watch and wager on all the races via HPIbet.com and the Dark Horse Bets app.
$100,000 GEORGIAN BAY STAKES
Post – Horse – Jockey – Trainer
1 – Breathing Fire – Justin Stein – Sid Attard
2 – Dixie Morning (S) – David Moran – Michael Doyle
3 – Forest B (S) – Rafael Hernandez – Kevin Attard
4 – Thatsitthatsall – Kirk Johnson – Debra Rombis
5 – Pleasure's Gold – Antonio Gallardo – Tino Attard
6 – Indian Music – Simon Husbands – Michael Sims
7 – Lois Len – Patrick Husbands – Mark Casse
8 – American Gamble – Luis Contreras – Michael De Paulo
9 – Inspector Reload (S) – Declan Carroll – Andrew Smith
10 – Allpaidup – Omar Moreno – Randy Thompson
$100,000 LAKE HURON STAKES
Post – Horse – Jockey – Trainer
1 – Uncle Joe – Gary Boulanger – Steven Chircop
2 – Bossy Holiday – Luis Contreras – Josie Carroll
3 – Chairman Bob – Justin Stein – Kevin Attard
4 – Souper Rush – Christopher Husbands – Mike Mattine
5 – Light the Lamp – Rafael Hernandez – Don MacRae
6 – Silent Runner – David Moran – Michael Doyle

Woodbine Thoroughbred Pick 5 Guarantee Updates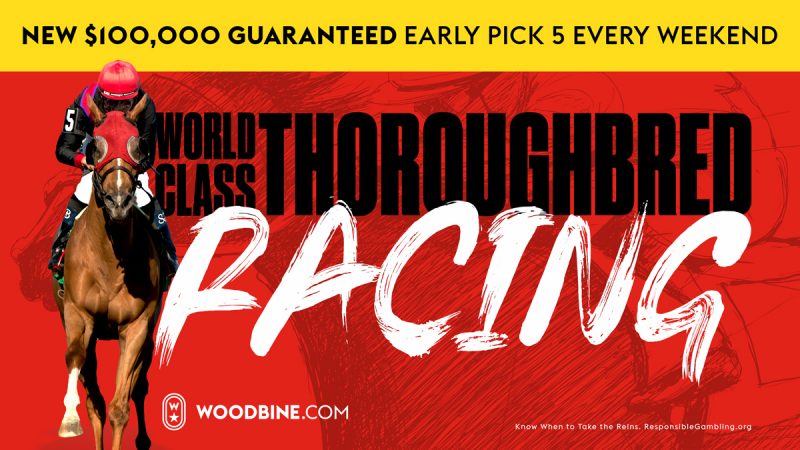 Effective this Saturday, August 6, the Pick 5 guarantee at Woodbine will increase to $100,000 on Saturdays and Sundays.
In keeping with Woodbine's commitment to offer horseplayers a full complement of attractive wagering options, Woodbine today announced that the Pick 5 guarantee will stand at $100,000 for Saturdays and Sundays (post time for both days is 1 p.m.), while Thursdays (5 p.m.) and Fridays (1:00 p.m.) remain at $50,000.
Fans can visit HPIbet.com, Canada's only dedicated wagering platform that offers over 500 racetracks worldwide to bet on, for more details.

Chris Lomon, Woodbine Communications / @WoodbineComms