TORONTO, August 11, 2022 – A pair of Grade 3 events, the $150,000 Bold Venture and $150,000 Trillium, co-headline Saturday's 11-race card at Woodbine.
Set at 6 ½ furlongs over the Woodbine Tapeta, the Bold Venture, for 3-year-olds and up, has attracted 14 starters, including Candy Overload.
A 4-year-old son of Reload-Mini Candy, the bay, trained by Krista Cole-Simpson, who co-owns with Denny Andrews and Northern Dawn Stable Inc, brings a mark of 3-4-1 from 12 starts into his latest test.
The gelding, known for his strong stretch rallies, arrives at the Bold Venture off an impressive win at 7 furlongs, a victory that showcased his signature late turn of foot, yielding a 2 ¼-length win in a time of 1:22.14.
Cole-Simpson is hopeful her consistent charge, 2-3-0 in his past six starts, will have some speed to chase on Saturday.
"The key is to have something for him to run at. The last time when he won, it was really exciting. Just how he closes, he was so wide in the turn, but he just flew past everyone with ease. Keveh [jockey, Nicholls] said, 'I love this horse and he just gets better and better.' He loves how he does everything. He came back to the barn after the win and brought him two bags of carrots." ​ ​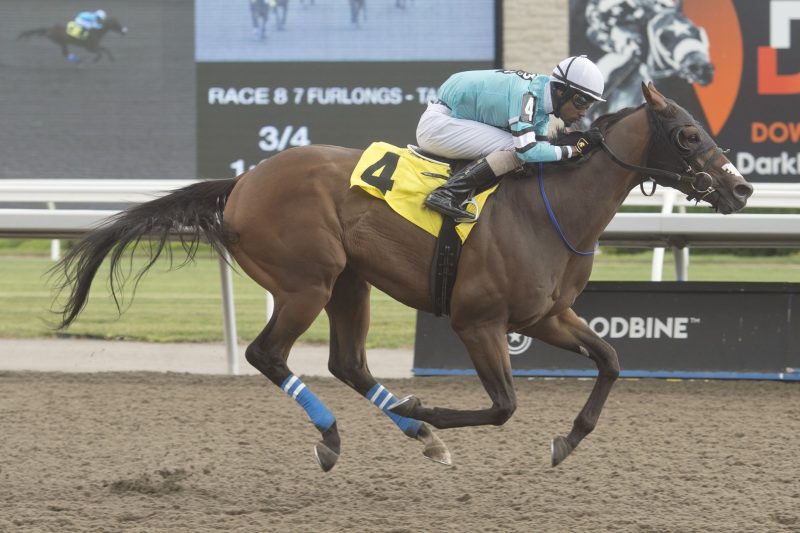 Cole-Simpson took notice of her stable star well before his first race, on July 12, 2020.
"His first race as a baby, we kind of threw that out because it was on the turf, and he got hit in the face with some grass and his whole face swelled up. I gave him time, gelded him, and he won his second start. I knew when he got off the trailer that he was going to be nice, when we got him from Florida. I thought, 'This is the horse.' He just looked the part."
Candy Overload, bred by Andrews and Northern Dawn Stables Inc., also acts the part.
"He has a pretty big ego," offered Cole-Simpson. "He knows he's a good boy. If the massage therapist or anyone comes by, he's like, 'You don't need to touch me. I'm perfect.' He acts like that. He's in good order coming into this race and he's happy. Turf and running long aren't his thing. He's definitely a closing sprinter. There are some good horses here, but he deserves to be in the race."
Other starters include Josie Carroll trainees Avie's Flatter and Mason's Gamble, the Mark Casse trio of Helium, Souper Stonehenge, Tap It to Win, and multiple stakes winners Nobals and Outadore.
Sprint star Pink Lloyd, now retired, won the 2020 and 2021 editions of the race.
The 1 1/16-mile main track Trillium, for fillies and mares, 3-year-olds and up, has drawn 13 hopefuls, a group that includes multiple graded stakes winner Lady Speightspeare, Grade 3 Hendrie stakes winner Hazelbrook, and Powder Break Stakes winner Kate's Kingdom.
The Bold Venture is scheduled as the eighth race while the Trillium goes as race seven. First post is 1:00 p.m. Fans can watch and wager on all the races via HPIbet.com and the Dark Horse Bets app.
GRADE 3 $150,000 BOLD VENTURE STAKES
Post – Horse – Jockey – Trainer
1 – Secret Reserve – Eswan Flores – Mike Mattine
2 – Avie's Flatter – Luis Contreras – Josie Carroll
3 – Candy Overload – Keveh Nicholls – Krista Cole-Simpson
4 – Tap It to Win – Patrick Husbands – Mark Casse
5 – Helium (S) – Justin Stein – Mark Casse
6 – Outadore – Gerardo Corrales – Wesley Ward
7 – Nobals – Rafael Hernandez – Larry Rivelli
8 – Clayton – Antonio Gallardo – Kevin Attard
9 – Last American Exit – Daisuke Fukumoto – Robert Tiller
10 – Mason's Gamble – Luis Contreras – Josie Carroll
11 – White Flag – Emma-Jayne Wilson – Roger Attfield
12 – Lucky Score – Leo Salles – Willie Armata
13 – Roaring Forties – David Carroll – Katerina Vassilieva
14 – Souper Stonehenge – Patrick Husbands – Mark Casse
*Also Eligibles*
15 – Red River Rebel – Antonio Gallardo – Kevin Attard
GRADE 3 $150,000 TRILLIUM STAKES
Post – Horse – Jockey – Trainer
1 – Il Malocchio – Sahin Civaci – Martin Drexler
2 – Talbeyah (IRE) – Rafael Hernandez – Mark Casse
3 – Alydiva – Rafael Hernandez – Mark Casse
4 – Dreidel – Justin Stein – Josie Carroll
5 – Kate's Kingdom – Antonio Gallardo – Armando De La Cerda
6 – Hazelbrook – Jason Hoyte – Lorne Richards
7 – November Fog – Luis Contreras – Sarah Ritchie
8 – Inthewinnerscircle – David Carroll – Mark Casse
9 – Lady Speightspeare – Emma-Jayne Wilson – Roger Attfield
10 – Lovely Ride (S) – Gary Boulanger – Robertino Diodoro
11 – Dreaming of Drew – Patrick Husbands – Barb Minshall
12 – Lake Lucerne – David Moran – Brendan Walsh
13 – Crystal Glacier – David Carroll – Mark Casse