TORONTO, November 25, 2021 – A pair of $150,000 rookie stakes, the Grade 3 Grey and Grade 3 Mazarine, highlight Sunday's 12-race card at Woodbine.
The 1 1/16-mile Mazarine has attracted a field of nine two-year-old fillies, including Moira, a daughter of Ghostzapper who had a stellar debut in the Princess Elizabeth Stakes on October 23 at the Toronto oval.
With jockey Justin Stein at the controls, the Adena Springs-bred miss put in a stunning rally to win going away by 4 ¼-lengths in the 1 1/16-mile tilt. The final time was 1:44.63.
Trained by Kevin Attard for owners X-Men Racing LLC, Madaket Racing LLC and SF Racing LLC, Moira managed to surpass the conditioner's lofty pre-race expectations.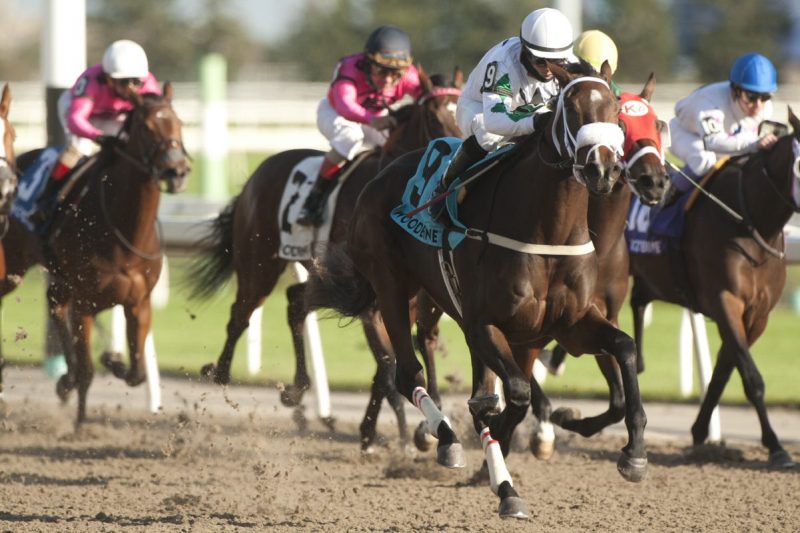 "She's a very nice filly," said Attard, who is enjoying another prosperous campaign at the Toronto oval. "I was very keen even before we ran her. Obviously, to be running in a stake and going two-turns first-time out is a bit of a risky undertaking, but I thought it was a very calculated risk. I was confident in her and it worked out really well. I thought she looked pretty impressive. This race, the Mazarine, is open company and a big step up in class but she's trained really well in the interim and I'm really excited to see her continue to develop and possibly be a very nice horse."
High-profile bloodstock agent and owner Donato Lanni was equally impressed by Moira's curtain-raising performance.
"I was not necessarily expecting that," admitted Lanni. "I was at the Yearling Sale [in Kentucky] and we stopped looking at the horses and went into the bar there to watch her. I was really nervous because I didn't know a whole lot about her, but Kevin mentioned that the race was coming up and he didn't want to run her short. When he told me he wanted to run her in the stake, I was initially thinking, 'Are you kidding me?' He told me not to worry. That was it.
"When I was watching the race and saw her make that move, I was stunned for a bit after that. She was really impressive. Kevin is a good friend of mine and I've known him for 20-plus years, and he's a hell of a trainer. Him knowing about Moira ahead of that race is a great example of that."
Lanni, a Montreal native who moved to Kentucky 25 years ago, will be at Woodbine along with other owners of the bay filly to watch her run in the Mazarine.
"I'm excited about going to Woodbine," said Lanni. "I'm bringing some of the owners from Kentucky with me. It's going to be a good crowd of people and it's going to be a lot of fun to attend the races at Woodbine this late in the year. Some of these guys have never been to Woodbine, so they're pretty excited about going up there and seeing what it's all about and watching her race."
Although the 2022 edition of the Woodbine Oaks Presented by Budweiser is far down the road, Stein thought of the country's pre-eminent race for Canadian-foaled three-year-old fillies just after the finish line in the Princess Elizabeth.
Those thoughts haven't changed.
"She was really impressive," praised Stein. "Kevin thought she belonged in there and I rode her like she belonged in there. She ran better than I expected. It was pretty amazing for a first lifetime start. She looks the part, she behaves like it, and she ran like it. There's a lot of talent there."
Among the past Princess Elizabeth winners who have gone on to take the Woodbine Oaks are Nipissing (2012), Roan Inish (2009), Ginger Gold (2001) and Dancethruthedawn (2000).
Attard and Lanni will also be represented in the 1 1/16-mile Grey, sending out Be Like Clint and Hicksy.
Bred in Kentucky by Woods Edge Farm and owned by the same connections as Moira, Be Like Clint is 1-1-1 from four starts and will contest his first career stakes race on Saturday.
The son of Point of Entry arrives at the Grey off a second-place finish in a 1/16-mile Tapeta race on November 6.
"I was a little disappointed in his last start," said Attard. "He lost a little bit of ground around the turn and then regained some momentum and ran on to be second. He's a colt that still seems to be figuring things out, so we're hoping he takes another step in the right direction and shows a little bit more improvement."
Hicksy, owned by Lanni through the Lanni Bloodstock LLC banner, heads into the Grey on a two-race win streak, including a three-quarter length score in the seven-furlong Display Stakes on October 30.
The son of Hootenanny, bred by Richard Forbush, debuted on September 12 at Woodbine, finishing fourth in a 5 ½-furlong main track race.
"He's a very nice colt," praised Attard. "He's won his last two races and is a stakes winner now. He's stretching out in distance for the first time. I don't think it's going to be an issue for him. He seems to be rateable. He has some early foot, and he can be positioned anywhere you need him to be. Hopefully, he's just good enough."
$150,000 MAZARINE STAKES 
Post – Horse – Jockey – Trainer
1 – Queen Judith – Emma-Jayne Wilson – Mark Casse
2 – Chocolateaddiction – Luis Contreras – Josie Carroll
3 – Mrs. Barbara – Rafael Hernandez – Mark Casse
4 – Kanta – Kazushi Kimura – Jonathan Thomas
5 – Guileful – Simon Husbands – Nathan Squires
6 – Moira – Justin Stein – Kevin Attard
7 – Aubrieta – Patrick Husbands – Mark Casse
8 – Souper Hoity Toity – Gary Boulanger – Mark Casse
9 – Sake (FR) – Shaun Bridgmohan – Jean-Claude Rouget
$150,000 GREY STAKES 
Post – Horse – Jockey – Trainer
1 – Heat Merchant – Gary Boulanger – Ralph Biamonte
2 – Speak Unity – Sahin Civaci – Norman McKnight
3 – Ironstone – Ademar Santos – Willie Armata
4 – Stowaway – Kazushi Kimura – Mark Casse
5 – Shamateur – Steven Bahen – Michael Doyle
6 – Be Like Clint – Justin Stein – Kevin Attard
7 – On Thin Ice – Kazushi Kimura – Mark Casse
8 – Churchtown – Emma-Jayne Wilson – Roger Attfield
9 – International – Shaun Bridgmohan – Jean-Claude Rouget
10 – God of Love – Rafael Hernandez – Mark Casse
11 – Hicksy – Antonio Gallardo – Kevin Attard
12 – The Minkster – David Moran – Daniel Vella
Woodbine Communications / @WoodbineComms