TORONTO, September 25, 2019 – Roaring Forties, a three-year-old son of Stormy Atlantic, roars into Saturday's Grade 3 $125,000 Ontario Derby, at Woodbine, on a two-race win streak.
Trained by Daniel Vella, the Borders Racing Stable Ltd.-owned chestnut arrives at the 1 1/8-mile main track Ontario Derby – complemented by another Grade 3 event, the $125,000 Durham Cup – off a strong performance last month.
On August 25, Roaring Forties, under Alan Garcia, notched a 2 ½-length victory over 1 1/16 miles on the Woodbine Tapeta. Sent on his way at 7-1, the Florida-bred held a head advantage at Robert Geller's stretch call, going on to cross the wire a comfortable winner.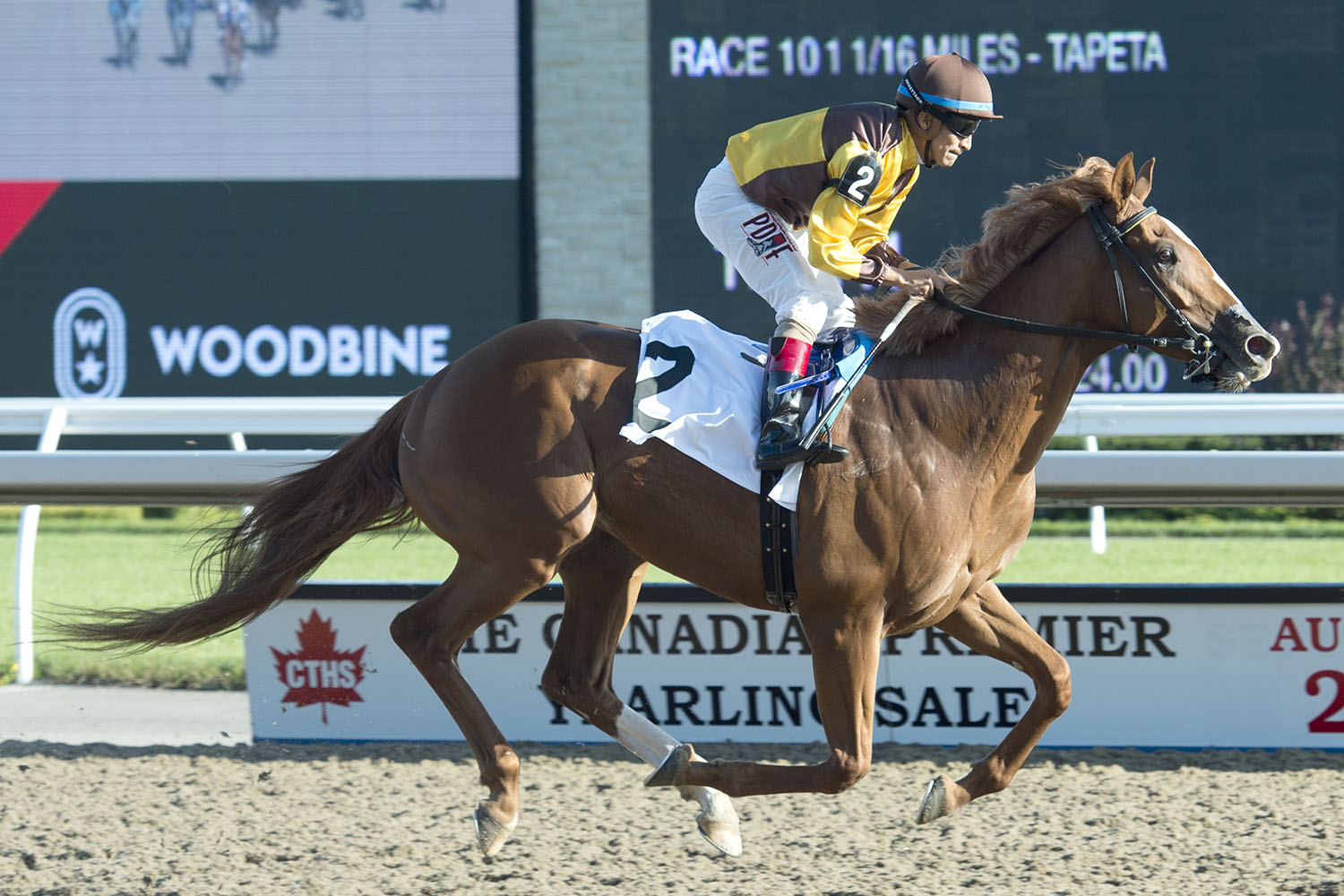 Just over three weeks earlier, in his third lifetime start, again at Woodbine, Roaring Forties rallied to record a half-length triumph as the 6-5 favourite, this time at seven panels.
The colt launched his career on May 5, finishing second at 21-1 in a seven-furlong race at the Toronto oval, rallying from 11th to eventually grab the runner-up spot.
One race later, over 'good' ground on the E.P. Taylor Turf Course, Roaring Forties finished fourth in the 1 1/16-mile race.
"He had a little bit of problems," started Vella. "He ran a good race in his first one, closed from way back after breaking slowly. We had to do minor throat surgery on him after that… nothing dramatic. After his second race, we had to do another one. So going into his third race, he had missed some training, but we decided he was good enough to go ahead and run. He won that race, and then when we ran him back – it was the first time I got to train him aggressively into a race – he ran even better.
"I was impressed last time with his turn of foot. He was sitting and relaxing, nice and quietly like a good horse should. He really accelerated and did all his work within three-sixteenths of a mile."
Vella, a lifetime winner of 832 career races, including a Queen's Plate victory with Basqueian in 1994, wasn't surprised at the quality of Roaring Forties' latest start.
"He's always trained well, so we figured he would run well," said the two-time Sovereign Award winner as Canada's Outstanding Trainer. "At some point, you have to test these nice young horses against quality animals. He's done everything right. There aren't a lot of three-year-old races left. It's a natural jump. If he runs in an allowance race, he's going to have to run in a two 'other than' against older horses, which isn't an easy spot. So you might as well take your shot at these lovely three-year-olds. Hopefully being a fresh horse, he can do some damage. "
Vella likes what he sees in the colt ahead of Saturday's race.
"He's a high-quality horse, and he's showing me everything a nice horse should. We believe he belongs with that caliber of horses."
The field also includes Avie's Flatter, who hit the board in all three legs of the OLG Canadian Triple Crown; Global Access, recent winner of Saratoga's Grade 3 Saranac Stakes; this year's Toronto Cup champion Armistice Day; Solidify, who won the Grade 3 Grey Stakes in his last Woodbine start; and three-time winner Jungle Fighter.
Vella won the Ontario Derby in 1994 when Nice To Know and jockey Robert Landry teamed to take the race in a time of 1:51.2.
Lookin to Strike, owned by Gary Barber, and trained by Mark Casse, took the 2018 Ontario Derby in a time of 1:49.30.
The Grade 3 $125,000 Durham Cup Stakes will share the stakes spotlight. Five horses will contest the main track event for three-year-olds and upward, including Thor's Rocket.
Last year, Lookin for Eight won the Durham Cup in a time of 1:50.55. Trainer Roger Attfield has won seven editions of the race, most recently with Are You Kidding Me in 2016.
The Ontario Derby is slated as race nine on Saturday's 11-race card. The Durham Cup goes as race three. First post time is 1:05 p.m. Fans can also watch and wager on all the action via HPIbet.com.
$125,000 ONTARIO DERBY 
Post – Horse – Jockey – Trainer
1 – Avie's Flatter – Eurico Rosa da Silva – Josie Carroll
2 – Jungle Fighter – Gary Boulanger – Robert Tiller
3 – Global Access – Patrick Husbands – Michael Trombetta
4 – Solidify – Kazushi Kimura – Graham Motion
5 – Armistice Day – Rafael Hernandez – Barbara Minshall
6 – Roaring Forties – Alan Garcia – Daniel Vella
$125,000 DURHAM CUP
Post – Horse – Jockey – Trainer
1 – The Great Day – Patrick Husbands – Arnaud Delacour
2 – Say the Word – Rafael Hernandez – Gail Cox
3 – Thor's Rocket – Justin Stein – Paul Buttigieg
4 – Special Forces – Alan Garcia – Kevin Attard
5 – Aheadbyacentury – Luis Contreras – John Ross