TORONTO, November 2, 2022 – c, a son of Accelerate-Purely a Dream, faces seven rivals in the $125,000 Display Stakes, part of a Saturday Woodbine card that also features the $125,000 Glorious Song Stakes.
Hal, trained by Darwin Banach, arrives at the 7-furlong Tapeta race for 2-year-olds off a strong debut on October 2 at Woodbine.
Under Justin Stein, the chestnut gelding, at 13-1, was four lengths on top at the stretch call in the 7-furlong main track allowance race, crossing the wire 1 ¼ lengths on top in a time of 1:23.69.
"We were very pleased, but not surprised," said Banach. "He had been training that way in the morning, where he just gallops along and follows everybody, sits there and waits, and when you say, 'Let's go!' he just seems to find another gear. The earlier works were just okay, but once we started going a little longer is when he really started to sparkle.
"Justin was quite taken aback with how fast he went from zero to hero in that race. He did work him one day and Hal kind of did the same thing. I think it was such a quick move to the lead where it was like, 'Okay, now what do we do?' Justin said that once he got him to the lead, he couldn't really relax with him, so he kept on moving him forward."
Owned by Suzi Shoemaker and First Corp. Thoroughbreds (who co-bred with Lantern Hill Farm LLC), Hal has worked steadily ahead of his first stakes appearance, a tab that includes a 5-furlong breeze, in :59.40 over the Toronto oval Tapeta on October 23.
Banach is hopeful his rookie can once again rise up to the challenge.
"And now, he'll have to have a repeat of his last performance. His fitness level is much better, he's developed since that race, he's grown since that race, he's figured it out that much more. I believe he'll move forward in a big way."
The veteran trainer compares Hal's attitude to a standout in his barn.
"He's a cool guy, pretty much like Bushido," said Banach, in referencing the two-for-two son of First Samurai-Burma Road, who is currently in Keeneland looking to gain entry into the Breeders' Cup Juvenile Turf Sprint. "He does everything you ask of him and he's totally chill."
Also on Saturday, 14 rookie fillies will travel 7 furlongs on the Tapeta in the $125,000 Glorious Song Stakes. The field includes stakes winners Anam Cara and Collecting Flatter, along with U.S. invaders Michele M. and Replenish.
First post is 1:00 p.m. Fans can watch and wager on all the action through HPIbet.com and the Dark Horse Bets app.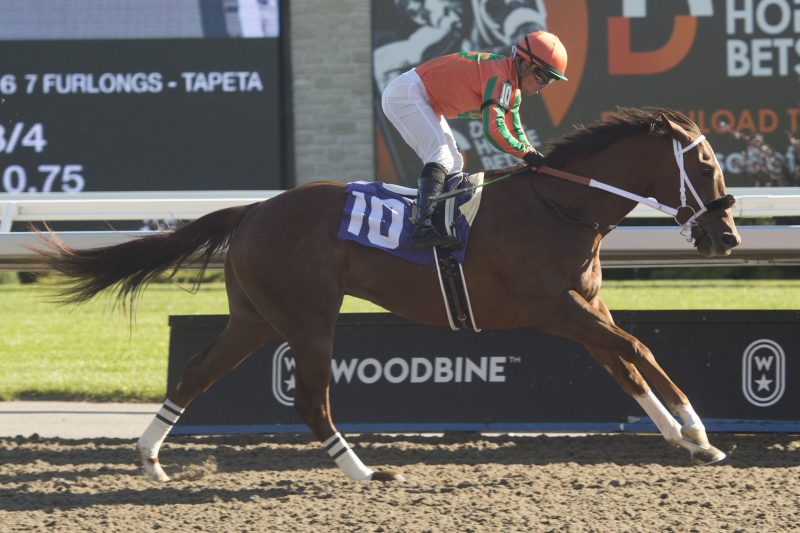 FIELD FOR THE DISPLAY STAKES
Post – Horse – Jockey – Trainer
1 – Alpha Meister (S) – Declan Carroll – Mark Casse
2 – Hal – Justin Stein – Darwin Banach
3 – Firing Bullets – Rafael Hernandez – Mark Casse
4 – Forever Dixie – Patrick Husbands – Mark Casse
5 – Chiseler – Kazushi Kimura – Barbara Minshall
6 – Ticker Tape Home – Patrick Husbands – Mark Casse
7 – Hank Ollie – Sahin Civaci – Sid Attard
8 – Keen Flatter – Luis Contreras – Josie Carroll
FIELD FOR THE GLORIOUS SONG STAKES
Post – Horse – Jockey – Trainer
1 – Anam Cara – David Moran – Sarah Ritchie
2 – Collect Dattt – Leo Salles – Kevin Attard
3 – Replenish – Emma-Jayne Wilson – Edward Vaughan
4 – Fearless Angel – Rafael Hernandez – Mark Casse
5 – Attabe – Justin Stein – Josie Carroll
6 – Dolce Sopresa – Luis Contreras – Josie Carroll
7 – Firing Bullets – Sahin Civaci – Mark Casse
8 – Collecting Flatter – Kazushi Kimura – Josie Carroll
9 – Helluva Holiday – Skye Chernetz – David Cotey
10 – Ticker Tape Home – Patrick Husbands – Mark Casse
11 – Forever Dixie – Patrick Husbands – Mark Casse
12 – Witch Hazel – Eswan Flores – Katerina Vassilieva
13 – Play the Music – Declan Carroll – Mark Casse
14 – Michele M. – Jack Gilligan – Rodolphe Brisset
Chris Lomon, Woodbine Communications / @WoodbineComms