TORONTO, August 21, 2022 – Hazelbrook, under Jason Hoyte, recorded her third straight triumph, after rallying to win Sunday's $134,750 Sweet Briar Too Stakes.
Hard Edge, leaving from the rail, was sent to the front in the 6 ½ furlong sprint for fillies and mares, 3-year-olds-and up, as Beyond Mybudget followed in second, with Hazelbrook, under Jason Hoyte, tracking in third, through an opening quarter timed in :23.05.
From first to last, it remained status quo in the six-horse field, as Hard Edge reached the half in :46.05, still in front by a half-length.
Racing to the outside, Hazelbrook began to steadily advance as the field reached the turn for home, engaging the leader in mid-stretch, eventually gaining the upper hand to lead by a head at the stretch call in 1:09.88.
The daughter of Bayern-Zaphia, second choice on the tote board at 5-2, crossed the wire a three-quarter length winner. Beyond Mybudget, one of three Mark Casse trainees, was second. Golden Vision was third. Hard Edge, Amalfi Coast and La Libertee rounded out the order of finish.
The final time was 1:16.14.
"Things went really, really well in this race," said Hoyte. "She is really, really a fighter. She's a big, big fighter. She doesn't give up at all. Always keeps trying."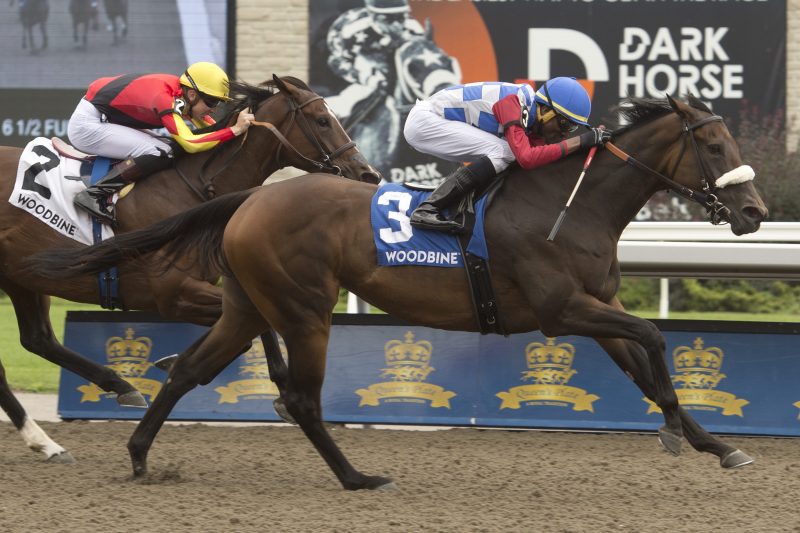 Owned by True North Stable, Hazelbrook, bred in Kentucky by Mike Bilbrey, is now undefeated in three starts in 2022. She won her 4-year-old debut on June 25 and followed it up with a victory in the Grade 3 Hendrie Stakes on July 24.
"Actually, she's had some issues with her stomach and been to the clinic a few times," said winning trainer Lorne Richards. "Jason's worked for me for a few years. You know, probably parts of the last 10 years. And he decided he wanted to try and ride again, and she was kind of a little tough filly. So, he ended up riding and he's done a great job on her."
Sporting a lifetime record of 5-0-1 from seven starts, Hazelbrook paid $7 for the win.
*
The Turf Endurance Series, for 3-year-olds and upward, started today with a 1 3/8-mile test over the Inner Turf. Theregoesjojo, under Kazushi Kimura, won by a half-length in a time of 2:21.30 and paid $4.10 for the victory.
For more details on the Turf Endurance Series, click here: woodbine.com/wp-content/uploads/2022-Woodbine-Additional-Competitions.pdf
*
Chris Lomon, Woodbine Communications / @WoodbineComms