TORONTO, September 23, 2021 – Hazelbrook, a three-year-old daughter of Bayern, a brings a two-race win streak into her first stakes test, the $125,000 Duchess, Saturday at Woodbine.
Trained by Lorne Richards for True North Stable, the Kentucky-bred filly shows up at the seven-furlong test over the Toronto oval Tapeta in top form.
Under Jason Hoyte, Hazelbrook, after breaking outwards, flew past her rivals in a 6 ½-furlong main track race on September 4, going on to record a 1 ¾-length victory in 1:16.42.
One race earlier, the bay broke her maiden courtesy of a 4 ¼-length romp at six panels on the Tapeta in a time of 1:09.05.
Hazelbrook debuted last November at Woodbine, sent off at 68-1 in the six-furlong main track race. She rallied to finish third, eight lengths behind winner Drunk Dial.
It's been anything but a straight path to the races – both last year and in 2021 – for the filly.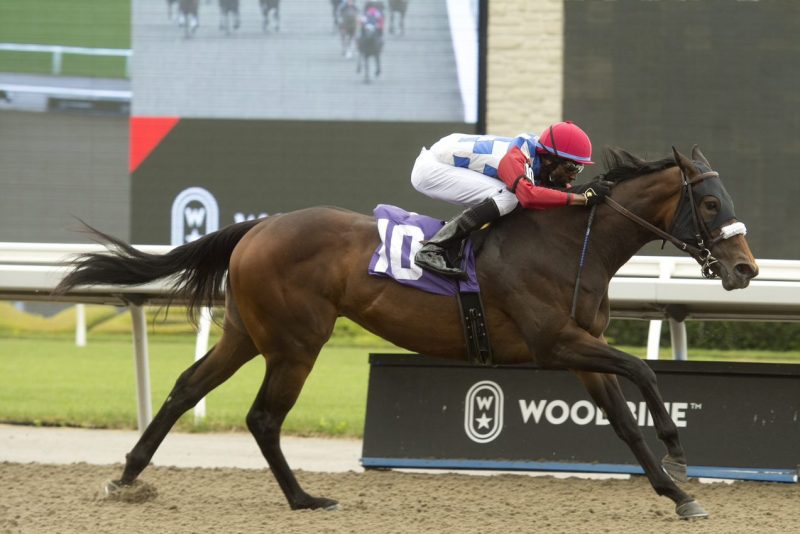 "She's quirky," said Richards, who won the 2010 edition of the Duchess with Sharp Secretary. "She's had a couple trips to Guelph [veterinary clinic], dealing with colitis-type issues. She's just a very quirky horse."
Fortunately for Richards, Hazelbrook's regular rider has managed to click with her.
"That's how Jason ended up riding her," noted Richards. "He worked for me for years, galloping, and she was kind of a bad actor. I didn't get a lot of takers wanting to ride her. We finally got her onto the track and she dumped her rider the first time she was supposed to run, and she ended up getting scratched. She's doing good right now and Jason has really put in the work with her."
The filly remains a work in progress, both on and off the racetrack.
That said, Richards was high on the horse early on.
"I always liked her from the get-go, but she was just so quirky and tough to deal with. She's gotten a lot better, so we'll keep our fingers crossed that she doesn't have any more trips to the clinic. That's my biggest fear with her. I had her entered after she won, but she ended up spending eight days in Guelph. We ended up changing her diet and it seems to be working so far. Hopefully, all goes well on Saturday."
Richards, who recently eclipsed the 400-win mark for his career, was equally impressed by both of Hazelbrook's victories. After the third-place effort to launch her career, the veteran trainer was expecting a quality showing in her second and third starts.
"I felt pretty good about her going into both races. She drew the outside [post 10, in her first race], which is good for her, and she did have a wide trip, but didn't get in any trouble. She ran another good one second time out too. I think she had a little bit left in the tank. It's a step up on Saturday, but she's doing well."
The most recent victory came after her second trip to the veterinary clinic west of Woodbine.
"Considering what she went through the first time, she recovered pretty quickly and had a really nice win. She went to the clinic before she ever raced and then again after her maiden win, which was in July.
Richards hopes her next trip is to the Woodbine winner's circle on Saturday.
"She's doing really well and knock on wood she stays well and has herself a big race."
First post for Saturday is 1:10 p.m. The 10-race card also features the $150,000 Bold Venture Stakes. Fans can watch and wager on the races through HPIbet.com and the Dark Horse Bets app.
FIELD FOR THE DUCHESS
Post – Horse – Jockey – Trainer
1 – Lady War Machine – Patrick Husbands – Josie Carroll
2 – Jilli Marie – Steven Bahen – Katerina Vassilieva
3 – Hazelbrook – Jason Hoyte – Lorne Richards
4 – Lorena – Gary Boulanger – Stuart Simon
5 – Souper Munnings – Kazushi Kimura – Mark Casse
6 – Miss Speedy – Rafael Hernandez – Mark Casse
7 – Salty as Can Be – Emma-Jayne Wilson – Mark Casse
8 – Aug Lutes – Antonio Gallardo – Michael Trombetta
9 – Bellissime – David Moran – Brendan Walsh
10 – Sweet Souper Sweet – Luis Contreras – Michael Trombetta
Woodbine Communications