TORONTO, October 13, 2022—Hazelbrook, a winner of two sprint stakes in the older filly and mare division this season, will be solidly back to add to her portfolio in Saturday's Ontario Fashion Stakes.
The Ontario Fashion, which offers Grade 2 status and a purse of $150,000, drew a field of six distaffers and will go as the eighth of 10 races on a program which begins at 1:20 p.m.
Hazelbrook, who races for the True North Stable of Keith Jones, began her career with a third-place finish here in the fall of 2020 and won her maiden and a first-level allowance to kick off her next campaign before finishing up the track in the Duchess Stakes.
The Kentucky-bred has come into her own this season, knocking out her second allowance condition before putting together a stakes double in the Grade 3 Hendrie and the listed Sweet Briar Too, both races coming at 6 ½ furlongs.
Last out, Hazelbrook ran valiantly in defeat as she looked to have the measure of the talented favorite Lady Speightspeare only to fall short by less than a length in the Grade 3, seven-furlong Seaway Stakes under Jason Hoyte, her only racerider to date.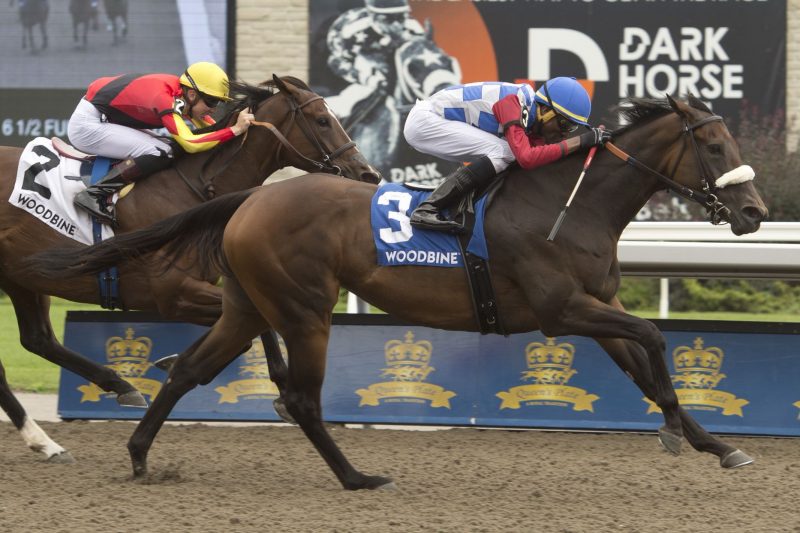 "We always kind of liked her but she was very goofy," said Richards. "The first time we tried to run her we barely got her out of the paddock and then she got loose on parade. So, it wasn't like guys were lining up to ride her.
"Jason had galloped her for me, and he started riding, so I said 'I'll throw him on. He knows her, and at least he's not afraid or anything'. He's done a good job on her. He's a very good kid and he's a little underrated, I think."
Hoyte has benefitted from the partnership with Hazelbrook furnishing his two career stakes wins to date.
Richards also relates that Hazelbrook's success has been achieved despite intestinal problems which have plagued her since she was a 2-year-old.
"For want of a better description, it's like a colitis," said the trainer. "She's got scarring and inflammation on her intestines, and stomach lining, and we don't know what's it's caused from.
"She's had some kind of trauma somewhere along the line. She's had three trips out to Guelph (the nearby University of Guelph's esteemed veterinary clinic) since we've had her here. Luckily, she hasn't gone this year but she has these sort of attacks. It's not really a colic, but she's in real pain."
Marie MacKay, the junior member of the Ontario Fashion field at age 3, also is the only other stakes winner in the lineup, having captured the 5 ½-furlong Shady Well in her second career outing.
The homebred, who races for Track West Racing Inc. and Don Whalen, finished third in an optional $50,000 claimer when last starting here September 25, ending behind fellow Ontario Fashion contestants Beat the System and Imagery.
Marie MacKay could make more effective use of her speed from the outside post on Saturday. Danny Vella trains and Patrick Husbands will be in the irons for the first time.
Rounding out the field will be Beyond Mybudget and Moqadama (IRE). Beyond Mybudget finished second behind Hazelbrook in the Sweet Briar Too but was a well-beaten sixth when beginning from the rail in the Seaway.
Richards won the 2007 running of the Ontario Fashion with the remarkable Financingavailable, a 10-time stakes winner who was Canada's champion older female in 2006 and 2007 and also took home honors as champion sprinter (before there was a separate award for female sprinters) in 2007).
Ontario Fashion
Post—Horse—Jockey–Trainer
1—Hazelbrook—Jason Hoyte—Lorne Richards
2—Beyond Mybudget—Declan Carroll—Mark Casse
3—Beat the System—Kasushi Kimura—Dale Desruisseaux
4—Imagery—Daisuke Fukumoto—Vito Armata
5—Moqadama (Ire)—Rafael Hernandez—Mark Casse
6—Marie Mackay—Patrick Husbands—Danny Vella
Bill Tallon, for Woodbine Communications