TORONTO, October 18, 2020 – Helium, who had stamped himself as one to watch in his victorious debut at Woodbine on September 27, lived up to those notices with a four-length romp as the 7-5 favourite in Sunday's $100,000 Display Stakes under returning rider Emma-Jayne Wilson.
The $100,000 Display, contested at seven furlongs this year after being raced over 1 1/16 miles since 1994, went with a field of seven two-year-olds.
Helium was the meet-leading 13th stakes winner for trainer Mark Casse, who also took Saturday's Glorious Song among his eight overall wins on the weekend programs.
"He's a pro, this horse is like an old soul," said Wilson." First time he ran, we wanted to just get his legs and come running. He was up near the point and when I asked him to quicken, he quickened.
"So today, I was pretty confident. They set some decent fractions in front of him and he wasn't fazed. Even the horse on the outside moved up and he was like 'Oh, can I go now?' I said 'No, we'll just wait.'
"And sure enough, when I pulled the trigger — you've heard this said time and time again when you're standing in this winner's enclosure…when you pull the trigger and they go, they're good horses. Well, that's what got me here today."
Maclean's Posse, also coming off an impressive first-out score and the strong 8-5 second favourite, moved sharply to the lead but was headed by Souper Classy through an opening quarter of :23.64.
That margin was reversed as MacLean's Posse caught the half in :46.40, with Gospel Way right there in third place.
Wilson, meanwhile, was biding her time in fourth place, but when she popped the question heading around the final turn, Helium was up to the task and had assumed total command when clocking the six furlongs in 1:10.27.
Gospel Way raced gamely to garner second money, a neck to the good of Decimator, the longest shot in the field at 56-1, who in turn had four lengths on fourth-place Exceed. Both Decimator and the 18-1 chance Exceed are trained by Ashlee Brnjas.
A faltering MacLean's Posse, Knight Kingdom and Souper Classy completed the order of finish as Helium crossed the wire in 1:22.62.
Rocket Reload, who entered in both the Display and the previous day's Glorious Song, opted for the latter race, finishing fifth behind the Casse-conditioned Souper Sensational.
Helium, who races for the D.J. Stable LLC of Len and Jon Green, is a Kentucky-bred colt by Ironicus and Thunder Gulch mare Thundering Emilia.
"It really makes a difference when you have horses that have that sort of competence of what's going on," said Wilson. "You know that means they're going to develop into something really decent because they've got the fortitude, they've got the brain.
"We talked about all the horses that we have, you know there's different ability levels and different competency levels and trainers are trying to balance that and make it work. But when you've got a horse that has the ability and the competency, they win stakes and they go on to do great things."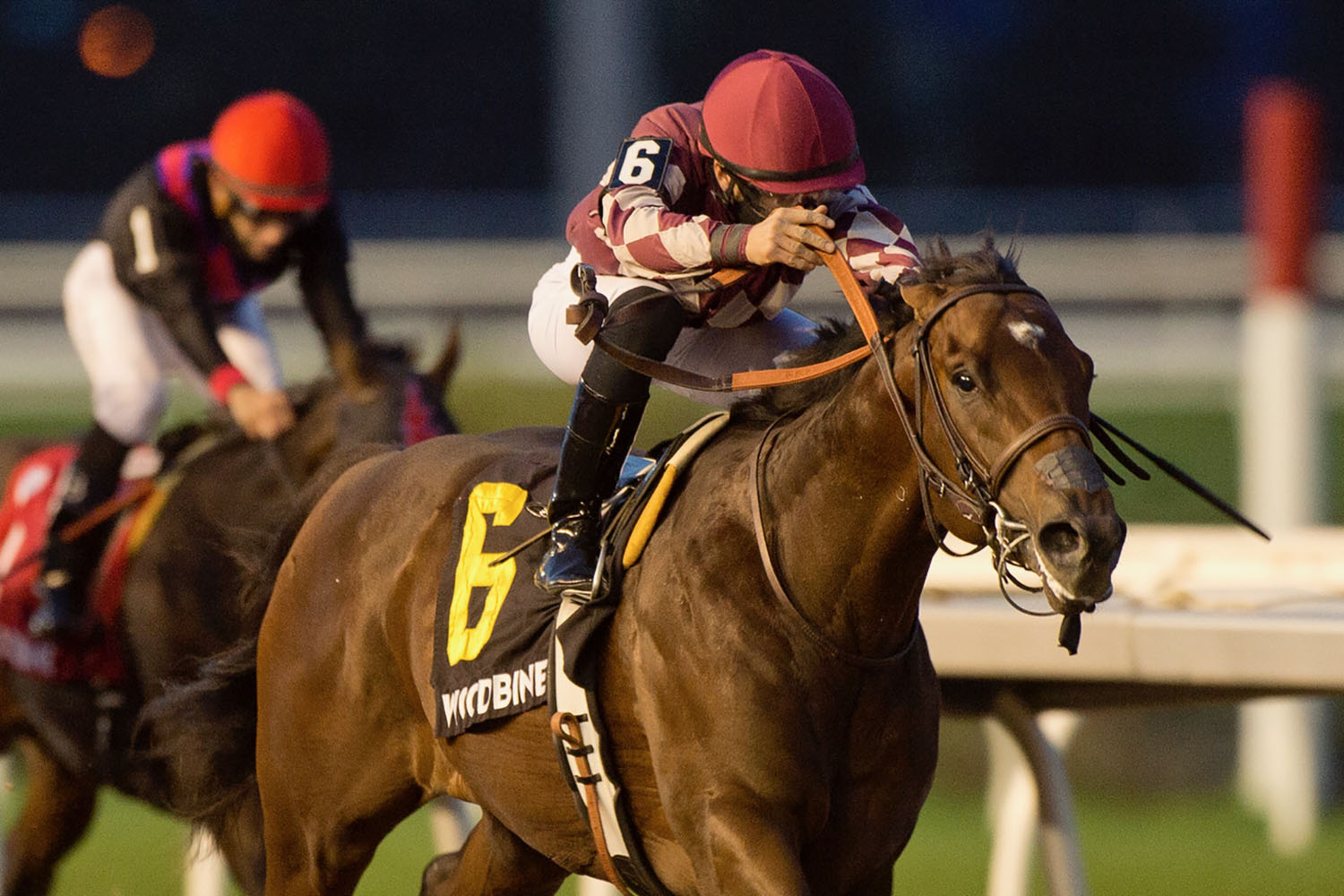 The $55,000 yearling purchase returned $4.80, $2.80 and $2.80 and keyed a 6-7 exactor with Gospel Way ($4.40, $3.60) of $22.60. Decimator ($10.10) completed the 6-7-2 trifecta of $132.10. Decimator rounded out the 6-7-2-1 superfecta worth $578.20 for $1.