By Jennifer Morrison for Woodbine.com
TORONTO, August 16, 2018 – Rafael Hernandez has only been riding full time at Woodbine for two summers and already he is the king of one of Canada's classic events.
The 33-year-old from Puerto Rico has ridden the winners of the last two Breeders' Stakes, the testing and tricky 1 1/2 mile turf test that completes the OLG Canadian Triple Crown.
He has a good chance to complete the natural hat trick on Saturday as he partners grass-loving Say the Word in the 128th edition of the $400,000 race.
The soft-spoken, always smiling Hernandez has fit snugly into the Woodbine jockey colony after making the decision to move his family here from St. Louis.
A career winner of more than 2,300 races, Hernandez was winning frequently at smaller tracks before he was "discovered" by American trainer Wesley Ward. In 2015, Ward's good friend and fellow trainer Brian Lynch hired Hernandez to ride Stronach Stables' Shaman Ghost in the Queen's Plate and the pair flew to victory.
The following summer, while recovering from a scary fall at Gulfstream Park in Miami in which he lost a kidney and broke his collarbone, Hernandez made the decision to try riding permanently in Ontario.
Just over a month into his arrival, he won the Breeders' Stakes on longshot Camp Creek. Last season, his first full year at Woodbine, he guided favoured Channel Maker to the Breeders' win and ended the year third on the jock's list to Da Silva and Luis Contreras.
With 98 wins already in 2018 at Woodbine, he is on track to blow by his total of 154 wins from a year ago.
"It's going good, we had a great start to the season," said Hernandez. "My agent, Tony Esposito, is doing an excellent job and we work together to discuss every horse I am going to ride. It's not just about me, it's my agent, the owners, trainers and the valets."
And the rider is loving his new home, currently in Woodbridge where his two boys Rafael Jr. and Rodrigo go to school. He also has a three-month-old daughter Aletza with wife Cynthia.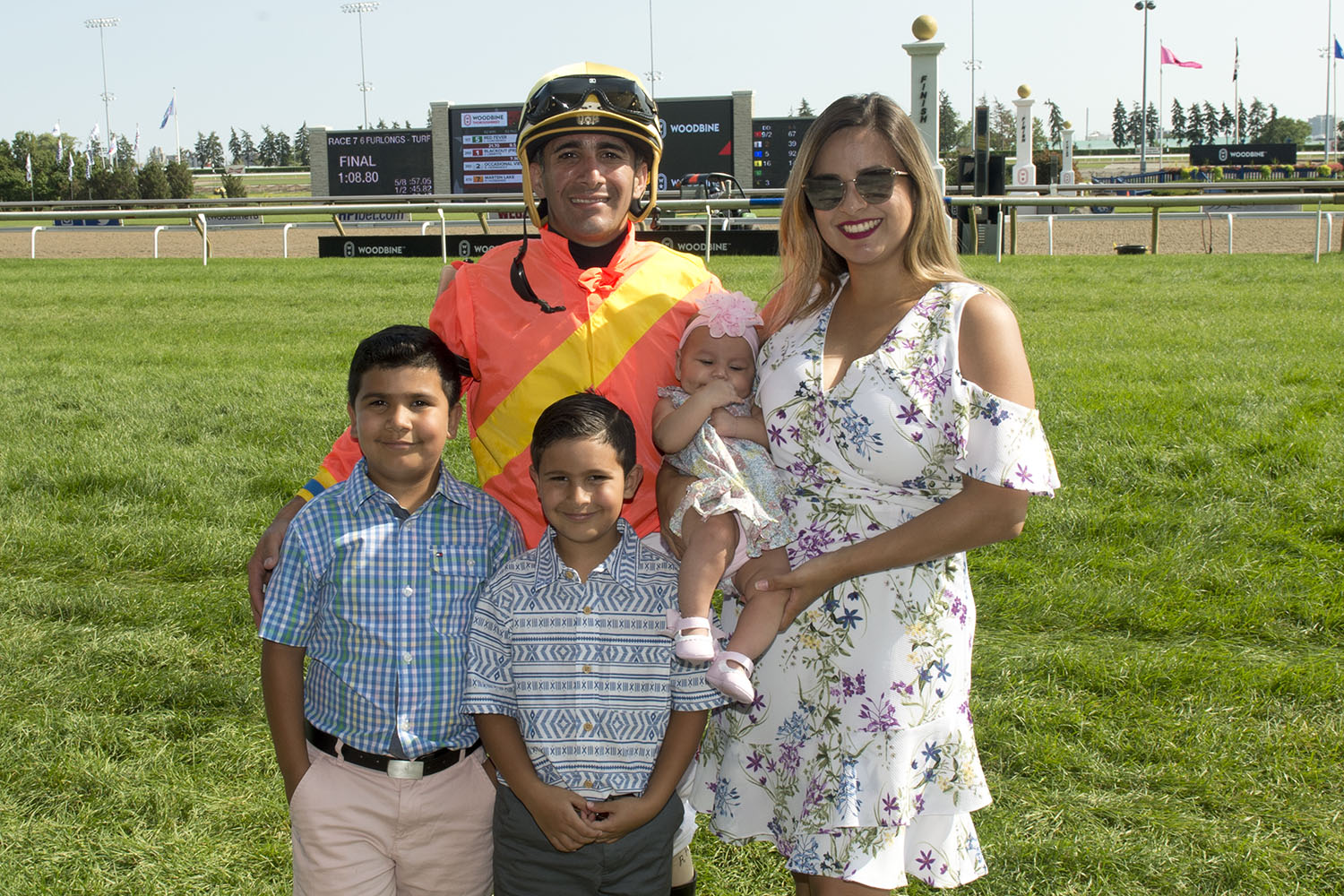 Hernandez is pumped about Say the Word in this year's Breeders' Stakes, which has attracted a field of nine including Plate and Prince of Wales runner-up Aheadbyacentury.
The top prize of $240,000 is up for grabs since Wonder Gadot, the filly who won the first two legs of the OLG Canadian Triple Crown, is in Saratoga awaiting next weekend's Travers Stakes.
Say the Word, who had a promising, early trip in the June 30 Plate on the Tapeta track before fading, figures to be better on Saturday.
"I am very positive about his chances," said Hernandez. "The heat really got to him on Plate day. When I got to the gate, he was all nervous and sweaty."
Say the Word, owned by Sam-Son Farm of Milton, won a 1 3/16 mile grass race at Keeneland racecourse in the spring.
Hernandez says patience is the key to his riding, especially in a race as long as the Breeders' Stakes.
"I consider myself a very patient rider. I just like to try and save ground and move at the right time. I think my horse is going to love returning to the grass."
Hernandez isn't taking anything for granted, though, as he respects his rival riders.
"We have a very good jockey colony and I'm glad we do, we need the competition."