TORONTO, October 18, 2018 – Jammin Still, a two-year-old son of Take Charge Indy, will look to build off an impressive career bow, this time in Sunday's Grade 3, $125,000 Grey Stakes, at Woodbine.
Owned by Derek Chin and trained by Kevin Attard, the Ontario-bred colt made his presence known in his first lifetime start on September 28, in a one-mile race over the Toronto oval's E.P. Taylor Turf Course.
And while the odds, 18-1, suggested he had an outside shot at winning first time out, a smart ride by Alan Garcia and nice turn of foot by Jammin Still resulted in a 1 1/2-length triumph (finishing under a hand ride) and a $38.90 payout on a $2 win wager.
Attard was impressed, but not surprised by the strong debut, one that started off slowly, literally, but ended with a walk to the winner's circle.
"We thought pretty highly of him," said the conditioner of his charge, who fronted a $484.10 exactor and $1,802.20 triactor. "He was training well and had some good works. We saw the progression and it looked to me that he was developing into a nice horse. Obviously, this is a tougher task, but I think he's up for the challenge."
Jammin Still will now step into the stakes spotlight, taking on seven rivals in the 1 1/16-mile main track Grey.
Bred by William Graham, the dark bay rolls into Sunday's engagement in fine fettle. On October 14, Jammin Still breezed five furlongs in 1:01 flat over the Woodbine Tapeta.
"He's a pretty laid-back horse and he's got the right attitude to be a good horse," said Attard. "He has that mental approach to be successful at a high level. I think he's going to be pretty nice and the fact he's a Canadian-bred makes it a little more exciting.
"At the barn, he's quiet and nonchalant. He's a good boy, for a colt. You wouldn't even know he's a colt. He's developing and he still has some growing to do, some filling out."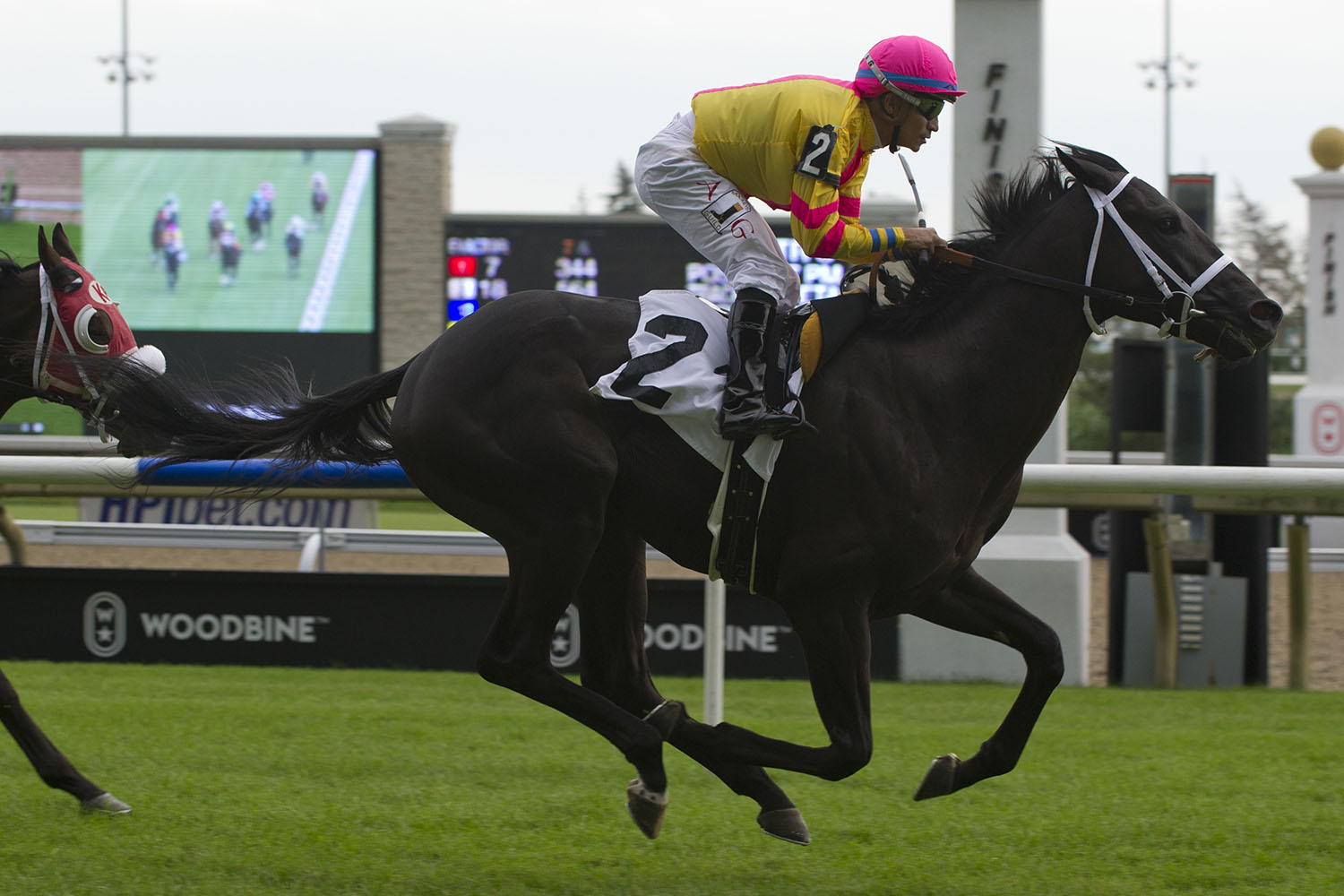 Attard and Chin are hoping there are even bigger days ahead for their young horse.
"I was just happy that he ran to the way we were expecting," offered Attard. "I told Derek prior to the race that this is his best two-year-old and I think he's going to be special. Hopefully, he'll have a nice transition from two to three.
"Derek, he's a big supporter of Woodbine. He loves the racing here. He's well respected in Trinidad and when his horses run at Woodbine, he's got the whole country cheering for him. He's looking to be successful in racing here and he's spending the money to buy good, quality horses."
Last year, Archaggelos, under Rafael Hernandez, won the Grey Stakes.
Notable winners of the Grey include Horometer (1933), Kennedy Road (1970), Sunny's Halo (1982), and Sky Classic (1989). Dancer's Image won the 1967 running and went on to take the following year's Kentucky Derby, as did Mine That Bird (2008, 2009).
Sunday is Woodbine's second annual 'Grey Day' with the $50,000 running of the Grey Handicap following the stakes race and featuring a striking lineup of gray and roan horses. Those in attendance can enter for a chance to receive a $1,000 Win bet for the Grey Handicap by registering with guest experience representatives in the Grandstand on Sunday. The 12-race program will begin at 1 p.m.
FIELD FOR THE GRADE 3, $125,000 GREY STAKES (RACE 8)
Post – Horse – Jockey – Trainer
1. Grimgrinnin' Ghost – Skye Chernetz – David Cotey
2. Tripwire – Eurico Rosa da Silva – Michael Maker
3. Inclusive – Kazushi Kimura – Reade Baker
4. Chuck Willis – Rafael Hernandez – Mark Casse
5. Jammin Still – Alan Garcia – Kevin Attard
6. Sir Winston – Jerome Lermyte – Mark Casse
7. Nashtrick – Luis Contreras – Josie Carroll
8. Solidify – Emma-Jayne Wilson – Reade Baker