TORONTO, September 15, 2018—Colebrook Farms and Bear Stables' Johnny Bear turned in another thrilling victory, getting up in time to defend his title in the $300,000 Northern Dancer Turf Stakes (Grade 1) on Saturday at Woodbine.
Dismissed at odds of 9-1 last year, Johnny Bear had little respect at the betting windows in his title defense and was sent off at double-digit odds of 16-1 this time out.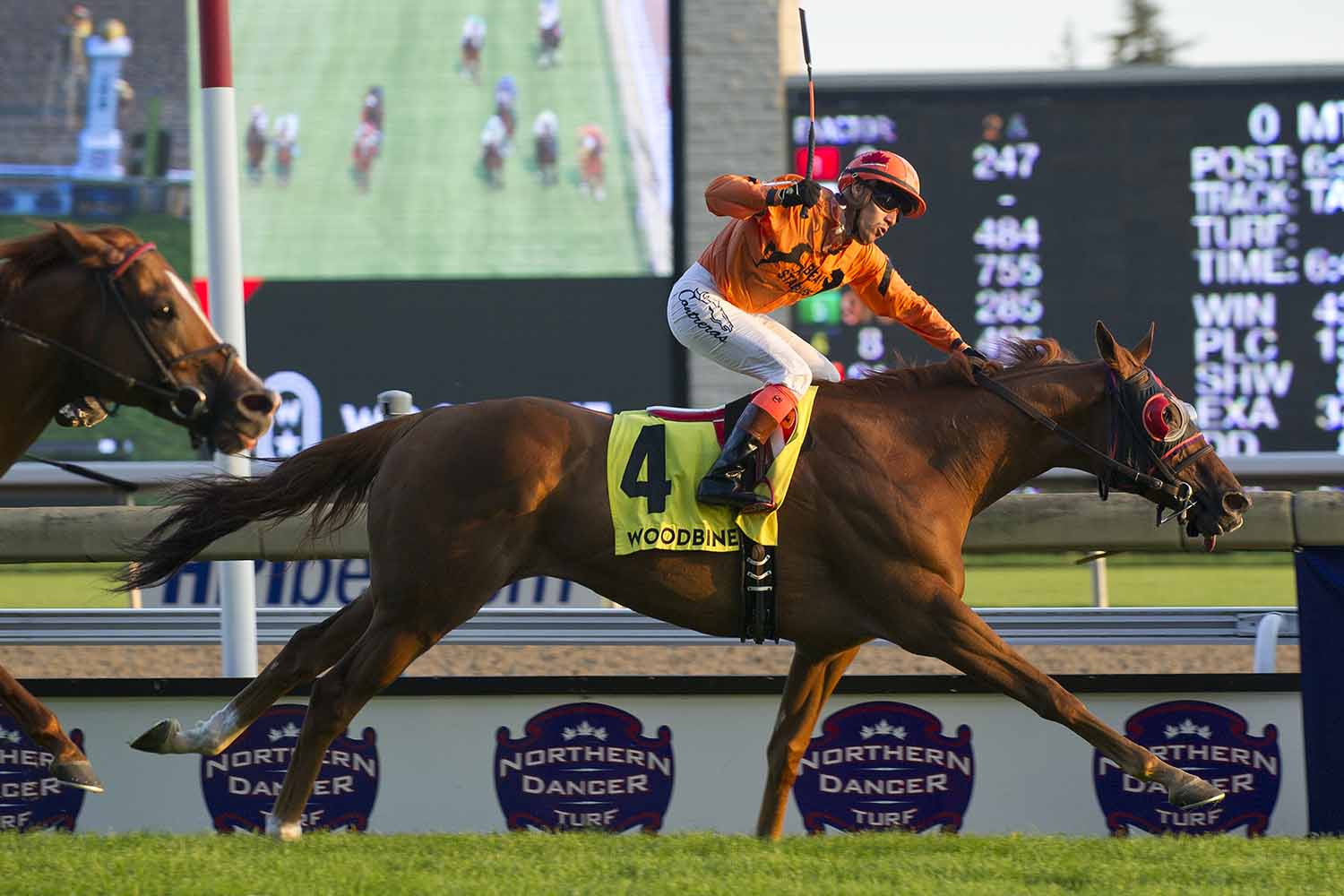 First choice Hawkbill, the narrowly beaten favourite last year in the 1-1/2 mile turf test, set a pressured pace with Tiz a Slam looming through panels of :24.24, :49.26, 1:13.20, 1:36.89 and 2:00.96. Seeking Albert stalked in third with a gap back to the rest of the field.
Meanwhile, the Ashlee Brnjas-trained Johnny Bear enjoyed a ground-saving trip as he followed in mid-pack behind Markitoff, who went wide off the turn. After getting around a fading Seeking Albert in the turn, Canada's reigning Champion Male Turf Horse closed along the rail down the stretch and prevailed by a half-length in 2:25.75 over the firm course. In a close finish, Mekhtaal, English Illusion, Markitoff and Patterson Cross rounded out the top five finish order.
"He was very good in the post parade. He didn't break a sweat," said Contreras. "He was nice and relaxed, and I could feel some power underneath. He was listening to me at every point of the race. If I took a little bit of a hold, he came back to me.
"It was a perfect trip. I saved all the ground, so nice and relaxed behind the speed, and I was just waiting for my moment. This was one of my best trips around the track. Turning for home, my first thought was to go the outside but at the last second, I changed my mind and I didn't see anybody coming on the rail. I saw the rail was a little bit open and he just went through like a knife through butter."
Johnny Bear entered the Northern Dancer following a second-place finish on Canadian Yearling Sales Stakes Night at the end of August in the OLG Halton Stakes that he had won prior to his first Northern Dancer triumph.
"I love this horse. It's too bad that last time we got beat (in the Halton) but this horse tries so hard every time," said Contreras.
"It is Independence Day in Mexico today," he added. "We're supporting everyone back home and Canelo (Alvarez, a boxer) is fighting today and we're excited to see him fighting tonight!"
Bred in Ontario by Tall Oaks Farm, the English Channel-In Return gelding was the oldest contender in the field of 10 at age seven. He earned his eighth career win in 40 starts and boosted his bankroll over the $800,000 mark.
"He's quite a horse," said John Brnjas of Colebrook Stable. "I wish I had a barnful of them."
Johnny Bear paid $35.80, $11.80 and $7.50. The exacta with Mekhtaal ($4.60, $3.80) returned $146.50.
"I saved all the ground. I followed Luis (Contreras) and it seemed like he was full of horse the whole way, so I decided to follow him," said Jose Ortiz of his trip behind runner-up Mekhtaal after taking the Ricoh Woodbine Mile earlier on the card in rein to Oscar Performance. "He dived in, I went out. He got through on the rail and I got out. If he didn't get through, I probably could have won it, but he got through. It was a good ride by him."
English Illusion completed a $1 trifecta worth $837.90 with fourth-place Markitoff put the finishing touches on a $1 superfecta worth $8,762.40.
Behind fifth-place finisher Patterson Cross was Tiz a Slam in sixth, with the filly Vexatious crossing the wire in seventh and Hawkbill ending up eighth.
"He got harried by the other horse (Tiz a Slam) the whole race," said Hawkbill's jockey Jamie Spencer. "It ruined his race and mine."
Utmost and Seeking Albert completed the field.