TORONTO, September 12, 2019 – Following two outstanding efforts to launch his career, Ontario-bred Keep On Truckin faces his stiffest challenge to date when he goes postward in Sunday's Grade 1, $250,000 Summer Stakes, a Breeders' Cup "Win and You're In" event that's part of a stellar stakes-stacked weekend at Woodbine.
After a July 7 debut in a five-furlong race at Woodbine that resulted in an 11 3/4-length win, Keep On Truckin, the Society's Chairman-Colbra gelding, who was a $110,000 purchase from the Canadian Thoroughbred Horse Society Yearling Sale, stepped up to the stakes ranks.
On August 3, the Catherine Day Phillips trainee wowed the crowd and his connections again, this time in the Clarendon Stakes. At the wire, Keep On Truckin was 7 3/4-lengths ahead of his nearest rival in the 5 1/2-furlong main track sprint.
What's impressed Day Phillips the most to date?
"His mind… he's calm, confident, and determined, all at the same time."
Day Phillips has enjoyed watching Keep on Truckin develop on the  racetrack.
"We had high expectations going into his first start, but watching him in post parade, when he dropped his rider (Eurico Rosa da Silva), we were shocked because he has always been such a composed horse. To continue the excitement, 'Truckin' went into the gate and moments later, Eurico came flying out the back. Despite his performances, we remind ourselves he's still a two-year-old, and he's bound to make mistakes."
There were even more surprises to come, including a decision ahead of the Clarendon that caught Day Phillips off guard.
"We were surprised that Eurico chose to ride Meyer over 'Truckin,' after he had won so easily. That put a shadow of doubt in my mind. 'Was he as good as we thought he was?' 'Will he run like his first race again?' Those questions were running through our mind before the Clarendon. It was thrilling to see him go out and run the same race again with Emma-Jane Wilson. Emma has become an important part of our team so we were very happy that she clicked with 'Truckin.'"
Now, the chestnut gelding will take to the turf in the one-mile Summer Stakes, a Breeders' Cup Challenge Series, "Win and You're In" event. The one-mile Breeders' Cup Juvenile Turf for colts and geldings, with a $1 million purse, will be run on November 1.
Bred in Ontario by Tim Meeuse and Arika Everatt-Meeuse, Keep On Truckin was named by Brian Ledson as a surprise for his father George Ledson, founder of Cavalier Transportation Services. The two co-own the horse with prominent breeder David Anderson.
Anderson, who recently joined the Ontario Racing Board of Directors in the role of representative for Thoroughbred Breeders, has high praise for the budding star.
"This horse is as close a specimen as I've ever seen to Secretariat," he said. "I mean, I know that's a really tough comparison, but he is just an absolute beast of a horse."
Perhaps not surprisingly, the shocking moments Day Phillips speaks of haven't subsided leading up to the Summer Stakes.
"Bizarre is probably the best word for it," said Day Phillips whose top horses include A Bit O'Gold, Jambalaya, Dixie Moon, Mr Havercamp, Geraint, and Neshama. "On Sunday, Emma-Jayne was hurt riding one of our horses. She broke her clavicle and a couple of fingers. The irony of ironies is that now that Emma can't ride him, Eurico is available to ride him. Bizarre is the best word. Eurico came in (Monday morning) to breeze Keep On Truckin. The breeze went very well and Eurico was delighted to be back on him. There's no way I ever would have predicted all of this to happen."
Day Phillips, understandably, is hoping for less drama and more of the same from Keep On Truckin on Sunday afternoon at Woodbine.
"You can't make this stuff up. Eurico was on a horse that went down on the same day that Emma was hurt. He was able to walk away from it. As much as it was a terrible day – and it was a terrible day – there is so much to be grateful for. Emma is going to be fine in a few weeks, and Eurico was fine. I'm very sorry that Emma isn't able to ride him. Eurico and I have been a team for years, and I'm grateful that he is available to ride this horse when Emma is not. It's exciting to be part of a big race weekend we have coming up. I hope we can be a force."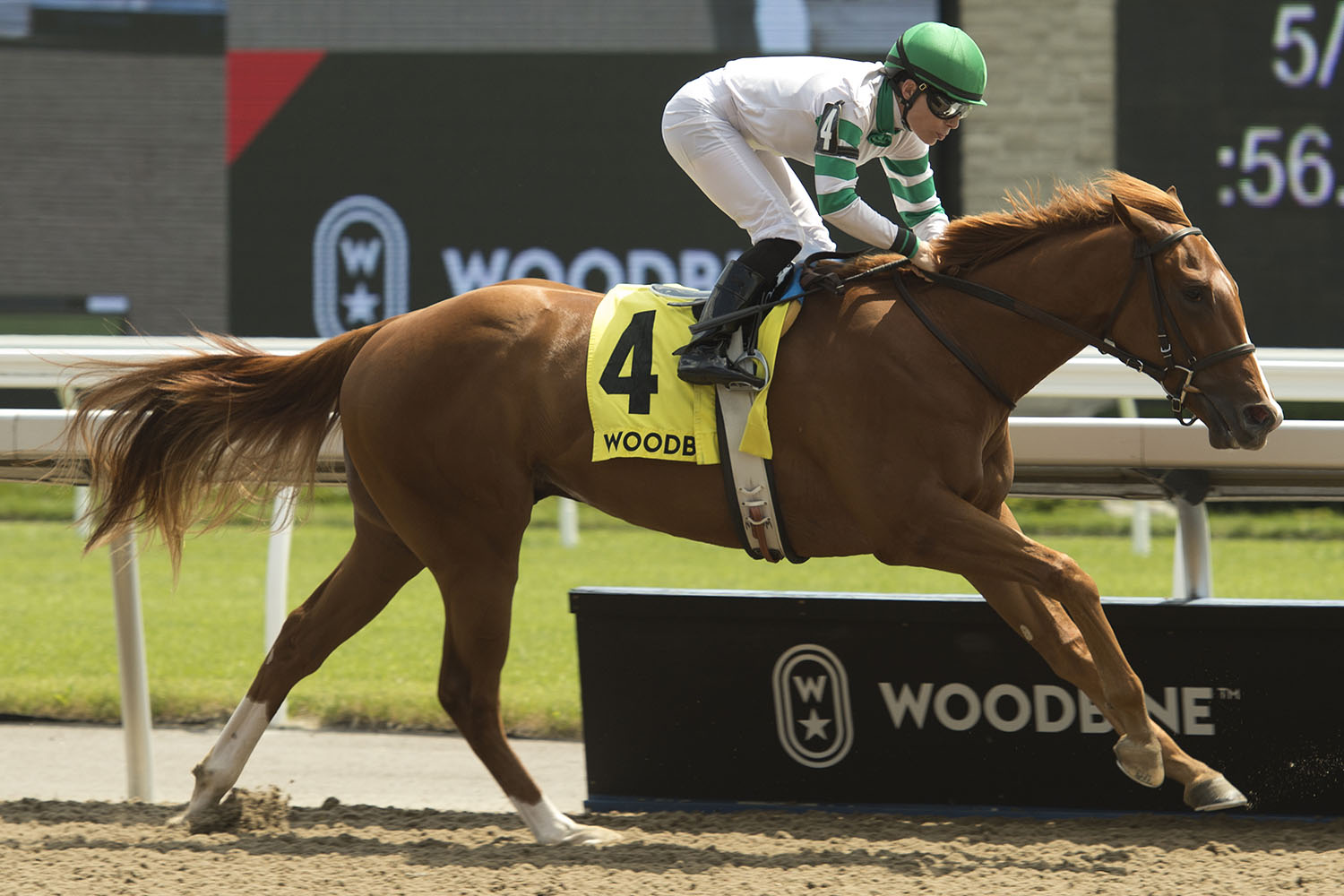 Canadian Horse Racing Hall of Fame conditioner Mark Casse, who'll send out the trio of Cucina, Proven Strategies, and Old Chestnut, is no stranger to Summer Stakes success.
He won three straight editions of the race, with My Conquestadory in 2013, Conquest Typhoon in 2014, and Conquest Daddyo in 2015.
Cucina finished third when making his local debut in the Soaring Free, his fourth career appearance at his fourth different racetrack. He won his maiden at five furlongs on a sloppy Belmont strip second time out.
Proven Strategies debuted with a fifth-place finish here on the Tapeta and then shipped to Saratoga, where he ended a closing second in the 5 1/2-furlong Skidmore in his second start there.
Old Chestnut has seen action twice, winning second time out via a front-running score over five furlongs on the inner turf course.
Todd Pletcher, who won the 2002 running with Lismore Knight, the 2004 edition with Dubleo, as well as the 2010 and 2011 renewals with Pluck and Finale, respectively, is represented this year by debut winner Mystic Lancelot.
Last year, Peter M. Brant's Fog of War won the Summer, stopping the clock in 1:33.90.
$250,000 Summer Stakes (Grade 1)
Post – Horse – Jockey – Trainer
1 – Vitalogy – Jamie Spencer – Joseph O'Brien
2 – Decorated Invader – Irad Ortiz Jr. – Christopher Clement
3 – Proven Strategies – Tyler Gaffalione – Mark Casse
4 – Pleasecallmeback – Patrick Husbands – Roger Attfield
5 – Keep On Truckin – Eurico Rosa da Silva – Catherine Day Phillips
6 – Mystic Lancelot – John Velazquez – Todd Pletcher
7 – Zoological – Kazushi Kimura – Ralph Biamonte
8 – Cucina – Gary Boulanger – Mark Casse
9 – Secret Stash – Flavien Prat – Mark Casse
10 – Talking – Javier Castellano – Jonathan Thomas
11 – Cadet Connelly – Pablo Morales – Teresa Connelly