TORONTO, July 24, 2019 – Wake Up Maggie, a two-year-old daughter of Silent Name, seeks her first added-money win in Saturday's $125,000 Shady Well Stakes, at Woodbine.
Named after the first three words of Rod Stewart's 1971 No. 1 hit "Maggie May," the dark bay arrives at the 5 ½-furlong main track test for Ontario-bred two-year-old fillies off a maiden-breaking score at the Toronto oval.
"My wife (owner, Jesse Ladouceur), she's a big Rod Stewart fan," started trainer Harold Ladouceur. "We had the horse as a yearling at the farm, breaking her, and I was thinking that Jesse always wanted to name a horse after the song. So, we eventually did get it. She saw Rod Stewart in Minnesota when she was a teenager and she never got over him, I guess."
Wake Up Maggie has also left a strong impression on the conditioner.
Teaming with jockey Justin Stein, Wake Up Maggie, sent on her way as the even-money favourite, turned a head disadvantage at the stretch call into a 1 ½-length margin of victory, in a five-furlong race over the Woodbine Tapeta on July 6.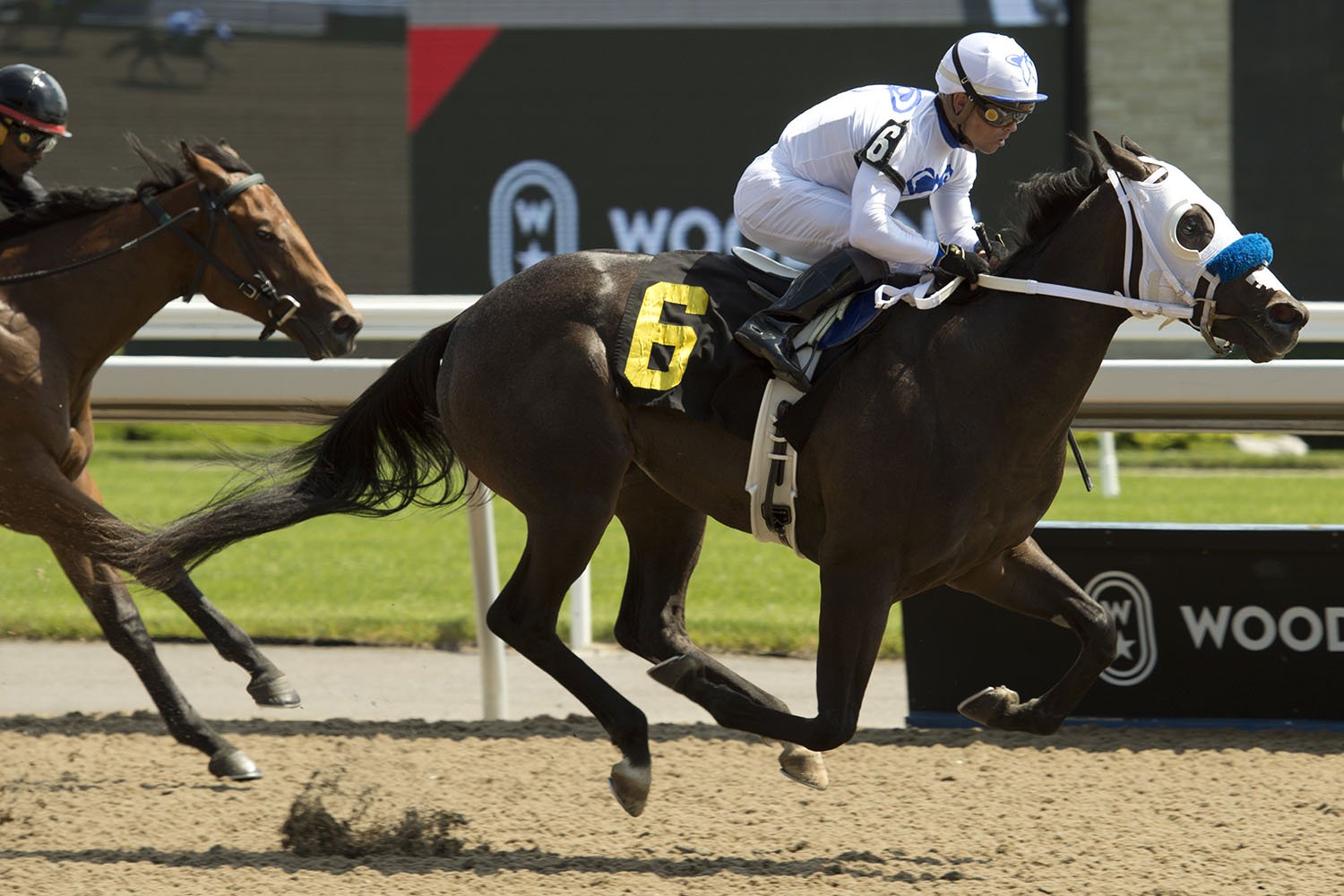 "Justin really likes her," said Ladouceur. "He says she's very smart. They get along well. Her and Justin seem to have a very good connection. When she won, she sat off the lead – Justin can push the button any time with her – and she came running."
It's something Wake Up Maggie displayed in her career bow on June 15 in another five-furlong main track race. She finished second at 10-1, 2 ½-lengths behind winner Fast Scene, who took the My Dear Stakes on July 6 at Woodbine.
Now, Wake Up Maggie will look to rise to the challenge in her first added-money appearance.
The filly, bred by Andy Stronach, will take on pair of Josie Carroll trainees, Avie's Samurai and Curlin's Voyage, along with Owlette, sent out by conditioner Wesley Ward, Take Charge Eh, trained by Nick Gonzalez, and West Paw, from the Mark Casse barn.
Ladouceur feels his charge is ready to take on her rivals.
"She was closing ground on that filly (Fast Scene) in her first race, and that's a nice filly. I think she's got a chance. I'm really happy with her training. She had a nice breeze on Friday (:47.40 over the Woodbine main track). Really beautiful… I was so happy with the way she did it."
A win on Saturday would no doubt be music to the ears of the Ladouceurs.
"We really like this horse and so far, everything has worked out really well. One thing I know is that she's fast."
Last year, Windhaven Farms' Tiz Breathtaking won the Shady Well, paying $3.90 for the victory. Pink Velvet, trained by John Passero, won the inaugural running of the race in 1956.
The Shady Well is scheduled as race eight of 12 on Saturday's 1:05 p.m. program, which also features a field of 10 set to compete in the 1 3/8-mile opening leg of Woodbine's Turf Endurance Series one race prior. The series, contested on the E.P. Taylor Turf Course, offers $40,000 in bonuses to the top performers over four legs running from July through October and expanding in distance to 1-3/4 miles for the finale. Camp Creek and Sine Metu are among the returning series contenders for Saturday's $50,000 first leg.
$125,000 SHADY WELL STAKES
Post – Horse – Jockey – Trainer
1 – Owlette – Patrick Husbands – Wesley Ward
2 – Curlin's Voyage – Eurico Rosa Da Silva – Josie Carroll
3 – West Paw – Jerome Lermyte – Mark Casse
4 – Take Charge Eh – David Moran – Nick Gonzalez
5 – Wake Up Maggie – Justin Stein – Harold Ladouceur
6 – Avie's Samurai – Luis Contreras – Josie Carroll
$50,000 WOODBINE TURF ENDURANCE SERIES – LEG 1
Post – Horse – Jockey – Trainer
1 – Carissimo – Omar Moreno – Michael Mattine
2 – The Other Breeze – Emma-Jayne Wilson – John Charalambous
3 – English Classic – Jeffery Alderson – Angus Buntain
4 – Lookin At Bravo – Kazushi Kimura – Kevin Attard
5 – Unlimited Resource – David Moran – John Mattine
6 – King and His Court – Jerome Lermyte – Mark Casse
7 – Itstartswithadrink – Leo Salles – Clint Abraham
8 – Camp Creek – Luis Contreras – Kevin Attard
9 – Sine Metu – Simon Husbands – Debra Rombis
10 – Bold Rally – Krista Carignan – Daryl Ezra