TORONTO, October 18, 2018 – The current Toronto area weather forecast for Sunday is calling for a mix of sun and clouds, but it will be a grey afternoon, at least for one race, when the second edition of the $50,000 Grey Handicap takes the spotlight at Woodbine.
The ninth race on October 21 will no doubt be a compelling sight with only grey and/or roan-coloured horses competing. Aside from the registered colour restriction, the one-mile turf tilt for three-year-olds and up is restricted to horses that have started for a claiming price of $20,000 or less in 2017-2018.
One of the horses who will be making a return appearance in the Grey is Arthur's Pass, winner of last year's inaugural running.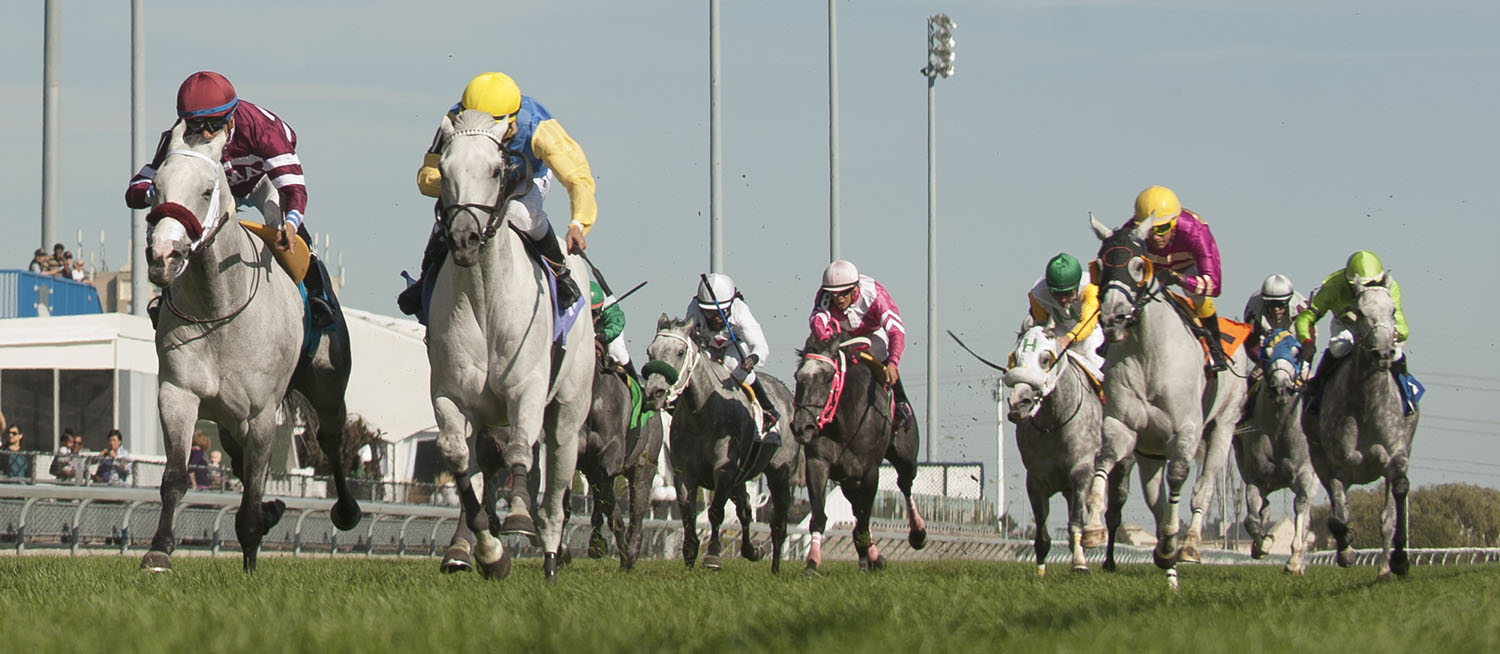 Trained by Don MacRae, who also co-owns the grey with La Huerta Inc., seven-year-old Arthur's Pass is a three-time winner from 37 starts, while finishing in the top three on 20 occasions, good enough for a 54 per cent strike rate.
"It's amazing how things go in horse racing," said the multiple graded stakes winning trainer, who is 12 wins shy of 500 for his career. "If you break last year's race into two parts, up until the quarter-pole, I was shaking my head thinking I did a horrible job training the horse. Then from the quarter-pole home, I looked like a genius.
"It was quite a great race to watch. I think it's a great concept that the (Woodbine) race office came up with. It's those kind of things that keep the racing exciting and we need to do those things."
MacRae is pleased with how Arthur's Pass has readied for the race.
"He's coming into it very well," said MacRae. "We've protected him all year for this race. He's been training very well. I just got off the phone with the other owner and I told him that I think he's turning the corner. I think he's going to have a top effort.
"He is what he is. He's a grinder. He's never a horse that you're going to lead over there and he'll be 2-5 in the race. That's not him. But you can count on him to hit the board."
This year, the Frank Mermenstein-bred Alphabet Soup gelding has two runner-up efforts in six starts. His most recent victory was the Grey Handicap when he bested the aptly named Gray Phantom – the son of Hard Spun is back again – by a nose in a thrilling duel. Deesse Nike, who was fourth last year and won the 2017 Molson Cup Stakes at Fort Erie, also returns.
MacRae is hoping for a repeat of last year's Grey with the horse that's known around the barn as 'Patrick Marleau,' a tribute to the Toronto Maple Leafs veteran forward.
"That's what we call him," offered MacRae. "He goes over there, gives it all he has. He's the old man at the barn and he always does his job."
Specialty cocktails (Dark & Stormy) and signature dishes will be served up on track to complement the Grey Day experience, courtesy of Woodbine's culinary team. There's also the opportunity to enter a draw for a chance to win a $1,000 Win bet on the Grey Handicap.
For more information on all the Grey Day happenings, click here.
Sunday's 12-race program starts at 1 p.m.
$50,000 Grey Handicap (Race 9)
Post – Horse – Jockey – Trainer
1. Gray Phantom – Kazushi Kimura – Jim Ensom
2. Spanish Express – Slade Callaghan – Frank Huarte
3. Epilogue – Davy Moran – Carlos Grant
4. Arthur's Pass – Emma-Jayne Wilson – Don MacRae
5. Deesse Nike – Jeffrey Alderson – Julie Belhumeur
6. Hines – Gary Boulanger – Jim Ensom
7. Macho Dancer – Eurico Rosa da Silva – Martin Hinckson
8. Daylight Breeze – Rafael Hernandez – Alex McPherson
9. Crown Prince – Ademar Santos – Steven Chircop
10. Spanish River – Chantal Sutherland – Frank Huarte
11. Kapellmeister – Luis Contreras – William Armata