TORONTO, June 28—Melmich will be seeking his third straight success in the 1 ¼ mile Dominion Day Stakes here on Sunday.
The Dominion Day, which offers Grade 3 status and a purse of $125,000, also has attracted Are You Kidding Me and Gigantic Breeze, who dueled with Melmich on several occasions last year, plus 2016 Queen's Plate winner Sir Dudley Digges.
"He's doing well," said Kevin Attard. "Obviously, the distance should suit him. But this is a pretty salty group."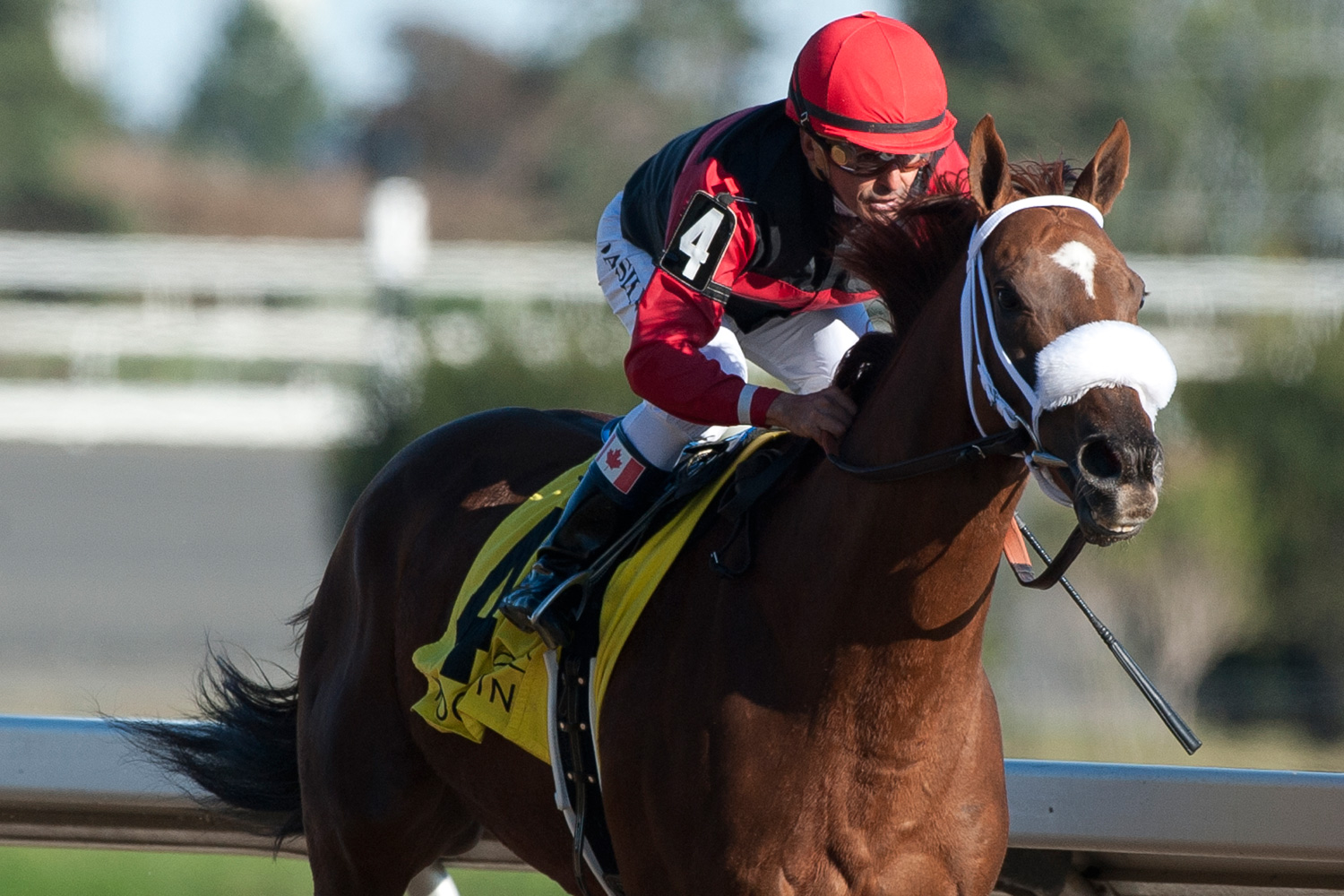 Melmich, claimed for $20,000 in September of 2014, has gone on to win eight stakes for Attard and owners Stephen Chesney and Cory Hoffman.
The 7-year-old gelding ran second in his two final outings last season, both times in graded stakes here including a two-length defeat at the hands of Gigantic Breeze.
And, that trend has continued this year as Melmich has been the runner-up in his two appearances, finishing behind Are You Kidding Me in both the prep for the Eclipse Stakes and the Grade 2 Eclipse itself, both at 1 1/16 miles.
"I was quite pleased with his last race; I'd expected him to move forward," said Attard. "Now he's stretching out, and that will help us a little more."
Are You Kidding Me, Canada's champion older horse in 2016 and 2017, finished third when trying 1 ¼-miles on the main track for the first time in last year's Dominion Day.
"He's still very good," said Attfield, noting that Are You Kidding Me isn't showing any signs of slowing down at age 8.
"I had him ready for Keeneland, and didn't get to run him there. I had him primed up pretty good. I would have been very surprised if he hadn't won his first start here."
Are You Kidding Me has come back to work well since completing his double, breezing four furlongs in :48 on the main track Tuesday.
"He's worked really well the other day," said Attfield, who believes that Are You Kidding Me is capable of better than he showed in last year's Dominion Day.
"I think he'll get the distance," said the trainer.
Rafael Hernandez retains the mount on Are You Kidding Me.
The 5-year-old gelding Gigantic Breeze, another horse who has risen from the claiming ranks, finished second in last year's Dominion Day and recorded his first stakes victory in the Presque Isle Downs Mile prior to defeating Melmich in the Autumn.
His trainer, Sandy McPherson, has much respect for his key local rivals.
"These are very tough horses," said the trainer, who conditions Gigantic Breeze for Hopefield Farm. "That's why I went to Presque Isle, so I could get away from them."
"But the one thing is that every single time he's run against these horses, at some point in the stretch it looked like he could win it."
That includes last year's Dominion Day, where Gigantic Breeze led much of the way but could not contain Melmich and finished 1 ½ lengths back as the runner-up.
This year Gigantic Breeze made his seasonal bow in the Eclipse, again making much of the pace and giving way grudgingly to finish 1 ½ lengths back in third.
"I've got to think he'll move forward," said McPherson.
Sir Dudley Digges competed in all three legs of the Canadian Triple Crown, finishing fifth on the dirt in Fort Erie's Prince of Wales before rebounding with a second here in the Breeders'.
The Gio Ponti horse, owned by Ken and Sarah Ramsey and trained by Mike Maker, stayed on turf for 12 more races following the Breeders' and was a non-threatening sixth when returning here to the synthetic for the Grade 2, 1 1/16-mile Eclipse on May 26.
Sir Dudley Digges had made his previous start on March 3, winning the Barbados Gold Cup in a game effort.
"He was a little flat," said assistant trainer Nolen Ramsey, who is running Maker's string here. "The ship to Barbados and back, and coming up here, must have taken a lot out of him.
"He seems to be better now. He's had a couple of good works; he seems to have picked up. He's a little more focused."
Tiz a Slam, a second runner from the Attfield barn, finished fifth when making his local seasonal bow in the Eclipse.
Owned and bred by Chiefswood Farm, Tiz a Slam finished second in last year's Queen's Plate and later won the Grade 3 Ontario Derby over 1 1/8 miles of Tapeta.
"He's training really, really well but he' s a horse I haven't been able to make up my mind what his best distance is," said Attfield. "He's a big, galloping horse with not a big turn of foot.
"You can't get him checked."
Dragon Bay upset Are You Kidding Me in last year's Eclipse and came back two starts later to become a Grade 2 stakes winner on turf here in the 1 ¼ mile Niagara.
The 6-year-old gelding has yet to find his best form in two starts this year for trainer Stu Simon, who also owns the Kentucky-bred in partnership with owners Brent and Russ McClellan.
Rounding out the field is Black Sea, a 5-year-old gelding who was claimed for $50,000 at Gulfstream Park this winter and, finished third when making his local bow in the Eclipse prep.
PP/Horse/Trainer/Jockey
1/Sir Dudley Digges/Patrick Husbands/Mike Maker
2/Melmich/Eurico Rosa da Silva/Kevin Attard
3/Gigantic Breeze/Gary Boulanger/Sandy McPherson
4/Black Sea/David Moran/Nick Gonzalez
5/Are You Kidding Me/Rafael Hernandez/Roger Attfield
6/Dragon Bay/Jesse Campbell/Stu Simon
7/Tiz a Slam/Steven Bahen/Roger Attfield