ETOBICOKE, Ontario—Hockey great Mark Messier famously guaranteed a key playoff win for his New York Rangers in 1994, a bold prediction that came true after he scored a hat trick to ice the victory over the New Jersey Devils.
Nobody is guaranteeing that top 3-year-old Messier will run in this year's $1 million Queen's Plate, but the gifted Ontario-bred is a standout among the 100 nominees to the 2022 Canadian Triple Crown and has been tabbed as the even-money Queen's Plate Winterbook favorite by Daily Racing Form Woodbine correspondent Ron Gierkink and handicapper Sheri Riddoch.
Messier, the number-one ranked male 3-year-old in North America by DRF, has won three of five starts, all in Southern California. Bred by legendary Sam-Son Farm, the powerful bay was a 15-length winner of the Grade 3 Robert B. Lewis at Santa Anita on Feb. 6, when he earned a big 103 Beyer Speed Figure.
Messier, who is slated to make his next start April 9 in the Grade 1 Santa Anita Derby, is owned by a large partnership that includes Starlight Racing, SF Racing and Madaket Stables. He was recently transferred to trainer Tim Yakteen.
Presumed 2021 Canadian champion male 2-year-old God of Love (3-1) is one of 10 nominees trained by Mark Casse. Victorious in the Grade 3 Grey and Cup and Saucer Stakes, the son of Cupid was a slow-starting sixth in his season opener in the Grade 3 Sam F. Davis at Tampa.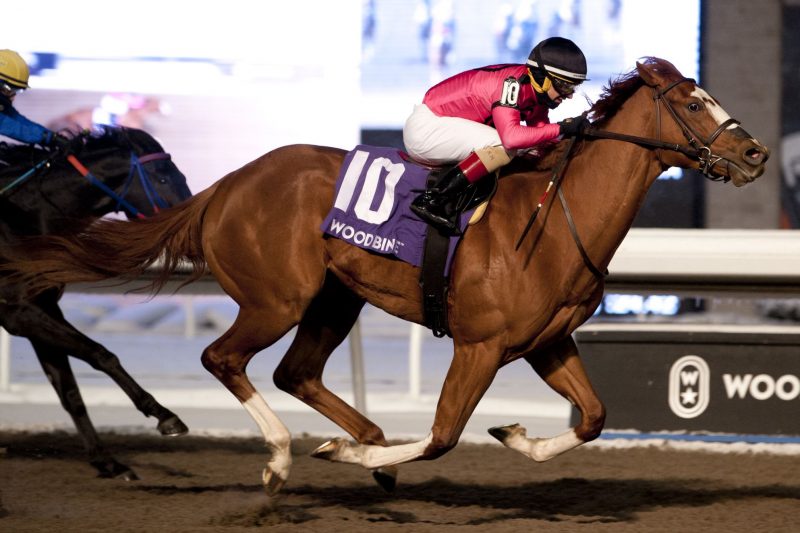 "He needs to go longer," said Rafael Hernandez, who rode God of Love in all five of his starts. "The longer he goes, the better he's gonna go."
Moira (5-1) is the most accomplished filly nominated. A professional winner on debut around two turns in the restricted Princess Elizabeth Stakes, Moira ran second to the probable Canadian champion 2-year-old filly Mrs. Barbara in her only other outing in the Grade 3 Mazarine. Mrs. Barbara closed for fourth in her 3-year-old season opener in the Grade 3 Tampa Bay Oaks.
Moira is also owned by SF Racing and Madaket Stables, along with X-Men Racing. She is by the excellent synthetic sire Ghostzapper, who produced Plate winners Shaman Ghost and Holy Helena.
Trainer Kevin Attard said Moira got the winter off at Margaux Farm in Kentucky with the Woodbine Oaks and Plate as her main objectives.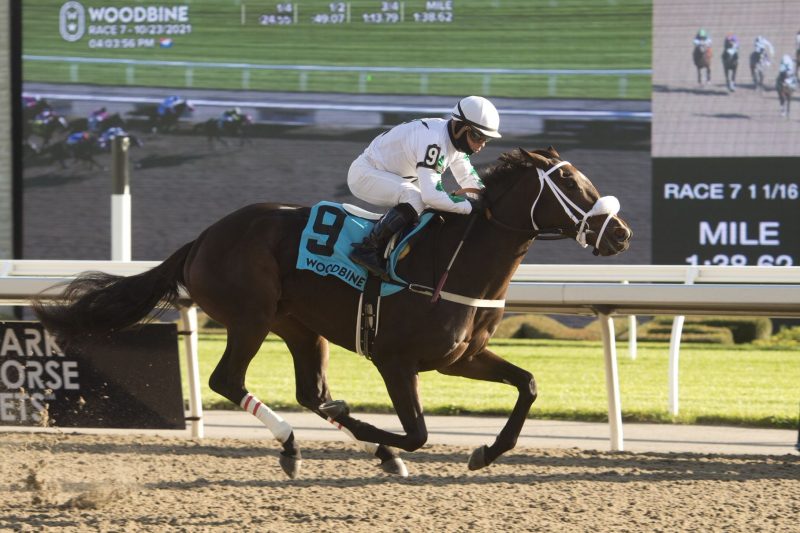 "She's heading to Canada this week," Attard said. "She's been in training for a little bit. She's probably a few weeks away (from working). We didn't start her up right away. She had a little bit of a longer break."
Dryden is also shipping to Attard from Kentucky and has been pegged at 30-1. The unraced son of Messier's sire Empire Maker is owned by the same partnership as Moira.
Traditionally contested in late June before the COVID-19 pandemic, the Plate is being run during the third week in August for the second year in a row on Aug. 21, a position that Attard said is favorable to those who didn't winter in the United States.
"It definitely gives a better opportunity to a lot of guys who don't have the luxury of going away," Attard explained.
The Minkster (7-1) is unbeaten in two starts for trainer Danny Vella, including the 1 1/8-mile Coronation Futurity, the definitive stamina test for Canadian-bred juveniles. No horse has swept the Coronation and the following year's Plate since Norcliffe in 1975-76.
Rounding out the top five is the speedy Ironstone (10-1), who won a pair of restricted sprint stakes before ending up second in both the Display Stakes and Grey for trainer Willy Armata.
The Canadian Triple Crown kicks off with the 1 ¼-mile Plate on the synthetic Tapeta surface. The unique series switches to the dirt going 1 3/16 miles at Fort Erie for the $400,000 Prince of Wales Stakes on Sept. 13. It culminates Oct. 2 on the E.P. Taylor Turf Course at Woodbine for 1 ½ miles $400,000 Breeders' Stakes.
Wando was the last horse to sweep the Canadian Triple Crown in 2003.
By Ron Gierkink

Queen's Plate Winterbook Odds (100 total)
Top 10
Messier                 1-1
God of Love          3-1
Moira                     5-1
The Minkster         7-1
Ironstone              10-1
Dancin in Da'nile  12-1
Silent Runner       14-1
Eldon's Prince      16-1
Gatling Gun          18-1
Where's Neal        20-1
25-1  (15)
Allegorical
Brisky Frolic
Bossy Holiday
Causin' Mayhem
Classy Whisperer
Fast Feet
First Empire
Hall of Dreams
Laraque
Mentoring
Sir For Sure
Stronger Together
Uptown Lights
Victorious Wave
Warp Ride
30-1 (13)
Canelito
Dryden
Duke of Love
Giant One
Giant Teddy
Hunt Master
Justin's Way
Kiddie Holiday
La Macaza
Lament
Rum Cup
Shamateur
Streaming Tap
Uncle Joe
40-1 (18)
Awesome Strike
Bringer of Rain
Brutality
Citrus Boy
Curlin Candy
Edinburgh Castle
Factotum
Guard of Honour
Langstaff Road
Last Dawn
Mad Mocha
Once a Giant
Rapper Zapper
Rondure
Sacred Dancer
Sea to Air
Spring Mountain
Talk to Ya Later
Winston Blue
50-1 (12)
Bill Needle
Dominant Destroyer
Ice Road
J M R Best of turf
Likeso
Midnight Arkle
More Than a Dance
Musical King
Thrill of the Day
Timmins
Uncle Spider
Under Surveillance
70-1  (28)
Banff
Basketball Jones
Bee Bee the King
Boston Tea Party
Cerebro
Collaborative
Fiannas Song
Flavian
Flawless Ruler
Galway Waters
Gaston
Golden Burn
Goldensummer
Gran Artietude
He's Got Soul
His Time
Lady Brew
Mr. Crowley
Mystic Point
Nippon
Not a Game
Phantom Jewel
Primordial Fear
Rebel Faith
Sahlabiya
Silent Lucidity
Sovereign Cause
Tiz Destiny
War Safe
Zakhari
Missing (4)
Dryden
Edinburgh Castle
Galway Waters
Golden Summer