FORT ERIE, September 29, 2020 – The Queen's Plate champion Mighty Heart made it look mighty easy winning the $400,000 Prince of Wales Stakes on Tuesday at Fort Erie Race Track. The one-eyed three-year-old now holds the first two jewels of the OLG Canadian Triple Crown, and if all goes well, has his eye set on the Breeders' Stakes in October. The last Canadian Triple Crown winner was Wando in 2003.
Mighty Heart and Clayton were sitting fourth and fifth going into the last turn, with Clayton on the outside. Jockey Daisuke Fukumoto was intently tracking Clayton's steps, and as Clayton made a run for the front four-wide in the final turn, Mighty Heart came to call on the outside and easily took the lead with no urging. Mighty Heart beat Clayton by 2-1/2 lengths in 1:55.59 over 1-3/16 miles on dirt. Dotted Line battled throughout and persisted for third, and Bold Victory made a late run for fourth.
"A couple horses went to the lead so I let them go and sat behind them. He can take a little air so I changed up the tactic, and when I asked him at the quarter pole, he went on again," said Fukumoto after the race. "Last time, he won very easily, and he did it again today."
Trainer Josie Carroll said she's excited about the possibility of running Mighty Heart in the Breeders' Stakes.
"We always wait to see how the horse comes out, that's the key," said the Hall of Fame trainer. "He's a wonderful little horse and he gets better every time."
Owner Lawrence Cordes called Mighty Heart a gift.
"He was handicapped from day one and his future looked bleak because of his injury, but we had faith in him from the day he stepped on the track. We have to see how he comes out of this race, but we would like to compete for the Triple Crown."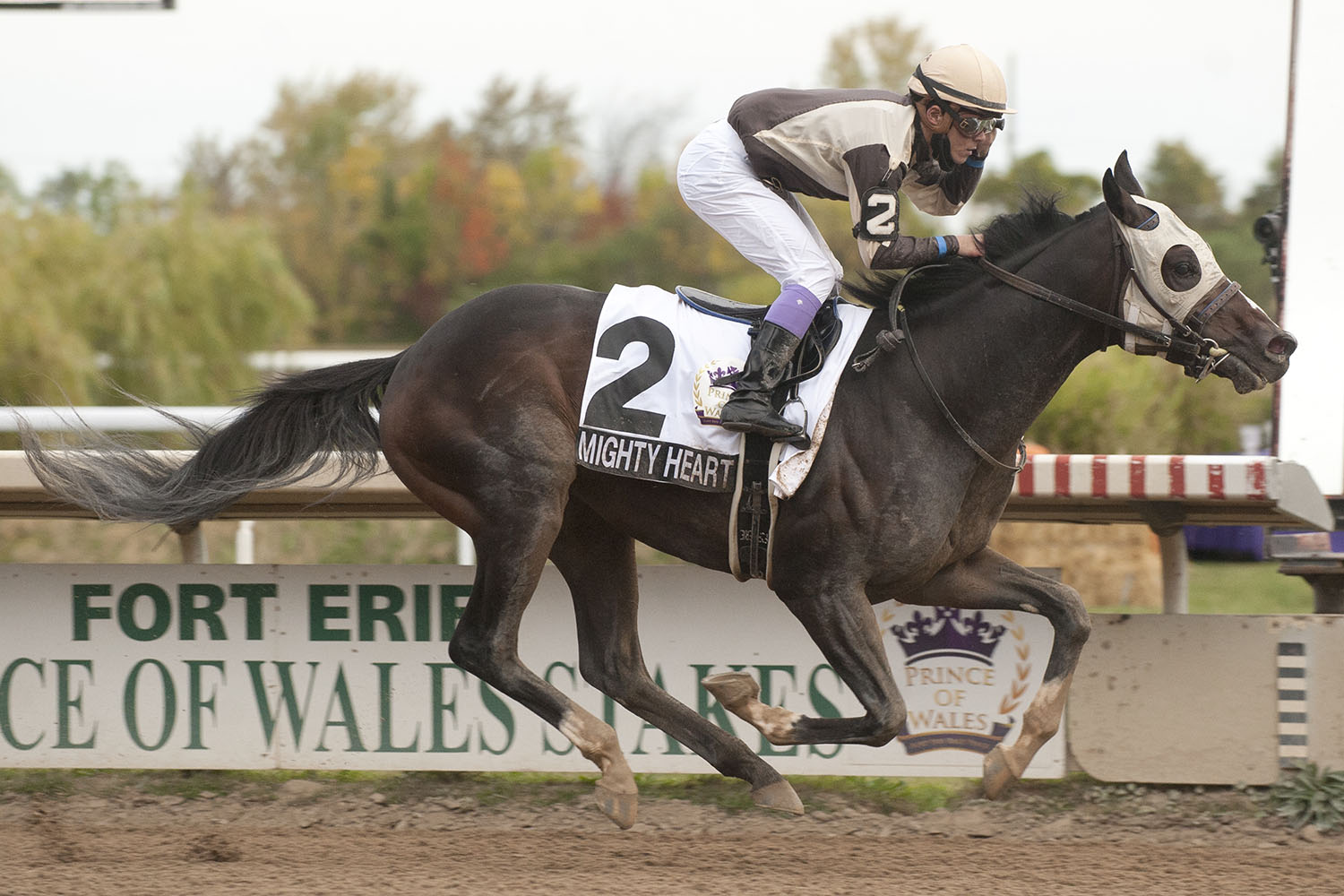 Mighty Heart paid $3.70 to win as the 4-5 favourite, $2.60 to place and $2.20 to show. Clayton paid $3.40 to place and $2.40 to show. Dotted Line paid $3.20 to show.
Despite being closed to the public and the loss of on-track wagering, Tuesday's Prince of Wales Stakes produced a record handle of $3,028,600, topping the previous record handle under Fort Erie Live Race Consortium's management of $2,188,171 from 2016 when Amis Gizmo won for Josie Carroll.
Tuesday's final race of the day featured a mandatory payout on the 20-cent Jackpot Hi-5, with a carryover of $178,381.93. A total of $701,151.21 in new money was wagered in the pool, with a payout of $7,657.83 on a 20-cent ticket.
The $400,000 Breeders' Stakes is the third and final jewel of the OLG Canadian Triple Crown, scheduled for Saturday, October 24. The event is 1-1/2 miles on Woodbine's E.P. Taylor Turf Course.
(With files from Fort Erie Race Track)