TORONTO, October 23, 2021 – Moira made her career debut a memorable one, as the daughter of Ghostzapper dominated the 76th edition of the $250,800 Princess Elizabeth Stakes, for Canadian-foaled two-year-old fillies, Saturday at Woodbine.
Trained by Kevin Attard and ridden by Justin Stein, Moira, bred by Adena Springs, had her work cut out for her in the 1 1/16-mile main track feature.
Yet, in spite of her rookie status, the bay filly looked like a seasoned pro on a sunny, cool autumn day at the Toronto oval.
Mo Touring and Lois Len, two of four (also, Into Touring and Baksheesh) Mark Casse trainees, raced one-two in the early going of the event that attracted 10 starters. Moira, meanwhile, had one horse beaten through an opening quarter in :24.55.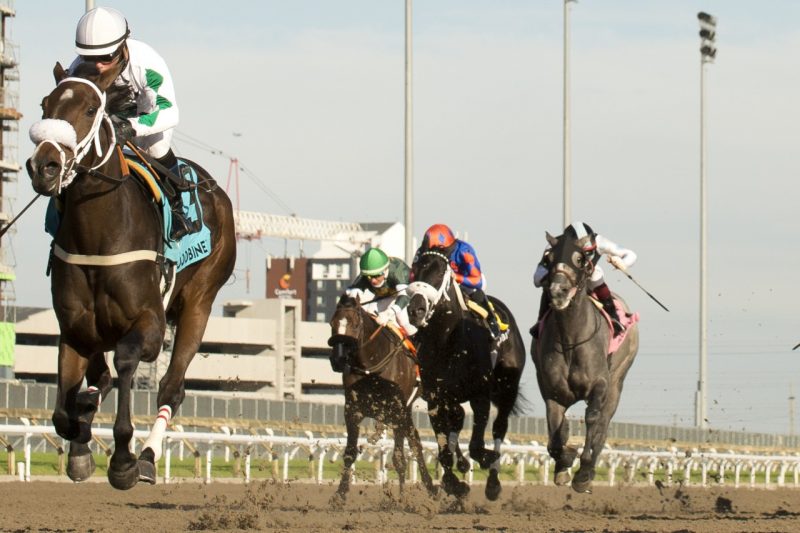 It was status quo for the top two through a half-mile timed in :49.07, with Mo Touring extending her lead to three lengths, while Moira improved into eighth spot.
Still in eighth position after three-quarters, Stein began to call on his juvenile charge and the pair picked up the pace around the turn for home.
Third to fellow Attard trainee Souper Flashy at the stretch call, Moira, seemingly effortlessly, soon took control and then easily strode away from her rivals to the tune of a 4 ¼-length win timed in 1:44.63. Souper Flashy bested 25-1 Intro for the runner-up prize, while Baksheesh, the 5-2 choice, was fourth.
Sent off as the 4-1 second choice on the toteboard, Moira paid $10.60 for the win.
Owned by X-Men Racing, Madaket Stables LLC and SF Racing LLC, the Ontario-bred received high praise from both her pilot and conditioner.
"She handled everything down the backstretch really well," offered Stein. "She was on the inside and was right there for me like a seasoned runner. I moved her around to where we wanted to be and I just waited for that seam at the head of the lane to open up. I had so much horse."
Attard, enjoying yet another excellent Woodbine campaign, was equally impressed with the veteran-like savvy Moira displayed.
"She showed a lot of talent and I've really liked her for a long time. I was confident that she was good enough, I was just hoping my abilities were good enough, I guess. Both fillies ran really well. Obviously, with this filly (Moira) in the nine-hole, I asked Justin to kind of see if he could tuck her in and save ground. I thought that was important for us. I was watching Souper Flashy inching up and making her way to the front there, and Moira following suit. When the seam opened up for Moira, the two of them looked like they were going to fight it out for a bit, and this filly just kind of prevailed."
While next year's Woodbine Oaks Presented by Budweiser is a long way down the road, Stein couldn't help but give the country's pre-eminent race for Canadian-foaled three-year-old fillies a quick thought past the wire.
"That's what I thought galloping out," said the lifetime winner of nearly 1,270 career races.
Among the past Princess Elizabeth winners who have gone on to take the Woodbine Oaks are Nipissing (2012), Roan Inish (2009), Ginger Gold (2001) and Dancethruthedawn (2000).
Woodbine Communications