TORONTO, October 17, 2019 – Monastery Lane, a three-year-old daughter of Lookin At Lucky, goes after her first added-money title in the $125,000 Carotene Stakes, one of two ($100,000 Bunty Lawless) features on Sunday's 10-race card at Woodbine.
Trained by Lorne Richards for True North Stable, the bay, bred in Ontario by the late Bill Graham, comes into the 1 1/8-mile turf race with one win and a pair of seconds in three starts.
In her most recent effort, on September 11, Monastery Lane romped to a five-length score in a six-and-a-half furlong main track race at the Toronto oval.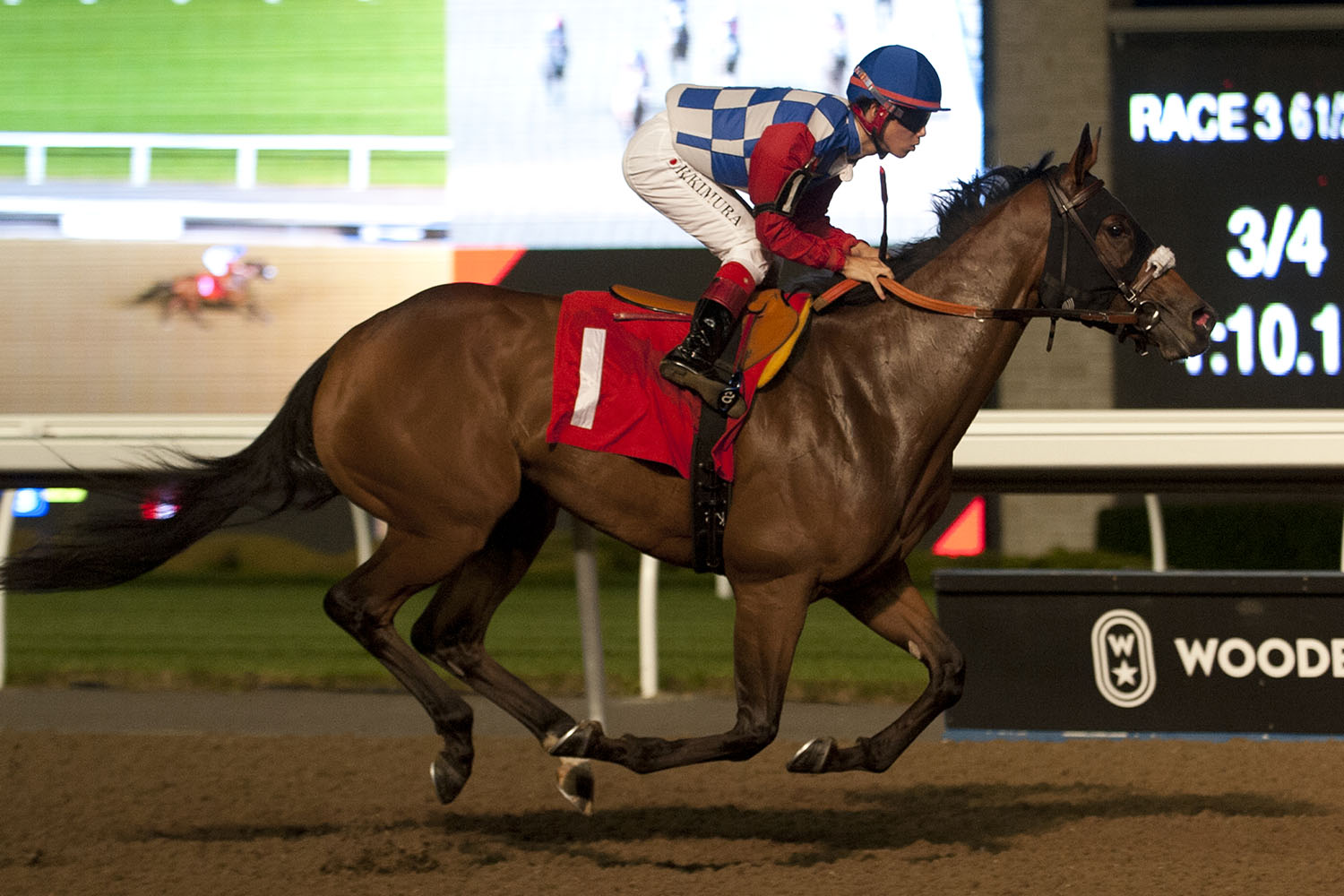 Under Kazushi Kimura, the filly was off a step slow, but recovered quickly, and went on to an easy victory in the maiden-breaking effort.
Monastery Lane tested the turf in her first two outings, including a hard-closing performance in her career bow on August 10 at Woodbine. Eighth of 10 at the stretch call, a shade under seven lengths away from the leader, she rallied to finish 1 ¼-lengths behind the winner over five furlongs on the inner turf.
"I had really wanted to run her a little longer," said Richards. "I wasn't really sold on the turf, and I wanted to get her on the [synthetic] track. But she ran well. I thought we might as well get her started, and go from there. She broke a little tardy, but made up ground, and ran well. I liked her, but she never showed much in the mornings. She just worked along, and did what you asked her."
On August 24, Monastery Lane once again showed some afternoon savvy when she rallied to grab runner-up honours, this time finishing a length behind Weed Be Happy.
Now, she'll look to deliver Richards a first Carotene crown.
"She lacks a little seasoning," started the multiple graded stakes winning conditioner, who has 398 lifetime victories.  "Might as well give her a go. She's been doing well, and I just can't see why we wouldn't take a chance. You can't knock her. She's a nice horse to be around in the barn."
Richards, whose top horses include Financingavailable, Attest, Sheila's Prospect, and Dancingall Theway, doesn't see the Carotene distance as an issue for his young charge.
"I don't think she's out of place with these horses. You have to try and find out (about the longer distance). But I don't think it will be a problem. She's been a nice little surprise, and hopefully she'll carry on with it."
Last year, Sean and Dorothy Fitzhenry's Dixie Moon won the Carotene in a time of 1:48.31.
Red Cabernet, who is a nose shy of three straight stakes wins, will take on the boys, including fellow Ian Black trainee Dun Drum, in the one-mile Bunty Lawless turf test later on the card. The 10-horse field includes Silent Poet and Cooler Mike, who were on the front early in their respective Grade 1 assignments here last month — the Ricoh Woodbine Mile and Northern Dancer.
Multiple stakes champion Rahy's Attorney won the Bunty Lawless three times (2007, 2009-10), while Pender Harbour took the 2011 and 2012 runnings. Kingsport won the 2018 edition for Goldmart Farms and Royal Laser Racing.
The Carotene Stakes is slated as race three on Sunday's 10-race card. The Bunty Lawless goes as race seven. First post time is 1:05 p.m. Fans can also watch and wager on all the action via HPIbet.com.
$125,000 CAROTENE STAKES
Post – Horse – Jockey – Trainer
1 – Street Zapper – Rafael Hernandez – Stuart Simon
2 – Monastery Lane – Kazushi Kimura – Lorne Richards
3 – Holyanna – Patrick Husbands – Kevin Attard
4 – Miss Ariel – Gary Boulanger – Tony Gattellaro
5 – Intanga Rose – Luis Contreras – Sid Attard
6 – Amalfi Coast – Eurico Rosa da Silva – Kevin Attard
$100,000 BUNTY LAWLESS STAKES
Post – Horse – Jockey – Trainer
1 – Red Cabernet – Eurico Rosa da Silva – Ian Black
2 – Eskiminzin – Jeffrey Alderson – Carlos Grant
3 – Royal Laser – Kazushi Kimura – Sid Attard
4 – Split My Pants – Patrick Husbands – Catherine Day Phillips
5 – Desolator – David Moran – Niall Collum
6 – Carmenootz – Leo Salles – Ralph Biamonte
7 – Silent Poet – Gary Boulanger – Nick Gonzalez
8 – Thor's Rocket – Justin Stein – Paul Buttigieg
9 – Cooler Mike – Luis Contreras – Nick Nosowenko
10 – Dun Drum – Rafael Hernandez – Ian Black