By: Hayley Morrison for Woodbine.com
TORONTO, May 10, 2019 – In the irons, Krista Carignan is truly living out her passion. However, once she crosses the finish line either at Woodbine or Fort Erie, her heart quickly beelines for home where she's not just a jockey, but a mom to her daughter Bianca and son Aiden.
At seven years old, Bianca is quick to quiz her mom about work when she arrives home from the track. "She comes to the races sometimes and she will watch it on the tv. She will always ask me, 'Did you win today?' And if I didn't win, she will ask me, 'How come you didn't win today?'"
Carignan laughs, but the jockey knows there are tough days in the sport and she is happy to come home to a house full of keen observers and supporters. She also gives a ton of credit to her partner Chris Griffith, a former jockey, who helps balance out her workdays with life at home.
"It's really Chris. He's retired now and he does everything. The thing about being in Fort Erie is you only race two days a week and the mornings are pretty manageable. We live three minutes from the track, so we are usually home by 10 o'clock in the morning, which is pretty nice. It's good that way. So race days, Chris has them and does everything that needs to be done when I can't," said Carignan.
The jock returned to racing last year, following an extended break after having her second child Aiden, who will turn three soon. Despite a two-year hiatus from the sport, Carignan cleaned up on her return, taking home top honours as the leading jockey at Fort Erie last season.
"I didn't really expect to be as busy or ride as much as I ended up riding, but it turned out to be a really good summer," said Carignan, whose career in the industry spans over a decade.
Carignan was born in Hinton, a mining town in northern Alberta, but grew up in Saskatoon, Saskatchewan. Despite not having a family background in racing, she quickly integrated some four-legged friends into her life.
"I was in 4H and pony club and things like that and there was a racetrack in the city that I grew up in. So I started working there when I was about 13," said Carignan, whose first job at the track was at Marquis Downs as a groom.
Whether it was intuition or simply falling for the sport she loves, Carignan felt the career path of a jockey would be her calling from early on.
"It's funny, like even before I was really involved with horses I always kind of wanted to be a jockey. I liked to ride horses, I liked to go fast and I was always quite small, so it was just sort of one of those things."
In 2006, Carignan began race riding at Marquis Downs. She won her first race not long after with a horse called Just for Dad. After riding a couple of seasons at Marquis, she moved her tack in the spring of 2008 to Stampede Park in Calgary and then onto Northlands Park in Edmonton.
In the fall of that same year, the jock decided to move not just her tack, but her life to Ontario.
"It was just by chance, I was 19 and I didn't really have anything to lose," said Carignan, who began riding at Woodbine in October 2008.
"I had gotten in touch with Mike Luider and he's actually the person who picked me up from the airport and I lived with him and his girlfriend at the time for a couple weeks until I ended up on a couch at my agent's – who was Al Raymond."
Moving from out west was an adjustment, but Carignan was happy she made the move.
"I like the area, I like the people, the horses and I think being close to other racetracks as well. I went to Presque Isle a little bit and Finger Lakes and places like that. The weather is milder which is also really nice," said Carignan, who won her first race at Woodbine on October 30, 2008 aboard a horse named Spunky.
The jock also carried her tack to Fort Erie Racetrack, where it didn't take long for her to make an impact on the jockey colony. In 2010, she captured the Fort Erie Slots Cup Stakes (Golden Sunset), the Puss n Boots (Kettle Rapids) as well as the Fan's Cup Stakes (Tyzach) at the historic track. In 2011, she scored a third-place finish in the Prince of Wales Stakes aboard Oh Canada and then went on to win the FE Slots Cup Stakes once again, this time with My Natalie.
The year 2011 is also significant because she met her partner Chris, a well-known Barbadian jockey who rode on the Canadian racing circuit for close to three decades.
Later that year, Carignan found out she was pregnant.
The jock responded very candidly when asked whether she had a sense of whether she would come back to racing.
"I didn't. I think it was just really hard at that time because I was leading rider at Fort Erie. I struggled a lot riding in 2008, 2009 and 2010 was my first really good year. 2011 was another really great year. Actually, I had wanted to ride the winter somewhere and then I got pregnant and it was hard to stop. But then once I stopped, I didn't know how I would really balance being a mom with being a rider because when I rode, I just gave everything to it. Obviously, I didn't want to do that anymore."
In 2012, the jocks were blessed with Bianca.
During her first pregnancy, Carignan moved back out west to be with her family. In 2013, she resumed riding at Marquis Downs and then finished up the season at Northlands Park. She returned to Ontario's racing scene in September 2014, riding at both the Fort and Woodbine until the season wrapped up. While Fort Erie is Carignan's home base and she commutes to Woodbine, she did find herself riding back in Edmonton for a brief part of the 2015 season.
Juggling a career while also parenting is difficult in any profession. Going into her second pregnancy in 2016, Carignan planned to spend some more time out of the saddle.
"When we decided to have our son, our second child, I knew I wanted to take time off. I actually started working back at the racetrack in Saskatoon when my daughter was barely six months old. It was stressful. When you are riding, you are worrying about your eating and you have to be in a certain amount of shape and getting a certain amount of sleep, and so it was really stressful because she was so little."
Two different roles, a caregiver on the one hand and an athlete on the other, Carignan is very thankful to have Griffith alongside her.
"He can do anything that I can do and vice versa and we just kind of balance everything that way and he is really supportive."
Returning to the saddle after one pregnancy is a feat, but was Carignan ready to hang onto the riding boots after becoming a mom a second time round?
"With Aiden, I was like I'm done, I'm taking off as much time. If I want to come back, I will, but if I don't, I won't. I will do something else. I started with photography a little bit and looked into some other things. Then all of a sudden he was just about two and I realized I wouldn't mind getting on some horses again and galloping a little bit."
In the fall of 2017, she began galloping horses again.
"I think what really clinched it was I was down here in Fort Erie. It was the fall before and I started getting on a couple of horses a day. And somebody didn't show up and I got to work a horse out of the gate. I worked the horse out of the gate and I was like, 'Oh, I miss riding. I'm going to try and come back next year. But just a little bit and see how it goes."'
In 2018, she came back in roaring fashion. While Griffith was holding down the fort at home, Carignan was legit holding down the Fort.
She took home the leading rider title with 57 wins and banked more than $440,000 in earnings. At Woodbine, she won three races and finished in the money a handful of times, earning north of $116,000.
On opening day of the 2019 racing meet at Woodbine, Carignan steered Adelle's Princess to victory in the fourth race. The talented jockey does plan to commute between Fort Erie and Woodbine to ride this season.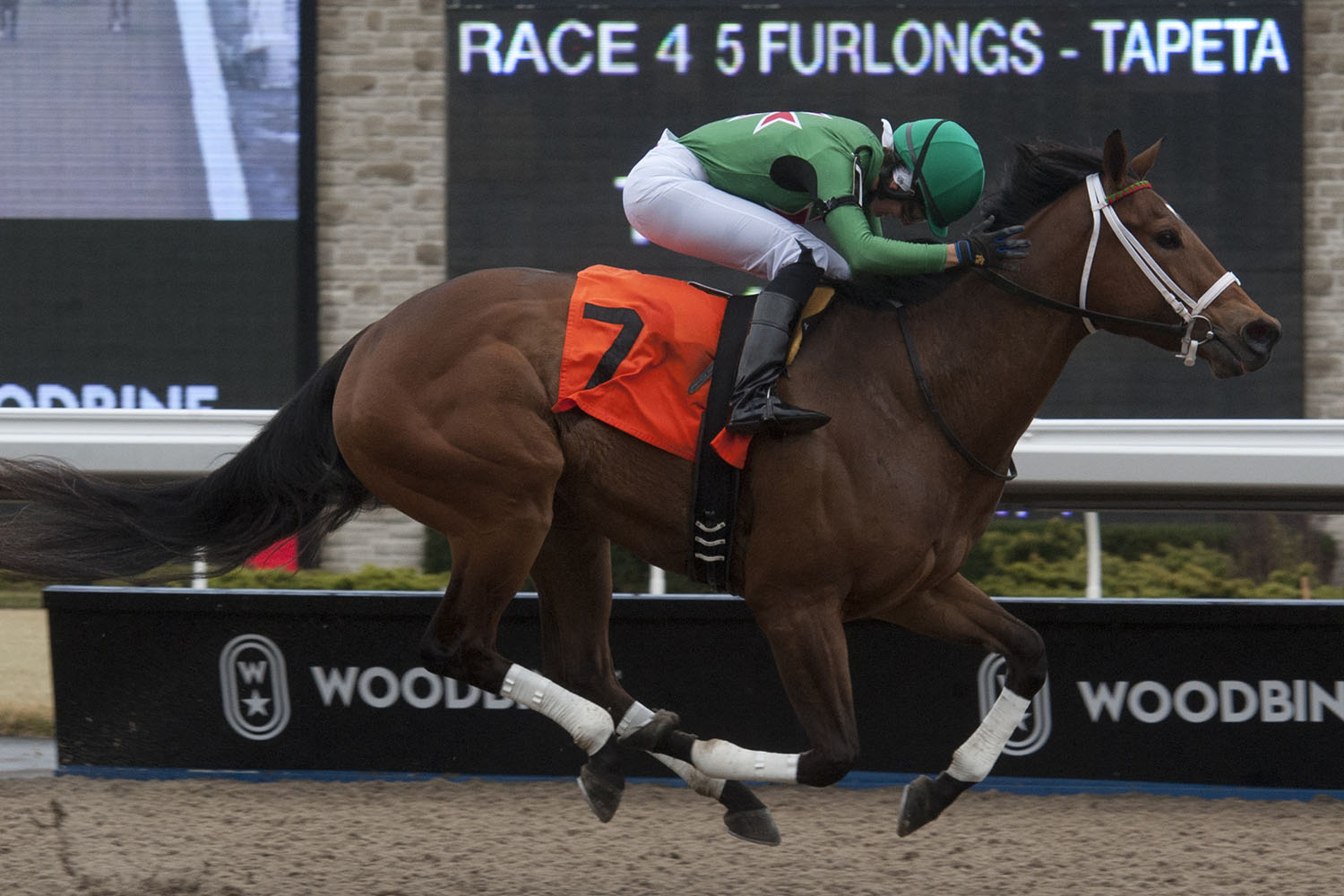 Her life is not just a balancing act at home, but also at the track.
"Whenever there is a demand for it. I won't go up (to Woodbine) like everyday or anything. We would usually go up once a week, or if there were something good to ride then I would go up. I expect to have a handful of horses to ride at Woodbine this year, so I will just play it by ear and see how it goes."
Whether her kids watch her from the sidelines or on tv, they will eventually grow up one day and may even have aspirations of filling her or Griffith's jockey boots.
How does Carignan feel about that?
"It's up to them. I would be happy to be able to do something with them, like a family business mentality, but it's a tough business. I would be just as happy if they wanted to be involved a little bit but also maybe pursue something else. I just want them to be happy and end up doing something they love or are passionate about. If it happens to be this, so be it I guess. There would be good and bad to it. You never want to watch your kids do something dangerous or challenging, but at the same time if they really enjoy it, then it's something else you have in common."
A proud mom, Carignan's Facebook is populated with family pictures; several showing her kids are already integrating some four-legged friends into their own lives.
"My daughter takes lessons, she enjoys riding. She likes to walk though, she is very cautious – which is great. Aiden likes to lead them around – he doesn't really want to ride yet."
While there are dozens of hardworking moms in the racing industry, Carignan admits that her perspective has been broadened since becoming a mom herself.
"It's funny, since coming back and being a mom in the industry, [I've noticed] there's a lot of mothers in the industry and it's like they sort of band together. They're like, 'I got you, I know what it's like to have kids and balance these hours.' And there's this whole support system within the industry that I was never aware of before I had kids… Things you don't really notice until you are a part of it."
Returning recently from Florida where she spends the winters with her family, Carignan is looking forward to yet another year in the saddle. Also, possibly the question period that ensues when Bianca watches race replays.
Wrapping up the interview, with kids playing in the background, Carignan reflects on being able to live out two dreams at once.
"I like that it actually keeps you balanced. As much as it is a lot of work and stressful, it sort of reminds you of what is actually important. So if I get really caught up in work and then I have a day off where I just get to spend the whole day with the kids, I'm like, 'Oh, this is great.' I like my job and I'm so happy that I also get to have this – it kind of keeps you grounded."