TORONTO, October 2, 2021 – Munnyfor Ro rallied stoutly down the long E.P. Taylor Turf Course stretch to take the $250,400 Wonder Where Stakes, third leg of the Canadian Triple Tiara, Saturday at Woodbine Racetrack.
It took a little bit of time for Munnyfor Ro to hit her best stride, but when she did, the daughter of Munnings dashed away from her rivals for a convincing score in the in the 1 ¼-mile turf test for three-year-old fillies foaled in Canada.
After an early scramble for the lead, 66-1 Youens struck front as 4-1 Emmeline settled just to her outside in second spot. Justin Stein, aboard Munnyfor Ro, kept the 6-5 choice in striking distance, sitting sixth after an opening quarter timed in :26.44.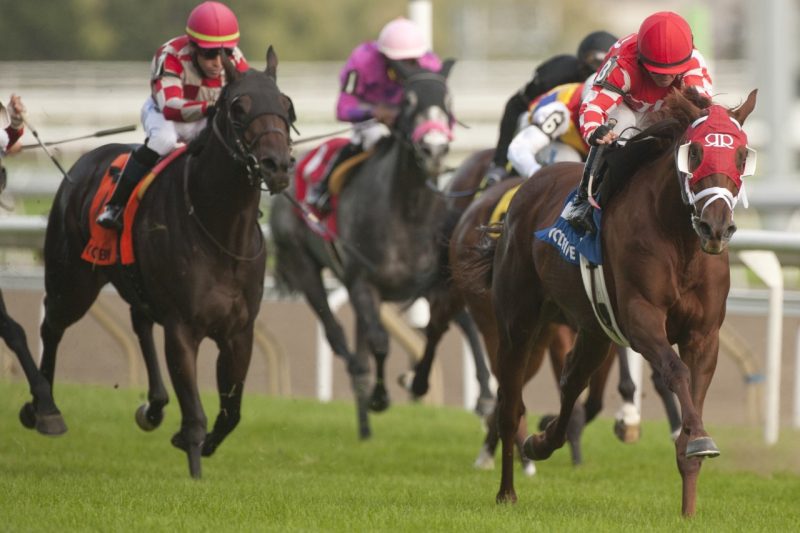 Youens continued to lead the way with Emmeline keeping close tabs to the pacesetter, as Munnyfor Ro, winner of the Woodbine Oaks Presented by Budweiser, first leg of the Triple Tiara, was still running along comfortably in sixth after a half in :52.44.
As the field rounded the turn for home, Youens and Emmeline were quickly challenged by several rivals, including Miss Marie and Cielo d'Oro, as Stein called upon MunnyforRo for her best run.
Mid-way down the lane, the favourite seized control and proceeded to sprint away from her rivals, notching a 1 ½-length triumph in a time of 2:05.36 over good ground, and returning $4.60 for the win.
Miss Marie battled on gamely to secure second place, Cielo d'Oro was third and Bequia, also an Attard trainee, took fourth. Il Malocchio, winner of the Bison City Stakes, second jewel in the Triple Tiara, was sixth.
"She's all racehorse," praised Stein. "She felt the same (on turf), just that nice, efficient stride, and that strong kick down the stretch. Just reading the form, you could see there was no real speed, and we were forwardly placed. She was on the bridle and just had to settle her into stride and wait to turn her loose."
With the victory, Munnyfor Ro stamped herself as a legitimate Sovereign Award contender in both the champion Three-Year-Old Filly and Horse of the Year categories.
Attard was equally thrilled with the effort from the chestnut filly, bred in Ontario by Daybar, Ltd., who finished fourth to Safe Conduct in this year's running of the Queen's Plate.
"I thought she's blossomed a lot since her race in the Queen's Plate," said Attard, who won last year's Wonder Where with Merveilleux. "She kept good weight, possibly put on some weight. She's matured from a physical standpoint, and she trained really well heading into this race. This was a race that Raj [owner Rajendra Maharajh] wanted to target from the get-go. It was just nice to see it all come together today and get the job done."
Munnyfor Ro, now 3-2-2 from 11 career starts, broke her maiden at Keeneland this April.
Woodbine Communications