TORONTO, October 6, 2019 – Muskoka Gold, prominent from the outset under jockey Jerome Lermyte, turned back the challenge of favoured Pleasecallmeback for a 1 ¾-length victory in Sunday's $226,600 Cup and Saucer Stakes at Woodbine Racetrack.
The Cup and Saucer, a 1 1/16-mile turf race for Canadian-bred two-year-olds, attracted a field of 12 and Muskoka Gold was an 18-1 chance while giving trainer Mark Casse his fourth Cup and Saucer and meet leading 12th stakes win.
"Honestly, we played by the break," said Lermyte. "I didn't know what I was going to do. It was going to depend on how he broke and how the race would unfold.
"He broke really good, nobody was really going — I had one horse on the outside — and I took the opportunity to go there comfortable. I didn't want to do too much. I was very happy to see that he just kept going all the way."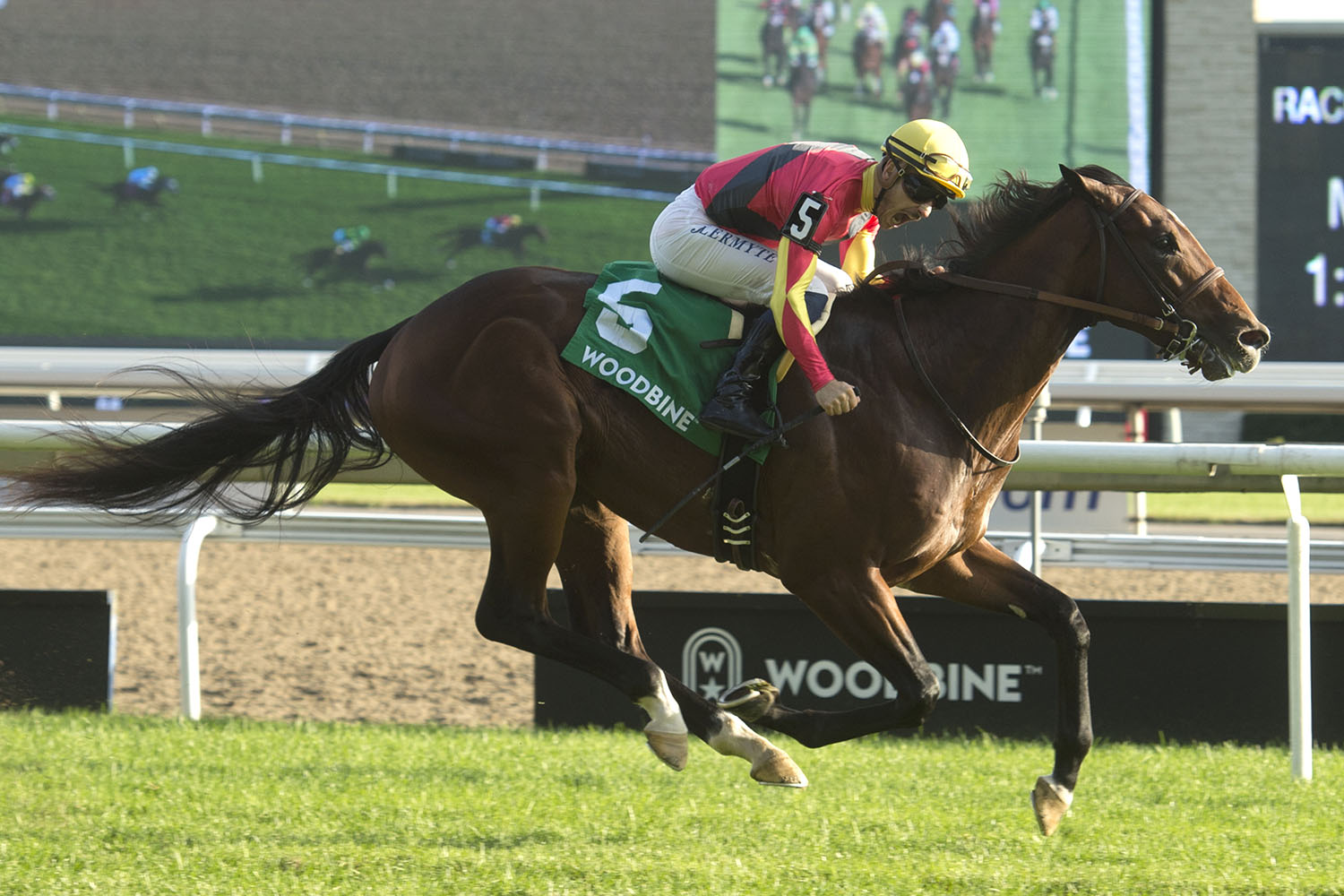 Goldmine Cat, also trained by Casse, was first to the front but was joined quickly by Muskoka Gold on the inside. The opening quarter went in :23.60 with Goldmine Cat holding a head advantage and the pair continued to duel with Muskoka Gold assuming the lead by the same margin as they hit the half in :47.71.
Pleasecallmeback, who had launched his move heading into the final turn, had his head in front briefly between calls but Muskoka Gold refused to yield and had reclaimed the advantage by a head with the three-quarters in 1:11.88.
Muskoka Gold extended his lead through the stretch run, despite the best efforts of Pleasecallmeback's rider Patrick Husbands, holding a length advantage with a furlong to run and ending 1 ¾ lengths in front.
Kunal, last at the stretch call, finished strongly for third money, 2 ¾ lengths behind the runner-up. More Chances, who had raced within striking distance throughout, was another 1 ¾ lengths adrift in fourth.
Northern Thunder, Cryptic Grip, 3-1 second choice Malibu Mambo, Fantastic Breeze, Barilko, Goldmine Cat, Muskoka Giant (a third Casse entrant, owned by the Conrads), and Perfect Revenge completed the order of finish.
The final time was 1:42.07 on a course rated "good."
Bred by the late Bill Graham, Muskoka Gold was making just his second career start and trying turf for the first time in the Cup and Saucer after finishing a closing second over 1 1/16 miles of Tapeta in his debut.
The Cup and Saucer capped an eventful weekend for Lermyte, who had guided the Casse-conditioned Skygaze to a first-place finish here in Saturday's Mazarine Stakes only to be knocked down to third after the stewards found him guilty of two separate incidents of interference.
"It's a sensitive subject still," said Lermyte. "It's racing and obviously you make some mistakes and it's painful, but we learn from it and try to come back stronger and don't make the same mistake. Today's win makes it up a little bit, but it's still painful."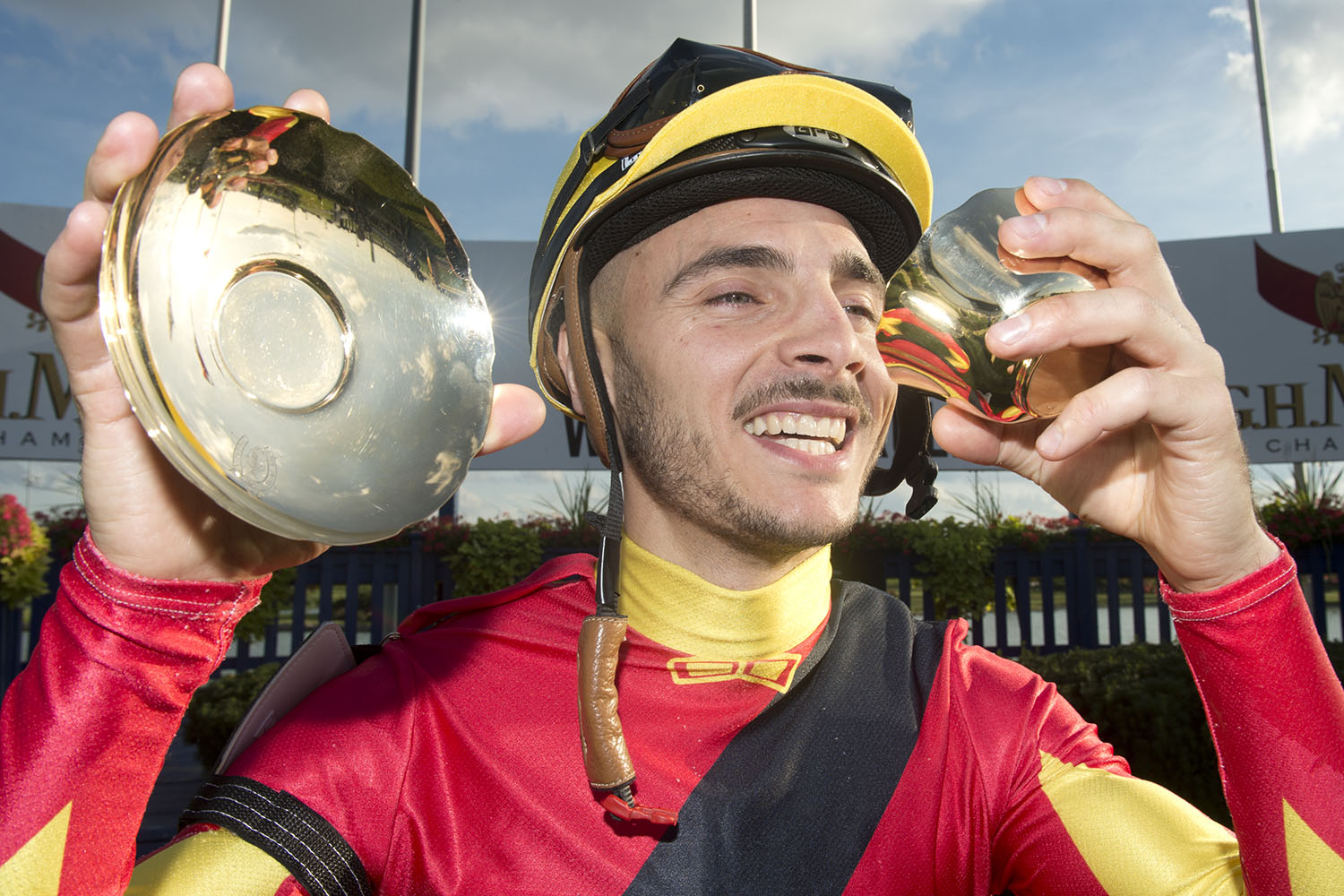 Muskoka Gold returned $38.60, $12.50 and $8.20 with the 8-5 favourite Pleasecallmeback ($3.60, $2.60) completing a 5-6 exacta worth $144.30. The 5-6-8 trifecta, with 64-1 shot Kunal ($13.10) ending third, returned $1,361.65 and the 5-6-8-1 superfecta, completed by 5-1 third choice More Chances, paid $12,865.45 for a buck.
Live Thoroughbred racing resumes at Woodbine on Wednesday evening following the 12 noon post position draw for the $800,000 Pattison Canadian International (Grade 1). First race post time for the mid-week program is 6:45 p.m.