TORONTO, August 1, 2021 – Avoman, a son of top Canadian sire Old Forester, claimed top prize in Sunday's running of the $150,000 Plate Trial Stakes, at Woodbine.
A field of four Canadian-foaled 3-year-olds took to the Toronto oval Tapeta in the 1 1/8-mile Plate Trial, which comes three weeks before the running of the $1 million Queen's Plate, set for Sunday, August 22 at Woodbine.
After an even break, Derzkii and Truffle King took command as the field passed by the grandstand for the first time. H C Holiday was third, while Antonio Gallardo and Avoman were fourth through an opening quarter-mile clocked in :25.35.
It was status quo through a half-mile in :51.06, as Gallardo monitored the movements of front-running duo. When the pace began to quicken just prior to three-quarters in 1:15.93, Avoman was given his cue to engage the leaders.
As the field straightened for home, Avoman, on the outside, commenced his duel with Truffle King and Derzkii, eventually powering past the pair to secure a three-quarter length win in a time of 1:52.84.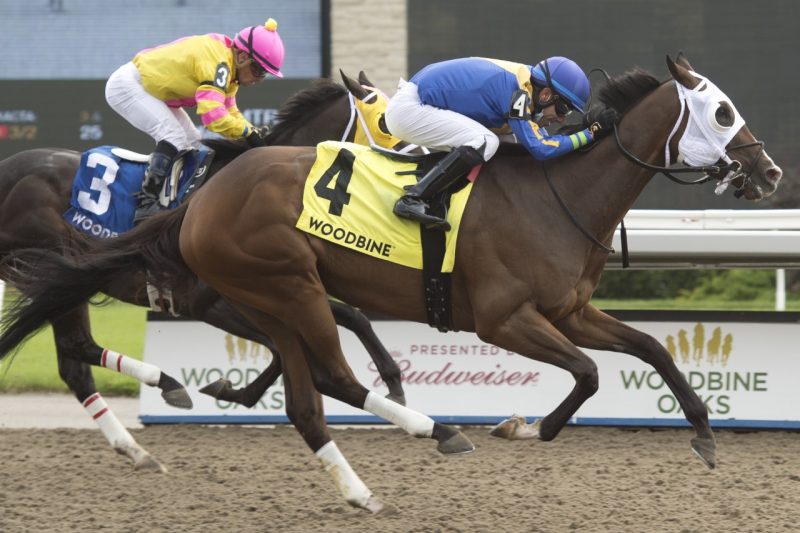 Truffle King, who finished second, was relegated to last after interfering with Derzkii, who was subsequently placed third. HC Holiday was elevated from third to the runner-up spot.
"I love to watch replays, I love to know my horses," said Gallardo, who won his second Woodbine stakes one day after taking the My Dear with Diabolic. "I could see I have long-stride horse, he has a big kick at the end. I know it's not a lot of speed, I know these things are a bit long for him. In the beginning, I let him be strong. After that, I told him, 'Hey, you're not going nowhere' and he relaxed. I had to move a little bit early because there was no pace – I wanted to make sure the horse in front worked a little bit."
Next up for Avoman, a spot in the starting gate for the Queen's Plate, North America's oldest continually run stakes race.
"The Queen's Plate is the game plan," said trainer Don MacRae, who co-owns the dark bay with La Huerta Inc. (father and son team Jim and Graeme Bruce). I had to stall Jim for a while — he was ordering 40 tickets and a bus. I said, 'Let's just get through today.' That's what we're in it for, that's what we dream of — to walk into the infield and have these big days, and maybe dream of the Plate."
Bred by Joey Gee Thoroughbreds, Avoman finished third in his debut last September at Woodbine. After the Bull Page score, he closed his 2-year-old campaign with a fifth in the Frost King Stakes. The Ontario-bred came into the Plate Trial off a third-place effort on July 3 at the Toronto oval.
Avoman returned $5.10 for the win and sports a record of 2-0-2 from five starts.
Fans can track the Queen's Plate Power Rankings on queensplate.com, the official website of the race, and on Woodbine Entertainment's social media platforms via @WoodbineTB.
– Chris Lomon for Woodbine.com