TORONTO, August 15, 2018 – Aheadbyacentury heads a field of nine Canadian-bred three-year-olds in Saturday's $400,000 Breeders' Stakes, third jewel of the OLG Canadian Triple Crown, at Woodbine.
The 128th edition of the Breeders', at one and one-half miles over the E.P. Taylor Turf Course, will be televised live on TSN 2 in HD from 5:00 p.m. to 6:00 p.m., with a post time of 5:45 p.m. ET.   The winner earns $240,000.   All colts and geldings will carry 126 pounds, with a five-pound break for filly Hot Cash.
There is no Triple Crown on the line this year, though, as filly Wonder Gadot, who captured both the Queen's Plate and Prince of Wales Stakes, eschewed her chance at a famous triple to take on the best of North America's three-year-old crop in the Grade 1 Travers Stakes, slated for August 25 at Saratoga.
It marks the 15th straight year without a Triple Crown champion in Canada.  Wando was the last to achieve the impressive three-race sweep in 2003.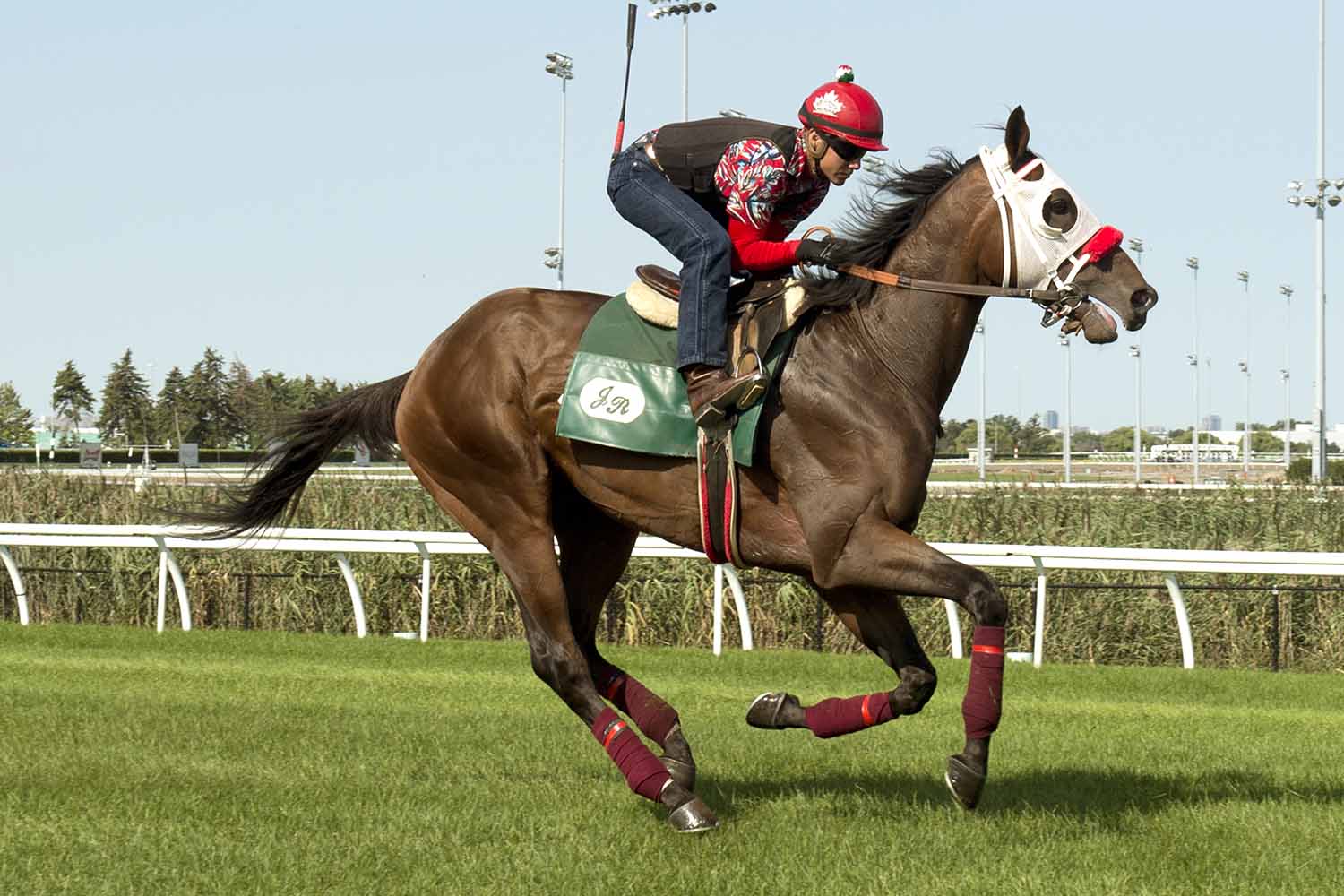 In Wonder Gadot's absence, ultra-consistent colt Aheadbyacentury, runner-up in the first two legs of the Triple Crown, will look to go one better for trainer John Ross, who owns the Midnight Lute bay in partnership with Jack of Hearts Racing.
"That's what we're hoping for. Third time's a charm, hopefully," said Ross. "He just keeps coming, this horse. Right from the beginning of the year, even in the Queenston, which was short for him, he was still coming.
Aheadbyacentury, named for the Tragically Hip song which was the encore at that group's farewell concert in Kingston, Ontario enjoyed a rare opportunity to train over Woodbine's E.P. Taylor Turf Course on Saturday.
"It went really well. It was a training program I was looking forward to," said Ross. "I was really glad that Woodbine, and Steve Lym (Director of Thoroughbred Racing), allowed us to get on there and my horse really enjoyed it.  Luis Contreras was on him and they went right down the lane and had a good look around."
Purchased for $67,000 at the local select yearling sale, Aheadbyacentury launched his career in a pair of sprint stakes finishing third in the Clarendon and fourth in the Simcoe Stakes before graduating in a maiden allowance tilt while trying two turns for the first time.
The talented colt followed up his maiden score with a driving two-length win in the prestigious Coronation Futurity when two lengths clear of Breeders' Stakes rival Neepawa.
Although winless in five starts as a sophomore, Aheadbyacentury has been knocking on the door with solid thirds in the Grade 3 Marine Stakes and Plate Trial ahead of his runner-up efforts in the Queen's Plate and Prince of Wales.
"I think he got even better after the Trial. There's a couple of things that really improved on the horse, too. He's full of try all the time and he likes the distance," said Ross. "The horse has been trying so hard it would be nice to see him win one of the Triple Crown races. He's hung on and been tough. He's the only one to do all three legs. He's a really nice horse."
Contreras retains the mount aboard Aheadbyacentury.
Chiefswood Stable homebred Neepawa, a well-bred son of Scat Daddy, will provide steep opposition. The sizable dark bay colt posted three strong Beyer Speed Figures when competing on the Gulfstream Park turf this winter, graduating in a maiden allowance on January 27 (83 Beyer) ahead of back-to-back fifths in the Grade 3 Palm Beach on March 3 (84 Beyer) and the Cutler Bay Stakes (85 Beyer) on March 31.
On return to Woodbine, Neepawa set his sights on the Queen's Plate but failed to menace, finishing tenth after pressing the pace.  However, the talented fellow returned to form on July 28 with a good third in the Toronto Cup.
A pair of newcomers to the OLG Canadian Triple Crown trail include Flight Deck and Ginger Sky.
Flight Deck, a dark bay son of Lemon Drop Kid conditioned by Mike DePaulo, is owned by Le Amici Stable and is bred to go long on the turf.
"We've been hopeful of making this race all along, because he's by Lemon Drop Kid who won the Belmont. Pedigree wise, it should be something he can handle.," said DePaulo.
An $80,000 yearling purchase at the Keeneland September Sale, Flight Deck boasts significant pedigree.
"His mother (Oval Cut) is by El Prado. His second dam was a real good Sam-Son mare (Radiant Ring) from a good Sam-Son family. There's a lot of grass on that side of the family and Lemon Drop Kid can also throw you a grass horse and a distance horse," offered DePaulo.
A winner at first asking in a maiden allowance turf sprint on September 24, 2017, Flight Deck went immediately into stakes company finishing off-the-board in the Cup and Saucer and Coronation Futurity. In five starts this campaign, DePaulo has maintained his strong opinion of the gelding entering in three open stakes events including a sixth in the Wando and a pair of fourths in the Charlie Barley and Toronto Cup.
Ginger Sky, trained by former jockey Francine Villeneuve for owners CHS Horse Racing Partners and Thomas B. Uniacke, will make his turf debut on Saturday.
"We've worked him extensively of late on the turf and he's worked quite well. The distance and the new surface will be a question. He is a good size, exceptionally kind and intelligent. He seems like he wants to run all day long," said Villeneuve.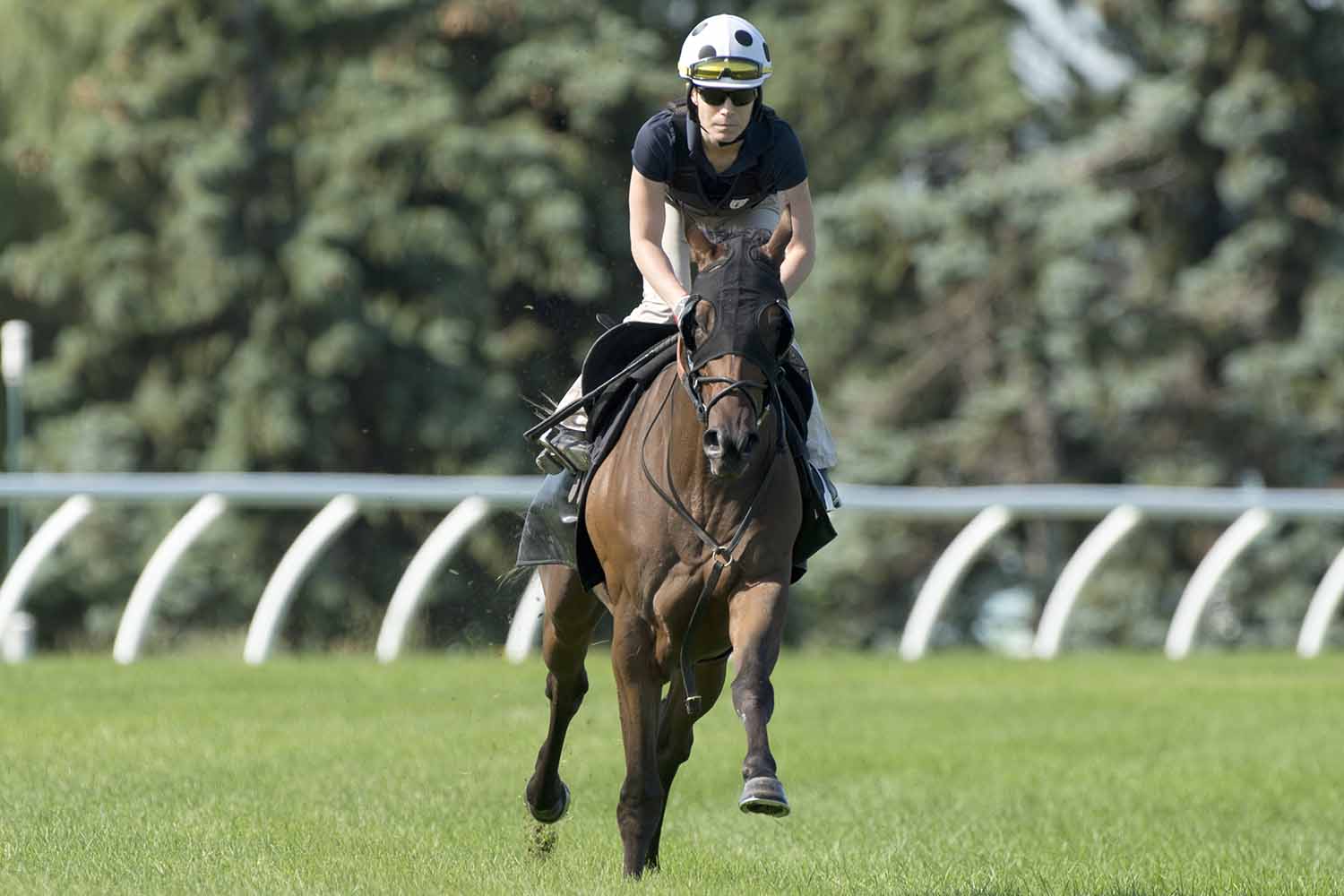 By Sky Conqueror, out of the Pulpit dam Shizuka, Villeneuve purchased Ginger Sky for $14,000 at the 2016 CTHS Yearling Sale.  His third dam, Gleaming Glory, produced prominent stakes winners Ginger Gold, Canada's Champion Two-Year-Old Filly in 2001, and Kesagami.
"I bought him with a partner (Joe Pignatelli) who was looking for a Sky Conqueror. There were five in the sale, we ruled out three and the other one went for more money than we could spend," said Villeneuve. "He liked the idea of long on the turf and this individual was quite appealing. For Sky Conqueror, long on the turf was his strength. We're hoping."
Villeneuve won 1000 races in a solid career as a jockey and did ride the Breeders' once.
"I was the entry mate for Dance Smartly back in 1991. Speak No Evil was the horse and he didn't finish anywhere significant (10th)," recalled Villeneuve of her up close view of the famous Sam-Son Farm filly's Triple Crown coup.
On Saturday, Villeneuve will add blinkers to Ginger Sky's repertoire but adding speed is not the goal.
"That's not really our intention. He only really showed speed in his last race," said Villeneuve. "We're hoping he'll settle and have something to finish with. We're running him with blinkers this time, so it's kind of against what you think it would do, but we're trying to make him a little more focused.
"This is going to be a big step up in class for him, but he's going into it well," she continued. "Who knows what could happen."
Emma-Jayne Wilson picks up the mount on Ginger Sky who has posted a record of one win and four seconds from eight starts.
Another newcomer to the OLG Canadian Triple Crown trail is filly Hot Cash who competed in the first two legs of the filly Triple Tiara when third in the Woodbine Oaks, presented by Budweiser, and fourth in the Bison City Stakes.  Eurico Rosa da Silva will ride the Adena Springs homebred for trainer Mike Doyle.
Jecara Farms homebred Eskiminzin, fourth in the Prince of Wales for trainer Carlos Grant; Sam-Son Farms homebred Say the Word, sixth in the Queen's Plate for conditioner Graham Motion; Adena Springs homebred Real Dude, ninth in the Queen's Plate for trainer Sid Attard; and Absolution, recently fifth in the Prince of Wales for trainer Tony Gattellaro and owner Polo Management Services complete a talented field.
The Breeders' Stakes is slated as Race 10 on Saturday's 11-race card. First post time is 1 p.m.
$400,000 Breeders' Stakes
Saturday, August 18, Race 10, Post time 5:45 p.m.
One mile and one-half, E.P. Taylor Turf Course
PP/Horse/Jockey/Trainer
1 / Ginger Sky / Emma-Jayne Wilson / Francine Villeneuve
2 / Eskiminzin / Sheena Ryan / Carlos Grant
3 / Absolution / Alan Garcia / Tony Gattellaro
4 / Real Dude / Gary Boulanger / Sid Attard
5 / Aheadbyacentury / Luis Contreras / John Ross
6 / Say the Word / Rafael Hernandez / Graham Motion
7 / Neepawa / Jerome Lermyte / Mark Casse
8 / Flight Deck / David Moran / Mike DePaulo
9 / Hot Cash / Eurico Rosa da Silva / Mike Doyle