Story by Hayley Morrison for Woodbine.com
TORONTO, March 1, 2020 – It's official, Rising Star is living his best life as a snowbird in Barbados.
However, while some of his four-legged Canadian counterparts might be jealous, the four-year-old colt isn't really on his dream vacation. Rather, the Ontario-bred racehorse is prepping for his debut in the Sandy Lane Barbados Gold Cup, set to run on Saturday, March 7.
The last Ontario-bred horse to win the Gold Cup was Queen's Plate champ Sir Dudley Digges in 2018. This year, Rising Star will be looking to claim top honours in the prestigious Grade 1 Caribbean horse race, which is run on the sweeping turf course at the Garrison Savannah racetrack.
Unlike Sir Dudley, Rising Star did not find himself in the winner's circle on Plate day (finishing ninth). However, the son of Ghostzapper (out of Purple Trillium) still managed to catch the eye of trainer Sylvester Ollivierre, who was looking for a possible Gold Cup contender for owner Nicholas Gibbs.
"What really caught us with Rising Star was that he was a lot better on the turf than he was on the Tapeta and that was what we were looking for. He was the right age and he was still a colt. He was well bred. He was bought at the (Keeneland yearling) sale for $325,000. He had the bloodline, so he can still be a stud," said trainer Ollivierre of the striking colt, who was bred by the late William (Bill) Graham.
A seasoned horseman working in the industry over the last three decades, Ollivierre will be attempting to capture his first Gold Cup with Rising Star. Born in St. Vincent and raised in Barbados, Ollivierre got his start at the Garrison Savannah in the late 80s. He's worked alongside trainers including Chally Jones and Bill Marshall, who've both captured the prestigious Gold Cup race. In 2003, wanting to make a name for himself abroad, Ollivierre took his training career to Assiniboia Downs in Winnipeg. He found success in training for Philip Kives (K 5 Stables) and captured several stakes races in 2006 and 2007 for the stable.
In 2008, he moved to Ontario and began working with various trainers as well as working with his own horses. Ollivierre has also worked for notable horsemen such as graded stakes winning trainer Stanley Baresich. For the last decade or so, you could find him helping out trainer Ashlee Brjnas at the Colebrook racing outfit at Woodbine.
Waiting in the wings for the right Gold Cup prospect to come along, Rising Star appeared on Ollivierre's radar last fall. Despite a lacklustre performance in the Queen's Plate, the trainer was still impressed by the colt's effort in a turf race later that summer.
"To me, the race where he ran his greatest was the Breeders' Stakes – the last leg of the (Canadian) Triple Crown. Although he was beaten and ran sixth or seventh, that was a hell of race because he went a mile and a half with really good horses and he led them for a mile and a quarter. He got caught at the sixteenth pole and he never stopped running, but he led the whole way through that entire race. That to me was his most impressive race," said Ollivierre, who was keen on finding a horse that ran well on the turf and could travel the distance of the Gold Cup.
The Gold Cup is run at a distance of 1,800 metres (approx. 8.9 furlongs) over the turf course at the Garrison.
While Rising Star started his career on the Tapeta, he didn't win his first race until July 2019 going 1 1/8 mile (9 furlongs) over Woodbine's E.P. Taylor Turf Course.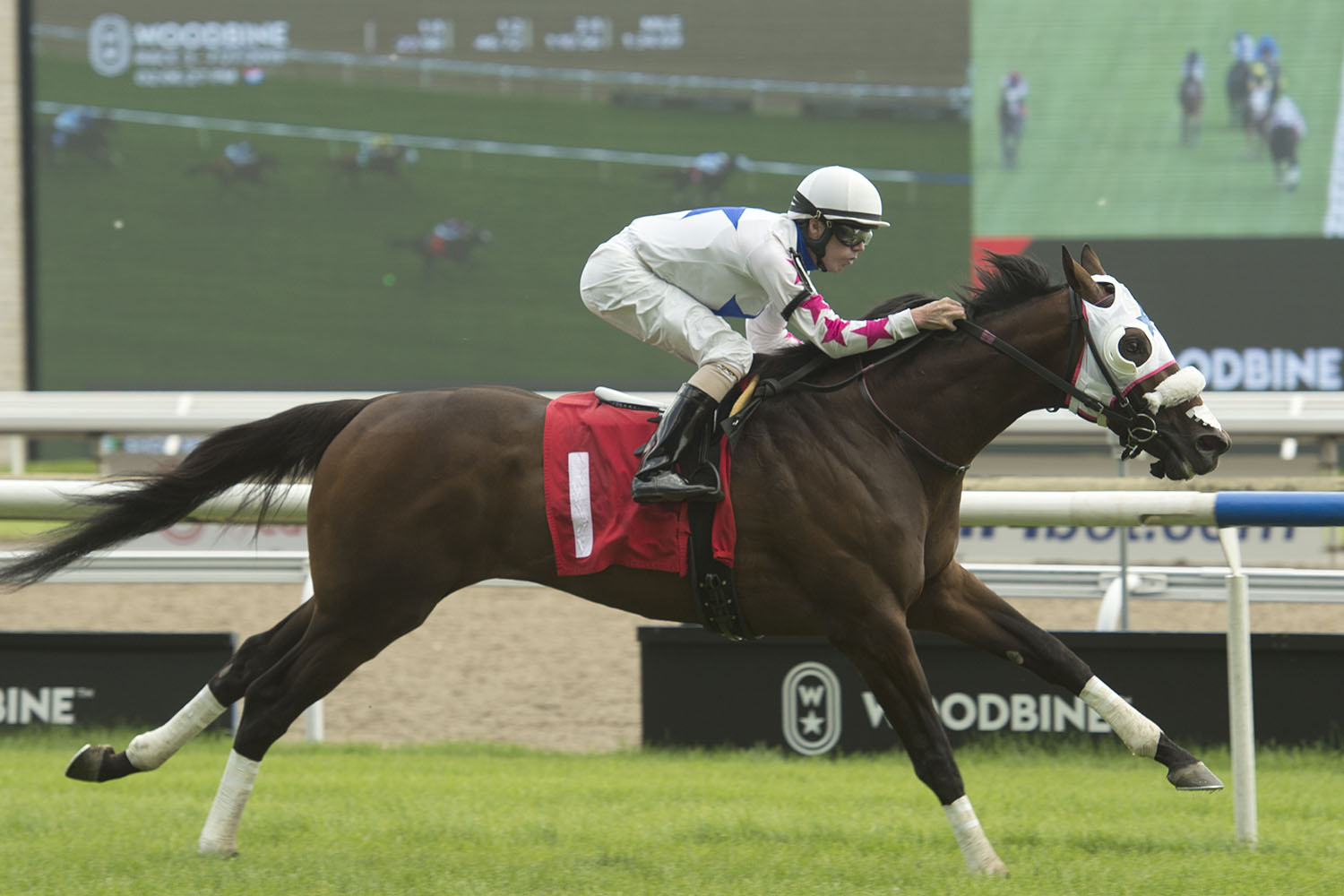 In November 2019, the colt was entered in a $40,000 optional claimer, much to the excitement of both Ollivierre and Gibbs.
"It was a no brainer to try and get him. When I saw him in the optional (claiming) race for the end of the year, I couldn't believe it. I guess they tried to steal a race in the claiming business or whatever you call it because it was the end of the year and the only thing left for him to do was to run in grass races or stakes," said Ollivierre, who claimed the colt for the ownership group, Legends of Racing. The group and racing syndicate includes Barbadian owner Nicholas Gibbs and his family.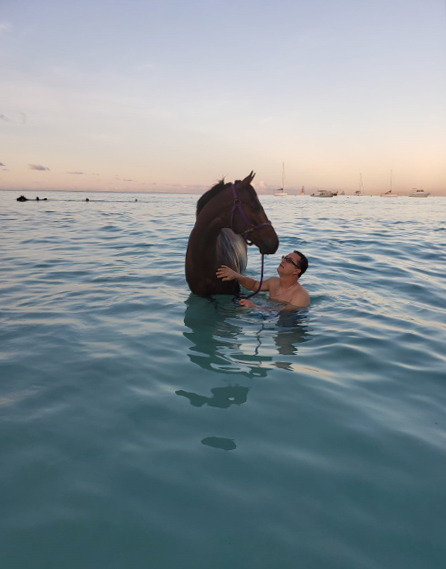 Preparing a horse for the Gold Cup is no easy feat, especially when the horse has to travel an extensive amount of mileage to reach the venue. Shortly after the 2019 racing meet ended, Ollivierre shipped Rising Star south to Ocala, Florida to train and then onto quarantine for 28 days. In early January, the colt flew out of Miami to the balmy beaches of Barbados. Since landing, the four-footed snowbird has been able to acclimatize to the tropical weather as well as find his groove training clockwise style at the Garrison. Living his best life in the sunshine, Rising Star has also managed to squeeze some beach time into his training schedule.
Beach days aside, Ollivierre thought best to let the colt have a prep race under his belt before heading into the Gold Cup. On February 1, Rising Star raced in the 1,800 m Coolmore 'Home of the Champions' Stakes alongside some other Gold Cup contenders, including Night Prowler and last year's Gold Cup winner Celestial Storm. Rising Star found himself in a bit of trouble early on in the race, as he stalked Celestial Storm into the second turn. However, the colt, under the steady hands of jockey Chris Husbands, eventually found his stride and secured a fourth-place finish in the race.
Chris Husbands is no stranger to the Garrison, or the Gold Cup for that matter. Born and raised in Barbados, the 30-year-old jock has ridden in five Gold Cup races over the last 14 years. His last mount was Derby Kitten in the 2016 edition of the race. On March 7, he will pilot Rising Star in hopes of claiming Gold Cup glory as well as securing the $60,000 US ($120,000 BDS) purse attached to the win.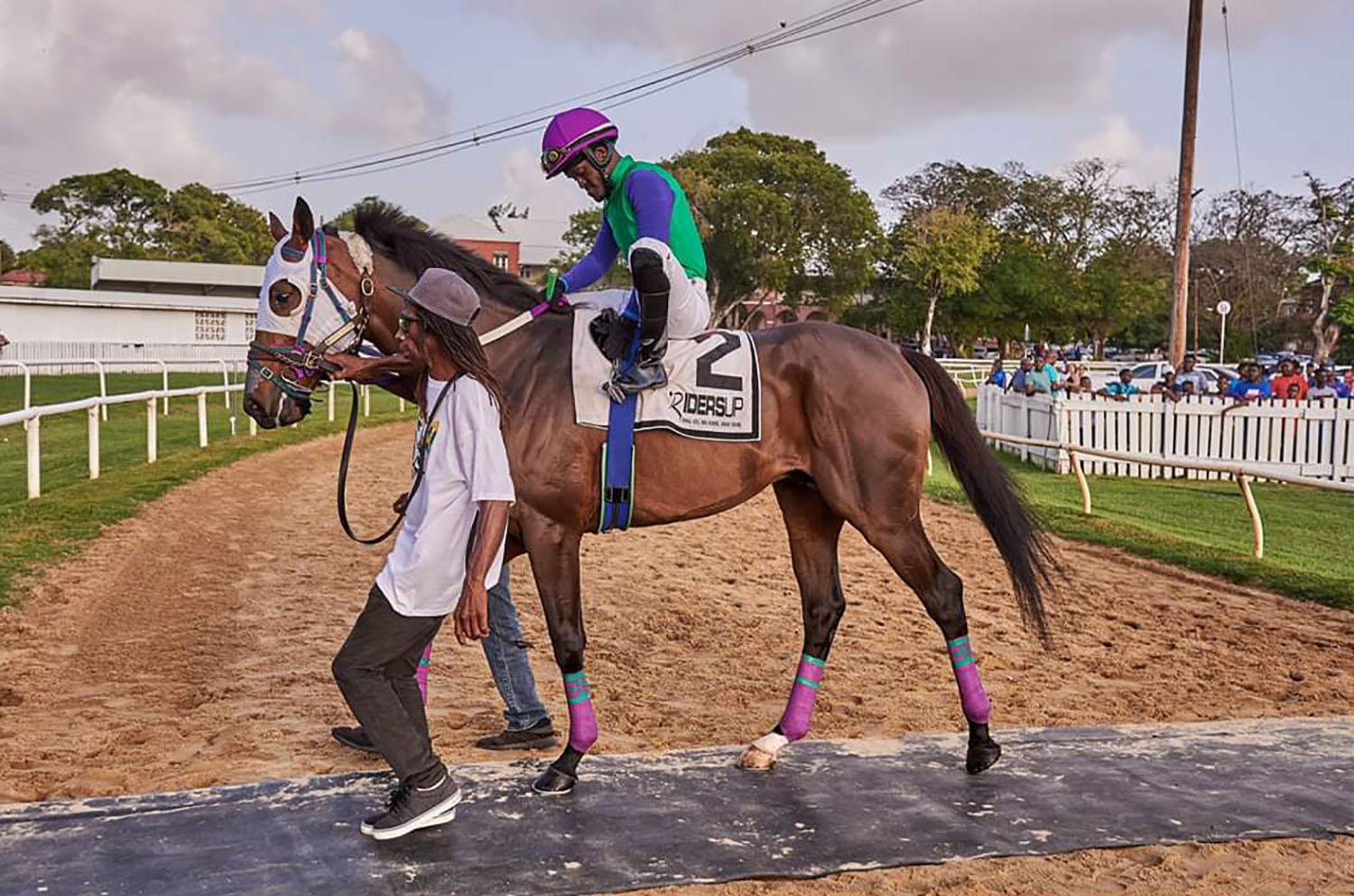 A veteran horseman, Husbands started his career at the Garrison Savannah about 15 years ago. In 2006, at the tender age of 16, he captured the Trinidad Derby with Sara's Music. A year later, Husbands moved his tack to Assiniboia Downs. He captured two riding titles out west before moving his tack in 2015 to Woodbine. Last year, he captured the Puss n Boots Cup Stakes with Reallylikethisone as well as the Andy Passero Memorial Cup stakes with Surfs Edge at Fort Erie.
Returning to Barbados to ride in his sixth Gold Cup, the jock remains pretty confident in his mount. Despite Rising Star's troubled trip in the Coolmore, Husbands now has a proper feel for the horse.
"I love most that he can handle the turns. That was my biggest fear going into the Coolmore, but he had handled the track pretty good. You know, most horses that just ship in, they don't really take the turns too well, they are so tight. But he handled the track moving pretty nice and it was good," said Husbands.
Nestled in the heart of the south coast, The Garrison Savannah features some pretty tight and compact turns. The tight turns can be somewhat dauting for horses who've shipped from abroad and have also never run clockwise. Yet, with the Coolmore done and somewhat dusted, Husbands thinks the Canadian-bred colt will find his footing next time.
"Well, judging from the last race and from those other horses, I like that he can get the distance and I've just gotta keep him out of trouble," said Husbands.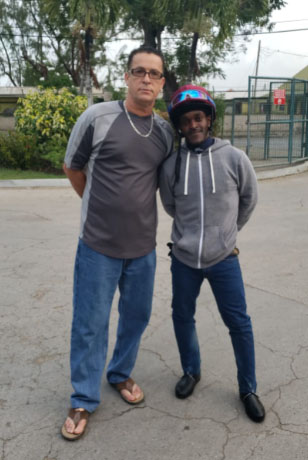 Interestingly, Husbands will face off against his brother and Champion Barbadian jockey Rasheed Hughes. Hughes has been working Rising Star in the morning while Husbands was riding at Tampa Bay. Hughes will be looking for back-to-back Gold Cup wins on Celestial Storm. The classy grey mare and daughter of Get Stormy is owned and trained by Roger Parravicino.
Although Rising Star doesn't know it (or maybe he does), the colt will be carrying the hopes and fervent dreams of a first Gold Cup win for both trainer and jockey.
Husbands is quick to admit that winning the Cup would be a special moment in his riding career.
"It would be awesome – that's the truth. I don't think words can explain it, but it would be pretty good."
Words probably can't explain that feeling. Yet, Rising Star's trainer also knows that winning the race would be an important pinnacle in his career.
"It will be the most amazing thing I've achieved if I can get the job done," said Ollivierre.
Meanwhile, champion jockey Rico Walcott will be looking to capture his second Gold Cup. The Barbadian rider won the race back in 2015 with Sayler's Creek. The following year, Walcott rode the former Kenneth and Sarah Ramsey-owned and Mike Maker-trained horse to a fourth-place finish.
In this year's Gold Cup, he will ride U.S. shipper Renaisance Frolic for owner Sir David Seale and trainer Saffie Joseph Jr.
While some jocks seek redemption after defeat, winning this year's race means much more to Walcott. Especially given that his world was turned upside down last year on Gold Cup day. Shortly after watching the Gold Cup broadcast from his home in Edmonton, the jock started to have a seizure. Walcott was rushed to hospital that same day and later on diagnosed with a Grade II astrocytoma tumour on the front left side of his brain.
In April of last year, Walcott underwent surgery to remove the tumour and returned to the irons in July. His return was marked with four stakes victories out west including the $50,000 Alberta Premier's Futurity and the $100,000 Freedom of City Stakes. The jock finished within the top 10 of the jockey standings at Century Mile and was the leading rider at Century Downs.
Given the traumatic set of events that transpired last year, Walcott is pretty awestruck to ride in this year's Gold Cup.
"I don't know how I would even be able to explain it. Because when I had the seizures and the brain tumor, I didn't know if I would be able to ride again and if the tumor was cancerous, and I didn't know if I had to have chemo or radiation. So to come back and ride on the same day, on Gold Cup day when I had an incident that could have finished my whole career, it would be really good to win that race. I don't know how I would be able to start to explain it if I win it. From what I went through last year and then to come back and ride in the same race, I don't know how to explain it, but I would love it to happen," said the jock, who thankfully did not need to undergo any further medical treatment after the tumour was removed.
Renaisance Frolic will carry those hopes for the jock as they both embark on winning the 39th edition of the historic race. The five-year-old son of Paynter and established turf runner has already won a couple of black type stakes at Gulfstream over the last couple of years.
Rider and horse will meet for the very first time on the island.
A sportsman on and off the horse, Walcott is straight to the point when asked about how he feels heading into the race with his mount.
"I just hope he shows up that day and I will give him all that I've got."
The Gold Cup has attracted a field of nine horses in total. Post time for the big race next Saturday is 4:55 p.m. (3:55 p.m. EST). To view the entries, click here.
2020 Sandy Lane Barbados Gold Cup
Run Bayou
Colonels Pride
Burndines
Celestial Storm
Rising Star
Night Prowler
Renaisance Frolic
Bodie Tap
Trini Aviator