TORONTO, August 5, 2021 – A pair of turf stakes, the Georgian Bay, and Lake Huron, will share the spotlight on Saturday's 11-race card at Woodbine.  
The 5-furlong Inner Turf events are part of the Ontario Sire Heritage Series, a new eight-leg stakes series open to Ontario Sired 3-year-olds, to be contested at Woodbine and Fort Erie racetracks. 
Ontario Racing and its Thoroughbred Improvement Program (TIP) Committee unveiled the series in March. With a total purse structure of $750,000, the Heritage Series will feature a total of four races – three opening legs and one final – for both 3-year-old colts and 3-year-old fillies that are sustained to the Ontario Sires Stakes program.
First out of the gate on Saturday is the $80,000 Georgian Bay, which has attracted six fillies. Carded as race three, the wide-open affair includes Benny's Button.  
Trainer Beverley Chubb, who co-owns the filly with breeder Shamrock Stable, had the bay well prepared for her career bow on July 3 at Woodbine. 
Sent off at 19-1 in the 5-furlong Tapeta race, Benny's Button grabbed the lead early and turned a 1 ½-length advantage at the stretch call into a 3 ¼-length victory in a time of :57.54. 
Now, the daughter of top Canadian sire Old Forester, will step up to the stakes ranks and onto a new surface. 
"I was trying to run in a non-winners of two, Ontario sired," noted Chubb. "But the race didn't go and it got so close to that race, I figured we would give it a try. She did it with ease, I thought. We'll see what she does against tougher horses, but I don't think she's a stretch in there. She ran a very determined race. She's a serious filly – she doesn't clown around. I know she just broke her maiden, but I think she deserves a shot."   
A multiple stakes winning conditioner, Chubb is looking for a duplicate of that curtain-raising effort from a month ago. 
She likes what she's seeing from her young pupil. 
"She's been training well," said Chubb, who won the 1998 running of the George C. Hendrie, and 1999 edition of the La Voyageuse with Irish Cherry. "She broke her maiden convincingly, so I'm hoping for some good luck." 
While Chubb has come to know what to expect from her young charge on the racetrack, it's quite the opposite in the barn. 
"Off the track, at home, she's a gem. Here, she can be a little bit difficult, as can all Old Forester fillies. She has the Old Forester filly streak… 'Maybe today I'm going to stand here and rear, and maybe I'm going to train.' You're just never sure. She has that typical moody streak where you never know what's going to happen."     
The Lake Huron, slated as the ninth race, has drawn six hopefuls, including Dragon's Brew, a son of Milwaukee Brew. 
Trained by Canadian Horse Racing Hall of Fame inductee Robert Tiller, the gelding is 3-0-1 from seven lifetime starts, with a 1-0-1 mark from three turf engagements.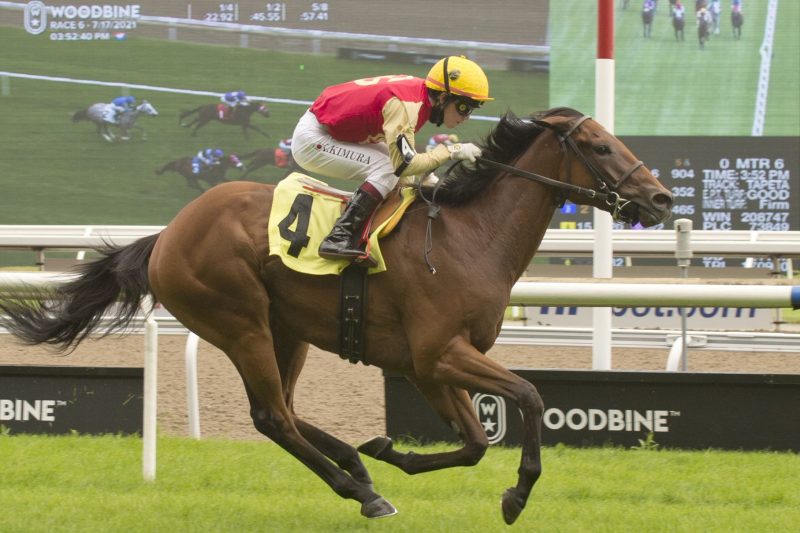 The grass win came in his most recent start, a 6-furlong trek over the E.P. Taylor Turf Course on July 17. 
Sent on his way at 15-1 Dragon's Brew, under Kazushi Kimura, found daylight in the stretch and went on to a two-length score in a time of 1:09.81 over good going. 
"Did I see it coming? Yes. The way he was acting and the way he was training, I thought he'd have a good race," said Tiller. "His first race of the year [June 27, at Woodbine], you had to throw out because there was a spill in that race. He was kind of involved and was cut up. I knew that wasn't a real race." 
Cutting back a furlong and switching from the E.P. Taylor Turf to the Inner Turf will present a few challenges for Dragon's Brew, noted Tiller. 
That said, the decorated conditioner knows one thing he can expect from the bay, bred and owned by Goldmart Farms. 
"He's always had a little trouble fighting the turn and he has to run on the Inner over five-eighths. He's in good order and we'll give it our best shot. I wish it was further and it was on the E.P. Taylor, and it's only one turn. He did have trouble making that sharp turn last fall [third on the Inner in the Bull Page Stakes]. There are some factors we're concerned about, but he'll be running on end. He'll come running. He's a good finisher, and he's a nice, little horse."    
First post time is 1:10 p.m. Fans can also watch and wager on all the action via HPIbet.com. 
FIELD FOR THE $80,00 GEORGIAN BAY 
POST – HORSE – JOCKEY – TRAINER 
1 – Meet the Soprano – Rafael Hernandez – Mark Casse
2 – Artful Ballerina – Emma-Jayne Wilson – Darwin Banach
3 – Benny's Button – Juan Crawford – Beverley Chubb
4 – Nero Davola (S) – Sahin Civaci – Martin Drexler
5 – Sunsprite – Justin Stein – Kevin Attard
6 – Humble Beginnings (S) – Kazushi Kimura – Krista Cole-Simpson 
FIELD FOR THE $80,000 LAKE HURON 
POST – HORSE – JOCKEY – TRAINER 
1 – Red Maple – Shaun Bridgmohan – Michelle Love
2 – Forest Survivor – Kazushi Kimura – Norm McKnight
3 – Jocularity – Justin Stein – Ashlee Brnjas
4 – Galvaston – David Moran – Michael Doyle
5 – All Canadian – Gary Boulanger – Gail Cox
6 – Dragon's Brew – Patrick Husbands – Robert Tiller