By: Eric Wing for woodbine.com
TORONTO, March 30, 2018 – Self-employed accountant Bob Montgomery of Ottawa has loved watching and wagering on racing for almost as long as he can remember. The son of veteran Standardbred owner and trainer Robert Montgomery, young Bob was always hanging around his father's farm and even began jogging horses not long after his fourth birthday.
He soon developed a keen eye for the intricacies of harness racing and, from a wagering standpoint, found that many principles—especially trip handicapping—applied very neatly to Thoroughbred racing. By his adulthood, Montgomery was playing the Thoroughbreds even more enthusiastically than he was the Standardbreds.
All that came to an abrupt and sad halt in 2000, however, when the passing of his wife Micheline left him as a single dad of two boys—Brendan, 7, and Liam, 3.
"At that point, my life revolved around raising my sons," said Bob, now 54. "I coached hockey, and was really just wrapped up in my kids. It wasn't until later that I started having free time to play again and travel a bit."
In 2006, Bob saw a newspaper ad for the Horseplayer World Series (HPWS) at The Orleans Hotel and Casino in Las Vegas. Up until then, he was largely unaware of tournament play, but he decided to give the HPWS a whirl. He didn't fare well but, in the process, he fell in love with the HPWS in particular—and contest play in general.
From then on, Bob made the HPWS an annual pilgrimage, going as part of a group that included his best friend and cousin Mike Montgomery. "We'd have such a good time," he said. "The others would go off and play poker and blackjack and I'd focus strictly on the tournament. Then we'd get back together in the evening."
In 2012, Montgomery had more than just fun at the World Series. He finished second in the three-day competition, earning $68,000 (U.S.). It was by far his biggest payday playing the horses.
Buoyed by his success, Bob played tournaments even more enthusiastically, with cousin Mike supporting him every step of the way and accompanying him on most of his road trips to tracks and casinos. Bob qualified for four National Horseplayers Championships (NHCs) and played in a pair of Breeders' Cup Betting Challenges (BCBCs) in the years that followed. Though he never tasted success approaching that of his 2012 score at The Orleans, it hardly seemed to matter given how much fun Bob and Mike had along the way. As per usual, the inseparable pair planned to head to Las Vegas yet again for the 2018 HPWS on March 8-10—until tragedy struck Bob for a second time in his life.
"On January 11, Mike committed suicide," Bob allowed somberly. "Mental illness is such a terrible thing. None of us knew he was struggling with it. There was a lot of guilt among us all as far as what we could have done to help him out of it."
Bob and his entire family still had very heavy hearts by the time March rolled along. He had already won a $1,500 entry to the upcoming Horseplayer World Series via the online qualifying site HorseTourneys prior to Mike's death, and so despite the obvious reservations, Bob pressed on and journeyed out to Las Vegas, comforted somewhat by the feeling that Mike would have absolutely wanted him to go to the tournament that had meant so much to them both.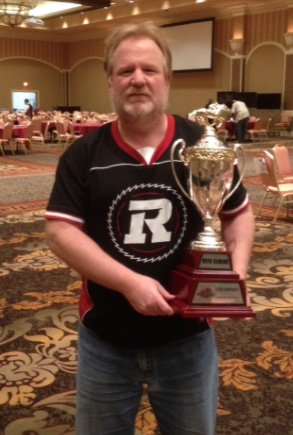 On Day 1 of the tournament, the trip may not have seemed like a great idea. Never a fan of playing claiming races, Bob likes to zero in on maiden, allowance and stakes races to come up with his requisite number of 15 daily $20 win and place plays in the mythical-money contest. But on a Thursday, allowance races seemed in short supply and stakes were non-existent. In short, pickings were slim.
Bob finished Day 1 well back in the field of 428 with 600 points—essentially a break-even day. He had an almost identical Day 2, giving him a two-day total of 1,250 points that left him in 64th place—and he was only that high up the leaderboard because favourites had been ruling supreme the first two days, serving to depress the scores at the top. Still, Bob was 700 points behind the leader.
Heading into Day 3, Montgomery didn't lose faith. "I always had the feeling that Mike was up there helping me," he said.
With seven contest tracks in play on the final day, Bob again looked solely at what he considered to be the most formful races: maidens, allowance and stakes. From there, he wanted horses who may have had difficult trips in their last starts, regardless of how their speed figures looked. And since it was a Saturday, there were finally some stakes to choose from.
Bob started quickly and inched his way up the standings. When it was time for the day's Tampa Bay Derby, he knew his moment was at hand.
"Quip was one of my best bets of the day," he said.
The longshot went off at 19-1 and when he ran down the early pacesetter to grab the victory, the win/place payoff of $40.20/$13.80 gave Montgomery 538 points, moving him all the way up to second place.
Within an hour, after a strong performance in the late races at Santa Anita, Montgomery found himself with a lead he would never relinquish. He won $231,120 (U.S.) for his three-day victory plus another $3,852 for having the second-highest score of anyone on Day 3.
"What a moment after such a sad event," Bob said, reflecting on his Horseplayer World Series performance. "It was the first bit of happy news my family had experienced in quite a while. And to go 12 years without any 'major' wins and then have this happen at my favourite tournament just two months after Mike's death…it somehow gives me a sense of peace. I can't help but take it as a sign of divine intervention."
The win—and windfall—also meant good things for those closest to Bob, including sons Brendan and Liam, now 26 and 21, respectively. Bob is using a large chunk of his winnings to help Brendan buy a house, and to pay off all of Liam's student loan debt as he finishes his senior year at Carleton University. Bob also plans to go in on a modestly priced Standardbred with his father, who ignited his love of racing.
Bob's win carried national significance as well given that he is just the latest to add his name to the roster of Canadians who have won major North American handicapping championships (including two BCBCs and three NHCs) over the past eight years. Now he looks forward to this year's handicapping tournaments at Woodbine—he plans to play in all four—and he hopes plenty of newcomers join him there.
"I have two pieces of advice for those new to contest play," said Bob. "First, talk to as many people as you can. Ninety-five per cent are extremely open and helpful. Second, try to develop a methodology that works for you and stick to it.
"Life is full of ups and downs," he continued. "We just have to persevere."
TOURNAMENT NOTES
Woodbine Entertainment and Monmouth Park have partnered on an unprecedented $5 million bonus that will be a highlight of the North American handicapping contest schedule in 2018.
The bonus will be awarded to a player who finishes in the Top 10 of the $400 Monmouth/Woodbine handicapping contest on June 30 at Monmouth Park, then wins the $250 Monmouth/Woodbine handicapping contest on October 13 at Monmouth, then goes on to win the 2019 National Horseplayers Championship at Treasure Island in Las Vegas.
The bonus' first leg will be a $400 handicapping contest on Saturday, June 30 featuring races from Monmouth Park and Woodbine. Monmouth Park's card that day will be anchored by the Grade 1, $300,000 United Nations, while the historic $1,000,000 Queen's Plate highlights Woodbine's biggest day.
Should a player finish in the Top 10 on June 30 and proceed to win Monmouth's October 13 contest featuring races from Woodbine's Pattison Canadian International Day, that player will head to the 2019 NHC alive for a $5 million bonus.
"We are pleased to announce our continued partnership with Monmouth Park. The first of the dual series taking place on June 30 will give horse players the action of Woodbine's 159th running of the Queen's Plate," said Alex Fanti, Woodbine Entertainment's U.S. Marketing Manager. "Monmouth Park provides a great tournament atmosphere for fans to take part in, plus a multitude of other track offerings. With their commitment to innovation and their dedicated staff, we are confident they will create a memorable experience for those who attend."
* * *
Meanwhile, here is a rundown of Woodbine's four onsite, live-bankroll handicapping tournaments in 2018:
The Woodbine Spring Meet Handicapping Tournament will again bat leadoff. It takes place on Saturday, June 16 and offers an estimated $20,000 in cash and tournament seats. Buy-in is just $150 ($50 live bankroll and $100 to the prize pool) and two NHC seats will be awarded.
On Saturday, July 21, Woodbine hosts its Mid-Summer Handicapping Tournament. This event will award an estimated $30,000 in cash and tournament seats. Buy-in is $250 ($100 live bankroll and $150 to the prize pool) and, again, two NHC seats will be awarded.
The Woodbine Weekend Handicapping Tournament will be held on Saturday and Sunday, August 25-26. Here, cash and prizes are expected to total $50,000, including one BCBC entry and four NHC seats. The entry fee is $350 ($100 live bankroll and $250 to the prize pool).
Woodbine saves the richest tournament for last with its Woodbine Mile Handicapping Tournament on September 15 (Woodbine Mile Day). Details are still pending, but two BCBC entries and four NHC seats are expected to be awarded. Last year's event carried an entry fee of $3,500 ($2,000 live bankroll, $1,500 to the prize pool) and awarded $165,000 in cash and prizes.
In all of the above tournaments, players, of course, also retain their live-bankroll amounts at the end of each competition.
Play in any three of the four above-listed contests, and you will automatically be in the running for the 2018 Woodbine Player of the Year Award. Won last year by Michael Eisen, the Player of the Year Award is designed to recognize and reward consistently strong play across the four Woodbine competitions. It pays cash and tournament entries to the top three in the standings—and a Sovereign Award to the overall champion.
* * *
Eric Wing is the Communications Director at HorseTourneys and the longtime emcee at the National Handicapping Championship. Prior to joining HorseTourneys, Wing headed up Communications at the National Thoroughbred Racing Association and The New York Racing Association. Wing's Player Profile will be published monthly on the last Friday of each month on woodbine.com.