TORONTO, June 9, 2022 – The $125,000 Queenston Stakes, a key prep on the road to this year's Queen's Plate (August 21), takes the spotlight on Sunday's 10-race card at Woodbine.
The seven-furlong Queenston, for three-year-olds, foaled in Canada, has attracted some top contenders hoping for a shot at Plate glory, including undefeated The Minkster.
Tabbed as the 7-1 fourth choice in the Queen's Plate Winterbook, The Minkster, trained by Dan Vella for owner Sea Glass Stables LLC, will be making the first start of his three-year-old campaign in the Queenston.
"He matured very well over the winter and he's training better than ever," said Vella. "He was in Ocala with Mike Cook at Classic Mile. He was excited about him, and we're excited to get him running."
Bred in Ontario by Dr. Tan Hyka, the son of English Channel-Cabriole is undefeated in two career starts, including a 6 ¼-length romp over the E.P. Taylor Course last October.
Sent on his way at 5-1, The Minkster, under David Moran, broke inwards at the start of the 6 ½-furlong grass race contested over good ground.
Two lengths on top at the stretch call, the bay colt sprinted away from his rivals down the lane to notch the milestone victory in a time of 1:17.19.
The Minkster then moved up to the stakes ranks on October 30, where he took on 13 rivals in the $250,000 Coronation Futurity Stakes, a 1 1/8-mile test on the Toronto oval Tapeta.
Dismissed at 13-1, The Minkster, despite lugging in during the stretch drive, notched a 1 ¼-length win in a time of 1:52.51.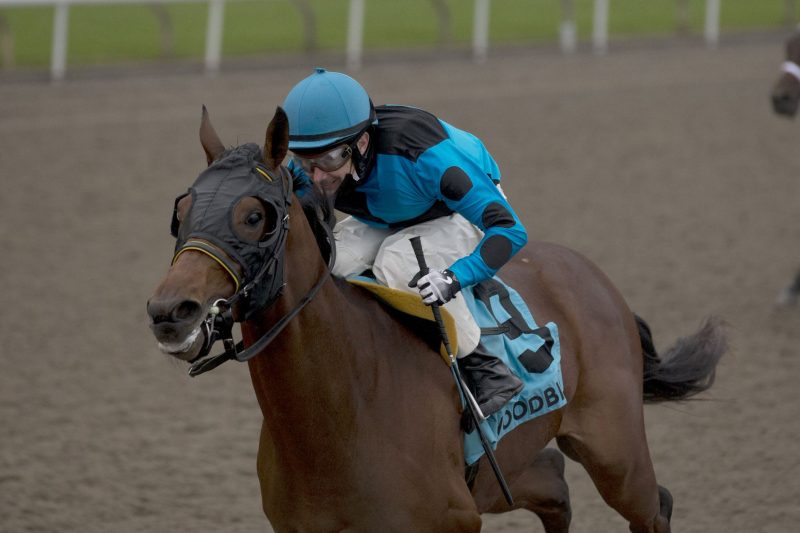 "The Coronation, people want to take away something from it because of the early time of the race," offered Vella. "Any horse that can go out and win the Coronation quite comfortably and still run green in the second start of his life, going from 6 ½ furlongs on the grass to a mile and an eighth on the main track, that's a pretty incredible feat.
"For me, as a trainer, for a horse to go from that distance in his first race to a mile and an eighth, to win comfortably against more seasoned horses… first off, he showed me distance isn't a problem and secondly, he showed a lot of class. Very few horses have that high of cruising speed. In the Coronation Futurity, he was up close the whole way, and just kicked on like he had been dawdling. His high cruising speed and the way he finishes in his works is very impressive. So now, we'll go from here and face the next challenge."
Norcliffe, in 1975, was the last horse to notch the Futurity-Plate double.
Vella, who has two Plate trophies to his name, in 1994 with Basqueian, and in 2012 with Strait of Dover, won't look any further than Sunday's race with his sophomore star.
"In horse racing, it doesn't matter what you did before. From now on, every race is more important than the last."
Vella's praise for The Minkster goes beyond what he delivers on the racetrack.
"For an English Channel, and I've had a few of them, he's pretty calm and collected. He's a colt and he likes to be tough at times, but in general, he's a good-natured horse and he likes what he's doing. He's a fun horse to be around. He's got some character. He'll kind of come at you a little bit, but he doesn't mean it. He's kind of playful, and there are other times – this is very typical of English Channels – when you walk in the stall, and you know he wants to be left alone. He has a strong personality, but in general, he likes people."
Other starters include multiple stakes winner Ironstone, U.S. invader Perfect Day, Sir for Sure, second in last year's Frost King Stakes, and Rondure, trained by Katerina Vassilieva, who broke his maiden in impressive fashion last time out
The Queenston is slated as race nine. First post time is 1:10 p.m. Fans can also watch and wager on all the action via HPIbet.com and the Dark Horse Bets app.
FIELD FOR THE $125,000 QUEENSTON
Post – Horse – Jockey – Trainer
1 – Ironstone – Kazushi Kimura – Willie Armata
2 – Sir for Sure – Rafael Hernandez – Mark Casse
3 – His Time – Patrick Husbands – Mark Casse
4 – Hidden Honor – Antonio Gallardo – Tino Attard
5 – The Minkster – David Moran – Daniel Vella
6 – Duke of Love – Justin Stein – Josie Carroll
7 – Rondure – Shaun Bridgmohan – Katerina Vassilieva
8 – Perfect Day – Abner Adorno – J. Tyler Servis
Chris Lomon, Woodbine Communications / @WoodbineComms