TORONTO, November 25, 2017 – Pink Lloyd has made his case for Horse of the Year honours, closing out his 2017 campaign undefeated in eight stakes races after taking the $175,000 Kennedy Road (Grade 2) on Saturday afternoon at Woodbine Racetrack.
Owned by Entourage Stable and trained by Robert Tiller, Pink Lloyd ended his five-year-old season like a true rockstar as he crossed the wire in front of a roaring crowd complete with fist-pumping, courtesy of jockey Eurico Rosa Da Silva.
Pink Lloyd had rivals on both sides throughout the early stages of the six-furlong sprint before pulling ahead as the field turned for home. The Vito Armata-trained graded stakes winner Ikerrin Road gave him a run for his money down the stretch, but couldn't catch Pink Lloyd as he ran off by two and a quarter lengths to win in 1:08.46.
"It was not the place I wanted to be, I'll be honest with you," admitted Da Silva of his early position up front between horses. "I thought I was going to be a little more behind the pace, but he brought me there. He was really, really easy. But there's always horses around him, he's an aggressive horse.
"In the turn, I could feel he had a lot of horse," he continued. "When we turned for home, another horse just came out a little bit and gave him a little touch and he said, 'It's time for me to go,' and he just went on his own. He's a great horse and it's like a dream to ride a horse like this. I want to thank Bobby. We are here every day working so hard to ride a great horse like him. Thank you everybody, good luck to everybody."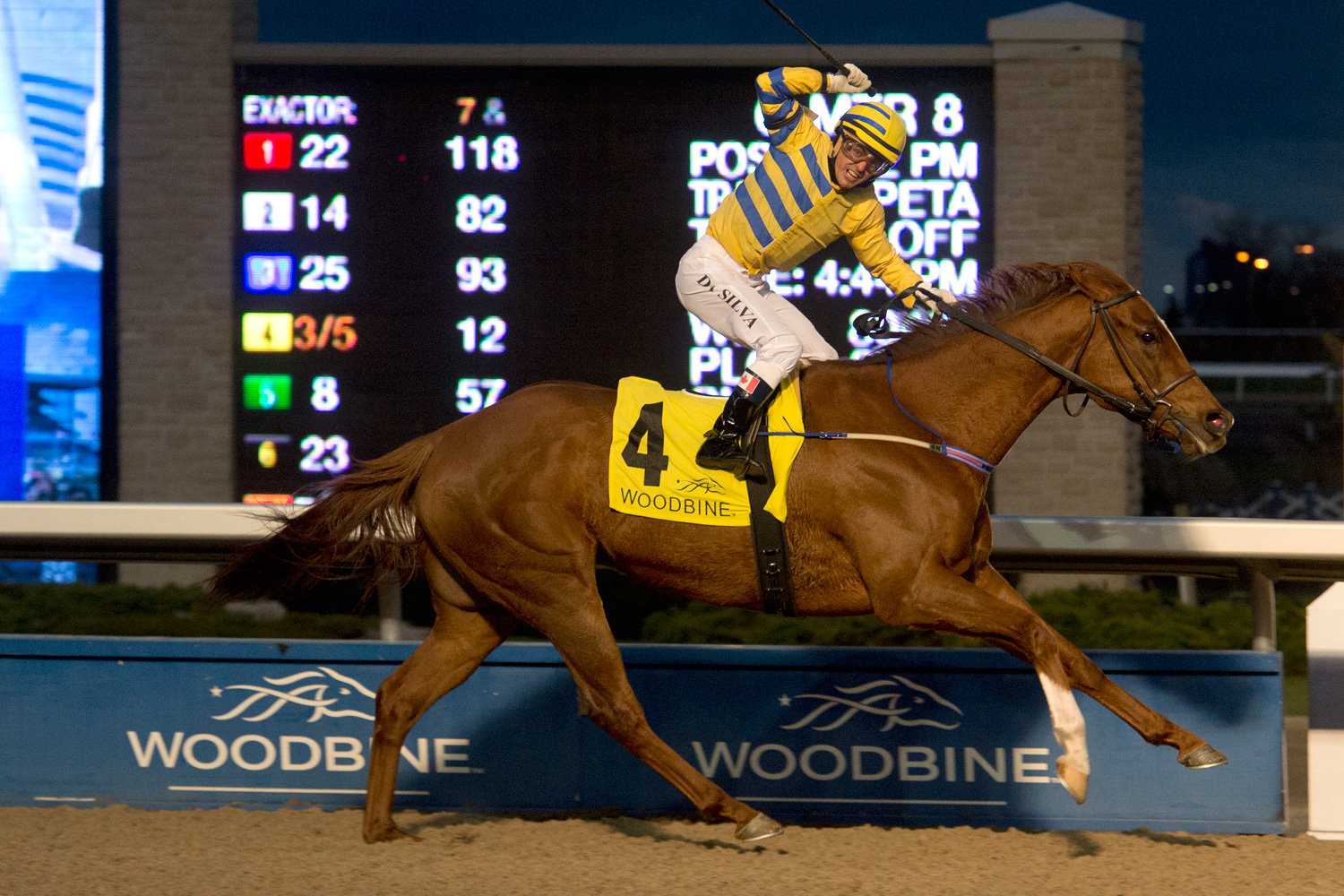 Pink Lloyd's 2017 tour has also included the Jacques Cartier, New Providence, Achievement, Vigil (Grade 3), Shepperton, Kenora and Overskate. Da Silva, who has been aboard Pink Lloyd for all of those wins, now boasts 33 stakes victories at the Woodbine meet. He is closing in the long-standing record for most stakes win at Woodbine in a single season, but will need to win half of the remaining six stakes to reach the 36-win mark co-held by Avelino Gomez (1966) and Todd Kabel (2004).
Meanwhile, Pink Lloyd etched his name in the history books. The Tiller trainee is believed to be the first Thoroughbred horse to win eight stakes in a row at Woodbine.
"He just won eight stakes in a row," said Tiller. "What do you do for an encore here?"
"He's an icon," gushed the Hall of Fame horseman. "He's just a really good horse. He just likes to run by horses. I was afraid of Vito's horse today and he had a real good shot at him and he just shook him off and away he went. We're so proud of this animal. We're so blessed to have him and I hope we can be around next year and have a lot more fun with him. This is the biggest thrill of my training career."
Pink Lloyd, who was a runner-up in last year's Kennedy Road to the Barbara Minshall-trained 2015 Sovereign Award Champion Sprinter Stacked Deck, now boasts 11 career wins from 13 starts with earnings soaring past $650,000. The five-year-old Old Forester-Gladiator Queen gelding was bred in Ontario by John Carey.
Sent postward as the 3-5 favourite, Pink Lloyd paid $3.20, $2.10 and $2.10. He combined with Ikerrin Road ($3.10, $2.20) for a 4-7 exacta worth $8.20. A $1 trifecta of 4-7-3 (Majestic Slew, $3.80) paid $22.35 and a $1 superfecta of 4-7-3-2 (Occasional View) returned $71.55. Sweet Grass Creek, Yorkton and Tombelaine completed the order of finish.
Click here to watch a replay of the Kennedy Road Stakes.