TORONTO, July 11, 2019 – Multiple stakes winner and 2017 Canadian Horse of the Year, seven-year-old Pink Lloyd, goes after his third straight Grade 3 Vigil Stakes victory, Sunday at Woodbine.
Pink Lloyd, whose last start was a 1 ¾-length triumph in the Greenwood Stakes on June 1 at the Toronto oval, would become the only three-time winner of the Vigil if he comes out on top in the $125,000 six-furlong main track sprint.
Currently, the millionaire son of Old Forester is tied with seven horses, including Nearctic, Kiridashi and Wake At Noon, for the most Vigil wins.
Trained by Robert Tiller (who'll also send out 3 Sons Racing Stable's Circle of Friends) for owner Entourage Stables, Pink Lloyd owns a career mark of 18-1-1 from 23 starts.
"Whether he wins another race or not… he's won 15 stakes and 18 races," started Tiller. "Do you remember the last horse that's done that here? Well, you never will. This horse is an icon. He's dear to our hearts. He's amazing. To get him over there, to do all those things over and over again, through different climates, conditions and injuries – he's a superstar. He's the best."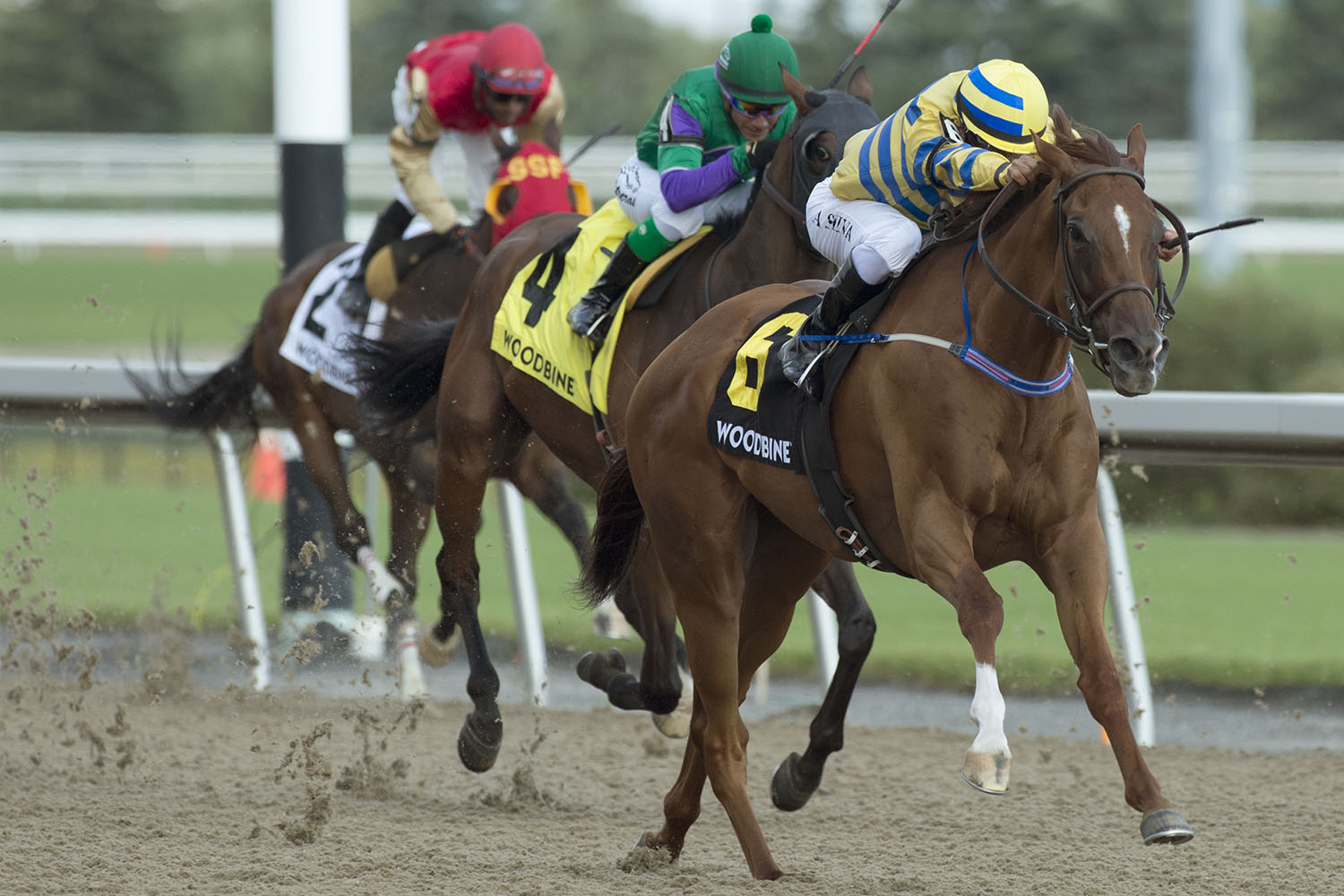 The chestnut gelding is a multiple graded stakes winner, having also taken the Grade 2 Kennedy Road and Grade 3 Jacques Cartier.
In 2017, he won all eight of his starts en route to Sovereign honours as the country's horse of the year, champion older male and champion male sprinter. He was also named top male sprinter in 2018.
After a 5-0-1 (eight starts) campaign last year, Pink Lloyd is a perfect two-for-two in 2019 after winning the Jacques Cartier and Greenwood.
"There won't be another one like him," praised Tiller, a 2008 Canadian Horse Racing Hall of Fame inductee.
The lifetime winner of 1,977 races likened Pink Lloyd to one of golf's greatest stars.
"The name that pops to mind is Tiger Woods. He came back and won the Masters after it looked like he was down and out. He (Pink Lloyd) has had his fair share of problems over the years, even as a young horse, and he keeps coming back. He's pretty amazing. I think he's in good order and he's going into this race very happy."
Eurico Rosa Da Silva, Woodbine's leading rider and Pink's Lloyd's regular pilot, will be aboard for Sunday's tilt.
Bred by John Carey, Pink Lloyd will carry highweight of 127 pounds in the Vigil.
"Whether he wins or loses, he's overcome a lot of things," said Tiller, whose other top horses include Brass in Pocket, Win City, Winter Garden and Twisted Wit. "He's the greatest horse I've ever trained. He has his quirky things that make him happy. We understand him and he understands us. When it's all over, he'll get a great home. We've already got that planned. They'll never be a one like him. That's all I can say. I love him to death."
Da Silva has taken the last three runnings. Hugo Dittfach won three straight Vigils, from 1960-62, with Anita's Son, Moony and Axeman.
The Vigil is slated as race eight on Sunday's 11-race card. First post time is 1:05 p.m. Fans can watch and wager on all the action via HPIBet.com.
FIELD FOR THE GRADE 3 VIGIL STAKES
POST – HORSE – JOCKEY – TRAINER
1 – Pink Lloyd – Eurico Rosa Da Silva – Robert Tiller
2 – Dixie's Gamble – Luis Contreras – Josie Carroll
3 – Marten Lake – Kazushi Kimura – Martin Drexler
4 – Wyatt's Town – Rafael Hernandez – Norm McKnight
5 – Eskiminzin – Jeffrey Alderson – Carlos Grant
6 – Circle of Friends – Patrick Husbands – Robert Tiller
7 – Sable Island – Emma-Jayne Wilson – Gordon Colbourne