TORONTO, November 7, 2021 – Pink Lloyd added another stakes title to his outstanding career after taking Sunday's $100,000 Ontario Jockey Club Stakes at Woodbine.
Prior to the six-furlong Tapeta event for Ontario-sired three-year olds and up, jockey Rafael Hernandez planted a kiss on Pink Lloyd in the paddock. During post parade, the veteran rider gave the nine-year-old son of Old Forester a series of pats. At the end of the Ontario Jockey Club, Hernandez threw his arms around the sprint superstar for a huge embrace.
After what the champion chestnut has achieved, it's easy to appreciate the rider's heartfelt displays of affection.
Pink Lloyd, sent off as the 2-5 choice, broke sharply from the gate and was settled into second spot inside of pacesetter Souper Hot, who took the six-horse field through an opening quarter timed in :23.37.
Souper Hot continued to call the shots on the front end, holding a head advantage over Pink Lloyd, who was a head in front of Dun Drum after a half-mile clocked in :46.02.
As the pace quickened into the turn for home, the front-running pair began to separate themselves from their rivals, as Souper Hot, on the outside, and Pink Lloyd, hugging the rail, commenced their tussle down the lane.
At the wire, Pink Lloyd was a neck ahead of Souper Hot, who finished 1 ¼-lengths ahead of Told It All.
The final time was 1:09.52.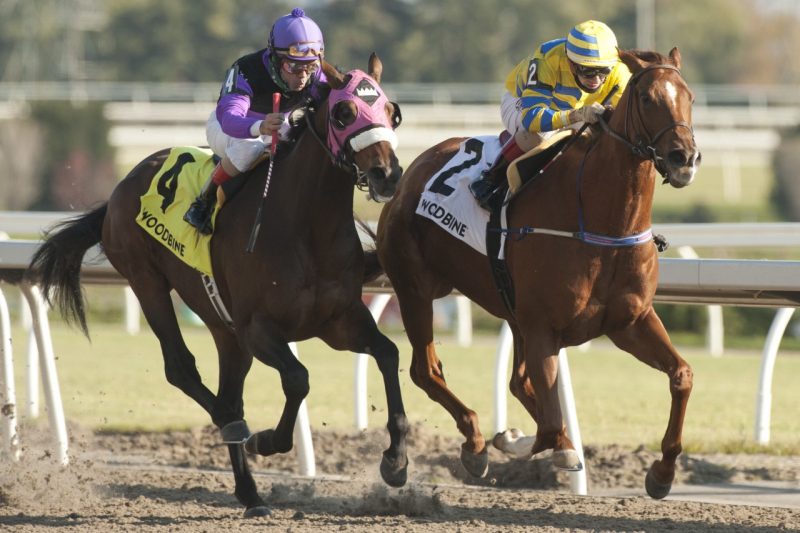 "He was just playing with the other horse (Souper Hot)," said Hernandez, who earned his colony-leading 13th stakes win on the campaign. "He likes to fight all the time. He's a 100 percent heart horse. I know how special this horse is for the family and for Woodbine too. Everybody cheers for him. Bob, he's always got the horse 100 percent to the race, and he always shows up. He's a great, unbelievable horse."
It was a sentiment echoed by Pink Lloyd's hall of fame conditioner.
"It's been a tremendous ride," offered Tiller, of the seven-time Sovereign Award winner. "I've always said it could end tomorrow and there would be no bad feelings. It would be sad that it's over, but we'll be very happy on other ends that it is over because five years of this hasn't been easy. He's just an absolutely amazing animal. He's been great for Woodbine, he's been great for Canadian horse racing. I just love him to death. He's an icon."
As for the Ontario Jockey Club performance, Tiller added, "I know there's going to be people that are going to say today this race wasn't an impressive race. Well, wait until you see some speed in front of him and you'll see what an impressive race you get from him."
Owned by Entourage Stable and bred by John Carey, Pink Lloyd launched his career in 2016 with straight three straight victories.
He returned $3.10 for today's win.
Woodbine Communications