By: Chris Lomon for Woodbine.com
TORONTO, July 14, 2021 – Don MacRae fully expected the big, flashy, good-looking dark bay to tilt his head towards the grandstand in deep stretch.
As Avoman began to hit his best stride as the field of seven straightened for home in the Bull Page Stakes late last September at Woodbine, his trainer and co-owner began urging his charge on, his voice growing increasingly louder as the wire drew closer.
There was certainly a lot to shout about, highlighted by a 1 ½-length triumph in the 7 ½-furlong Inner Turf tilt.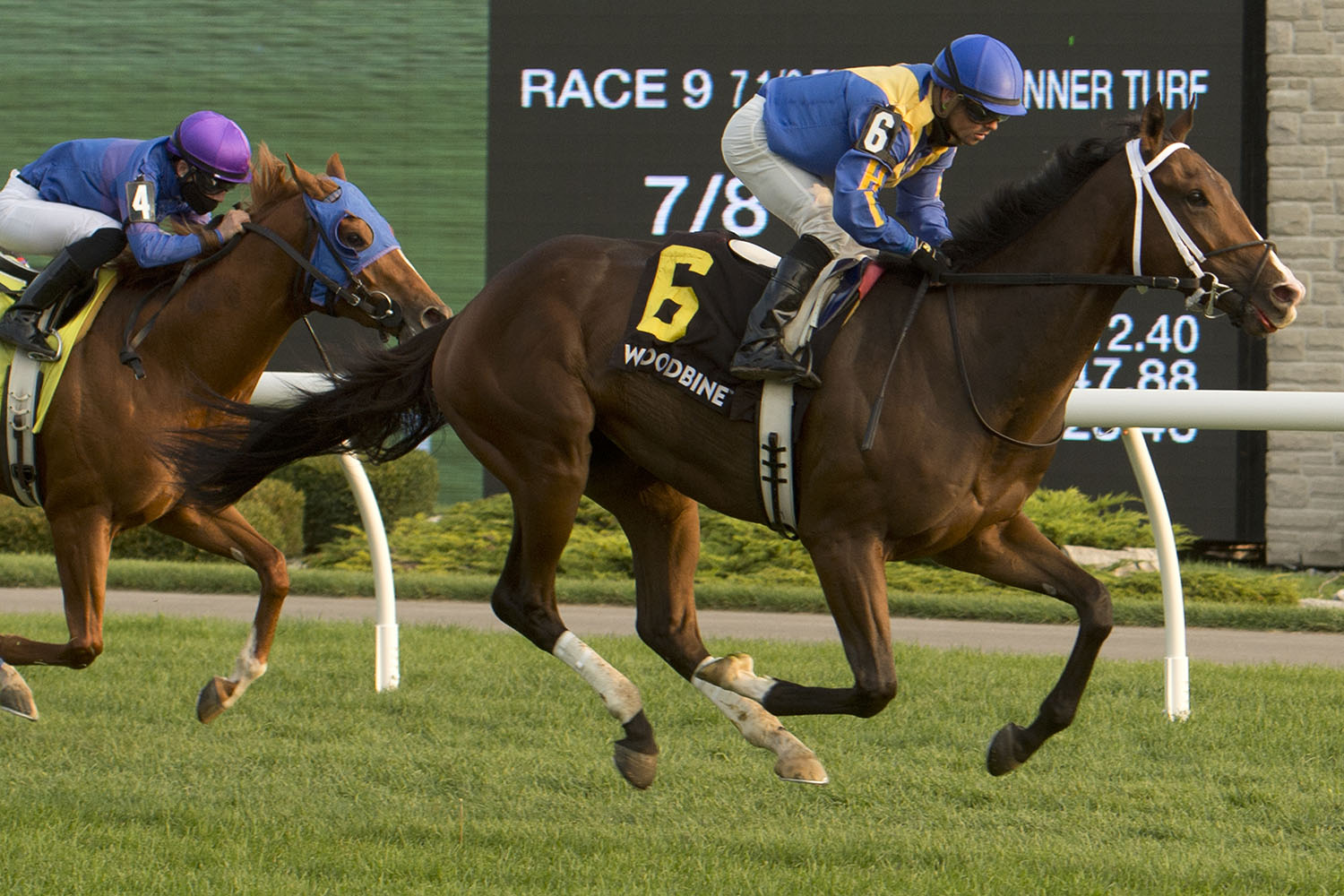 "I think he heard me cheering because when I watched the replay of the race, I could hear myself screaming," said MacRae after the win. "I think he was looking for me. Off his first race [a third on September 7, 2020], we thought that if he advanced a bit and moved forward, he'd be okay. He was still green in that stakes race, so he obviously has some maturing to do. If he does that, we should have some fun with him."
How prophetic those words turned out to be.
After a fifth in the Frost King Stakes on November 20, his final 2-year-old start, Avoman, co-owned by La Huerta Inc. (father and son team Jim and Graeme Bruce), made his sophomore debut on July 3 at Woodbine.
Under jockey Justin Stein, the son of Old Forester rallied to finish third in the 1 1/16-mile Tapeta test won by Rogue Affair.
MacRae was thrilled with the effort.
"In talking with the guys from La Huerta before the race, I told them I'd like to see a top-three finish from him. We wanted to make sure the race was an educational one for him, that if he was able to make it to the big dance, we wanted him to be able to handle any situation. I thought the race was phenomenal. Justin gave him a great ride. That said, I think the horse is still green. At the top of the lane, he seemed to get lost, but once a horse came up outside of him, he dug back in very gamely. I was extremely impressed by his gallop out. I thought it was excellent. To me, that was a blessing to see.
"He does seem to have matured. He really does love his job. [Jockey] Chris Husbands, who has become a very good friend, he gets on the horse every day for me, and he always has good things to say about him. He's always happy with what he does. We put a small set of blinkers on Avoman this spring and it seems to have really helped him focus more. He's still green, but with another start into him, I think that will help him tremendously."
The veteran horseman has long been impressed by the Ontario-bred who was purchased for $60,000 (CDN) at the 2019 CTHS Canadian-Bred Yearling Sale.
"[Jockey] Chris Griffith was getting on him in Ocala for me and he mentioned to me a couple of times that if the horse kept advancing, he could be a pretty solid horse for back home," said MacRae. "We got him home, started training him and as we started breezing him, and stretching those breezes out, he started showing he does have some ability. That's carried right through to this day."
It might be enough to earn Avoman a spot in the Queen's Plate starting gate on August 22.
Should that come to fruition, MacRae would be glad to be along for the ride with the Bruces.
"I played hockey with Graeme, and one day, we got to joking about owning horses. It took a couple of years for it to happen. We were hockey buddies and I wasn't sure if I wanted to mix the two things up. Then I met Jim – they're just phenomenal people. I couldn't say enough about the whole family. They're great people and they love the horses more than anything. It's the horse first and then racing. That's our business model. It's great to have people like that running with you."
It's also good to have someone who can come up with a catchy name.
"La Huerta Imports supplies tropical produce, including avocados," started MacRae. "When it came to the naming process, Jim mentioned that we call him Avoman. To me, that's the coolest name you could possibly come up with. We all love it."
The trio would certainly love to hear Robert Geller bring home Avoman in the $1 million Plate.
Anyone standing near MacRae might have a tough time hearing the Woodbine Thoroughbred announcer's call on that Sunday afternoon – not that the horseman feels bad about that possibility.
Being seen and heard suits MacRae just fine.
"Well, I was cheering for him to hold on for third money in that latest start and I was quite loud when he won the Bull Page. I think he can hear me when I'm yelling, but I can't even imagine what I'd be like if he was in the Plate."
That lifelong dream is still very much in view for the man who has been training horses for 27 years.
"We're dreaming big… that's the whole part of being in this business. Every day, you get up and hope you have good horses in the barn. I've had good horses over the years, but never a superstar. Right now, he's still a fringe player in the Plate – probably in the Top 10 – but to be in this position, to have a very nice, big, powerful 3-year-old in your barn, that's a very good feeling. I think the Plate distance [1 ¼ miles] will be the great equalizer. I think the distance is going to help him out – it could help him move up the ladder a bit."
MacRae will be ready to help Avoman in the quest to reach new heights, even if the winner of 529 career races isn't pitch perfect.
"If he gets to the Plate, we'll be there to cheer him along every step of that mile and a quarter."