By: Eric Wing for Woodbine.com
TORONTO, August 31, 2018 – Sheldon Usprech has always had a soft spot for Woodbine's Weekend Horseplayers Tournament.
"I finished second at it in 2006," he said. "It used to be the only one they had."
Since then, tournaments have grown in number and in stature at Woodbine—and Usprech's stature in tournament circles has grown as well. On August 25-26, the 66-year-old retired school administrator and teacher from Toronto used three winning daily doubles as his springboard to victory in the 2018 renewal of the Weekend Horseplayers Tournament. The win meant $1,602 in cash plus a coveted $10,000 (U.S.) entry to November's prestigious Breeders' Cup Betting Challenge (BCBC) at Churchill Downs in Louisville.
"I'm just delighted," Usprech said. "I've never played in the BCBC before, and my wife and I are going to go down to Churchill together, then continue on to visit Nashville, Memphis and New Orleans. It should be a great time."
One BCBC entry and four berths to the National Horseplayers Championship (NHC) were up for grabs among the field of 99 entries and Usprech went in with a plan.
"My strategy was to be alive on Day 2," he said. "I didn't think you could win the tournament on Day 1, but you could definitely lose it that day if you didn't play smart."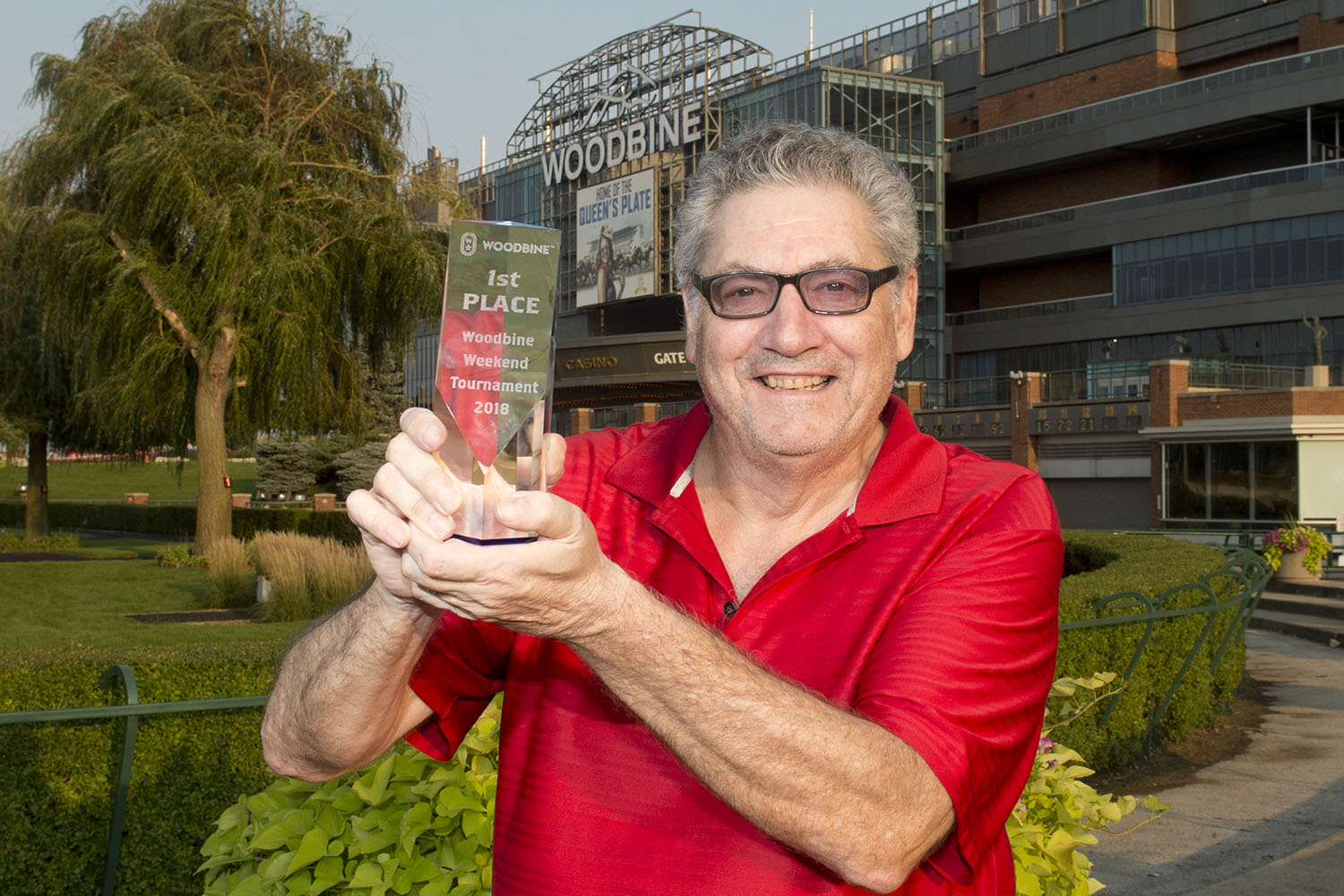 Players were staked to a $50 live bankroll on Day 1 and had to make at least five $10 plays on races from the Saturday cards at Woodbine, Saratoga and Gulfstream. Scores carried over to Day 2, when players had another $50 added to their bankrolls and again had to make five plays across the three tracks, with the proviso that at least three plays each day had to be on Woodbine races.
"That worked to my advantage," Usprech said. "I'm very comfortable playing Woodbine. It's my home track. I don't play Gulfstream during the summer, so I didn't even look at their races until the last 30 minutes of Day 2 only because the final Gulfstream race was the last race of the contest. As for Saratoga, I've had an atrocious meet there this year, and quit playing real money there two and a half weeks ago. It's not that I didn't handicap Saratoga for this contest, but I wanted to win or lose based on how I did at Woodbine."
Usprech purchased two entries in the tournament and his better of the two had $71, from his starting stake of $50, after Day 1. That meant he started Day 2 with $121 once his second-day mandatory wagering amount was added in. The $121 gave him no better than middle-of-the-pack status entering Day 2, but that was fine with Usprech.
"I just wanted to survive Day 1 and build up from there," he reiterated.
Happily for Usprech, after handicapping the Sunday races and reviewing the day's Horsewin.ca sheets, which he has come to trust since meeting their creator William White at the NHC a few years back, he found himself liking five or six Woodbine races a lot, and even found a couple of early races at Saratoga that he thought were playable.
The tournament permitted players to make their choice of win, place, show, exactor and daily double wagers and for Usprech, the daily double option was key in that he could leverage his opinions so as to potentially win a lot without risking too great a chunk of his $121.
He started off with the early double at Saratoga and, though he just played some $4 doubles, he stood to cash for $1,000 had his horse, Hidden Facts, won at 31-1.  Alas, his longshot ran third.
"Normally that would set me back psychologically, thinking I had just 'lost' $1,000," Usprech said. "But this time it didn't. Those first two races showed me I was reading the Form well, and so I was able to stay positive and move on to the next opportunity."
That opportunity came in the double connecting races five and six at Woodbine. Again playing in just $4 increments, Usprech hit a 15-1 morning line horse, Southern Greatness, that paid $35.40 to win, and he was alive to two horses in the sixth. One was the favourite and the other, Bet on Mike—a 12-1 shot, would mean a $1,200 windfall.
Bet on Mike lost but the favourite, Slip Kid, came through, and that meant a nice $4 return of $250 that, to Usprech's surprise, got him all the way up to ninth place with a total of $350. Now it was time for another daily double play!
At first blush, race eight didn't seem like a fertile contest race given that there were only six horses and three were trained by Mark Casse.  But then Usprech noticed one of his all-time favourite Woodbine trainer angles.
"A Sid Attard trainee making his first start on Lasix and his second start for Attard," he explained.
The Attard horse, Wallace, won wire to wire, and Usprech's selection of Aurora Way in race nine also won, yielding a $2 daily double payoff of $226.20. Sticking with the $4 bet size that had worked for him earlier, Usprech added another $452.40 to his total. Feeling very confident now, the Torontonian went for another daily double score.
This time, half the battle was already won, since the play hooked up Aurora Way with a Michael DePaulo-trained, Jesse Campbell-ridden horse named Code Warrior in the Seaway Stakes (race 10).  Usprech watched as Code Warrior won wire to wire at 7-1.
"It was almost too easy," he laughed.
Easy or not, Usprech had just added another $234.40 to his total, which was now up to $1,002.45. Suddenly he was leading the contest by some $30.
Despite the run of good fortune, Usprech was far from giddy. "I've been here before," he said to himself. His requisite bets having all been made, he then made the calculated decision to stop playing and force someone else to come and catch him. No one could.
"One by one, they all just seemed to fall by the wayside," he said.
The four players who finished directly behind Usprech—Barry Kerbel ($861.50), Gary Blair ($625.75), Kenneth Zelin ($550.60) and Jack Dicenso ($191.05)—went home with very nice prizes as well. In addition to keeping their final bankroll totals, the quartet won berths to the 2019 National Horseplayers Championship (NHC) next February in Las Vegas.
Oddly enough, Usprech actually had a chance to grab an NHC berth as well with his second entry. He bet on a horse in the final contest race at Gulfstream that would have gotten him up to fifth place and that last available NHC seat, but it wasn't to be. Still, he couldn't have been happier with how the weekend played out.
"You win tournaments because you have good opinions," Usprech said. "I happened to have four good opinions at Woodbine on Sunday. Having four strong opinions in a day is a lot for me—especially on a day I'm looking at Saratoga when there are so many good horses in every race. I don't know what I'm going to do at the BCBC where every races is filled with good horses."
That's a problem we'd all like to have.
TOURNAMENT NEWS—With his victory in the Weekend Horseplayers Tournament, Usprech joins Spring Meet Horseplayers Tournament victor Russell Wilkes, Mid-Summer Horseplayers Tournament winner Nick Noce and the ultra-consistent Gary Blair at the top of the leaderboard for the 2018 Woodbine Player of the Year Award. Players receive points for top finishes in Woodbine's four major horseplayer tournaments. Those who play in at least three of the four events automatically become eligible for end-of-season bonuses, including $6,500 and a Sovereign Award to the overall top finisher.
Currently, Wilkes leads the way for 2018 honours with 975 points; Usprech is next with 800 points and Noce and Blair are nipping closely at Usprech's heels, both with 775 points.
The four-event series concludes with the September 15 Woodbine Mile Horseplayers Tournament, which—in addition to crowning the Woodbine Player of the Year—offers two BCBC entries, four NHC seats and rich cash bonuses. The buy-in for the Woodbine Mile Day event is $3,500.
"I'm sure going to try," Usprech said of the Woodbine Mile tournament and the Player of the Year award. "It's a great position to be in."
***
Eric Wing is the Communications Director at HorseTourneys and the longtime emcee at the National Handicapping Championship. Prior to joining HorseTourneys, Wing headed up Communications at the National Thoroughbred Racing Association and the New York Racing Association. Wing's Player Profile will be published monthly on the last Friday of each month on Woodbine.com.