TORONTO, August 29, 2021 – Woodbine's Sunday card of racing spotlighted graduates of the Canadian Thoroughbred Horse Society's sales vying for over $600,000 in purses across four stakes events.  
Rookies competed over 6 ½-furlongs on the main track in the $201,200 Simcoe Stakes for colts and geldings, and the filly companion $201,600 Muskoka Stakes. The $100,000 Elgin Stakes, for colts & geldings, and matching $100,000 Algoma for fillies, both over seven furlongs on the Tapeta, showcased 3-year-olds.  
Lorena ($3.50), under Gary Boulanger, let a pair of her rivals do the early legwork before the dark bay put in a determined late bid to win the $100,000 Algoma Stakes. 
The Souper Speedy-Negotiable filly posted her second career stakes victory and fourth score from five starts for trainer Stuart Simon, who co-owns with Brent and Russell McLellan, and Gerry Olguin.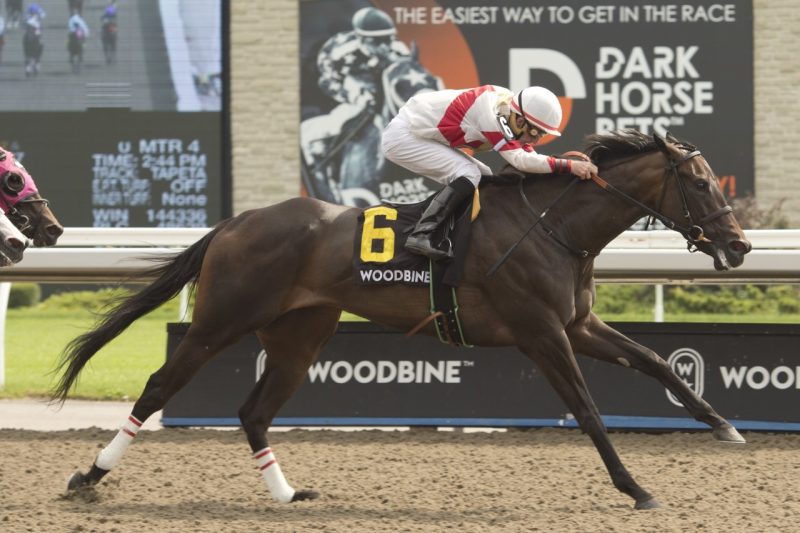 It was sweet redemption for the connections of Lorena, who arrived at the seven-furlong main track event for 3-year-old fillies foaled in Canada off an eighth-place effort in the Woodbine Oaks presented by Budweiser on August 1. 
That was the first defeat for the $50,000 CTHS (Ont. Division) 2019 Canadian-Bred Yearling Sale purchase, who won the Fury Stakes in July. 
A change of tactics, a late burst of speed, and a game effort in the Algoma put Lorena back in the winner's circle.  
"Stu and I discussed it and we worked her last breeze and when she settles she's really good, but she's such a good gate horse, she leaves there so hard I'm always a length, two lengths in front," said Boulanger. "I knew probably the five-horse (Fourteen Days) was going, maybe the seven-horse (Raven Echo), so we didn't want to be caught where we're always the target, the first wave comes on, we shake them off and here comes the second wave and wears us out, so we committed to running her the way she worked and get her back off the pace and make that tactical run instead of being the target."  
After breaking sharply, Lorena was settled into third by Boulanger, as Owen's Tour Guide and Fourteen Days matched strides through an opening quarter in :23.24. Owen's Tour Guide took clear command through a half timed in :45.84, and began to open up on her eight rivals around the turn for home. 
Five lengths clear at the stretch call, Owen's Tour Guide soon found herself under pressure from the trio of Lorena, Jilli Marie and Pemberley. 
It was Lorena who emerged with the lead in deep stretch, going on to post a 1 ¼-length victory over Jilli Marie. Pemberley was a neck back in third, while Owen's Tour Guide held for fourth. 
"She got a little rubbery, she didn't switch leads today, but she was running and I wasn't too concerned about it and felt like she was still underneath me and even the gallop out was still there," said Boulanger. "She's a pretty gutsy filly, she gives you everything she has."  
The final time was 1:23.79.   
"She's just a plain, nice filly and we had a lot of reservations about running in the Oaks and it's the same old thing hindsight always easy," noted Simon. "It was a very condensed schedule, she wasn't a real seasoned horse and hindsight is always easy, but we made the right decision to cut back today. She will win going two turns, but it'll be later on."  
Owned by Carlo D'Amato and Stacey Van Camp, and trained by Mike Mattine, Secret Reserve ($3.20) was once again impressive, this time in taking the $100,000 Elgin Stakes.  
It was the second straight score and third from four starts for the son of Giant Gizmo-Smart Suzie, who arrived at the seven-furlong main track event for 3-year-old colts & geldings foaled in Canada off an equally sharp victory. On July 24, in a six-panel trek over the Toronto oval Tapeta, Secret Reserve won by 4 ¼-lengths under Rafael Hernandez. 
The duo duplicated that effort with another big showing in the Elgin.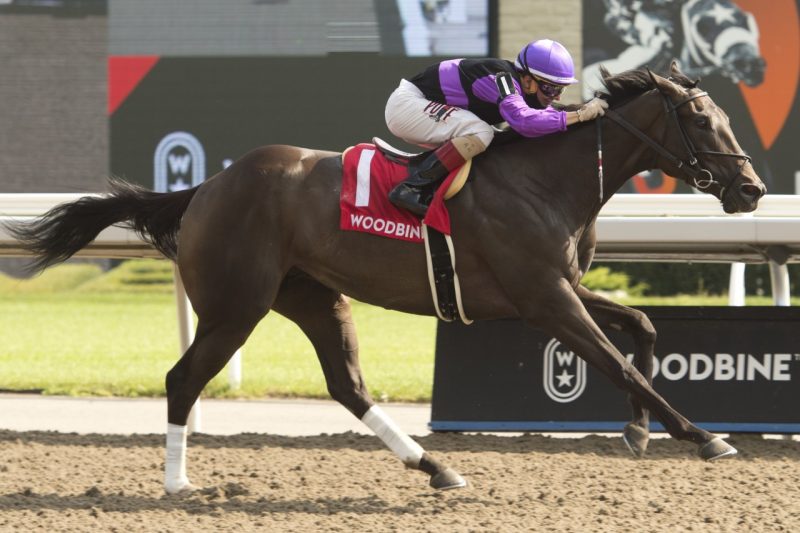 Breaking from post one, the pair sat third in the early going, content to watch pacesetters Jelgo and Mason's Gamble scrap over the lead. The frontrunners took their five rivals through an opening quarter-mile in :23.12 and a half in :45.85. 
As the field straightened for home, Hernandez directed Secret Reserve to the outside to take aim at the leaders. 
Mid-way down the lane, Secret Reserve struck the front and then began to easily widen his advantage, going on to post a 3 ¾-length score in a time of 1:22.30. Mason's Gamble finished a length ahead of Jelgo for second, with Perfect Crime nabbing fourth. 
"He was perfect," praised Hernandez. "Mike told me, 'Rafi, just try to follow a horse get him relaxed' and we got two good horses to make the pace for us and then he just come running. He was working good. That last work, he was unbelievable, he felt super great and that's why we were thinking to go to the seven-eighths." 
Bred by Dr. Brian Van Arem, Secret Reserve won his debut last September at Woodbine, his one and only race as a 2-year-old. After opening up 2021 with a fifth-place performance, he now has made two consecutive trips to the winner's circle, including his first stakes crown. 
"Last year he was really on the muscle and showed a lot of speed," said Mattine. "So, this year, I decided to take the blinkers off and bring him along slowly and in his morning works he would always start off slow and finish up really good and gallop out strong. His last two races have been almost a replica."  
The dark bay was a $9,000 purchase at the 2019 CTHS (Ont. Division) Canadian-Bred Yearling Sale. 
Baksheesh, making her first start for Eclipse Thoroughbred Partners and Gary Barber, rallied from well back in the field of 12 to score by a convincing four lengths in the $201,600 Muskoka Stakes, for 2-year-old fillies foaled in Canada. 
 "She didn't have speed at the beginning that's why I was very focused that if I have a chance to get out that's it and I did, "said Kazushi Kimura, who was riding Baksheesh for the first time. "That was a pretty smooth trip. When I was at the three-eighths I was like 'She's going to win for sure', and she did."  
Thatsitthatsall, at 18-1, finished second after leading a furlong out. Proud Speaker ended third, another 2 ½-lengths back.            
The final time for 6 ½-furlongs on the Tapeta was 1:17.91.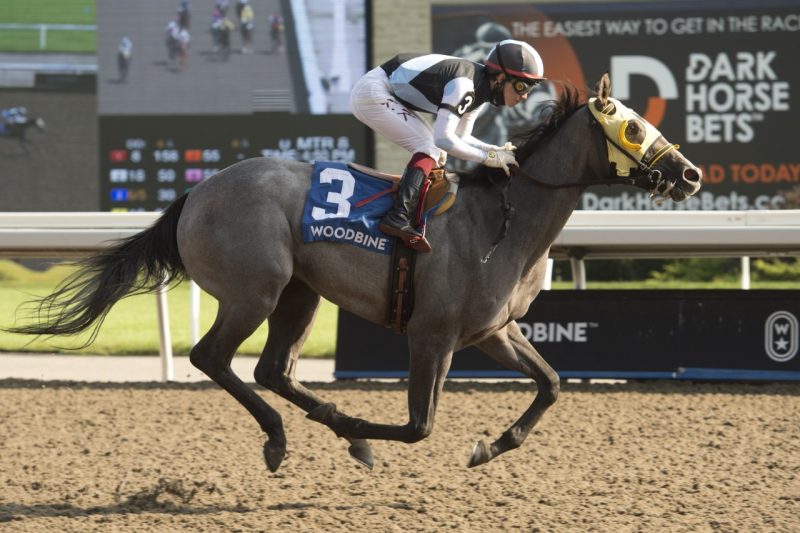 Baksheesh, purchased for $18,000 at the local select sale, had kicked off her career here this summer for trainer Ralph Biamonte with a pair of promising efforts, finishing third and then second and attracting the attention of potential buyers. 
"I got quite excited after the last race when you get somebody like Mark Casse or Aron Wellman from Eclipse calling me that we're interested in your horse," said Biamonte. "It's kind of nerve-wracking when you train a horse for them, but it was good and now tomorrow she can go and live with them.  
"She's really nice. She's good, we never expected her to be that good and she'll get better. She does everything right and I'm going to have a good time watching her now."  
Baksheesh picked up $120,000 for her success on Sunday, a nice return on investment for her new interests. The Summer Front filly paid $4.50 as the favourite. 
Ironstone, who tipped his hand with a bullet four-furlong breeze in :46.20 last weekend, proved he is no morning glory as he drew off to a very impressive 8 ½-length victory in the $201,200 Simcoe Stakes, for 2-year-old colts & geldings foaled in Canada. 
Breaking alertly, Ironstone made all the running through fractions of :22.98, :46.21 and 1:10.28 en route to a final clocking of 1:16.61 for 6 ½-furlongs on the main under regular rider Ademar Santos.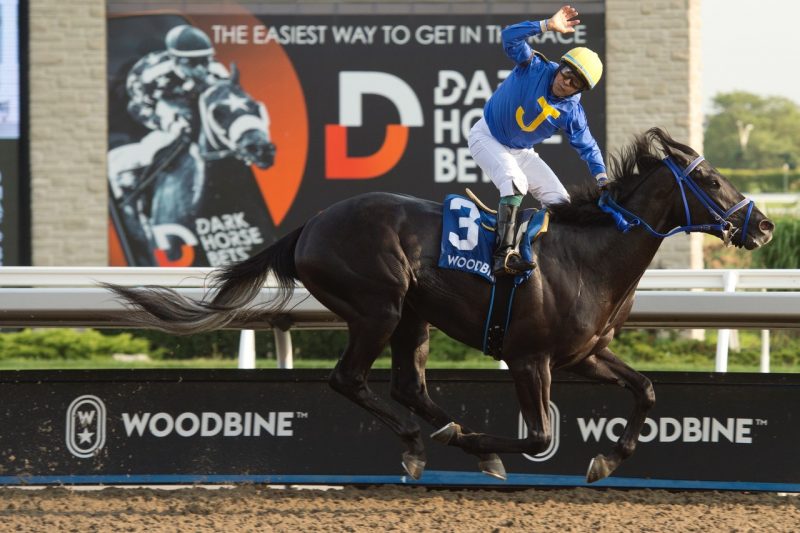 "We put a lot of work into the horse," said Santos. "I knew the track wasn't playing to speed, but when I looked on the lead nobody wanted to go and so turning for home I had a ton of horse. He's just amazing."  
Ironstone was just the 24th career stakes starter for trainer Willie Armata with his lone previous victory coming with Bold Corky here in the 2008 Classy 'n Smart. 
"It feels unbelievable. It's been a long time (since visiting the infield winner's circle)," said Armata. "I remember telling (WEG racing analyst and on-air personality Jason Portuondo), 'So far in my career this is one of the best horses I've ever trained' and he showed that today."  
Where's Neal, a half-brother to Saturday's beaten Bison City Stakes favourite Miss Speedy, was prominent throughout and ended second in a promising debut.  
Chairman Bob, the only winner in a field of 11 which included five first-time starters, rallied on the rail but flattened out to finish third as the very slight 2-1 choice. 
Ironstone, a colt by Mr Speaker, had finished second in his 4 ½-furlong opener but then faltered to fifth when travelling 5 ½-furlongs. Sunday's start was his first since joining the Lasix program.  
Knocked down for $7,000 at the local select sale, Ironstone picked up $120,000 for his Simcoe success and returned $6.20 after attracting late support. 
This year's Canadian Thoroughbred Horse Society's Premier Yearling Sale will be held on Wednesday, September 1, at 12 noon (ET) in the Woodbine Sales Pavilion.