EARLY LOOK AT THE JUNE 30 QUEEN'S PLATE PROBABLE FIELD (16)
PROBABLE FIELD FOR THE 159TH RUNNING OF THE QUEEN'S PLATE
Horse / Trainer / Owner / Jockey
Aheadbyacentury / John Ross / Jack of Hearts Racing and J.R. Racing / Luis Contreras
Alternative Route / Al Stall, Jr. / Spendthrift Farm LLC & Town and Country Racing, LLC / Mitchell Murrill
Boyhood Dream / Michael Maker / Kenneth and Sarah Ramsey / Alan Garcia
Cooler Mike / Nick Nosowenko / Mike and Nick Nosowenko / Jesse Campbell
Dixie Moon / Catherine Day Phillips / Sean and Dorothy Fitzhenry / Eurico Rosa da Silva
Inge / Norm McKnight / Bruno Schickedanz / TBD
Marriage Counselor / Michael Maker / Kenneth and Sarah Ramsey / Jalon Samuel
Neepawa / Mark Casse / Chiefswood Stable / Florent Geroux
Pawnbroker / Michael Maker / Kenneth and Sarah Ramsey / Joel Rosario
Real Dude / Sid Attard / Stronach Stables / David Moran
Rose's Vision / Stu Simon / Chiefswood Stable / Javier Castellano
Say the Word / Graham Motion / Sam-Son Farm / Rafael Hernandez
Silent Poet / Nick Gonzalez / Stronach Stable / Gary Boulanger
Strike Me Down / Graham Motion / Sam-Son Farm / Jose Ortiz
Telekinesis / Mark Casse / Stonestreet Stables LLC / Patrick Husbands
Wonder Gadot / Mark Casse / Gary Barber / John Velazquez
RAMSEY FARM BOAST QUEEN'S PLATE TRIPLE THREAT
Owner-breeders Ken and Sarah Ramsey, who won the 2016 Queen's Plate with Sir Dudley Digges, will send out three starters in Sunday's Gallop for the Guineas.
The familiar red and white Ramsey silks are back at Woodbine for the 159th running of the Plate, this time in the form of Boyhood Dream, Marriage Counselor and Pawnbroker.
A son of Dialed In, Boyhood Dream has grown in character and size as he readies for the biggest race of his career to date.
"He's a bigger horse that I've been waiting to stretch out for a while," said Nolan Ramsey, grandson of the Ramseys, and assistant to trainer Mike Maker. "He showed some talent this winter at the Fair Grounds. We finally had the opportunity to stretch him out in the Plate Trial (1 1/8 miles) and I thought he ran a pretty good fourth in a pretty decent field. If you watch the gallop-out, he galloped really strong, so I know the Plate distance (1 ¼ miles) won't be a problem."
Woodbine-based rider Alan Garcia gets the call.
Marriage Counselor, a son of Overanalyze, will look to keep his blossoming relationship with Woodbine going strong.
On June 10 at the Toronto oval, Marriage Counselor traveled 1 ¼-miles – the same distance as the main-track Plate – over the E.P. Taylor Turf Course.
Sent off as the favourite, the colt was two lengths in front at the stretch call, going on to win by the same margin for the milestone victory.
"I've been around this horse since he was a two-year-old and I had him at Gulfstream all winter," said Ramsey. "I had him at Keeneland in the spring. He was kind of a punk – he really didn't care one way or another what he did. After he ran at Keeneland and ran a decent third, he kind of perked up a bit and started to figure things out. He ran another okay third at Keeneland and I was waiting for the opportunity to stretch him out on the grass because I think that's what he really wants to do."
While Marriage Counselor won't be the post-time favourite, Ramsey sees the horse as an outsider to keep an eye on.
"We'll see how the race plays out, but I know the distance won't be a problem," he said. "I think he'll take to the Tapeta really well. I think he's a longshot, but I think if the pace scenario works in his favour, he could be a sneaky horse."
Bajan-born jockey Jalon Samuel, who piloted Sir Dudley Digges to a win in the 2018 Barbados Gold Cup, will be in the irons.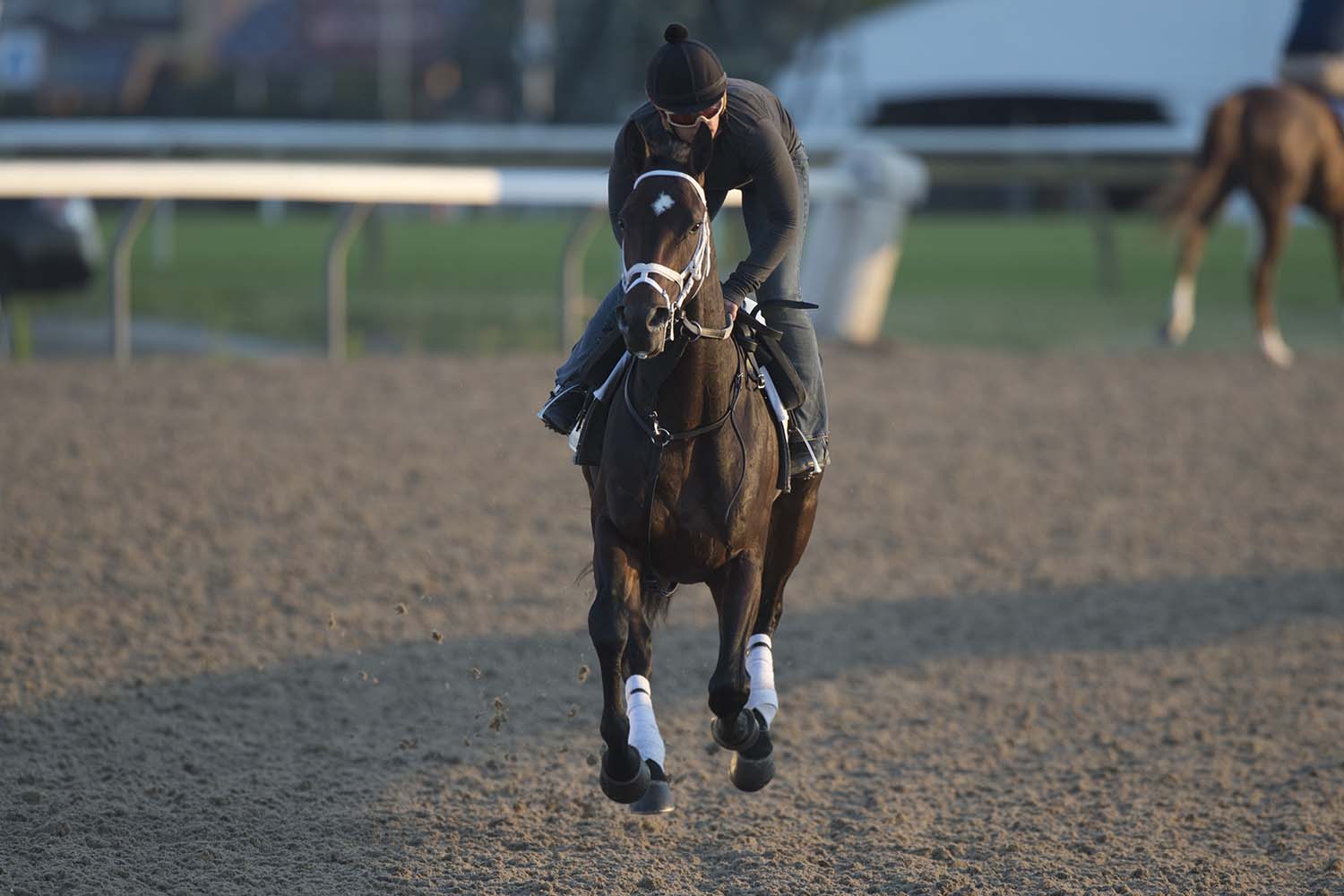 Pawnbroker, who has but just one lifetime start, completes the Ramsey triumvirate.
Lightest on experience of the three Maker trainees, the son of Gio Ponti will certainly be long odds on the toteboard this Sunday.
Ramsey, however, believes the best is yet to come for the colt.
"I think as of right now, Boyhood Dream is a better horse than he is, but I think in the long run, Pawnbroker's going to turn out to be the nicer horse," he offered. "We got him in as a two-year-old and had a few little issues with him. So, we backed off on him for the winter and unfortunately we got a later start with him."
Pawnbroker's one start came at Woodbine in a six-furlong race on May 26, resulting in a fourth-place effort.
Ramsey wasn't disappointed with the performance, considering the distance the race was contested at.
"He's a horse that wants to run all day," he said. "As far as are earnings are to get into the Queen's Plate, I had to run him at going three-quarters, which definitely isn't his game. But he ran a good fourth, never got tired and never backed up. So, I'm excited to stretch him out."
Champion U.S.-based rider Joel Rosario will be aboard.
ROSE'S VISION HOPES TO GO ONE BETTER IN PLATE
Trainer Stu Simon is not looking at the Queen's Plate through rose-coloured glasses.
But Simon, who conditions the homebred Rose's Vision for Chiefswood Stable, can come into the race with a legitimate contender following a second-place finish in the Plate Trial.
"He had to do all the chasing himself," said Simon, who had watched Rose's Vision stalk the probable Queen's Plate favourite Telekinesis throughout the 1 1/8-mile race.
"He chased that horse pretty good to the wire, and after the wire he galloped out pretty evenly with the winner."
Rose's Vision had shown plenty of promise as a 2-year-old while racing exclusively on turf. But, that left the well-bred son of Artie Schiller with something to prove with regards to the Tapeta surface.
"That's kind of just the way it happened," Simon said, of the opening all-turf campaign. "His breeding, and when he ran well on it, he kind of just kept going in that direction."
As a member of Simon's string at Palm Meadows this winter. Rose's Vision made his seasonal bow on the dirt at Gulfstream in a race better forgotten.
"With the 3-year-olds, you want to see just exactly how they are on the dirt," Simon said. "He had trained fairly well on it, but he didn't seem to handle it so well when he ran."
So, Rose's Vision turned back to the green and the homebred put together a very nice double of a one-mile maiden race at Gulfstream and a 1 1/16 mile first-level allowance at Keeneland.
"He ran a really good race in Keeneland, against a pretty deep bunch," said Simon.
Rose's Vision returned to Woodbine in late April, and the plan was to use the May 13 Marine as the colt's Tapeta test. If he passed, then that 1 1/16-mile stakes would have been his final start prior to the Queen's Plate. But, the colt was farther back than normal in the early running and ended a non-threatening sixth.
He just never got the type of trip he liked so we really didn't get any answers as to if he really could run on it yet," said Simon.
"You're only three once, and now we just have to try him in the Plate."
SAM-SON FARM SEEK SIXTH PLATE SCORE
Strike Me Down and Say the Word, Sam-Son Farm runners who are based in Fair Hill, Maryland with trainer Graham Motion, had their final Plate tune-ups on the Tapeta surface there Sunday.
Breezing six furlongs in company, the pair were clocked in 1:13.
"I was happy with how it went," said Motion, adding that the duo is scheduled to check into Woodbine on Tuesday.
Strike Me Down, a son of Tapit, has made three of his four starts on turf and finished second here in last year's 1 1/16-mile Cup and Saucer behind the Queen's Plate-bound filly Dixie Moon.
The homebred returned here this spring to graduate gamely over the Tapeta in a 1 1/16-mile race and is coming into the Plate off a second-place finish in the 1 1/16-mile Tale of the Cat on the Monmouth lawn.
Say the Word, by More than Ready, has been an improved performer this year, scoring impressively at Keeneland over 1 1/16 miles of turf in his second start and then shipping here to finish a good third behind two older rivals at 1 1/16 miles on the Tapeta.