EARLY LOOK AT THE JUNE 30 QUEEN'S PLATE PROBABLE FIELD (16)
PROBABLE FIELD FOR THE 159TH RUNNING OF THE QUEEN'S PLATE
Horse / Trainer / Owner / Jockey
Aheadbyacentury / John Ross / Jack of Hearts Racing and J.R. Racing / Luis Contreras
Alternative Route / Al Stall, Jr. / Spendthrift Farm LLC & Town and Country Racing, LLC / Mitchell Murrill
Boyhood Dream / Michael Maker / Kenneth and Sarah Ramsey / TBD
Cooler Mike / Nick Nosowenko / Mike and Nick Nosowenko / Jesse Campbell
Dixie Moon / Catherine Day Phillips / Sean and Dorothy Fitzhenry / Eurico Rosa da Silva
Inge / Norm McKnight / Bruno Schickedanz / TBD
Marriage Counselor / Michael Maker / Kenneth and Sarah Ramsey / TBD
Neepawa / Mark Casse / Chiefswood Stable / Florent Geroux
Pawnbroker / Michael Maker / Kenneth and Sarah Ramsey / TBD
Real Dude / Sid Attard / Stronach Stables / David Moran
Rose's Vision / Stu Simon / Chiefswood Stable / Javier Castellano
Say the Word / Graham Motion / Sam-Son Farm / Rafael Hernandez
Silent Poet / Nick Gonzalez / Stronach Stable / Gary Boulanger
Strike Me Down / Graham Motion / Sam-Son Farm / Jose Ortiz
Telekinesis / Mark Casse / Stonestreet Stables LLC / Patrick Husbands
Wonder Gadot / Mark Casse / Gary Barber / John Velazquez
SILENT POET FEELING GREAT FOR THE PLATE
Owner Frank Stronach has captured the Queen's Plate on four occasions with Holy Helena (2017), Shaman Ghost (2015), Awesome Again (1997) and Basqueian (1994) racing their way into the history books.
On Saturday, June 30, Silent Poet will look to write his name into the annals of Canada's most famous race when he breaks from the gate in the $1-million Queen's Plate, first jewel of the OLG Canadian Triple Crown.
Trained by Nick Gonzalez, the homebred son of Silent Name-Cara Bella has won two of three starts, with his only loss coming on debut to the stakes placed Kentucky-bred Verboten. After a winter spent in Florida, Silent Poet returned to action on April 22 at Woodbine and romped to a 5 1/2-length score in a five-furlong main track sprint which set up a gritty 1 1/4-length score on May 27 in a seven-furlong optional claiming tilt on the Woodbine green.
With Gary Boulanger in the irons, Silent Poet was down inside and desperate for racing room last time out but the veteran rider found a seam late and surged to victory.
"Gary Boulanger was so impressed with him last time. He got into all that traffic in a crowded turf race and Gary told me, 'Nick, he ran like a horse that's five-years-old and has run 30 times.' That's how professional he was," said Gonzalez.
A step up to a mile and a quarter is a big ask for a young horse, but Gonzalez will enter the Plate with every confidence in Silent Poet who trained in Florida throughout the winter.
"He's been in training a long time. He came back here very fit and even though we've only got two sprint races into him, the horse is in a good way," said Gonzalez.
On Friday, Silent Poet is scheduled to breeze in company with five-year-old stablemate Black Sea.
"I'll probably call them in for five eighths but ask them to gallop out another quarter so they get a good, strong seven-eighths into them," said Gonzalez. "I'm getting the other horse ready for the Dominion Day (July 1). This will serve a purpose for both horses."
Gonzalez is a two-time Plate winner having scored with Big Red Mike (2010) and Midnight Aria (2013) and he'd love to add a third.
"I'm still not over 2010 when we won with Big Red Mike and we were lucky enough to be in the presence of Her Majesty The Queen," said Gonzalez. "And then to claim a horse a few years later and win it again with Midnight Aria, it's just two dream days. Now that we've done it twice, there's no reason to think it can't happen a third time."
Both previous Gonzalez trained Plate winners raced to victory on the engine, but the veteran conditioner sees a different approach for Silent Poet.
"Both those horses were front-end pace running horses and, fortunately for us, speed carried those days. This horse is a little different," said Gonzalez. "He's one that you can cover up and he'll relax. That's one thing I like about him for a young horse. He's mature in his brain and won't fight the rider. He'll get in behind horses and relax and go when you ask him."
GAME ON! 'DUDE' LOOKING FOR A FAMOUS MAIDEN SCORE
Stronach Stables have won two of the last three editions of the Queen's Plate with Holy Helena (2017) and Shaman Ghost (2015) notching famous scores and the multiple Sovereign Award-winning outfit has two contenders for the 2018 running with the well-regarded Silent Poet and regally-bred maiden Real Dude.
Real Dude, by Ghostzapper, is out of 2008 Woodbine Oaks winner Ginger Brew who went on to earn honours as Canada's champion three-year-old filly. The strapping Real Dude is the fifth of Ginger Brew's progeny to make it to the races and has the look of one that is worth the wait.
"He's so big," said trainer Sid Attard of the 1100 pounds chestnut. "He never worries this horse. He eats, he trains and he sleeps. I think he'll be a nice horse when he gets a couple more races into him."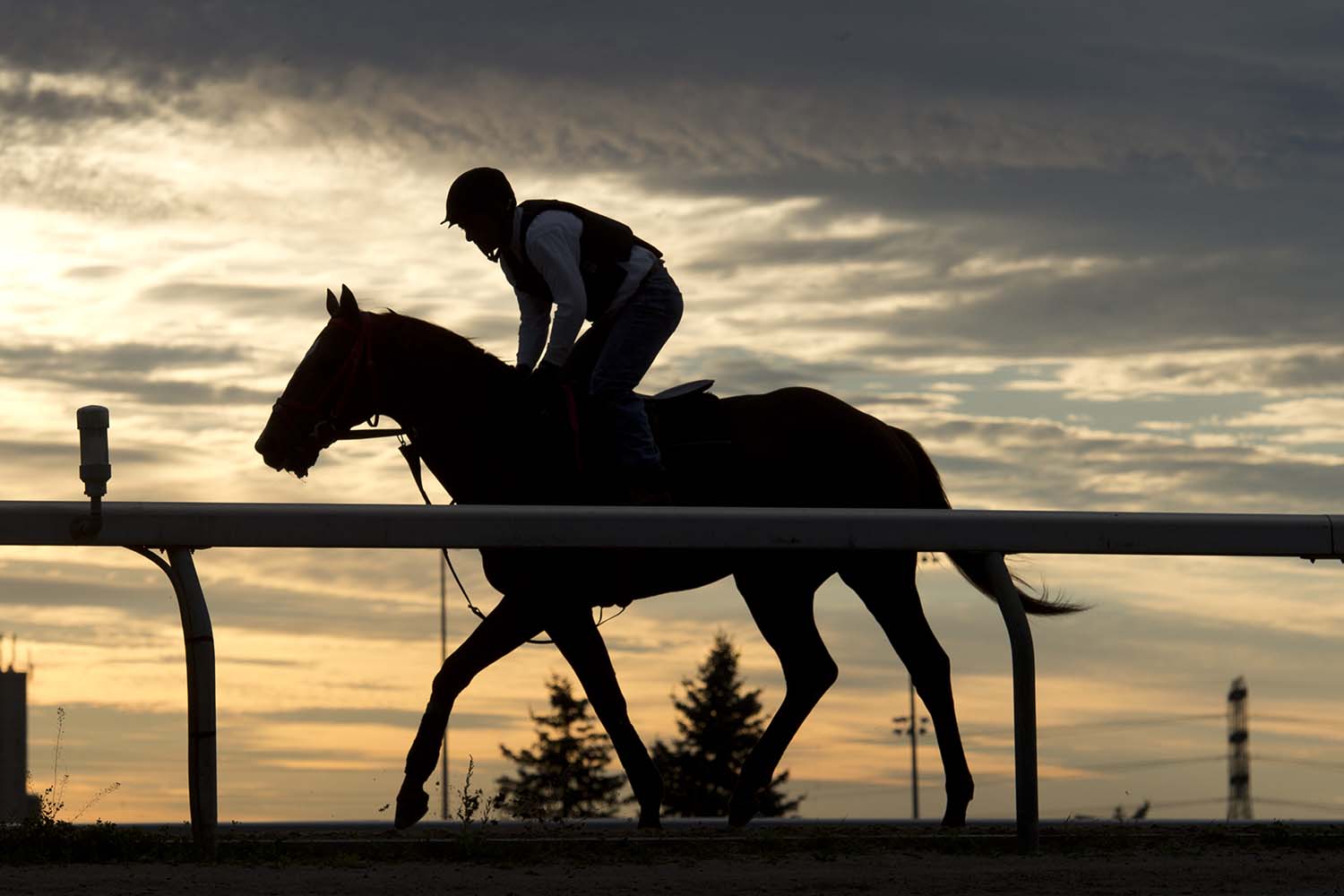 The late blooming Real Dude debuted earlier this year on May 18 when sixth in maiden allowance route and showed definite promise last time out, on June 9, when shifting off the rail to rally for third in another two-turn maiden test.
"It was a really good race last time and it was no surprise to us the way he run. We expected him to run like that," said Attard. "I really think he can go all day long. The farther the better. The owners want to take a shot and I say, why not?"
Attard was hopeful of having two Stronach Stables contenders for the Plate but Kingarvie and Queenston Stakes winner Silent Sting will not make the Canadian classic after trailing the field throughout in the Plate Trial.
"Silent Sting is doing really good. He had heat stroke so we sent him to the farm for a couple weeks off. He's going to be okay," said Attard.
Real Dude, who will be piloted by David Moran in the Plate, has big shoes to fill while stepping into the place of his more accomplished stablemate, but Attard remains confident he has a contender.
"He looks good now. He's really coming around," said Attard. "He's got a nice way of going. When this horse is 100 percent fit he'll be a nice horse."
Should Real Dude win the Plate in just over one week's time, it would mark the first Plate score by a maiden since Scatter the Gold in 2000.
BRAD PAISLEY AND SAM ROBERTS BAND HEADLINE QUEEN'S PLATE FESTIVAL
Critically acclaimed country music superstar Brad Paisley will kick off the Queen's Plate Festival on Friday, June 29, with a show-stopping performance. On Saturday, June 30, Sam Roberts Band will bring rock lovers to their feet with an unforgettable live concert following the 159th running of the $1 million Queen's Plate. Tickets for the Queen's Plate Festival are available now at www.queensplate.com.
QUEEN'S PLATE DRAW AVAILABLE LIVE ON WEBSITE
The draw for the Queen's Plate, slated for Wednesday, June 27 at 9:30am in Woodbine's trackside tent, will be streamed live at www.queensplate.com. Further information and event details for the Queen's Plate Festival are available there.