EARLY LOOK AT THE JUNE 30 QUEEN'S PLATE PROBABLE FIELD (16)
PROBABLE FIELD FOR THE 159TH RUNNING OF THE QUEEN'S PLATE
Horse / Trainer / Owner / Jockey
Aheadbyacentury / John Ross / Jack of Hearts Racing and J.R. Racing / Luis Contreras
Alternative Route / Al Stall, Jr. / Spendthrift Farm LLC & Town and Country Racing, LLC / Mitchell Murrill
Boyhood Dream / Michael Maker / Kenneth and Sarah Ramsey / Alan Garcia
Cooler Mike / Nick Nosowenko / Mike and Nick Nosowenko / Jesse Campbell
Dixie Moon / Catherine Day Phillips / Sean and Dorothy Fitzhenry / Eurico Rosa da Silva
Inge / Norm McKnight / Bruno Schickedanz / Chantal Sutherland
Marriage Counselor / Michael Maker / Kenneth and Sarah Ramsey / Jalon Samuel
Neepawa / Mark Casse / Chiefswood Stable / Florent Geroux
Pawnbroker / Michael Maker / Kenneth and Sarah Ramsey / Joel Rosario
Real Dude / Sid Attard / Stronach Stables / David Moran
Rose's Vision / Stu Simon / Chiefswood Stable / Javier Castellano
Say the Word / Graham Motion / Sam-Son Farm / Rafael Hernandez
Silent Poet / Nick Gonzalez / Stronach Stable / Gary Boulanger
Strike Me Down / Graham Motion / Sam-Son Farm / Jose Ortiz
Telekinesis / Mark Casse / Stonestreet Stables LLC / Patrick Husbands
Wonder Gadot / Mark Casse / Gary Barber / John Velazquez
CASSE TRIO IN FINE FETTLE FOR PLATE RUN
Hall of Fame trainer Mark Casse will saddle a trio of starters in Saturday's $1-million Queen's Plate including Telekinesis, Wonder Gadot and Neepawa.
Telekinesis, the Winterbook favourite for the 1 1/4-mile Queen's Plate, was bred by William D. Graham and purchased for $470,000 as a weanling at the 2015 Keeneland November Breeding Stock Sale. The Ghostzapper-Intentional Cry colt's maternal grand dam is Gold Mover, a six-time graded stakes winner.
Two of the last three Queen's Plate winners are offspring of Ghostzapper: Holy Helena (2017) and Shaman Ghost (2015).
"He just was faster than everybody else," recalled trainer Mark Casse. "He's an extremely beautiful horse, well made. He was an expensive weanling. As a weanling, I was the underbidder on him for another client and Stonestreet bought him and of course I went to Barbara and John Monaham (Stonestreet) and said I would really like to train him and we got him. So, he's been on our radar since he was very young. He was just always right at the top of the class as a young horse. We have a lot of good young horses so it's a good class and when you can beat the head of that class that says something."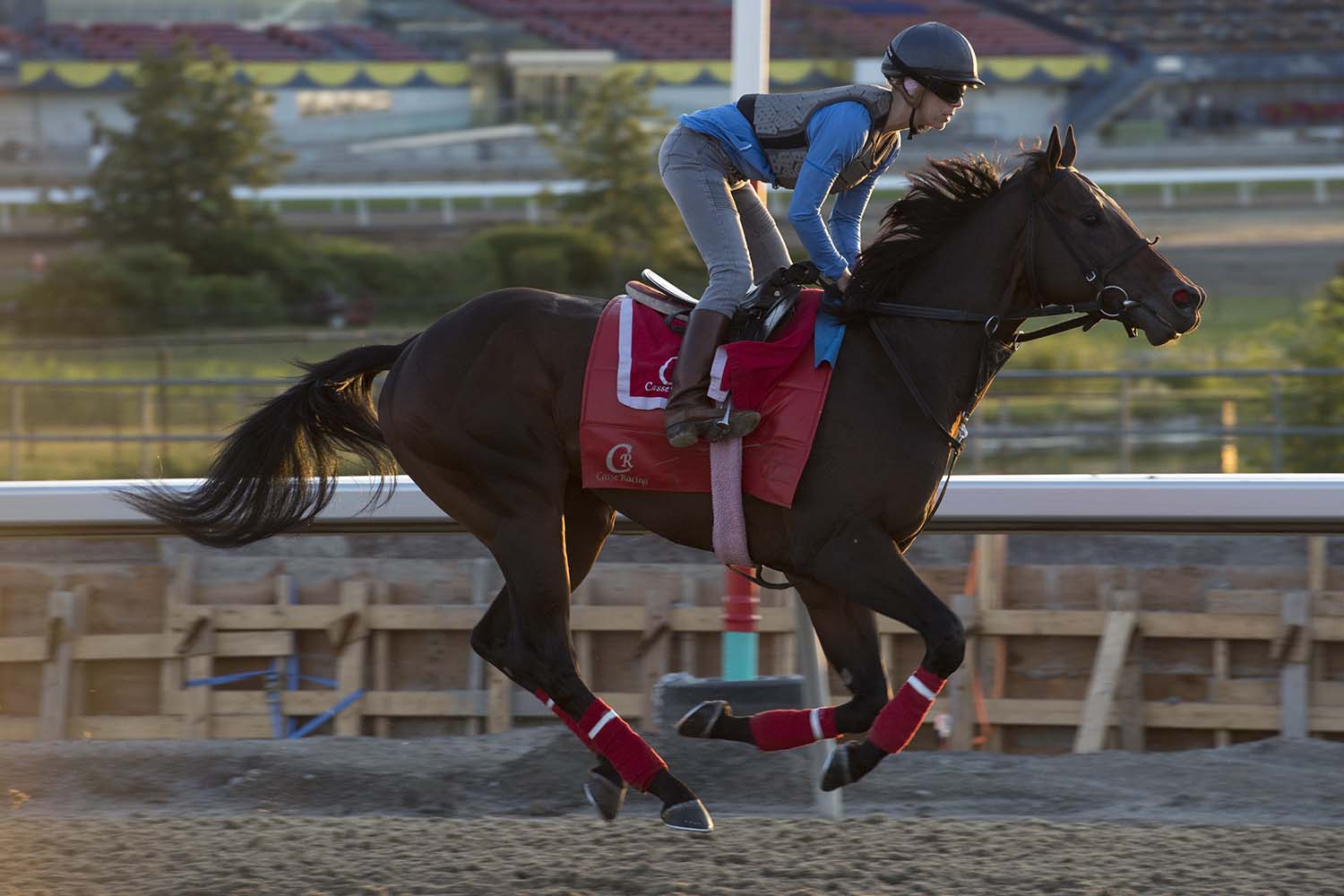 Named after the blockbuster Wonder Woman and leading lady Gal Gadot, Gary Barber's filly Wonder Gadot has already established herself as a star earning accolades as Canada's Champion Two-Year-Old Filly. She was purchased at the Ocala Two-Year-Olds In Training Sale for $325,000 and put her star power on display right from the start.
Bred by Anderson Farms, the Medaglia d'Oro-Loving Vindication lassoed a win at Woodbine over seven furlongs on the turf and followed up that performance with a close third-place finish in the Grade 3 Natalma. She then dominated the Grade 3 Mazarine in her first Tapeta try over 1-1/16 miles before heading to the Breeders' Cup where she finished sixth. Before her juvenile campaign was complete, she added the Grade 2 Demoiselle Stakes to her résumé at Aqueduct.
This year, Wonder Gadot has hit the board in all six of her stakes including recent runner-up performances in the Grade 1 Longines Kentucky Oaks and the Woodbine Oaks Presented by Budweiser – both narrow losses – earning her flashy Beyer Speed Figures of 96 and 88, respectively.
"I thought she was really unlucky, but she can cause some of her bad luck," said trainer Mark Casse. "Her Kentucky Oaks performance was just tremendous. She hopped at the start in the Canadian Oaks, was a little wide, but still had every shot to win so I was a little disappointed in her. We are going to add blinkers for this next start to see if we can get her to focus a little better, not so much focus, but she tends to want to hang a little when she's coming down to the wire and we're hoping that maybe with blinkers she'll keep on running."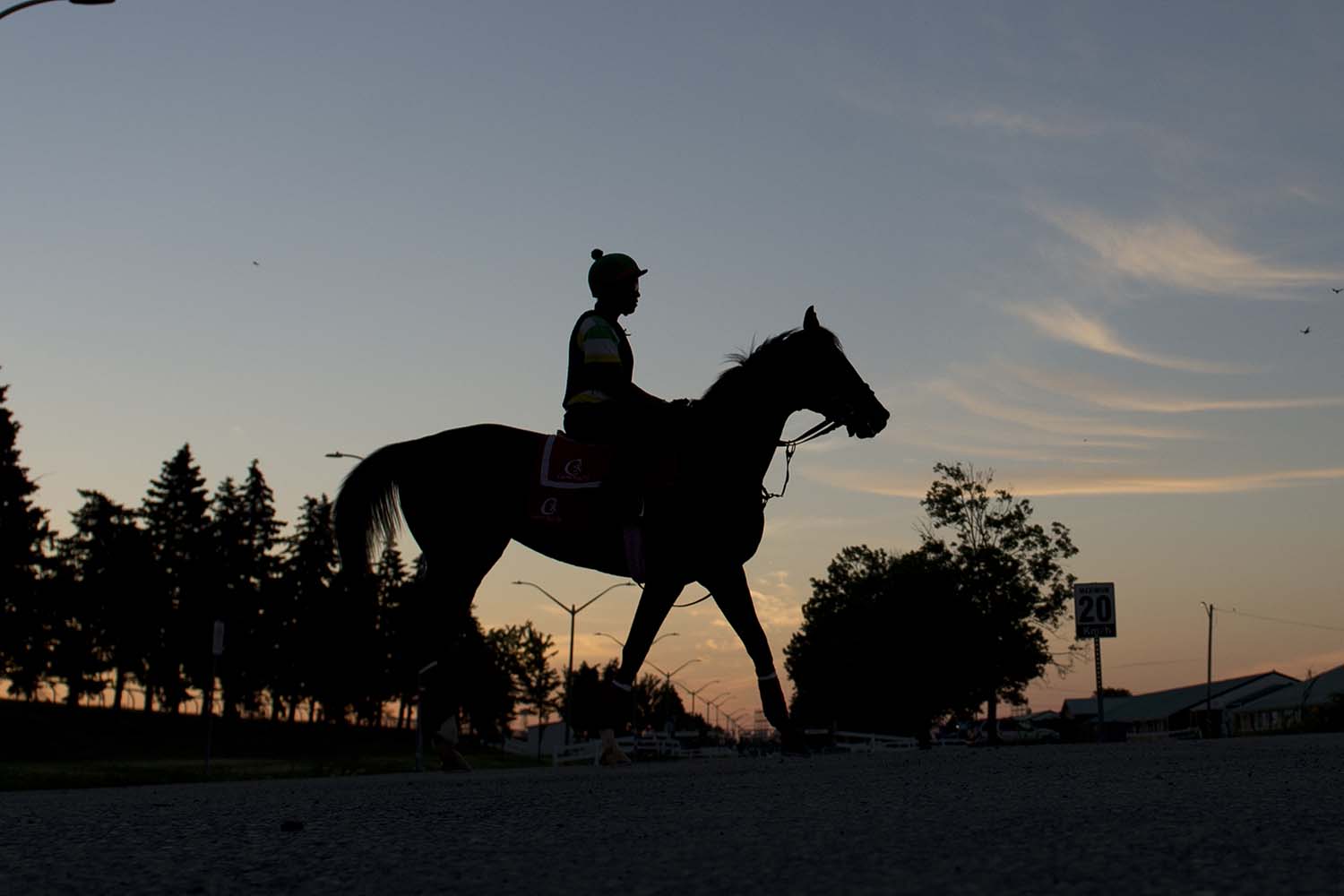 Neepawa was winless in four starts as a two-year-old, but showed promise finishing second in his season finale in the Coronation Futurity behind Queen's Plate contender Aheadbyacentury on the Tapeta at Woodbine. The colt, like fine wine, has gotten better with age.
"He's by Scat Daddy," said Casse. "He's a horse that we've always kind of felt like would get better. Most of the Chiefswood horses are bred to run on and get better as they get older and we've kind of felt that would be the case with him and he has. He's really, especially in the last couple months, started training better and getting bigger and stronger. I know a mile and a quarter will not be an issue for him."
SUTHERLAND IN FOR INGE
Chantal Sutherland, who rode Inge for the first time in the Marine Stakes, will attempt to get Inge to display a less eager attitude as he stretches out to 1 ¼ miles.
Inge, claimed for $40,000 here last December 2, will be looking to become the second horse acquired in that fashion in recent years and go on to win the Queen's Plate. Midnight Aria, haltered for $35,000 at Gulfstream Park in January of 2013, won that year's Queen's Plate in front-running fashion.
Trainer Norm McKnight gives Bruno Schickedanz most of the credit for zeroing in on Inge, who had won a $25,000 maiden claiming race and notched his second career win on the day he changed hands.
"Bruno had me look at him—I thought he was a big, good-looking colt," said McKnight "He kind of thought he'd go two turns, and he actually had the Plate in his mind when he claimed him."
The first steps on the prospective road to the Queen's Plate came at Oaklawn Park, where McKnight raced a string for Schickedanz for the first time.
"I thought if we were going to go to the Plate, maybe we should consider keeping him going," said McKnight. "You give them the winter off, things happen. You try to get them back ready for the following year, sometimes you hit bad weather, you hit bad tracks, you miss days, you're not ready."
Inge had mixed results at Oaklawn, recording a second and a third from four starts with the former in his last appearance there over 1 1/16-miles of slop.
"We were trying to get him to route–that's why we sent him there," said McKnight. "We were just having a little bit of trouble, trying to get him to settle. We still haven't mastered that yet."
McKnight's contention is borne out by Inge's two most recent appearances back on his home grounds. Inge finished second, promoted to first via a disqualification, in the 1 1/16-mile Wando and fifth in the Grade 3 Marine at the same distance, opening up clear early leads on each occasion.
"I think he was a little aggressive in both starts," said McKnight.
Since the Marine, McKnight has been working on changing that approach.
"I've given him lots of time since his last race," said McKnight. "I've been breezing him in behind horses, and I've changed his equipment a little bit. "We've been trying to settle him down, take the edge off him. I'm hoping everything will work out. The key is to have him relax."
QUEEN'S PLATE DRAW AVAILABLE LIVE ON WEBSITE
The draw for the Queen's Plate, slated for Wednesday, June 27 at 9:30am in Woodbine's trackside tent, will be streamed live at www.queensplate.com. Further information and event details for the Queen's Plate Festival are available there.