By: Hayley Morrison for WoodbineRacetrack.com
TORONTO, November 29, 2017 – As the holiday season quickly approaches and horses ship south to race, resolutions to win bigger and better are on every owner's wish list. Prominent racehorse owner Ken Ramsey is no different, but he does have a specific wish with regards to his Queen's Plate champ, Sir Dudley Digges.
Ramsey intends to send the multiple stakes winning son of Gio Ponti south to Barbados for the 2018 Sandy Lane Gold Cup.
"Sir Dudley will definitely go if he's fit and able," said Ramsey. "I wish I could have taken him this year, but the quarantine messed it up. But that's in the past and we're looking to the future."
The stakes champ would have already contested this year's race, but was held up at Fair Grounds racetrack during the equine herpes (EHV-I) quarantine. Ramsey was eventually able to ship him to Miami, but was then informed by the Barbados Turf Club that 'Dudley' would have to be out of quarantine for six months or so, before he could travel to Barbados.
"I wish I had found that out sooner, because I had to van him back from Miami to New Orleans. But he is under consideration to go down next year with another horse I've got called Shining Copper."
The Barbados Gold Cup is a Group 1 race open to horses three or older and carries an approximate $200,000 purse. Considered one of the most prestigious races in the Caribbean, the 1,800 metres (8.95 furlongs) race is run right-handed on the Garrison Savannah's turf course. In 1997, the sponsorship changed and it became designated as the Sandy Lane Barbados Gold Cup.
In contrast, the $1 million Queen's Plate, the first jewel in the Canadian Triple Crown, is only open to Canadian bred three-year-olds. The 1-1/4 mile (10 furlongs) race is run left-handed over the Tapeta (synthetic surface) at Woodbine Racetrack.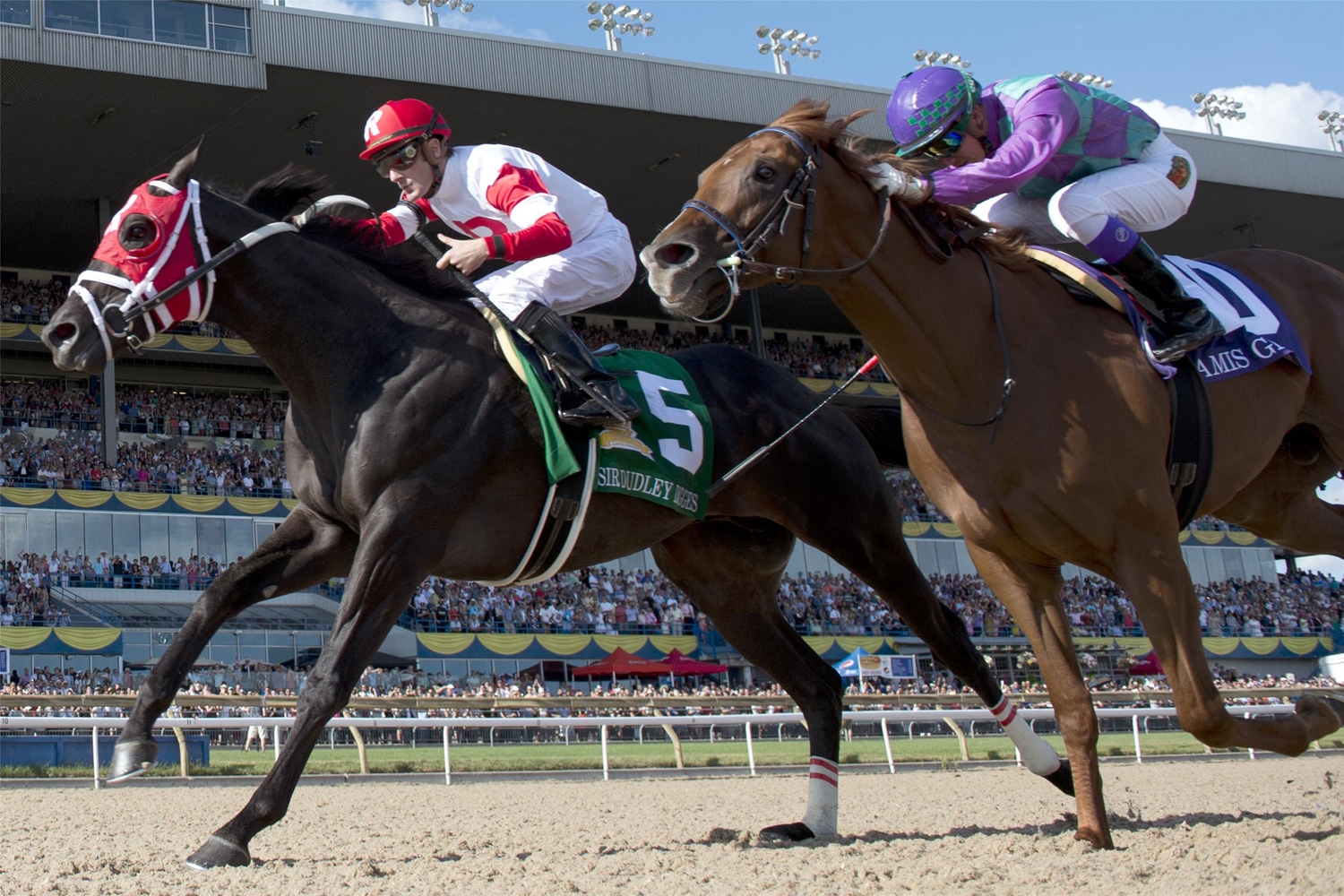 No horse has yet to capture both the Queen's Plate and the Barbados Gold Cup, despite several notable Canadian and Barbadian jockeys winning both gems.
Canadian Hall of Fame jockey Sandy Hawley secured four Queen's Plates while also winning the 1993 Barbados Gold Cup aboard a horse named Chou Chou Royale. In 2008, Barbadian jockey Jono Jones won the Queen's Plate with Not Bourbon and went on to pick up four consecutive Barbados Gold Cups between 2000-2003. Patrick Husbands, another native to Barbados and one of Woodbine's top jocks, has secured a couple of Queen's Plates and four Gold Cup wins.
Interesting to note is Husbands' 2010 Gold Cup win aboard a grey horse named Sterwins. The Ontario-bred owned by Eugene Melnyk and trained by Mark Casse finished second to Edenwold in the 2006 edition of the Queen's Plate. Even though Sterwins, a son of Runaway Groom, was unable to runaway with both races, he's the closest a horse has come to sealing the deal.
For Ramsey, winning both races would be an amazing feat to add to his racing legacy.
"Well, that would put me right up there, only second to winning the Kentucky Derby – which I have not done either, even though I've tried several times."
Pairing up with trainer Michael Maker over the last several years, Ramsey secured Gold Cup wins in 2014 with Major Marvel and the following year with Sayler's Creek. In 2016, Ramsey sent out Sayler's Creek to defend his title with stakes champ Watchyourownbobber in tow, but both horses fell short to the newly imported Dorsett. A former Brian Lynch trainee, the seven-year-old son of Artie Schiller is trained by Robert Peirce and owned by Steve and Allan Madoo.
This year, in lieu of 'Dudley' not being able to go, Ramsey sent Keystoneforvictory and High Noon Rider to Barbados. Again, Dorsett took home the cake with High Noon Rider begging for a slice and finishing a close second with jockey Rafael Hernandez.
A seasoned man in the racing game, Ramsey isn't one to be easily discouraged.
"I'm all about winning and I'm trying to send the best horse I can down to win. I've been down four times. I won the first two and the last two I ran second, and last year I ran second and third. Second does not get the job done, so I'm trying to win it three times out of five."
Staying in contention since his 2016 Queen's Plate triumph, Sir Dudley Digges has won several allowance races this season at Churchill Downs as well as the Old Friends Stakes at Kentucky Downs.
Ramsey's other hopeful, Shining Copper, has a more seasoned resume than Sir Dudley Digges. The seven-year-old graded stakes winner has over 30 lifetime starts. Lightly raced in 2017, the chestnut gelding most recently captured the Gr. 3 River City Handicap at Churchill Downs.
Watching both horses progress over the season, Ramsey is happy with Sir Dudley Digges' training, but alludes to the fact that one horse may have the advantage going into this specific race.
"If he (Sir Dudley Digges) gets a good trip, I think he could win it. However, Shining Copper, the other horse I've got, is a speed horse, so he's probably got a better shot than 'Sir Dudley' because 'Sir Dudley' likes to come from off the pace. The Barbados Gold Cup is run at the Garrison Savannah. It's an unusual configuration – the track is almost like in a triangle with the curves and turns around it all. So, I think a speed horse has got a better chance of winning it than a horse that comes from behind."
Of course, winning the race with the Queen's Plate champ would be Ramsey's first choice.
"Well, it would mean more to me to win with him than it would with Shining Copper, but I'm so competitive I will probably take both of them."
Maker, who oversees a contingent of Ramsey's horses in the U.S., is very confident in 'Dudley's chances.
"I think he's actually a better horse than what we've had," said Maker. "He's obviously a Queen's Plate winner and you know some of the other horses were claimed horses that we tried to win it with."
Given his success with claimers, the trainer is also quick to note that Shining Copper should not be discounted.
"I would have to say he would be a tough contender, because he is a tough contender in any American race that he would be able to run."
Both horses will continue to train in the U.S. before shipping out to Barbados next year. While Gold Cup aspirations remain especially high for 'Dudley,' Ramsey has checked off a very important wish for his Queen's Plate champ.
"I will tell you this about Sir Dudley Digges: his retirement is assured because he won the Old Friends Stakes down in Kentucky Downs this past September and in addition to getting the purse and the trophy, part of the compensation is that he gets a retirement spot out at Old Friends home in Georgetown, Kentucky – a guy name Michael Blowen runs it. So, he is assured a lifetime retirement at Old Friends when his racing career is over."
Official nominations for the Sandy Lane Barbados Gold Cup will be released in January 2018. Word on the street is that Dorsett is expected to return for a third Gold Cup, a feat only two horses (Sandford Prince and Blast of Storm) have accomplished. Whether or not Dorsett runs, Ramsey is adamant that he will be there.
"I plan on going down there as long as I'm in horse racing and I'll probably stay in horse racing until I kick the bucket."