By: Chris Lomon for Woodbine.com
TORONTO, October 23, 2020 – Dan Loiselle's crowning moment calling the thoroughbreds at Woodbine Racetrack is actually a five-part story.
It would seem only fitting that the man called more than 55,000 horse races over his distinguished hall of fame career would have something insightful to say about the Canadian Triple Crown.
Not only because history could be made on Saturday afternoon at the Toronto oval, but also because Loiselle, who retired from the announcer's booth in 2015, brought home multiple Triple Crown winners.
Five of them, to be exact.
Established in 1959, only seven horses have won the prestigious Canadian Triple Crown, comprised of the Queen's Plate, Prince of Wales Stakes and the Breeders' Stakes.
New Providence won in 1959, Canebora in 1963, With Approval in 1989, Izvestia in 1990, Dance Smartly in 1991, Peteski in 1993 and, most recently, Wando in 2003. Three of the winners, namely, Peteski, Izvestia and With Approval, were campaigned by hall of fame trainer Roger Attfield. Five horses also achieved the feat prior to its official recognition 61 years ago.
From his spot on the sixth floor of Woodbine, Loiselle, who began calling thoroughbreds in 1986, was the voice of five of those champions: With Approval, Izvestia, Dance Smartly, Peteski, and Wando.
"What I remember about my first one, in 1989, was that I was just three years into calling races at Woodbine," he recalled. "There hadn't been a Triple Crown winner in Canada in 26 years. With Approval won the Plate by the narrowest of margins, and a real narrow margin in the Prince of Wales, both of those races contested on dirt. I had spoken to Roger [Attfield] after the Prince of Wales and he told me that the horse will be so much better on grass. And in the Breeders', he was."
The son of Caro was money in the bank for his connections.
Literally.
"The Bank of Montreal had put up $1 million if a horse won the Triple Crown – 1989 was the first year – and With Approval won it," noted Loiselle. "And Roger was right… With Approval turned out to be a tremendous grass horse."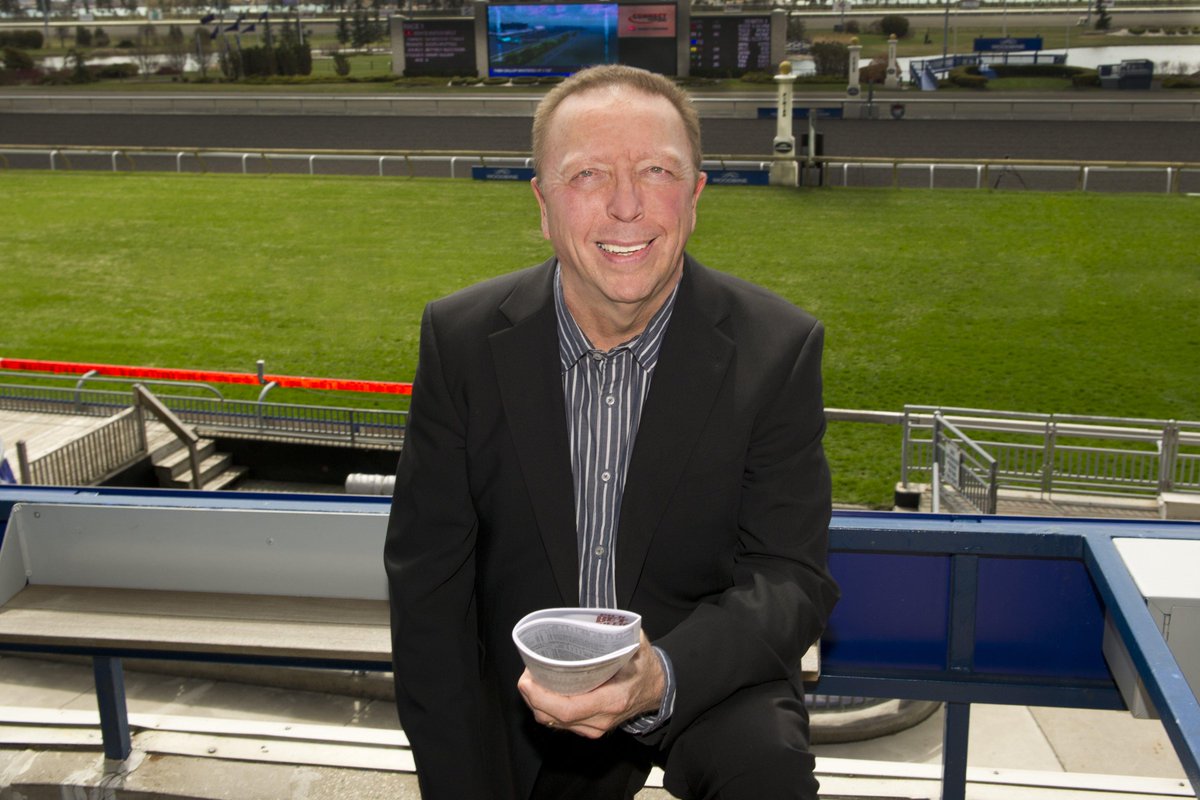 Loiselle didn't have to wait long to call his next Triple Crown winner.
It would be just one year, in fact.
"Izvestia, also trained by Roger, won it in 1990. [Jockey] Don Seymour won it back-to-back, and so did Kinghaven Farms. Izvestia won the Breeders' so easily as well. Again, it was the second straight year for the $1 million Bank of Montreal bonus."
In 1991, it was a filly's turn to step into the Triple Crown spotlight, a magnificent Sam-Son Farm star who would go on to become a top-tier talent on the world stage.
"Dance Smartly… just a fantastic horse," praised Losielle. "She won the Woodbine Oaks, the Queen's Plate, Prince of Wales and in the Breeders' Stakes, [jockey] Pat Day didn't even touch her. She won so easily. She went on that year to win the Breeders' Cup Distaff, and was named the Eclipse champion three-year-old filly of the year, won a Sovereign Award as Canada's horse of the year, and was inducted into both the U.S. and Canadian halls of fame. She was also the dam of two Queen's Plate winners, Scatter the Gold [2000] and Dancethruthedawn [2001]. She was absolutely spectacular."
Loiselle had to wait only two years to make his next Crown call when Peteski, owned by Earle Mack, delivered Attfield his third trophy.
"He won the Plate – I don't know if [jockey] Craig Perret had a previous commitment – but Dave Penna rode him in the Prince of Wales. In the Breeders' Stakes, on national television, the saddle slipped on Peteski early in the race, so the saddle was up close to his shoulder. He was much the best. Perret, like Pat Day in 1991 on Dance Smartly, he just hand rode him through the stretch. If memory serves me correctly, he was the lowest-priced [$2.20 to win] Breeders' winner."
Robert Geller, who took over the Woodbine thoroughbred announcer reins from Loiselle in 2015, was at the Toronto oval for Peteski's triple tour-de-force finale.
He can recall the Breeders' victory as though it were yesterday.
"My fondest memory of the Canadian Triple Crown was the win by Peteski in the 1993 Breeders' Stakes," noted Geller. "It coincided with my trip to Toronto and I watched the race on track at Woodbine alongside [Woodbine vice-president of racing at the time] John Whitson. That week, leading Hong Kong jockey Tony Cruz happened to be a special guest with his family, not that either of us had checked in on our off-season plans. The track went out of its way to make him feel welcome and fortuitously, such hospitality was extended to me too."
His thought that a particular longshot could derail Peteski's bid for the record books didn't go over well with his host, but the English-born, Australian-raised Geller was only too happy to have been wrong with his pick.
"At the time, I didn't fully understand the rigors of the Canadian Triple Crown, but loved the fact that a three-year-old had to win on turf to clinch it," said Geller. "Being slightly contrarian, I mentioned a possible upsetter to Peteski to John, who didn't seem too impressed by that suggestion. Fortunately, there was never cause for concern as Peteski won as expected, becoming Canada's 11th Triple Crown winner."
Wando, a horse that would become one of Canada's most beloved racing figures was the country's 12th Crown champion.
Bred and owned by the late Gus Schickedanz, the stunning chestnut's chase for greatness was front-page news in 2003.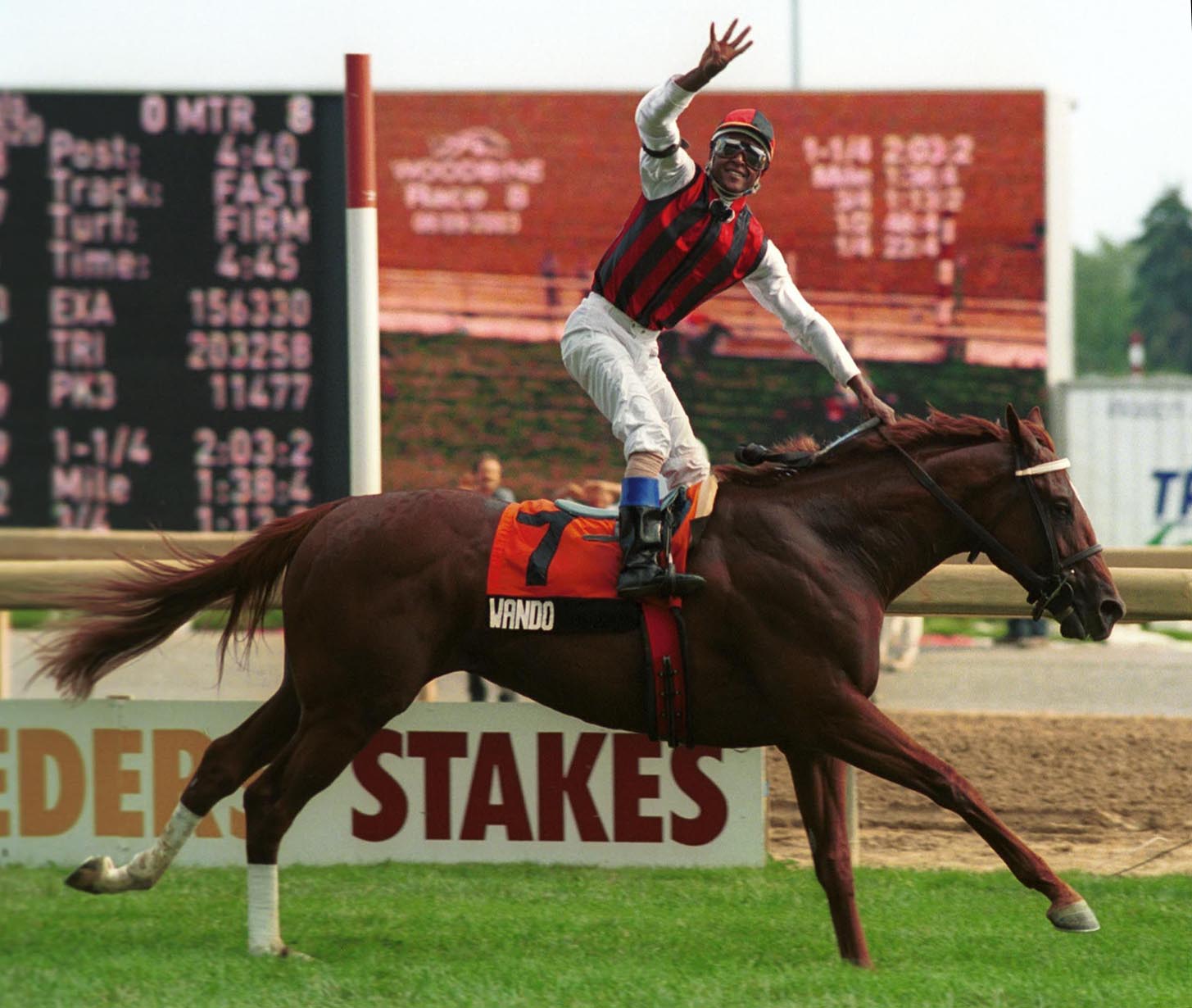 For Loiselle, it is still one of his most cherished racing recollections.
"It was really fantastic. He was the people's horse. My biggest thoughts about Wando and the Breeders' – and I have a lot of them – is the hype that surrounded the race. I even did a commercial about Wando before the Breeders'. As the horses are going into the gate – a mile and a half – and they're right in front of me, I said, 'And the people's horse, Wando, is loading into the gate, a couple minutes away from his destiny.' And the people went crazy."
The deafening roar of the crowd that had packed the grandstand would only grow louder as Wando, under siege every step of the way, finally put away his rivals down the long E.P. Taylor Turf Course stretch.
Said Loiselle over the rising crescendo, "They come to the final sixteenth, and Canada salutes the Breeders' Stakes winner and the Triple Crown champion… Wando was better than wonderful this afternoon, he was magnificent!"
Wando was also the one Loiselle will never forget.
"Of all the Triple Crown winners, that's the one that stands out in my mind because people were absolutely in love with him. When Patrick [jockey, Husbands] came back in front of the crowd with Gus leading him, it was unforgettable. Mike [trainer, Keogh] is a good friend and he did a masterful job with Wando. Of all the five, it stands out as the most treasured one for me."
No other horse has recorded the sweep since Wando did 17 years ago.
On Saturday, that could change.
Mighty Heart, the one-eyed wonder bred and owned by Lawrence Cordes, humbled his foes in the Queen's Plate before winning the Prince of Wales in similarly impressive fashion.
Now, the Josie Carroll trainee, who has already built a huge fan following, will seek to become No. 13.
Geller is hoping he'll be able to call his first Canadian Triple Crown.
"I am especially looking forward to seeing the rematch between Mighty Heart and stablemate Belichick. Admittedly, Mighty Heart trounced his rivals in the Queen's Plate but runner-up Belichick closed with interest off a light foundation and represents a serious threat to thwart the barn's Triple Crown aspirations, especially since he has proven from his debut that he can handle grass.
"Let me just say, hats off to Josie Carroll on an exceptional season, having brought the best out of her stakes quality runners and kept them fresh. Mighty Heart seemed to sneak under the radar but is now one of racing's most compelling stories at a time when the industry in North America could really do with a feelgood story."
Woodbine's track announcer would love the opportunity to deliver it, in his way, to racing fans from coast-to-coast and beyond.
It's a moment he's thought of numerous times in the days leading up to the 129th edition of the Breeders' Stakes.
Geller has also recalled where he was nearly 30 years ago, albeit in a different spot from where he'll be at Woodbine on Saturday.
"To be in the position to call the action, 27 years after having witnessed Peteski's victory live, is something I could never have dreamed of. Fingers crossed, this one-eyed wonder and his gifted rider, Daisuke Fukumoto, make racing history."
Loiselle and a legion of others share that very same hope.