AN EARLY LOOK AT THE PROBABLE FIELD FOR THE $1 MILLION RICOH WOODBINE MILE (11)
Horse – Trainer – Owner – Jockey
Admiralty Pier – Barbara J. Minshall – Hoolie Racing Stable LLC and Bruce Lunsford – Patrick Husbands
American Guru – Michael J. Doyle – Stronach Stables – Rafael Hernandez
Awesometank (GB) – William J. Haggas – Lee Yuk Lun – TBA
El Tormenta – Gail Cox – Sam-Son Farm – Eurico Rosa Da Silva
Emmaus (IRE) – Conor Murphy – M and J Thoroughbreds LLC and Riverside Bloodstock LLC – Jamie Spencer
Got Stormy – Mark E. Casse – Gary Barber and Southern Equine Stable LLC – Tyler Gaffalione
Lucullan – Kiaran P. McLaughlin – Godolphin LLC – Luis Saez
Mr Havercamp – Catherine Day Phillips – Sean & Dorothy Fitzhenry – Junior Alvarado
Raging Bull (FR) – Chad C. Brown – Peter M. Brant – Joel Rosario
Silent Poet – Nicholas Gonzalez – Stronach Stables – Gary Boulanger
Synchrony – Michael Stidham – Pin Oak Stable – Flavien Prat
EL TORMENTA HOPING FOR SMOOTHER CURRENTS IN RICOH WOODBINE MILE
TORONTO, September 7, 2019—El Tormenta, whose name translates from Spanish as "The Storm," has been the victim of poor racing luck in his last three starts after becoming a stakes winner in his local seasonal bow.
Now, trainer Gail Cox will be hoping the four-year-old Sam-Son Farm homebred can find smoother currents in next Saturday's Grade 1, $1 million Ricoh Woodbine Mile on the E.P. Taylor Turf Course.
"He's really had some troubled trips," said Cox. "It's unfortunate, there have been some races that with a better trip he was going to be right there. But he hasn't disappointed us at all, because he's run very well every time."
Perhaps the most frustrating of El Tormenta's traffic woes came last time out in the Play the King, a seven-furlong turf race which serves as the major local prep for the Woodbine Mile.
"He got stuck, didn't get out early, and waited hoping for a hole," said Cox. "It just never happened. He made a huge run. To be honest, a lot of horses wouldn't make a run like that after the trouble he was in."
El Tormenta, one of the first Sam-Son horses trained by Cox, had his first campaign cut short by injury and was gelded over the winter.
Returning to Cox's care the following spring, the Stormy Atlantic-Torreadora gelding burst out of the blocks for a front-running maiden victory over one mile of turf and then finished a good second in the Charlie Barley over the same course and distance.
"He was quite aggressive, when he ran," said Cox. "He was pretty speedy out of the gate, and acted like he didn't want to go that far."
This year, El Tormenta has shown a new dimension in racing from off the pace.
"He seems the same horse to train, but definitely his running style has changed," Cox said. "I had him with me in Florida this year, at Payson Park, and I think it's really good for him to be there to train. We let him grow up a little bit."
Back at Woodbine, the new and improved El Tormenta broke through for his first stakes win in the Grade 2 Connaught Cup over seven furlongs of grass.
New rider Eurico Rosa da Silva will be looking to engineer a change of fortunes for El Tormenta in the Woodbine Mile and Cox believes her charge is ready to retry the longer distance.
"I don't think he's a difficult horse to ride," said the trainer. "He always comes running, and he always gallops out very strong."
El Tormenta had his final tune-up for the Woodbine Mile on Saturday morning, breezing four furlongs in :48.60 with Da Silva in the irons for the first time.
"Awesome," said Cox. "I didn't want a huge breeze. Eurico said he had his hands full; he didn't want him to do too much."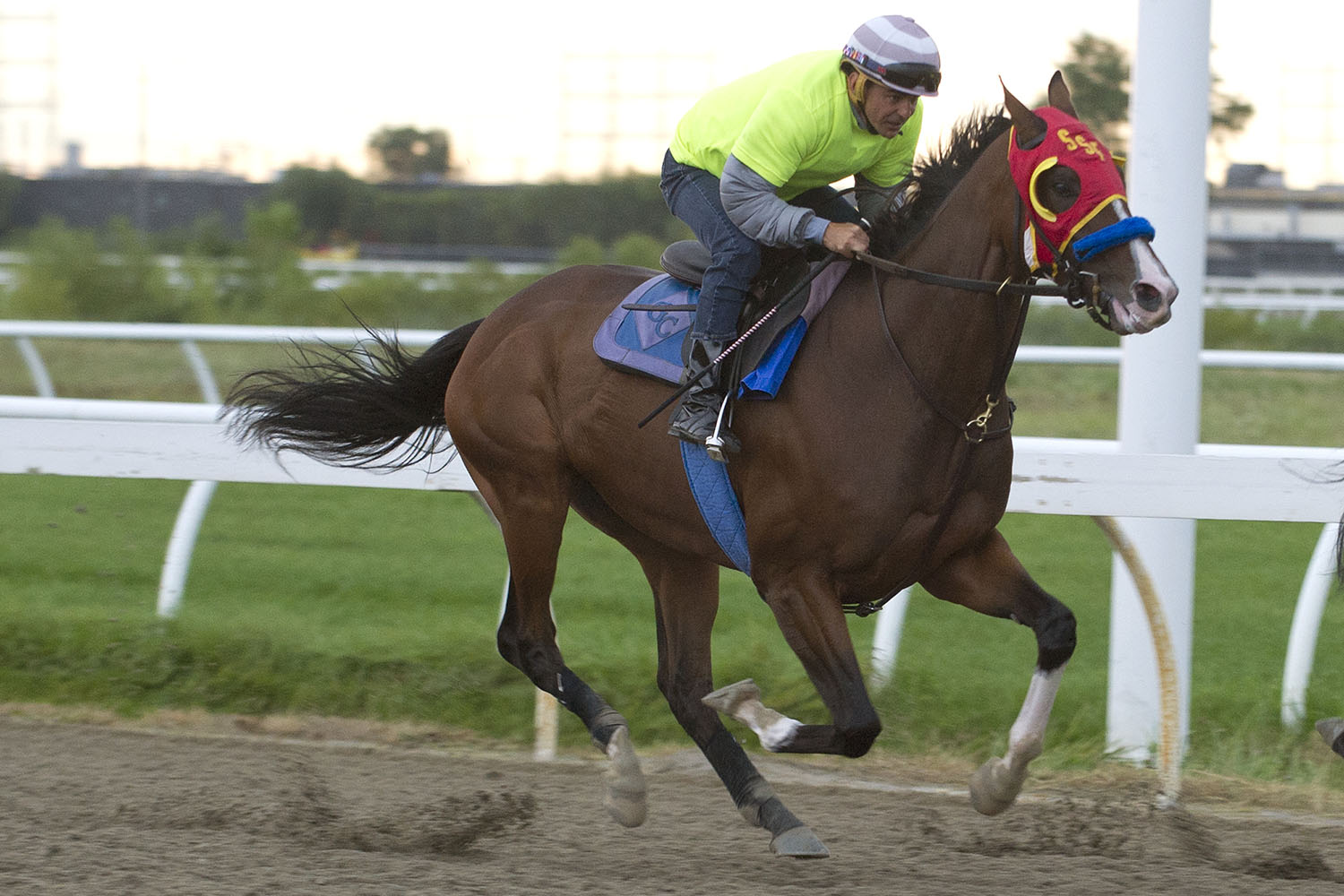 AMERICAN GURU PRIMED FOR STAKES DEBUT IN RICOH WOODBINE MILE
American Guru will be facing a major test when he not only makes his stakes debut but tries Grade 1 company to boot in the Ricoh Woodbine Mile next Saturday. But, the lightly-raced Stronach Stable homebred has shown enough ability to give his connections reason to believe.
"I think he's a very talented horse," said Michael Doyle, who is the trainer of record for American Guru and also acts as a racing consultant for the Stronach operation. "Jimmy always thought the world of him."
Jimmy, as in New York-based trainer James Jerkins, launched American Guru's career in March of 2018 and saw him finish just a nose shy of being undefeated in that four-start turf campaign. But the now five-year-old son of Unbridled's Song suffered a condylar fracture that summer and wound up being away from the races for more than a year.
"We thought maybe it would be good for him to train here, on the synthetic," said Doyle, who had welcomed American Guru into his barn in early June with a long-term eye toward the Woodbine Mile.
"He had been ready to run, and the only place I could find to run him was the Play the King prep."
American Guru tried the E.P. Taylor Turf Course in that 6 ½-furlong allowance race on July 21. Prominent early, American Guru weakened to finish fifth behind Silent Poet, a Stronach Stable runner trained by Nick Gonzalez who went on to win the Play the King Stakes and also is a Woodbine Mile candidate.
"He got a little tired," said Doyle. "But I thought that the race would have to help him, and if he was going to make the Mile, he needed maybe to run a mile."
That opportunity knocked three weeks later, and American Guru made all the running to score convincingly in an inner turf course allowance race.
Now comes the $1 million question.
"I'm just hoping he moves forward," said Doyle. "I think with a bit of luck he'd have a chance."
American Guru prepped for the Woodbine Mile on Saturday with five furlongs in 1:02.40 on the Tapeta under exercise rider Calvin Giles.
"Everything went great," said Doyle.