FIELD FOR THE GRADE 1 $800,000 RICOH WOODBINE MILE
Post / Horse / Owner / Trainer / Jockey
1 / Good Samaritan / WinStar Farm LLC, China Horse Club International, SF Racing LLC, Head of Plains Partners LLC / Bill Mott / Joel Rosario
2 / La Sardane / Team Valor International / Neil Drysdale / Rafael Bejarano
3 / Delta Prince / Stronach Stables / James Jerkens / Javier Castellano
4 / Vanish / Eight Star Racing Stables Inc. / Vito Armata / Ademar Santos
5 / Mr Havercamp / Sean & Dorothy Fitzhenry / Catherine Day Phillips / Eurico Rosa da Silva
6 / Lord Glitters / Geoff & Sandra Turnbull / David O'Meara / Jamie Spencer
7 / Oscar Performance / Amerman Racing LLC / Brian Lynch / Jose Ortiz
8 / Divisidero / Gunpowder Farms LLC / Kelly Rubley / Jevian Toledo
9 / Stormy Antarctic / Mr. P K Siu / E.C.D Walker / Gerald Mosse
THE EUROS ARE HERE! LORD GLITTERS IN SEARCH OF A SPARKLING PERFORMANCE
A large contingent of European contenders for this weekend's stakes races touched down in Toronto at 7:30 p.m. on Thursday night after a cancelled Monday flight from Amsterdam delayed normal shipping procedures.
It was a bustling quarantine barn on Friday morning here in Toronto as the new arrivals settled into a new routine and ventured to both turf and Tapeta to stretch their legs.  Among the new arrivals were Lord Glitters and Stormy Antarctic, who will square off in Saturday's Grade 1 $800,000 Ricoh Woodbine Mile.
Trainer David O'Meara and exercise rider Fearghal Davis walked Woodbine's E.P. Taylor Turf Course on Friday morning before sending the talented grey Lord Glitters out for a spin.
"He's traveled fine. It's not our normal routine. We'd normally have a few days to settle in and have a canter on the Thursday.  With the travel disruption we didn't get in until late last night, but he appears to have taken it all very well. The race itself will be the telling point," said O'Meara.
Davis piloted Lord Glitters through an easy training session as the five-year-old Whipper gelding experienced Woodbine for the first time.
"He just had a half-speed canter up the track. It's as much as we ever do when we come abroad," said O'Meara. "I'm contemplating whether to give him a little bit of exercise in the morning as well. We'll see how he is."
O'Meara and owners Geoff and Sandra Turnbull teamed up to win the Ricoh Woodbine Mile in 2015 with Mondialiste.
"They're pretty similar. They've both got a very good turn of foot from the back of the field late on," started O'Meara. "This guy (Lord Glitters) would be bigger and a bit more powerful. He was second in the Queen Anne at Royal Ascot and third in the Sussex Stakes at Goodwood, and an unlucky third as well. He has very strong form in England to bring over here."
If all goes well on Saturday for Lord Glitters, O'Meara envisions another crack at Ascot.
"He'd go home first and might run in the Queen Elizabeth II, a mile race at Ascot on Champions Day. He's had a win and two seconds there, including in a Group 1.  He handles most grounds so if it came up soft that time of year it wouldn't bother him too much," said O'Meara. "And then, if everything was still good with him, we'd like to take him to the Breeders' Cup if he's still in good form."
O'Meara's former Woodbine Mile champion Mondialiste, who went on to finish second in that year's Breeders' Cup Mile and then win the Grade 1 Arlington Million in 2016, is enjoying his new career as a stallion standing at the Turnbull's Elwick Stud in Northern England.
"We are delighted with how well Mondialiste has settled in to his role as a stallion here at Elwick Stud," said Geoff Turnbull. "He took to his first covering season like a natural and has showed an excellent rate of fertility. We are extremely excited to welcome in the new year and to have his first foals on the ground.
"It's going to be very interesting to see what sort of stamp he puts on them, if they have his personality and ability we will be very pleased! We are, of course, also looking forward to getting underway with another great covering season in 2019 too."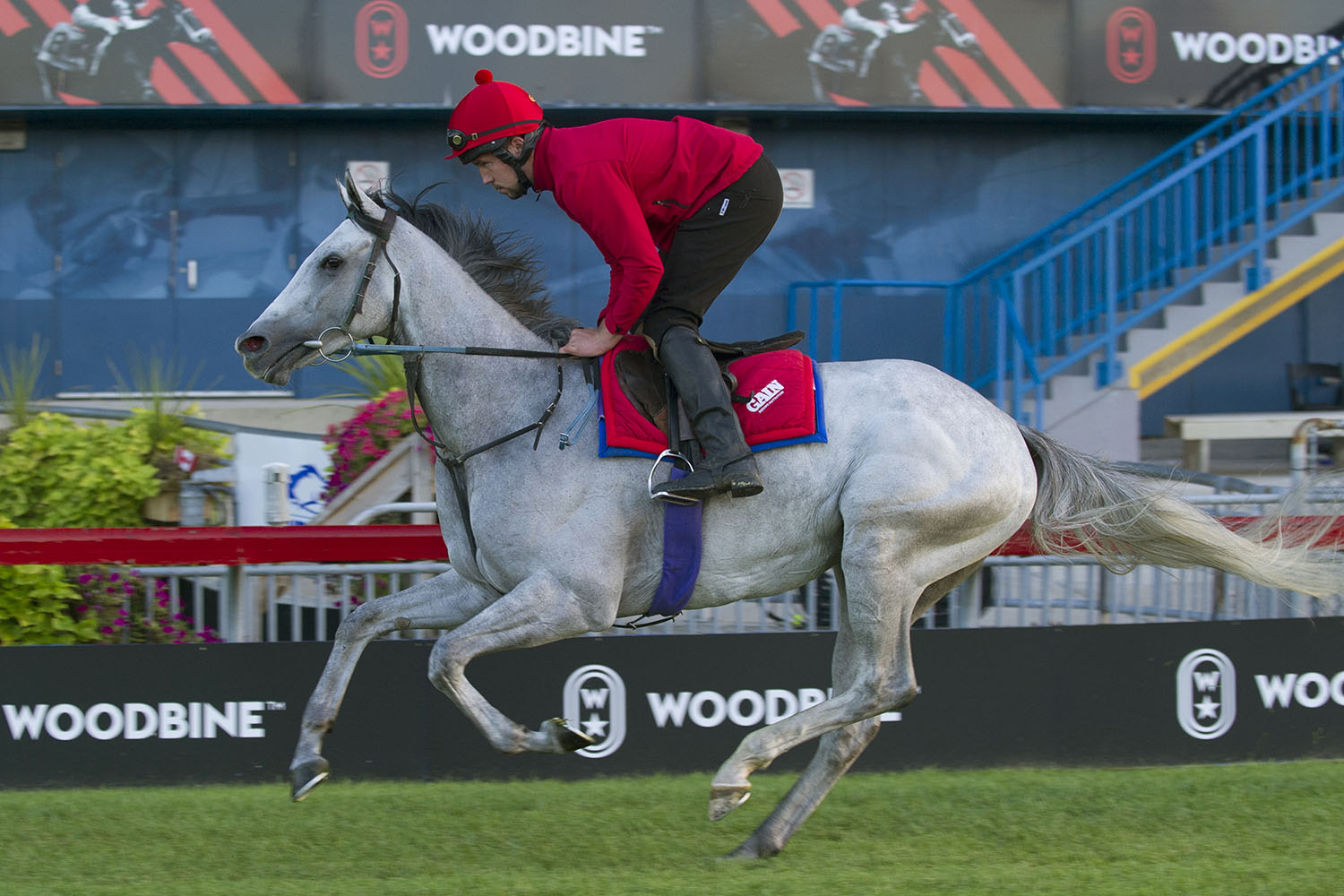 Stormy Antarctic, based in England with trainer Ed Walker and owned by P. K. Siu, also shipped in for his North American bow.
The five-year-old gelding has been in career form this year with in-the-money finishes in his five starts including wins in a Group 3 in France and a Group 2 in Germany.  Gérald Mossé will ride on Saturday.
"It's been good. He's handled it quite well so far. He's a good traveler. He's been as far as Hong Kong and travels well," said Gary Plasted, Senior Travelling Head Lad for Walker. "He just walked all the way around on the grass for a mile and a half and then had a bit of a trot.
"He'll probably have a bit of a canter tomorrow," continued Plasted. "Not too much, just to get him out. He's pretty fit."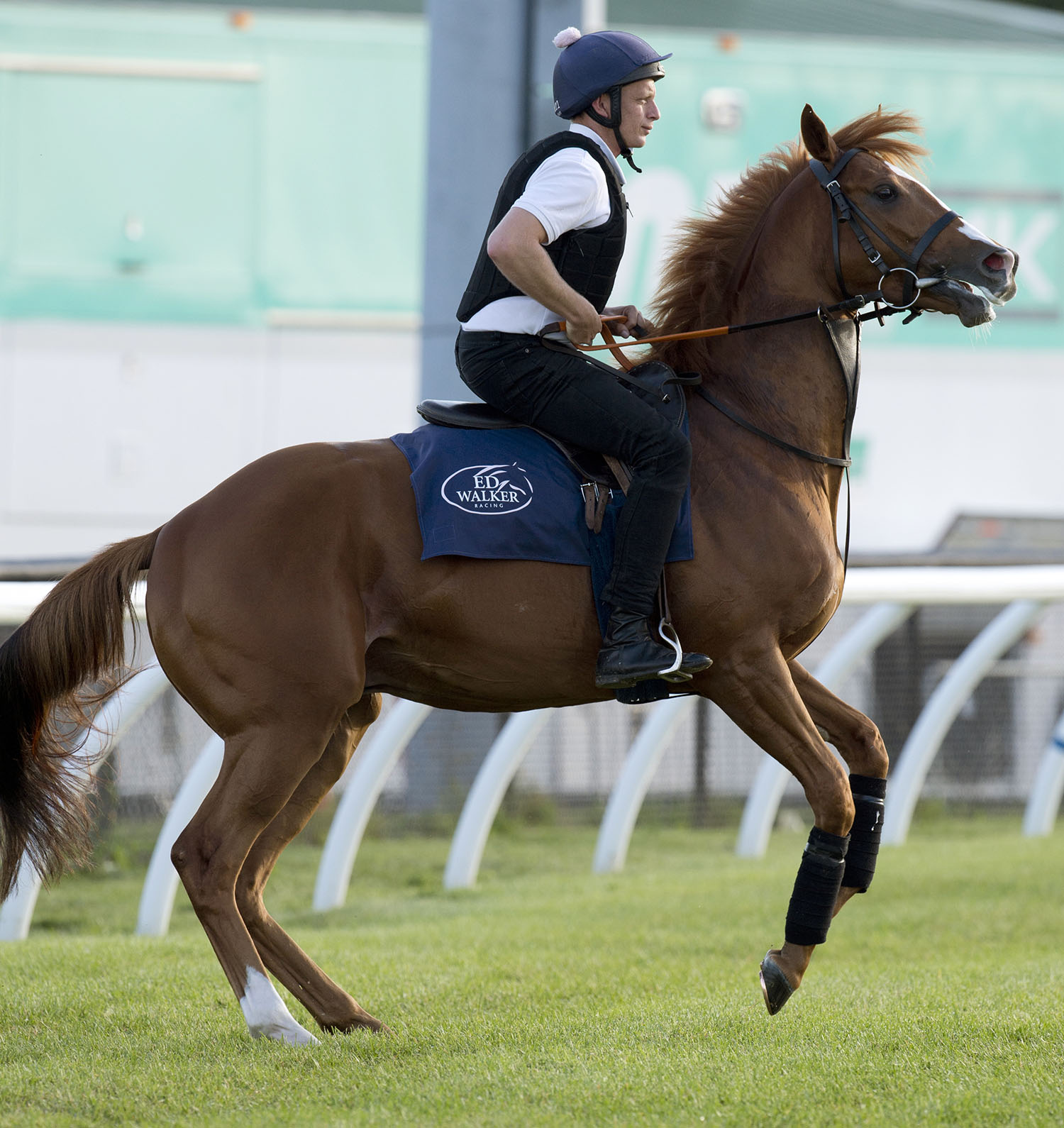 Chicas Amigas, who will star in Sunday's Grade 1 Natalma Stakes, was purchased privately by Qatar Racing following an allowance win over males on the turf at the Curragh last time out
Trained by Jessica Harrington, Chicas Amigas was recently seen landing second behind stablemate Servalan in a listed race at Naas.  The daughter of Dragon Pulse enjoyed a tour of Woodbine's Tapeta surface here Friday.
"She traveled well. We sent her for a lovely little trot for a circuit and then had a four-furlong slow canter. We have an All-Weather surface back home. She'll be used to that and just keep her on the All-Weather and save the grass for when she runs," said exercise rider Andrew Leigh, who is hoping his first trip to Canada will be a memorable one.
Pivottina, trained by Ludovic Gadbin, won on debut in France and after a pair of runner-up efforts was most recently fourth in the Group 2 Shadwell Prix du Calvados at Deauville over seven furlongs of turf.
"The filly looks well and looks to have recovered well after the flight. We'll cross our fingers for Sunday," said Gadbin.
Gadbin was on hand to watch the daughter of Vision D'Etat travel over the Tapeta on Friday.
"She just had a small trotting and a relaxed walk. She will go tomorrow to the track and have a good canter to finish," said Gadbin, who believes his filly should enjoy Sunday's one-turn mile. "The form is well with her. She started out with less distance going six furlongs and now we go further. The mile will be definitely better for her."
U.S-BASED RICOH WOODBINE MILE CONTENDERS ARRIVE
Delta Prince, Oscar Performance, Good Samaritan and Divisidero arrived earlier Thursday from various points south of the border.
Both Delta Prince and Oscar Performance, the top two on the morning line for the Ricoh Woodbine Mile, have taken up temporary residence in the barn of trainer Mike Doyle, who also acts as racing manager for Stronach Stables.
Delta Prince, a Stronach Stable homebred trained by Jimmy Jerkens, jogged a half-mile and then galloped 1 3/8 miles on the Tapeta under Calvin Giles, one of Doyle's exercise riders.
Oscar Performance, owned by Amerman Racing LLC and conditioned by Brian Lynch, galloped on the main track under Lynch stable exercise rider Romain Techer.
"Everything's good," said Erin Lynch, the trainer's wife and main assistant. "He's happy. That's all you can ask."
Woodbine Mile entrant Good Samaritan and Northern Dancer Turf candidate Patterson Cross are staying in the barn of Rachel Halden, the usual abode for Bill Mott shippers.
Good Samaritan will be making his second appearance here after winning the Summer Stakes two years ago.
"We're excited to see him back on the turf," said Riley Mott, the trainer's son and assistant, who is here with the stable's invaders.
"He's really good; he shipped in well."
Good Samaritan and Patterson Cross galloped over the Tapeta on Friday under stable exercise rider Ian Bennett.
Divisidero's temporary headquarters for the Mile is the stakes barn, which also is playing host to a host of American shippers for the weekend's graded stakes.
Trained by Kelly Rubley, Divisidero checked in from Fair Hill accompanied by a quintet of Graham Motion-trained runners and galloped on the main track Friday morning.
"We just wanted him to take a look around, and stretch his legs," said assistant trainer Belinda Mourar.
La Sardane, the lone filly in the Mile lineup, stayed on in the stakes barn after finishing fifth in the Grade 2 Play the King Stakes on August 25. She was joined later by her Neil Drysdale-trained stablemate Vexatious, a filly who is here for the Northern Dancer.
"They're both doing well," said Drysdale, who was in last Saturday to oversee the pair's final breezes for their respective targets and was back in town Friday after spending the week at the Keeneland sales.
"I'm happy with them."
The Graham Motion runners here are Mekhtaal and Utmost, for the Northern Dancer; Battle in Seattle, for Saturday's Grade 3 Bold Venture at 6 ½ furlongs on the main track; and Say the Word and Desert Isle, for allowances races on Saturday.
Mythical Mission, a Motion entrant for Saturday's Grade 2 Canadian Stakes at 1 1/8 miles on the turf, did not make the trip.
All five took their morning exercises on the main track with Lisa Conway, Lauren Mendenhall and Mary Motion, a niece of the trainer's, dividing the duties.
"Just going through the motions," said Keith Cooper, traveling assistant trainer, in an unintentional witticism.
Over in trainer Roger Attfield's stable, the Chad Brown-trained New Money Honey, Inflexibility and Fog of War were in the house.
New Money Honey, here for the Canadian, and Fog of War, a candidate for the Summer, both galloped on the main track for their first Woodbine appearances.
Inflexibility, no stranger to the local scene, gives the barn a solid one-two punch in the Canadian.
Mindt, a Brown trainee entered in Sunday's Natalma, did not make the trip.
Trainer Mike Maker has a division here for the first time this year and two candidates for weekend stakes have shipped from the Churchill Downs Training Center to trainer Nolan Ramsey, Maker's man here and the grandson of Ken and Sarah Ramsey.
Markitoff's target is the Northern Dancer and Skychief's the Summer. Both galloped on the main track Friday.
Daring Duchess, already part of the Maker string here, is on target for the Canadian.
Hallie Belle, in town for the Canadian, is staying in trainer Malcolm Pierce's barn and galloped on the main track Friday. She is trained by Michael Stidham and based at Arlington Park.
Back in the stakes barn, Dob Dob is in for the Summer and Stillwater Cove for the Natalma. Both took in the local scenery while exercising on the main track Friday.
Dob Dob, based at Dickinson's Tapeta Farm in Maryland, was accompanied by assistant trainer Jon Ferriday.
"He galloped, and went to the gate," said Ferriday.
Stillwater Cove, conditioned by Wesley Ward, has been training at Keeneland.
ACTION PACKED WAGERING OPPORTUNITIES ABOUND ON SATURDAY
Saturday's 12-race Ricoh Woodbine Mile card offers a bounty of wagering options including a mandatory payout of the Jackpot Hi-5 which boasts a carryover of $631,143.79.  The Jackpot Hi-5 will go as Race 12 (7:06 p.m. post) with a full field of 12, including one also eligible, set to do battle over six furlongs on the Tapeta.
The early Pick 5 (Races 2 – 6) is guaranteed at $50,000; the early Pick 4 (Races 4 – 7) will feature a $100,000 minimum. The Late Pick 5 (Races 7 – 11) includes a $20,000 minimum pool; while the All-Stakes Late Pick 4 (Races 8 – 11) also boasts a guaranteed pool of $200,000.