TORONTO, June 8, 2022 – Trainer Kevin Attard sends out the duo of Moira and Souper Flashy in Saturday's $125,000 Stella Artois Fury Stakes at Woodbine.
A key prep on the road to this year's $500,000 Woodbine Oaks presented by Budweiser (July 24, at Woodbine), the seven-furlong main track Fury, for three-year-old fillies, foaled in Canada, has attracted eight hopefuls.
Owned by X-Men Racing LLC, Madaket Stables LLC, and SF Racing LLC, Moira will make her three-year-old debut in the race that also includes stablemate Souper Flashy.
Bred in Ontario by Adena Springs, Moira, listed as the 5-1 third choice in the Queen's Plate Winterbook, debuted last October in the 1 1/16-mile Princess Elizabeth Stakes, for Canadian-foaled two-year-old fillies.
The daughter of Ghostzapper-Devine Aida, sent off at 4-1, rallied from eighth at the half-mile mark to record a 4 ¼-length score in a time of 1:44.63.
Next time out, in the Grade 3 Mazarine, also at 1 1/16 miles on the Tapeta, Moira, the even-money choice, was full of run down the lane but missed by a half-length to Mrs. Barbara, who would go on to be crowned Canada's champion two-year-old female.
"I think she has an efficient stride that covers a lot of ground," said Attard. "To me, it looks pretty effortless when she runs. She shipped into Woodbine a little later in her two-year-old season. We started getting her ready and she was set for those two-turn races in the fall. With her pedigree and being a Canadian-bred, I thought we would give her a shot in the Princess Elizabeth for her first start. I didn't want to give up that opportunity, and she wasn't coming to hand fast enough to get a start in prior to that. But it all worked out really well. She showed that maturity we saw early on her in life."
Moira, who worked four furlongs in :49-flat over the Woodbine main on June 5, caught Attard's eye early.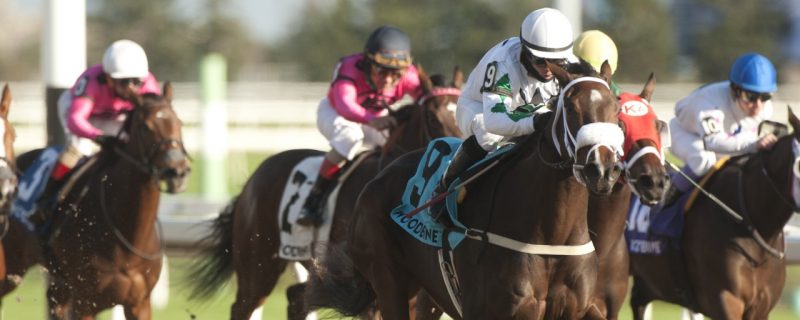 "Around the barn, she's pretty mellow for the most part. She can be a little feisty in her stall, where she doesn't want to be messed with too much. But she's an easy horse to train and she loves her job. She's really straightforward. When we started working her, ahead of her first race, it looked like she had some talent. The more we did with her and the further her works progressed, it was pretty apparent that she was going to be a special horse. She was a good size for a two-year-old and she's developed into a good-looking three-year-old. This is the type of horse you strive to have in your barn."
Souper Flashy, a Terra Racing Stable homebred, has two wins and a second in three starts, the runner-up finish coming against Moira in last year's Princess Elizabeth.
The daughter of Souper Speedy-Flashy's Legacy arrives at the Fury off a 3 ½-length score at six panels over the Woodbine Tapeta on May 12.
"We've been pointing towards this race for a while with her," said Attard. "It's a race we had picked early. Her first race back this year was really good. She wintered in Florida, and everything went very smoothly for her. She came up to Woodbine and everything transitioned really well for her. I've been really happy with how everything has gone. She had a nice breeze last week. Her last race was against Ontario-sired company and this one is a Canadian-bred race, so it's obviously going to be a tougher challenger. But I think she's up for the task. Two wins and a good second from three starts, she looks like a promising filly."
Souper Flashy wasted little time in impressing her connections, winning first time out last September at Woodbine.
After breaking slowly from post 11 in the 12-horse race set at 6 ½-furlongs on the main track, the bay, second-last at the half-mile marker, rallied stoutly down the lane to secure a half-length win at odds of 18-1.
Antonio Gallardo, aboard for all three starts, gets the call again.
"You see a lot of two-year-olds that are still precocious at that age and then at three, it's like somebody put a different horse in that stall," said Attard. "When they make that transition, it's nice to see them grow from a physical and mental standpoint over the winter. That's what she's done. She's always been a keen, level-headed filly. She's grown bigger and filled out. We're really pleased with her."
Attard, who won last year's Woodbine Oaks with eventual Canadian champion three-year-old female Munnyfor Ro, is hopeful he'll get another shot at winning the 1 1/8-mile event this year.
"There are certain races on the Woodbine calendar that I want to be represented in by my horses," the lifetime winner of 590 races shared earlier in the season. "Obviously, the Oaks is one of them. This game, it's built on dreams. Owners dream. Trainers dream. Grooms dream. Jockeys dream. That's what keep us going, maybe that next one is going to be the one. When you get that, to have a Canadian-bred with talent, you're excited about what the future holds."
The Fury is slated as race seven of 10. First post time is 1:10 p.m. Fans can also watch and wager on all the action through HPIbet and the Dark Horse Bets app.
FIELD FOR THE $125,000 STELLA ARTOIS FURY
Post – Horse – Jockey – Trainer
1 – Sugar Is Golden – Emma-Jayne Wilson – Barb Minshall
2 – Pioneer's Edge – Justin Stein – Josie Carroll
3 – Souper Flashy – Antonio Gallardo – Kevin Attard
4 – Mommasgottarun – Luis Contreras – Tom Amoss
5 – Moira – Rafael Hernandez – Kevin Attard
6 – Into Touring – Kazushi Kimura – Mark Casse
7 – Mo Touring – Kazushi Kimura – Mark Casse
8 – Aubrieta – Patrick Husbands – Mark Casse
Chris Lomon, Woodbine Communications / @WoodbineComms