TORONTO, October 29, 2020 – Eight hopefuls, including Barb Minshall trainees British Royalty and Threefiftyseven, and Gail Cox charge Tio Magico, square off in Sunday's $250,000 Coronation Futurity Stakes, at Woodbine.
The 1 1/8-mile Tapeta event for Canadian-foaled two-year-olds is a significant race on the road to the 162nd running of the Queen's Plate, first jewel of the OLG Canadian Triple Crown of Thoroughbred Racing.
Minshall, in the midst of a strong campaign, packs a powerful punch in the form of British Royalty and Threefiftyseven.
British Royalty, an Ontario-bred son of English Channel, impressed in his career bow on October 11 at Woodbine.
Under Jerome Lermyte, who once again gets the call in the Coronation Futurity, the Bruce Lunsford-owned gelding was pinched back at the start of the 1 mile and 70 yard main track race. Last of nine early, British Royalty steadily gained on his eight rivals, and was travelling well around the final turn. Sixth at the stretch call, he continued to gobble up ground and went on to a 1 ¾-length score in a time of 1:43.74.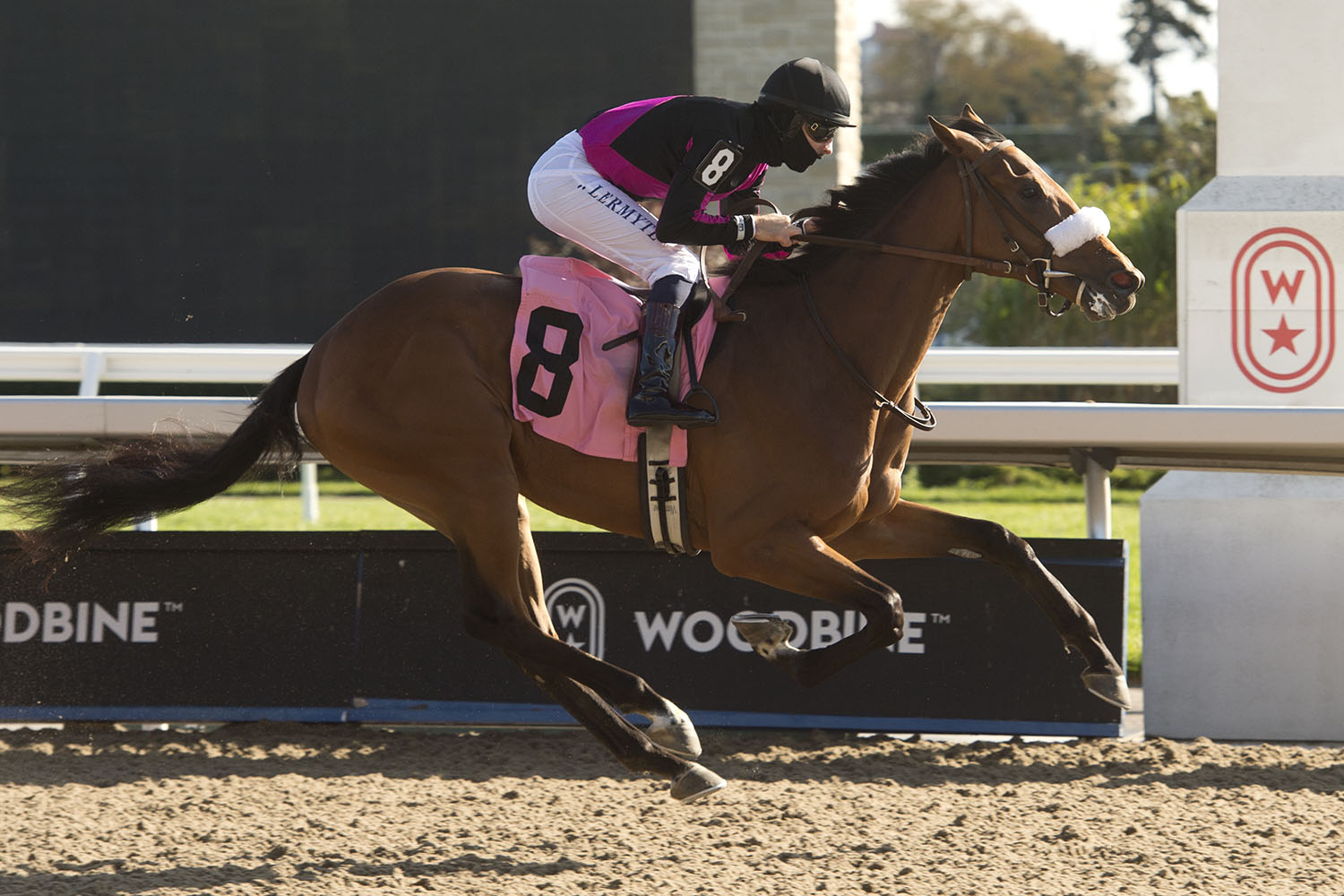 For Minshall, the ending was far more pleasing than the start.
"It was quite the effort. His effort is almost exactly him. He's a very tall, lanky, green horse. He was bought later in the year, so he wasn't as advanced as my other babies. He was the only baby that I've had in probably 10 years who had a bit of a shin. So, I had to stop on him for 45 days. He definitely got a little bit behind the eight ball."
Bred by Richard Lister, British Royalty now gets a sterner test in his second outing.
Minshall believes her young pupil is up to the task.
"He has a lot of ability and he showed it. Being an English Channel, I think, definitely as he gets older, things should really start to come together. Here, there's not really anywhere else we could run him, if I want to give him another race. So, he'll race in here and then we'll go from there."
A less complicated trip would be ideal.
"When he broke out of the gate and he was really far behind, I was thinking, 'Oh, no. Am I going to be embarrassed here with a horse I told the owner I like?' But I thought Jerome did a good job. He didn't rush him. He let him get his legs going. Once he found his stride and weaved his way through some traffic, he just took off like a bat out of hell. He's a talented horse, but I don't know if he really knew what he did. He's going to appreciate every bit of the distance and he's a nice two-year-old who needs another race. We're going to take a shot. There's a lot of money on the line and he's a nice horse."
The multiple graded stakes winning conditioner also sends Threefiftyseven postward.
A son of Run Away and Hide, the gelding, whom Minshall owns and also co-bred (with Bruce Lunsford), is 1-2-0 from four starts.
The bay's most recent effort was a runner-up result in the 1 1/16-mile turf Cup & Saucer Stakes on October 10. Sent off at 8-1, Threefiftyseven crossed the wire 3 ¼ lengths behind the Mark Casse-conditioned winner Master Spy, who will also compete in the Coronation Futurity.
Finishing fourth in his debut, a five-furlong Inner Turf race on July 12, Threefiftyseven finished second in his following start on August 9, breaking his maiden the next time out, a 1 ¼-length triumph at 6 ½ panels on the Toronto oval Tapeta.
"He [British Royalty] is the total opposite of Threefiftyseven, who has had a few races," noted Minshall. "He's a very professional horse, a very strong horse. He hasn't put – knock on wood – a foot wrong since he's started. He's also going into the race in really good order. "They're both very different horses on a very different level of knowledge, but we're going to take a shot with both of them and see what happens. I really, really like two-year-olds and I love training them."
Gail Cox, also in the midst of a successful season, will turn to Tio Magico to deliver her first Coronation Futurity title.
The Sam-Son Farm homebred finished sixth to Threefiftyseven in his debut on September 7.
"He got in a bit of trouble early," noted Cox. "Then he made a great, big middle move, and I think he just got a little bit tired."
The dark bay son of Uncle Mo was magic in his second start, a 1 1/16-mile main track race that was originally scheduled for the turf. Tio Magico, despite ducking in twice, held a 5 ½-length lead at the stretch call, and secured a half-length victory in a time of 1:44.85 ahead of the Kevin Attard-trained Coronation Futurity contender Stephen.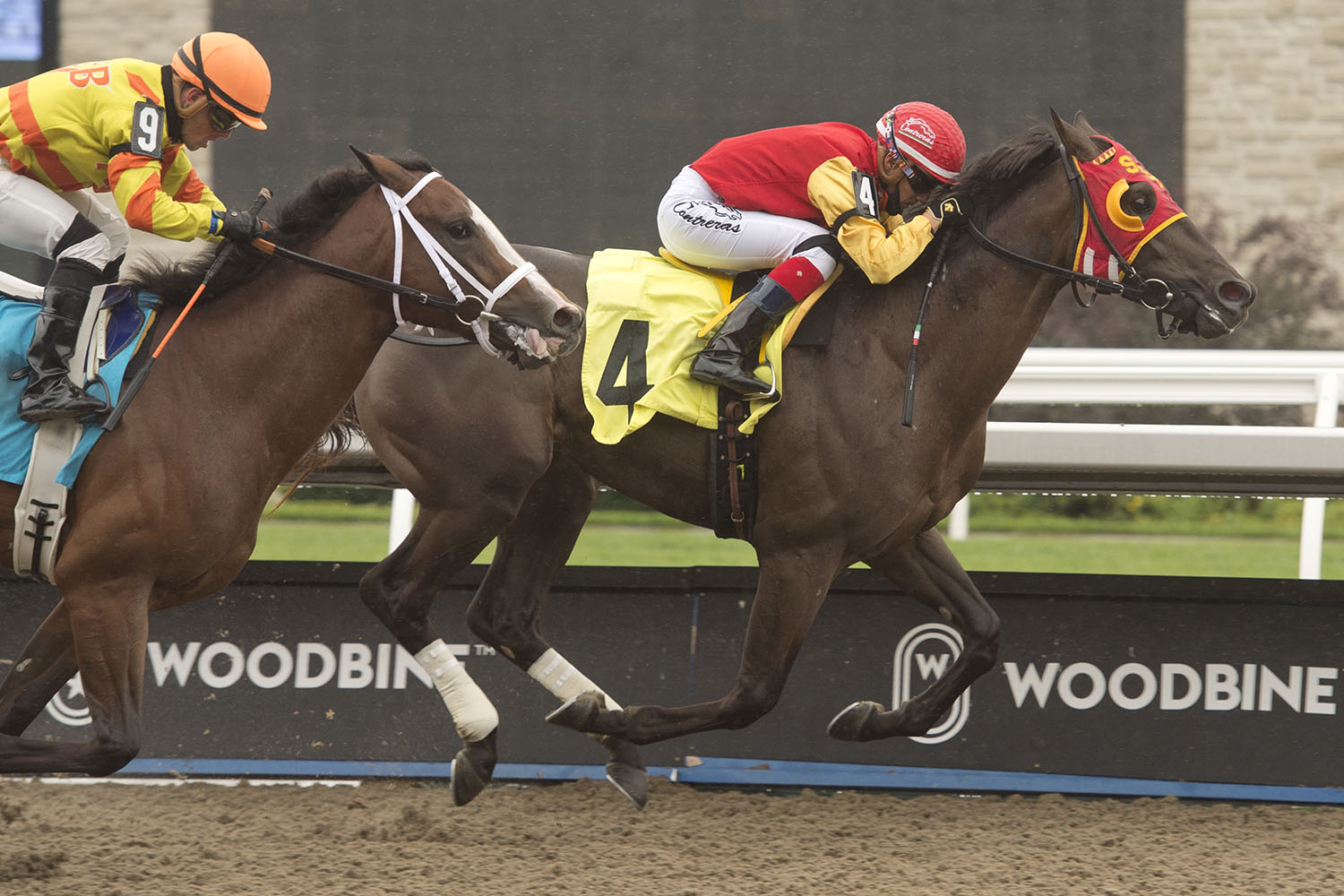 "He's doing great," said Cox, who is one win shy of tying the career-best 15 victories she posted in 2011. "He's really good. After it came off the turf, I was thinking that you have to look ahead to the future. He trains well on the surface, so I wasn't really that worried about it. The only thing you question is, 'Now we're going two turns.' As it worked out, it was great that he had the opportunity to do that."
The multiple graded stakes winning trainer, who has a personal-best four stakes scores this season, is excited to see what's in store for her young charge.
"He's a very nice horse and I think he's very talented. He's got a great mind… easy to train. He's still a colt and he's pretty good about it. He can run. He's always worked really well."
Ayrshire Lad won the first running of the Coronation Futurity in 1902. The late Avelino Gomez won four straight (1964-67) editions of the race, a feat also achieved by Sandy Hawley (1973-76). Last year, Halo Again won the race in a time of 1:51.82. The last horse to notch the Futurity-Plate double was Norcliffe in 1975-76.
The 117th running of the Coronation Futurity is slated as race eight on Sunday's 11-race card. First post time is 1:10 p.m. Fans can also watch and wager on all the action via HPIbet.com.
$250,000 CORONATION FUTURITY
Post – Horse – Jockey – Trainer
1 – Master Spy – Patrick Husbands – Mark Casse
2 – Tio Magico – Luis Contreras – Gail Cox
3 – One Flint – Emma-Jayne Wilson – John LeBlanc Jr.
4 – Giant Waters – Rafael Hernandez – Daniel Vella
5 – British Royalty – Jerome Lermyte – Barbara Minshall
6 – Threefiftyseven – David Moran – Barbara Minshall
7 – Flex – Slade Callaghan – Michael De Paulo
8 – Stephen – Justin Stein – Kevin Attard